Our School News
Federation Football Match
A fantastic Year 5/6 Federation Football match was held on Monday after school. Both teams played brilliantly in what turned out to be an exciting game which kept the spectators on the edge of their seats. The score was 1-0 to Micheldever after the first third, then Barton Stacy came back in the second third to be 3-2 up. 2 quick goals in the final third saw Micheldever up 4-3 and then Barton Stacey capitalised on a corner kick in the dying seconds of the game. Final score 4-4. A very enjoyable game to watch and well played by all the boys. A big thanks to Mr Gray for coaching the team.
Start of Spring Term
All our children have returned to school after an exciting Christmas holiday and are eager to start exploring their new learning topics.
Eagle Owl Class - What can we learn from the Victorians and the world today to create a healthy mind, body and spirit?
Hawk Owl Class - Extreme climates - Antarctica to the Sahara desert! What can we do to save our disappearing world?
Barn Owl Class - Chocolate! Does chocolate change lives for better, for worse or a bit of both?
Snowy Owl Class - What is a hero?
Pantomime
On the last afternoon of term, West End in Schools, came to give a performance of Dick Whittington to the pupils. Lots of scream and shouts could be heard coming from the hall as well as boos and laughter. A fun time was had by all. (Oh no it wasn't, Oh yes it was!)
Autumn Term Awards
Each term the teachers nominate a pupil from their class for one of the school's six awards. The winners of this term's awards were:
English - Florence Parfey
Writing - Thomas M
Maths - Ethan Bailey
STEM - Harry White
Sports - Max Stokes & Bo Dowling
Creative Arts - Esme Vertannes
School Values - Daisy Reynolds
Christmas Service
On the morning of the last day of term, a procession of light was seen wending its way along the path from the school to the Parish Church. Parents had joined our pupils, to walk to church holding lanterns. The service was led by our Year 5/6 children who interspersed the songs and prayers with readings from the bible and also accounts of what happened at Christmas in WW1. The choir sang beautifully three songs and led the first carol of Once in Royal, with Phoebe singing the solo. Hawk Owl Class provided four thought provoking prayers based around Christ's light bringing peace. Candles were lit throughout the service to remind us of Christ's light in the world. The service ended with two instrumental pieces played by some of our budding musicians. The service was the perfect way to end the term and prepare for the Christmas season.
Stories with Santa
On a cold, dark Thursday afternoon, the children changed into their pyjamas and dressing gowns and snuggled down to an afternoon of stories with Santa. The afternoon commenced with each teacher reading one of their favourite Christmas stories to their class. The children all then came together in the hall to hear the story of The First Christmas. After this the children split into their worship families and rotated around hearing further Christmas stories, drinking hot chocolate and meeting a very special visitor in his grotto where they all received the gift of a book. It was a wonderful afternoon, enjoyed by all.
Christmas Lunch
On Tuesday lunchtime the whole school sat down together for Christmas lunch. The school had also invited the more mature members of our community to join us and so we welcomed thirteen guests to our top table. The school kitchen had been working very hard to produce over 140 yummy Christmas meals, which were enjoyed by everyone present. The children, who were served by the staff dressed as waiters, waited very patiently whilst everyone was served. The tables looked very festive, decorated with the table decorations and crackers which had been made at DT morning and all the children and visitors wore their hats.
After the meal, the guests enjoyed festive entertainment provided by our musicians and choir, who all performed beautifully.
DT Morning
The school was full of Christmas cheer as the children took part in their Christmas DT morning. The morning started with the children coming together in their worship families. They then rotated around three activities: Cracker making, hat making and decorations for table centres. There was lots of glue and glitter involved and the school was sparkling by the end of the morning. Everything made during the workshops are to be used for the school Christmas lunch.
Class Exhibitions
Parent Comments:
Many thanks for sharing some amazing work! You should be so proud of every minute you have put into shining and sharing.
It is always lovely to see our little boy so happy and all the brilliant work everyone has been doing.
Fantastic, really well done to all the children.
Amazing work. Beautifully presented. You can see how much hard work the children and teachers have put in. Thank you for inviting us and sharing your super work with us.
Enjoyed going out with Barn owls to observe the forest and trees.
Fantastic work! Certainly learned something myself this morning.
Lots of wonderful work and exhibits on display. The children are obviously passionate about what they have been learning
It is great to see all the fantastic work the children have done. What interesting topics they learn about.
It was lovely for the children to be able to show me their own work. They really enjoyed showing all the work they have done and are rightly very proud. Thank you for this opportunity for them to share school life with me.
Many thanks for sharing some amazing work. You should be so proud of every minute you have put into shining and sharing.
It was fantastic to welcome over sixty families to the school on the morning of our class exhibitions. This is a time for each class to be able to present their learning journeys for the term and for parents to be able to experience what the children have learnt and created. The children are always very excited about being able to share their work with their families.
Infant Nativity Play
The school was full of angelic children as the Infant department performed their Nativity Play, Whoops A Daisy Angel to their parents and families. This was a traditional Nativity Play in which every child played an important part. The children all spoke clearly and there were plenty of catchy songs which were sung beautifully by all the children.
The hall was full to bursting for both performances with proud families. FROGS provided refreshments at both performances and this added to the festivities and enjoyment of the event.
A big well done must go to all the children and also to the Infant teaching team who produced such an enchanting show.
Collections taken after the shows amounted to nearly £200 and this has been used to purchase more books for the Infant Reading scheme.
Afternoon Tea with Base Club.
On Tuesday the 4th December members of Base Club were pleased to host six members of the Sutton Scotney Royal British Legion. This had been arranged in order to thank them for our recent invitation to write poems in honour of the World War One Centenary GP90 pilgrimage to Ypres.
We had been asked to write or draw something to commemorate 100 years since the end of WW1. Two of our members, Lottie Gatfield and Ruby Blankley Mc-Donnell, wrote wonderful poetry which the RBL were delighted with. Not only did they add them to their branch wreaths and take them to the service at the Menin Gate in August but they asked both girls to attend their Remembrance Service at Sutton Scotney and read their poems to the people gathered there. Both girls did a wonderful job, we were and still are so proud of them both.
This new bond, between the oldest generation of our services and the youngest, seemed too good to finish there. So Base Club decided to invite them in for afternoon tea full of sandwiches, cakes, crisps and biscuits.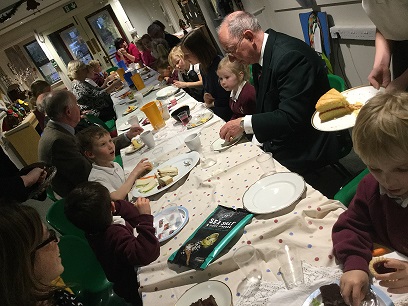 We had a fabulous afternoon getting to know them and it was delight to see our children conversing and laughing with these veterans. To watch a bond made when one child and one adult, who have never met before, find out they used to live on the same street is extraordinary and wonderful.
I am pleased to say this bond will continue in the New Year. Plans are already afoot for our new friends to come and see us again soon.
Mrs Cobb
Dress Bright, Be Seen
On the 25th of November the whole school dressed in fluorescent, reflective and bright clothing. I (Emma Jarman) and my other JRSO (Junior Road Safety Officer) colleagues (Poppy Marshall and Eleanor Thomas) had prepared this whole day to teach everyone in a fun way how to stay safe on the roads. In the morning, we showed the whole school a presentation about how to stay safe on the roads, since the days have become darker as more children are out on the roads in the dark. Each year 1980 children are killed in the UK by road accidents. The children watched a video showing two cyclists one wearing high-viz gear and one without. It took over 19seconds for the driver to see the cyclist without high-viz gear. Everyone joined in to sing a road safety song. After the presentation, Barn Owl Class decided to practice crossing the road. In conclusion everyone had an educational, fun experience to remember.
Christmas Card Competition
The children were invited to enter a picture for the school Christmas card, which gets sent from the school to the local community and further afield. So many entries were received that it was decided to have four different Christmas cards and a winner was chosen from each class.
The winners were:
Snowy Owl Class - Isaac Noble
Barn Owl Class - Thomas McLeish
Hawk Owl Class - Daisy Reynolds
Eagle Owl Class - Joshua Hazard
Click on the pupil name to see their design.
The runners up were: Arthur Barrett, Maariyah Watts, Liliana Faretra, Lottie Gatfield.
Tag Rugby
On the 24th of September the new tag rugby team and its captain went to their first tag rugby tournament. On the pitch we had so much fun and enjoyment. The first game was a blast for us, we won against St.Mary Bourne. Smannell and Enham were unable to attend. Longparish drew to us.
On 15th of November we went to Longparish for our second Rugby Tournament, we won one game and lost two, but we really enjoyed it. We have progressed a lot since we started the tag rugby and we are looking forward to training with Mr Stangroom ready for the next tournament.In a few months we have a tournament at Smannell and Enham.
By Josh and Isaac (captain)
Green Ambassadors write up
So far this term, the Green Ambassadors have helped the school introduce a new recycling system, started to create new posters for recycling and prepare assemblies for the rest of the school.
This new recycling system will improve the recycling of plastics, papers and food around our school. This is an experience for the juniors and infants to learn about what items go in which bin, and what is affecting the plastic problem. Furthermore, our posters containing information about how to help our planet will hopefully help the school remember the impact we can have. We hope this increases the school's awareness and helps the school to care for plastics and recycling.
We really hope that the Green Ambassadors this year can make a huge difference to the school's eco- system.
By Eleanor Mallinson and Lottie Gatfield
(A year 5 and a year 6 representative)
Base Club News
The children of 'Base Club', our schools military children's club, have spent quite a number of weeks preparing materials to decorate our WW1 wooden soldier, Archibald. You will, I am sure, remember reading the letter about the Andover 215 project which took place in Vigo Park, Andover on November 10th, this was prepared as part of the 'Centenary Commemorations' seen across the country.
The name, Archibald, was decided by vote. All of the children added names to the list which they felt suited our nameless man. Ideas such as Gary, Ian, and Jim-Bob, (whilst all fetching) didn't quite suit his 'demeanour' so, I was rather relieved when Archibald was the outright winner!
The children spent a number of weeks, after the excitement of naming him, writing letters either to Archibald or to the serving members of their families and drawing pictures of military machines, cap badges and their own families. They were rightly, extremely proud of their work and there was a growing excitement about how these would be used to decorate Archibald.
I spent much of half term locked away in my dining room, preparing Archibald. I thoroughly enjoyed using my creative skills to turn the letters into his uniform all the time being driven by an overwhelming pride in what the children had achieved. To finish him off, as he looked a little clean and tidy, I mixed up some super strong coffee and painted him with it, much to my children's worry! It had the unclean effect I was hoping for and he smelled delicious! After covering his back with poppies and many, many layers of exterior varnish he was ready and I felt I had achieved my goal.
Returning him to school was exciting, the children were over the moon with how he looked and a few tears from staff told me he had the impact I was hoping for. We delivered him on the Saturday morning to Vigo Park, where he stood proudly for the day amongst the 214 others. The sight was incredible. After looking around during the day the Cobb family headed back in the evening to see them all lit up. The event was declared a huge success with thousands of people visiting over the course of the day.
Archibald is now safely bestowed in the group room at school, where he keeps Base Club and I company on a Monday lunch time, he will be mounted to a wall just inside the main entrance in the future. Before he starts this long guard, he will come home with me for Christmas and receive a few fresh coats of varnish.
For the last few weeks of term Base Club are hosting the Sutton Scotney RBL for afternoon tea and planning their annual Christmas party, which we are all highly excited about!
Mrs Cobb
Bag2School Collection
We had another successful Bag2School collection. This was a combined effort with Barton Stacey Pre-school and raised £172.80 each. Our next collection will be in May 2019.
FROGS Disco
The children enjoyed a fun evening thanks to the recent disco organised by FROGS. Keep a look out for the next event run by FROGS which will be the Christmas Bazaar on Friday 7th December.
Remembrance Service at Barton Stacey Church
Our annual Remembrance Service was led by Eagle Owl Class this week. Remembrance is always a special time of year for the school due to its links with the armed Services and this year as well as wearing the poppies provided from the Royal British Legion, the Junior children also made fabric poppies for every child in school to wear and for an altar frontal. The children all wore their poppies to our Remembrance Service, at the church, where the altar frontal was also on display.
The children led a moving service and each class and Base Club also made wreaths that were placed at the altar in church.
Outdoor Trail Challenges
We hope you are enjoying the nature-watch opportunities that greet you as you enter the school grounds. If you haven't taken part yet look out for the daily nature spotter sheet along with magnifying glasses, binoculars and the challenge stones. Get involved in discussions with your child and complete the challenges together.
Harvest Festival and Parent Collaboration Cafe
Thank you to all the parents, grandparents, friends and family that came along to our Harvest Festival. The Infant children worked so hard to prepare for the service, they spoke clearly and confidently throughout the service. Snowy Owl Class and the school choir both sang their harvest songs beautifully. The Andover Food Bank collection was a great success raising £160 in donations and lots of food which was gratefully received ready to be distributed to those in need.
The Parent Collaboration Cafe was a success with several families staying to chat with our Governors. If you would like to give any feedback about our school please complete a feedback slip and place it in the Communications Box outside of the school office. We will then respond to your query or reflect on your feedback.
Collective Worship
This half term in Collective Worship we are learning about Jesus' mission and how Jesus helps us each day. Over the coming weeks we will be discussing how Christians can show they are grateful for all Jesus has done for us. We will also learn about the Red Cross and discuss how they connect human kindness with human crisis.
Village Fete
The school choir were in good voice when they performed at the Village Fete on Saturday 7 July. The children were led by Mrs Ball and performed three songs from their 60 Years of Musicals program which they had performed at the Open Evening: Consider Yourself, Beauty & the Beast and This is me. This was the first time the choir had performed at the Fete and they made the school very proud!
Sports Day
On Friday 6 July, the school welcomed parents, family and friends to the school annual Sports Day. In the morning the children had already taken part in team challenges, with Blue Team being the overall winner. The afternoon started with children and families enjoying a picnic on the school field before the fun of the afternoon started. Races were held for all age groups and the winners gained points for their house. Despite the heat the children put their all into their efforts in each race with Yellow team winning overall.
The parents races as usual were hotly contended and this time for the first year we were also able to welcome Barton Stacey Pre-School to our celebrations with their own special race.
Refreshments were provided by FROGS for parents as well as ice lollies for the children, which were greatfully received.
60th Birthday Celebrations
Barton Stacey Church of England Primary School celebrated its 60th birthday on 3rd July, with an evening celebration that showcased the learning, singing and musical talents from across the school, as well as detailing how the school has changed from its beginnings on the current site in 1958. The evening was enjoyed immensely by members of the community, with a number of former members of staff, former parents and former pupils on site to celebrate this occasion and share their fond memories connected to the school; the Mayor of Test Valley, Ian Carr, and his wife were also in attendance to mark this milestone.
The oldest children in the school have worked closely with the Barton Stacey History Group to begin producing a book which details the 60-year history of the school and this was on show during the evening; it is anticipated that this will be published in the new academic year. Classes were also able to exhibit their project learning from the Summer term, focusing on the key questions: Where in the world are we?; How has London changed?; What are the major habitats of the world and how have the fauna and flora adapted to their habitats?; and How has life changed in the past 60 years? Children from the Junior classes sold upcycled photo frames on the evening as part of a business enterprise challenge and families enjoyed both the new Outdoor Learning Zone in the school grounds and the hidden story corner. The evening concluded with Mrs Hilary Brewster, Executive Headteacher of The Dever Valley Federation to which the school belongs, thanking those who had travelled far and wide to celebrate with the school and thanking staff for helping to make the night such a huge success. Birthday cake, of course, was enjoyed by all!
We are in the newspaper
Click HERE to link to the article in the Andover Advertiser
Federation Sports Day
On 29th June, the whole school headed to Micheldever Church of England Primary to participate in the annual Federation Sports Day. The afternoon allowed the children to reignite friendships across the two schools and the teamwork and sportsmanship on display was fantastic.
Warburton's workshop - Hawk owl Class
On Tuesday 19th of June, Warburtons visited Hawk Owl Class.
First, they told us how the Warburton family established their business in 1876 when they started a bakery. They also told us about all of the jobs they needed to make and deliver the bread. My favourite job was the inventor, who invents all the delicious, lovely tastes in the bread.
Secondly, they showed us how yeast makes bread grow. So they poured the yeast into four test tubes and left it to see how fast each one would react with sugar and warm water. During this time, Warburtons showed us the types and portions of food we need to have to make up a healthy, varied diet….it was called 'The Eatwell Guide. As the lunch bell rang, Warburtons showed us how much the yeast had grown. It had grown over half way! I and Hawk Owls were amazed!
After lunch, we had to wash our hands and clasp them together. This is called 'Bakers hands' and it's so no germs go on your hands before you're baking or making sandwiches. My sandwich had cucumber, carrot, lambs Lettuce, chicken, ham and mayonnaise in it. Before we went home, Warburtons talked to us about food wastage and how we can help. My favourite way was feeding leftovers to pets. As we went home we got a free loaf of delicious bread.
Thankyou Warburtons!
Barn Owl Class trip to London
Yesterday morning, we got on the coach to London. Then we saw where James Bond works, Buckingham Palace and the Royal Life Guards, all the bridges we were learning about. We saw the Houses of Parliament, 10 Downing street, The Shard and The Gherkin. I was feeling amazed already. I could tell this was going to be good.
When we arrived at The London Transport Museum we were ushered into a small room with a board. On the board there were posters advertising different places to go and how to get there. After that we got into 4 groups and made our own posters. My group was looking at going by train to the beach.
After lunch we took a lift to the top of the museum. Then we saw all the old trains, boats, buses and taxis. After that we went down a flight and saw some double decker buses and we went in some! As we went round, we did a stamper trail and it was very fun!
When we got back, I was exhausted and tired. What a great day!!!
By Georgina
Story Day 2018
On Thursday 24th May we held our first Story Day. This was a whole school event aimed at promoting use of stories as inspiration for outdoor writing. In the lead up to the event the classes each looked at different versions of the famous story – The Secret Garden. The texts ranged from picture books , chapter books and audio books, right up to the original novel for our oldest children.
We then imagined our wonderful school grounds as our very own secret garden, filled with a host of different story settings to explore. These ranged from the ditch of doom to the desert sandpit, from the tree top canopies to the underwater world of the pond and many, many more.
Each class was presented with a scenario for writing their own stories in our secret garden. Snowy Owls discovered that fairy doors had appeared throughout their outdoor area and hiding behind them were elves and fairies, all ready for a new adventure. The small world had been transformed into a fairyland with silvery lights, trees, a wooden house, flowers and plants and even tiny magical bubble wands to add to the scene. The children spent the day role playing adventures in fairy land in preparation for writing their own stories.
Barn Owl Class were asked to imagine what life would be like if they were the size of minibeast and what might happen to them as they explored the different settings around the school grounds. They were given the opportunity to choose the form for their story and were keen to explore different storytelling options with many opting for comic strips and films as opposed to a traditional story book.
The children in Hawk owl Class set off for the pond area in search of inspiration and got more than they expected when they discovered a letter offering special powers that only appears once every hundred years! They imagined they had the ability to breathe underwater and become transformed into a spectacular new pond creature ready for adventure and exploration deep under water. The openings written on Story Day were truly intriguing and everyone is waiting for our super authors to continue their writing.
Eagle Owls were asked to consider the sights and sounds of our school across the six decades it has been on the current site, through the eyes of one of the oldest trees in the grounds. Again they were given freedom to choose the form they wished to write in and they took full advantage of this showing off their knowledge of genre and form and producing some fantastic pieces of writing. One of the poems written even made the staff shed a few tears because of the content and emotive language used by our young authors.
All the classes thought about character and every child produced a wooden spoon story character to hang from the trees in the grounds and provide further inspiration for current and future stories. I recommend seeking them out once they have made their way from the classrooms into the great outdoors around the grounds.
All in all, a very successful day with children fully engaged in exciting learning opportunities, across the school. Who knows, we may just have the next Roald Dahl, JK Rowling or even Frances Hodgson Burnett right here at Barton Stacey. Watch this space as they continue to grow as authors and story tellers of the present and the future.
Netball Tournament
On Monday 14th May, Micheldever School netball teams came to Barton Stacey, to have a friendly netball tournament against the teams from Barton Stacey. We played high-five netball which is where there are five players on one team. We had 3 matches per team. In team one, we had: William Sprake; Lottie Gatfield; Sienna Gadney; Ruby Blankley-McDonnell; Isaac Hodges; and Rosie White and in team two we had: Kate Hearn; Joshua Hazard; Natasha Gadney; Emily Rowe; Talia Hazard; Ruary Logan; and Eleanor Thomas. All teams played very well and we all had great fun.
Presentation of Little Trooper Medals
On Friday 20th April the children and staff of our wonderful school came together during Worship to celebrate two of our children who had come to the end of a tough time.
Callum and Ruary Logan were celebrated for having made it to the end of their dad's, very long, deployment to Afghanistan. Mum and Dad were invited in to share the worship with us, it was very nice to see Mr Logan safely returned to our school family and to see their family reunited and smiling.
Mrs Evans read a citation for both boys before presenting them with their 'Little Troopers' medals and their certificates. Mr Logan came to the front to say a few words of thanks about how well Barton Stacey Primary School had looked after Callum and Ruary in his absence. He then presented us with a truly wonderful flag, made in Afghanistan detailing the support given to Op Toral 5 by our very own Base Club.
Mrs Cobb.
Sparkling TAG Rugby Tournament
On Friday the 21st of April, the Barton Stacey tag rugby team attended the Overton Rugby Club Sparkling Tag Rugby Tournament and we had an amazing experience! The amazing team that took part in this event were: Callum Logan; Sienna Gadney; William Sprake; Charlie Cobb; Rosie White; Oliver Cooper; William Malone; Ava Hamilton; Lili Russell; Ruby Blankley-McDonnell; Daniel Stear; Heidi Burnett; Isaac Hodges; and Grace James. We were placed in a pool with: Kings Furlong; St. Bede's; Smannell and Enham; Hurstbourne Tarrant; and North Waltham. The games were five minutes long and our first game was against St. Bede's School; we won through default but the score was very close (1-0). Overall, we won three games, drew one and lost one. We did extremely well and it was very close, especially our game with North Waltham who we only just pipped within the last minute (previously, we have never beaten them). In between matches, we took part in rugby drills with Mr. Logan in to keep our muscles warm. He did an excellent job; thank you Mr. Logan.
We cannot wait for the new Year 6 and new Year 5 children to carry on the Barton Stacey tag rugby team and do exceptionally well next year. We thank all the teachers for a lovely day, and for all their effort to help set up this wonderful day out for all of us! Thank you all once again.
~ Written by,
Will Sprake and Grace James
Year 5 STEM Day at Worthy Down
On the 19th of April, year 5 children from across the Federation attended a Science, Technology, Engineering & Maths (STEM) day at Worthy Down Army Camp. This day was held to celebrate 100 years of the RAF. There were lots of fabulous events put on for the schools, such as musical science. We learnt that by putting rice on a drum and banging the drum, it causes vibrations known as sound waves; that is how we hear things. We also looked at crime investigation through the use of fingerprinting, using a special magnetic powder and lightly brushing it across our hands.
After that we viewed a hot air balloon, as well as watched clips of the world's fastest car. After watching the amazing videos we were given the opportunity to make a model car and race it down a slope. It was a great day and we all thoroughly enjoyed it.
Written by Oliver Cooper & Daniel Stear
Hampshire Information Book Award
A group of Year 4 children from Hawk Owl Class were asked to read, review and comment on five books that were nominated for the Hampshire Information Book Award 2018. The children, from the Guided Reading group 'Michael Morpurgo' chose a book and in pairs read and discussed it. They then wrote a book review and presented it to the rest of Year 4. All of the children voted for their favourite information book based on this information. Their votes were sent off to Hampshire County Council. Hawk Owl's nominated winner was 'Oceans and Seas' by Steve Parker. Michael Morpurgo Guided Reading Group were delighted to learn today that their book reviews had helped in choosing the winning book Oceans And Seas.
Book Reviews
Easter Service
The last Tuesday of term, the whole school walked to church to celebrate their Easter Service. The service was led by our Year 5/6 children who retold the story of Holy Week and Easter Sunday through the eyes of animals who were present at each stage of Jesus' journey. The writing was superb and made everyone relive the Easter Story through different eyes. Prayers had been written by Hawk Owl class and these were particularly thought prevoking. The choir beautifully sang two songs: the Servant King and He has risen. At the end of the service the annual infant Easter Bonnet parade took place to the song 'Bring me sunshine' and this certainly put a smile on everyone's face despite the rain outside.
The service also saw the announcement of the termly awards.Nominations were received from every class but the final winners were:
Writing - Lili Russell
Maths - Henry Hopwood
English - Liliana Faretra
Sport - Isaac Hodges
Creative - Mary Frost
School Values - Eleanor Mallinson
Caesar the meerkat
This term, Snowy Owl class have been learning all about endangered animals. After their trip to Marwell Zoo they decided that they wanted to help by adopting an animal. After much discussion in class it was decided to adopt Caesar the Meerkat! The children worked very hard to set up and advertise a cake sale which took place on the day of the class exhibitions. An amazing £131.32 was raised which have allowed the class to adopt Caesar and buy some resources so that they can explore the wildlife within our own grounds.
Class Exhibitions
On Friday 23 March the school held its class exhibitions. Parents and other family members were invited to come and share the work the pupils had created this term. Lots of parents took this oportunity to find out what the children had been investigating this term and we had some wonderful feedback, some examples of which are below.
'What an inspiring event. It is amazing to see confidence brimming in every form of work shown. Proud is an understatement - well done!'
'Thank you, it is great to see the children at work, producing such high quality drawings and all the variety of work that has been produced during the term - Inspirational!'
'What a range of fantastic work. So lovely to see such hard work so beautifully displayed. Well done everyone, you have clearly worked very, very hard'
Spring Music Concert
On Tuesday 13 March, the school hall was filled to capacity for our annual Spring Music Concert. The children performing were nervous but very excited as they waited for their chance to play their chosen piece. There was a wide range of instruments played: violins, recorders, clarinets, piano, trumpets, trombone, cornet and electric guitar. The musical experience of the children varied from children who had started playing this year to those who were studying for their grades up to level 4. However no matter what their experience every child gave of their best and made the school and their parents proud of what they have achieved. The school choir also performed two pieces; Any Dream Will Do and Flash, Bang, Wallop which included actions and very fetching hats! The show was organised by Mrs Ball and compered by Mr Timms and Ms Schwartz from Hampshire Music Service.
Snowy Owl Class - Marwell Trip
In January we went to Marwell Zoo.
We did a Fur, Feathers and Scales workshop to help us sort animals into groups. We also touched some real live animals, including a snake!We walked around the zoo and visited lots of different animals. We looked carefully at their different patterns.
We found out all about the work of the zoo and how they help animals who are in danger in the wild for lots of different reasons.
Learning Powers
In Collective Worship this half term, we have been thinking about our learning powers. We met Resilient Ruby, an owl who has the learning power of resilience. We then had to think about how we can show resilience. The Snowy Owls made promises for Lent and said that they needed to be resilient to follow these promises. Some of the Barn Owl children said how they were resilient over half term, such as riding a bike without stabilisers and climbing up to the top of a climbing wall. Hawk Owls said that they had to be resilient in their science work when attracting paper clips to a magnet and Eagle Owls said they have been resilient during their Easter Stations of the Cross project.
The whole school showed great resilience and will have lots more opportunities this year to show this in lessons.
By Ava Hamilton
Tennis Workshops
On Thursday 22 February, every class was treated to an hour long tennis workshop.A coach from Littleton Tennis Club visited the school for the day and coached the children on some of the skills required to play tennis. The children really enjoyed this experience and it has inspired some of them to talk to their parents about taking up tennis as a sport.
Whitchurch Silk Mill
On the 8th of February, Zoe and Lisa from Whitchurch Mill came in to talk to Eagle Owls about how the Mill worked. The children seemed very excited about learning how the mill worked, as there were lots of different activities to take part in.
There were four different stations; each were different and helped the children's understanding about how the water wheel turned the cogs, then the cogs turned the pulleys, which then activated the looms, and so on. The four different stations were: planning a new video for Whitchurch mill; trying to make the water wheel turn; making our own miniature water mills (the children's favourite); and having a go at making working versions of pulleys, cogs and miniature working water mill. The children loved the experience and would happily do it all over again!
By Lottie Gatfield
Ruby's Special Medal
The last Friday before half term is always something to celebrate. The ending of one half terms' enjoyment and learning, and the excitement of a holiday. But on this last Friday we had something extra to celebrate in our awards assembly. We celebrated the return of Ruby's Dad from a long deployment overseas by giving Ruby a medal to recognise her own achievement.
Seven months is a long time to go without your Dad. For Ruby the time really dragged on and even though she found some days hard, she faced every one of them with so much strength and determination she really amazed every member of staff.
I know from personal experience how tough military children are. They are faced with daily challenges that are unlike other children's experiences. Yet I am always blown away by how tolerant they are of last minute exercises; serving parents working long hours; parents not always being able to share with the children exactly what their job entails; picking up and dropping off lives as you move from country to country or county to county and of course, long separation in times of deployment.
Ruby has trudged on with true military child grit. And we are immensely proud of her.
It was lovely to be able to welcome home Ruby's Dad and to see her whole family reunited to watch Ruby receive her Little Troopers medal. The citation, which was read by Mrs Evans, barely left a dry eye in the hall!
Mrs Cobb
JRSO Training
Last half-term, the school introduced the JRSO (Junior Road Safety Officer) campaign. One Year 5 child (Emma Jarman) and one Year 6 child (William Sprake) were chosen to be this year's JRSO's. Mr Stangroom and Claire Jarman accompanied them to the JRSO training, held at Harestock Primary School in Winchester, where they learnt about what their role involved.
After training very hard, Emma and William set off to work, planning the activities they were going to run on the Thursday night parents evening (the JRSOs had decided to stay after school so that parents and their children could learn about road safety). A huge number of people brought their child/children! They played games on the JRSO website; they played board games like snakes and hazards and also learnt a song to help them when they cross the road. Many of the children didn't want to leave! The JRSO's had very good reviews about that night and are planning what to do next.
By Emma Jarman
The eCadets
The eCadets at our school comprise of two Year 5s and three Year 6s. On Internet Safety Day – 6th February 2018 - our school introduced the eCadets to help everyone in the school become safer online. One of our eCadets, Daisy Mansfield, showed the Snowy Owl class a PowerPoint story where Buddy the dog helps his owner stay safe and happy online. Two other eCadets, Cecily Insole and Frankie Belshaw, showed a presentation to Barn Owls about how to stay safe whilst using the internet. Another two of our eCadets, Michael Norman and Rosie White, presented to the Juniors and discussed a range of internet safety scenarios. We received fantastic feedback about our e-safety presentations and even had visits from some of our Federation Governors too. Our eCadets are in the process of being trained to become 'internet safety superheroes' by the end of their time at the school.
By Cecily Insole
All Stars Cricket
On 2 February the Infants all took part in some cricket coaching sessions with a coach from hampshire Cricket. This was part of hampshire Cricket's 'All Stars' program which is designed to inspire children to take up cricket as a hobby. The sessions were tailored to the age of the children and introduced them to some of the skills which are needed to play cricket in a fun way.
The Maths Evening
Last half-term we held a maths evening, where parents were invited to learn about the strategies their child learns in maths. Many parents said it was a lot different to what they used to do, so it was a great opportunity for the adults to learn from their children! In each classroom there were questions that the children had prepared for their parents to answer (mainly related to the topic in the class). There was also a shape hunt in which the parents and their child/children would walk around looking for small shapes hidden throughout the school. At the end, all the entries from the shape hunt were collected up at the front in two boxes (one for the infants and one for the juniors) and Mrs Brewster chose a random winner from each box. The winners received a book for either KS1 or KS2 maths. Overall, it was a great experience for both adults and children and a great learning opportunity so adults can now help their children at home.
By Rosie White
Barn Owl Class Visit to SEARCH
On Monday, Barn Owls went to the SEARCH Museum in Gosport. When we arrived we were transformed into official scientists, complete with white lab coat. We went into the science explore rooms and found lots of stuffed animals. We used microscopes, electronic microscopes and magnifying glasses to examine the animals on our tables. Then we had to sort them into the animal groups based on what we had observed. We had an amazing time and learned so much about animal groups.
Animal Dress Up Day
On Monday 8 January, the school was taken over by a wide range of animals such as elephants, giraffes and rabbits as Snowy Owl Class had an animal dress up day to inspire them for their topic of animals and conservation. Mrs Evans and Mrs Milne were dressed as zoo keepers and kept all the animals safe in their class. The children completed lots of animal activities and acted out their animal's movement and sound.
Whole School Maths CSI Day
On the 5th of January, 2018, Barton Stacey School was robbed. A suspect, one of eight teachers, stole a tin of biscuits, given to the staff by the governors as a Christmas Present. We were told this in assembly on Friday Morning and given CCTV footage of part of the robbery, but- unhelpfully- all we saw was a gloved hand reaching in and taking the biscuits.
So, throughout the day, we were posted to different teachers around school, and set Maths Challenges attempting to eliminating different suspects every time. Finally, at the end of the day, we had one suspect remaining… Mr Stangroom. It turned out that more footage had been uncovered over lunchtime, and it revealed Mr Stangroom, the least suspected teacher, taking the biscuits. The hand belonged to Mr Stangroom! Overall, children of all ages had a great time on the day and hope we have another day like it!
By Harry White and Ella Olchvary
School Awards
At the end of the Christmas service our new termly, school awards were presented. There were nominations from each class but the final winners were:
Creative - Phoebe Franklyn

Writers - Ruray Logan & Archie Seth

English - Grace James

Maths - Daisy Reynolds

Sport - Stanley Gilbert

School Values - Michael Norman
Christmas Service
The last day of term saw the whole school, along with family and friends congregating in the Parish Church to celebrate their Christmas service. Mr Stangrrom opened the service by saying that this was a time for everyone to remember and reflect on the true meaning of Christmas. The service was based around bible readings, poems and carols which told the story of the first Christmas. During this the Infant children built a tableau at the front of church of the Nativity scene. During the service all the candles on the Advent wreath were lit accompanied by a congregational response. Hawk Owl class had written some very moving prayers which they read towards the end of the service and the Infants delighted everyone with a reprise of one of the songs from their Nativity Play. The musical talent within the school was shown off with our brass and woodwind pupils playing some christmas music before, during and after the service as well as the choir beautifully singing three songs and starting Once In Royal David's City.Everyone played and sang very confidently and there were some beautiful solos. The service was a lovely way to end the term, bringing the whole Barton Stacey Family together.
Christmas Lunch
On the 19 December, our older people of Barton Stacey came to Barton Stacey School to enjoy a delicious Christmas dinner with the whole school, which they said was nice. All of the older people and school council were chatting to each other and listening to the beautiful choir and John Kitching's outstanding, Rudolph the red nose reindeer, on the violin. It was such a great time I really wish they could stay for longer.
There were meeters and greeters who showed them into the hall and took their coats. We also told jokes from our Christmas crackers. One person even said it was splendid when they were walking out of the door.
By Michael Norman
Stories with Santa
On 19th December 2017, Barton Stacey School had a wonderful Pyjama day. Everyone got split up into their worship families and listened to two of the school teachers read, watched a Christmas edition of Peter Rabbit, as well as meeting Father Christmas and being given a present. I strongly think that on the 19th of December everyone had a delightful afternoon.
Adding to this, everyone was allowed to wear their pyjamas, even the teachers! The children each had a hot chocolate each or juice, which was served to them by Mrs Brewster (the Head Teacher).
By Ruby Blankley-McDonnell
Class Exhibitions
On the 14th December, each class took part in an exhibition to show our parents the projects that we have been working on over the term.
Eagle Owls presented their debate as well as their 2017 Parthenon marbles artwork, showing a progression through the year.
Hawk Owls tested their aqueducts and displayed their lighthouses, which had a working light. In history, Hawk Owls made roman tiles from clay.
Barn Owls showed their parents how to use a green-screen to make their own animations. They also made puppets to use during this time.
Snowy Owl children made stick men, based on the Julia Donaldson book, and they told their parents all about the Watercress Line trip.
Many parents attended the exhibitions and we had lots of great feedback about the day. We are all looking forward to the exhibitions at the end of the Spring term.
By Ava Hamilton
Infant Nativity Play - The Inn Keeper's Breakfast
Once again the Infant Department delighted family and friends with their performance of their Nativity Play, The Innkeeper's Breakfast, during which they told the story of an Inn Keeper who never managed to eat his breakfast due to a long stream of visitors knocking at his door. First were some visitors to Bethlehem, then Mary & Joseph followed by some shepherds and angels and finally three wise men. The Inn Keeper, who was normally a jolly man was getting grumpier and grumpier! The final knock showed Joseph at his door again, asking for a blanket for the new baby. The Inn Keeper stomps in to the stable with the blanket to find all the visitors and the baby Jesus and he immediately becomes his happy self again. The children all said their lines beautifully and clearly and joined in with the songs joyfully. The play was a special treat for everyone who saw it. After both performances refreshments were provided by FROGS and a retiring collection was taken for our two nominated charities with an amazing £230.00 being raised to split between them.
School Christmas Fair & Christmas Jumper Day
Friday 8 December saw the school full of colourful christmas jumpers, T Shirts and slippers, some of which flashed or jingled. Children and staff alike had come to school in their christmas jumpers to get themselves into the mood for the FROGS Christmas Fair, which took place straight after school. During the afternoon many parent volunteers transformed the school hall into an exciting collection of festive stalls. There were bottle, chociolate and children tombolas, a huge raffle, cake stall, toys and books , face painting and craft and games stalls as well as a chance to refresh yourself with a drink and cake. There were lots of excited children coming out of school with their arms fully of goodies after having fun spending their pocket money! The Fair was a great success and around £500 was raised for FROGS funds.
Beauty & the Beast Pantomime comes to school
On Thursday 7 December, West End Theatre, brought their pantomime production of Beauty & the Beast to Barton Stacey Primary School. The show took place in the middle of the school hall with the children sitting either side of the stage and was performed by just two actors who took on the show's roles of Beauty, The Beast & Marcelle, the feather duster. The children had plenty of opportunity to roar, boo and shout out all the usual phrases of 'He's behind you' and 'Oh no you're not!' as well as joining in the songs and dance moves. There was lots of laughter and it was a delight to watch the children's faces as they became immersed in the production.
#savetherobin
Eagle Owl class have launched their seasonal campaign of #savetherobin after watching the John Lewis ad. from last year which highlighted that robin numbers were decreasing. as part of their work on this the children have written poems describing the plight of the little bird. below is one of the poems, by Grace James.
#savetherobin
Fluttering my wings
Going tree to tree
I soared though the air.
The Dancing Sea made sudden movements
It made my wings tremble
But I kept searching
Following the valleys
The rumble crackling of the sea beat my wings
Faster the wind blew
Sheltering myself with my crystal red wings
Among the cold deserted valleys the crows cried
The freezing cold killed
I arrived, I survived
Searching through the bitterly cold white grass
Nothing came to sight
I stopped and closed my eyes
What is Advent?
In collective worship this week the children have been exploring what Advent means. Mrs Marshallled the whole school worship on Monday morning and then the children investigated futher in class time before presenting back to the whole school on Thursday. The Infants had found out what a Christingle was and what it represents whilst the Junior children had used acrostics to help explain what Advent means.
Visit by Bishop David
On Wednesday 6 December Bishop David, the Bishop of Basingstoke, was visiting Barton Stacey and popped in to school to say 'Hello'. The Bishop was welcomed by six of our Year 4 children who served him coffee and cake and then spent some time talking to the Bishop on a variety of subjects from life at school to rugby! Bishop David then had a look around the school to see what the children had been doing before spending some time Mrs Brewster and Mr Stangroom.
Tag Rugby
On Thursday the 23rd of November 2017 the Tag rugby team (Charlie, Callum, Will, Grace, Isaac, Daniel, Oliver, Heidi, Lili and Sienna) went to Longparish to play against: Longparish, St. Mary Bourne and Smanell and Enham. This time we won two out of our three games- only losing against Longparish. The match was very close, but in the end they just edged forward to take victory.
We are working very well as a team and practising hard on Monday lunch times. The team really enjoy playing Tag Rugby together and we think it shows on the pitch!
We were joined by some really supportive parents and Mrs Brewster. This was the first time she had seen us play and we really liked having her there and cheering us on. Our next match is after Christmas on the 1st of March 2018 at Barton Stacey School.
By Charlie Cobb
Love in action
This term the children of Barton Stacey C of E Primary School have been thinking about the school's Christian values of love, hope and trust. They have been finding out what underpins these values and then thinking about how they can put these behaviours into action both within school and the wider community. The whole school has also practically put in to practise its values this term in the following ways:
A new house point system has begun where the pupils are rewarded for being kind, considerate and thoughtful. Each week the school owl is awarded to the House with the most points within celebration assembly.

The newly elected school council invited Test Valley Council in to the school to meet them, to find out about the council's Recycling Stars scheme. The school council will be working with the rest of the school this year to improve our recycling both at school and at home which is important when we consider how we care for the world we live in.

The school has supported one of our sport's coaches, Mr Taylor, who has taken a sabbatical to travel to Nepal to help lay a water pipe to a village that since the earthquake has had no water supply. To help raise funds Mr Taylor was being sponsored to walk to Everest Base Camp. The school held a non-uniform day to support Mr Taylor which raised £150. The school also sent a book for Mr Taylor to present to the children of the village.

During our Harvest celebrations this year the school thought about farming around the world and the difficulties farmers can face. Our harvest appeal this year was to support Farm Africa by all the pupils taking part in a sponsored Great Welly Walk. The support for this was fantastic and the children raised £1080 for the charity.

The school once again supported the Rotary Club's shoebox appeal to provide shoeboxes full of useful goodies to disadvantaged children abroad. This is a lovely way for the children to consider and appreciate the many things they have compared to other children in the world.

Remembrance is always an important part of the year at Barton Stacey as around 15% of our children come from families with parents serving in the armed forces. A Remembrance service was held at church which was led beautifully by our Junior children during which we remembered the people who have shown love and courage by serving their country.
Visitors to our school often comment on the loving, family feeling there is within the school and this is due to the whole school community putting our school values in to practise every day.
Remembrance Service
Remembrance Day is always a special day for the school due to its strong links with the Armed Forces. This year the school held a Remembrance Service in the Parish Church on Friday 10 November. The service was thoughtfully led by Eagle Owl Class who explained why we wear poppies and also reminded us how Remembrance Day came into being. This year the British Legion had asked everyone to particularly remember women's contribution to the Armed Services and the children had investigated six women who had made a significant contribution to our defence and presented their findings within the service. The poems 'In Flanders Field' and 'For the Fallen' were read by two children from Armed Forces families and childen from Hawk Owl class showed the pictures they had created based on 'In Flanders Field'. The choir sang a modern version of 'The lord's My Shepherd' and the peace song 'Shalom my friend at the end of the service. The service was interspersed with hymns which the children sang clearly and finished with prayers which had been written by Hawk Owl Class. At the end of the service the school said farewell to Rev. Karen Kouseff who is moving on to a new role in Winchester. Rev. Karen has supported the school and the children for a number of years and Mr Stangroom thanked her for all her support and presented her with some flowers. The service was very moving and reflective and it could be seen how much thought and care the childen had put into bringing it all together.
Snowy Owl Trip To Rock Up
On Thursday Snowy Owls went to Rock Up. I had so much fun at Rock Up, I really want to go again. When we started we needed to put a harness on. Then we climbed up lots of different walls. Jack managed to get to the top of the Circle Wall and ring the bell. We then had lunch and went back on the coach.
By Maariyah Watts
Eagle Owl Class Trip To Oxenwood
On Tuesday the 31st of October Eagle owls went to a place called Oxenwood, Oxenwood is an education centre for children. We went to Oxenwood for a Greek day, and when we got there, there was a Greek soldier called Pereculis. Pereculis is a Greek soldier from Athens.
Pereculis showed us around then he lead us to a classroom where we learnt about Greek fighting. Then it was our first activity outside. We had a foam spear each and a shield and we were told we had to make a flank. A flank is a wall of shields with spears coming out the gaps.
We went back and forth between obstacles and learnt more about Greek fighting. Then we went back inside to handle many Greek objects such as: Greek swords, Greek helmets, Greek plates and Greek daggers.
Then we had lunch in the classroom.
After lunch we went outside again and we were put into teams for running with a soft javelin and then throwing them. There was a competition of who could throw a javelin the farthest. Charlie threw the javelin the farthest.
We all went back inside to the hall where we acted out a Greek tale called: Theseus and the Minotaur!
Then sadly it was time to go home. We gathered our things then got on the bus home.
By Charlie Cobb
Hawk Owl's trip to Fishbourne Roman Palace on the 2

nd

of November 2017
On the 2nd of November, 2017 Hawk Owls went to Fishbourne Roman Palace. First we watched a video about the history of Fishbourne Roman Palace, and then we started the tour of the uncovered ancient floors and stunning mosaics, each colourful tile painstakingly laid by the hard working slaves. The most impressive was the mosaic that had the Roman god Cupid riding his dolphin. After that, we tried foods that the Romans would have eaten at their banquets. There were apricots mixed with honey and many different herbs, sliced olives with all kinds of spices and a special liquid. There was also a children's version of Roman wine which was grape juice, honey and currants, the dates had pine nuts as the filling and last but not least, delicious bread.
Next, we went to a workshop and a lady called Mrs Jennings taught us about the Roman's rubbish such as bones from cows knees and pigs trotters. The trotters would have been used as grinders, like a pestle and mortar, to grind herbs for cooking. Then we were separated into groups and went round most of the exciting activities such as writing on a wax tablet and writing with a special type of Roman ink. There were also board games where we made up our own rules, wool that we winded on a thin piece of wood with a hook on one end, trays of sand that we created mosaics in and cooking with Roman utensils.
After a refreshing, quick lunch, we headed to the palace gardens for a little look around while small groups of children at a time went to the gift shop and bought a souvenir. Finally, we hopped onto the coach ready for a long journey. When we got back to school, it was time to go home so we handed out the gifts and went. We all agreed that it had been a great experience and we had learnt lots.
By Eleanor Mallinson and Eleanor Thomas
Eagle Owl Swimming Trip
On Wednesday 1st November Eagle Owl Class went to the temporary pool in Andover (due to the original one being renovated) for their swimming lessons. Once off the coach, we were met by Mrs Sherwood, Darren and Sarah who are our brilliant swimming coaches. They took us inside, we all got changed and we met up again, this time on the pool side. Then Mrs Sherwood tested us on our ability and put us into groups. There was a group in the shallow end, a group in the deep end, and a group in the middle of the pool. After that, we started our lessons. Each lesson is one hour long and over this half term we will have six lessons.
We all really enjoy our swimming lessons and look forward to them every week! But when we have finished, got changed and had our snack we are always very tired.
By Ava Hamilton
School Council Recycling Day 2017
On Thursday 8th October, Barton Stacey School Council met up with Micheldever house leaders to take part in some activities set by Test Valley Borough council to learn about the importance of recycling. We were split up into three groups and sent to one station in turn. My first station was with a recycler called Debbie. She told us about the importance of throwing your litter in the bin and what the dangers were of Fly-tipping. For instance, we saw pictures of small wildlife being trapped inside cans and bottles. Fly-Tipping is where you dump multiple pieces of large rubbish in the same spot, creating a hazardous environment. Next, we went to a station with a man called Rob, who told us about how to separate litter into different bags. Then, we talked about recycling in a different way. Making art and craft out of rubbish. We were given a worksheet to identify what the different crafts consisted of. Lastly, we all took part in a game where we had to throw beanbags at different items which you could recycle.
By Harry White
Junior Learning Mentor Morning
On Thursday 19th October, all of the juniors took part in a Learning Mentor morning. To be a Learning Mentor you need to achieve at least 15 excellent pieces of work.
Some of the juniors were mentoring whilst the rest were being mentored, there were lots of different subjects being taught by the mentors, such as: Sports; Science; Maths; Art and many more.
Sammy and I did a lesson together, which was science; we had a planning sheet which we had prepared in advance, so we could see what we were doing for the session. Firstly, we split children up into two groups, I read part of a book to them (it was called, Escape from Mount Galeras). After that, I gave out a little sheet that had questions for them to answer. Once they had finished that, Sammy and I swapped over, so my group could make real volcanoes.
To make volcanoes all you need is vinegar and bicarbonate of soda and a cup. Sammy and I worked well as a team and our session was enjoyed by all the children who took part in it. We really enjoyed sharing our skills.
By Michael Norman, Year six.
Snowy Owl Class celebrate Diwali
Our Diwali party was certainly a day to remember. The children all came dressed to impress in their special clothes and we even had some beautiful adult Indian clothes brought in to look at.We spent the morning making some traditional Diwali sweets and exploring Rangoli and Mendi patterns. Ask your children to tell you all about them. We made decorated sticks and lanterns, read and acted out the Diwali story, tasted tradional foods, listened to traditional music and even learnt and performed a traditional stick dance.
A huge thank you to Mrs Watts who brought not only a host of knowledge to the day but also brought gifts of tasty sweets and temporary tatoo mendi patterns that the children took home.
The day was brilliant and we felt we had had as close to a true Hindu festival experience as we could. Well done Snowy Owls!
Harvest Festival
On the last day before Half term the school celebrated Harvest Festival. All the children walked to the Parish Church accompanied by the sound of the church bells ringing to welcome them. The service was led by the Infant Department who all took part. Our youngest children retold the story of Little Red Hen, whilst other children explained how they had made Hedgehog Bread in class with some lovely examples being on display in the church. Prayers of thanks had been written by some of our Barn Owl children who read them at the end of the service. The whole school sang joyfully and loudly the four Harvest Hymns whilst the school choir brought a tear to a few eyes when singing 'When the Father made the world'. During the service the children also explained about our Harvest Appeal for Farm Africa which would help provide skills and knowledge to farmers in Africa. In the afternoon the children took part in the Great Welly Walk to raise funds for Farm Africa.
Hampshire Music service Concert
On Wednesday 18 October, Ms Schwartz from Hampshire Music service gave a woodwind concert to the children. Ms Schwartz played the flute, the clarinet, the saxaphone and a bottle! She explained to all the children how the different instruments worked and how you blow them to get a sound out of them. the children enjoyed the many tunes she played from 'Old MacDonald' to 'When the saints'.
Debi Evans Visit on Thursday 12

th

October
Debi Evans came to school to talk about the series of books called "The Secret Adventures of Rolo." She told us how she became an author by showing us a picture of a dragon ride outside a shop! She started by writing a series of books about dragons for children and then she wrote The Rolo books. The books are called Athelstan and the Time Tunnel, The Chilvester Passage, The Dragons Pram and Jewel Dog and the Dragons. Rolo is Debi Evans' pet dog and that is why she writes about Rolo. In the books' Rolo's best friend is Chickpea who is his sidekick. She loves dragons and Rolo loves them too. After the afternoon she came, she made us want to write the next adventure for Rolo!
By Poppy Marshall and Emily Foster
Rev. Craig Marshall - Farming around the world
On Thursday 12th October, 2017 Reverend Craig Marshall came in to school to tell us about rural life around the world. He compared rural life in Hampshire to that in Mityana, Silvepura and Shantivanam. He explained that in other countries they aren't as lucky as us. For example, in our local village shop we sell sweets and food whilst Mityana has mats on the floor selling shoes and clothes. Whilst, Silvepura has tables and sells fruit and vegetables. We are fortunate enough to have milking machines but in other countries they milk by hand. Craig has told us that St Mary Bourne has a special connection to Mityana. A group of Craig's friends are going there in a couple of weeks to help in the local communities
By Natasha Gadney & Joshua Hazard
School Tag Rugby Tournament
On Monday 2nd October, Barton Stacey's Year 5/6 tag rugby team had a fantastic start to the Georgian League matches. It was at Saint Mary Bourne Primary School and we played 3 matches against Smannell and Enham School, Longparish School and Saint Mary Bourne School. We won against Saint Mary Bourne and Smannell and Enham but narrowly lost against Longparish by 1 point. Overall we played very well and scored lots of tries. Our excellent players were Lili Russel, Ruby Blankley McDonnell, Grace James, Charlie Cobb, Sienna Gadney, Oliver Cooper, Heidi Burnett, William Sprake, Isaac Hodges, Daniel Stear and Callum Logan (who was injured so could not play).
By Sienna Gadney (Year 6)
Reading Extravaganza Evening
On the evening of 2nd October, Mrs Brewster, Mr Stangroom, Mrs Evans, Mrs Marshall, Mrs Cobb, Mrs Sherwood and some junior children hosted a reading extravaganza for junior parents. It was fabulous and we were extremely pleased to see that 56 parents came. We had raffle tickets that every parent received and Mr and Mrs Stear won a £10 book voucher and Mrs Coultish won a book. As well as this we had lists of great books to take home. Parents also got a pack of good questions to ask children when reading at home. At the end of the evening, Mrs Brewster gave parents and children an opportunity to sign up for a book club. The whole evening was a great success and I think all of the parents enjoyed it.
By Sienna Gadney (6)
School non-uniform day to support Mr Taylor's Nepal Project
During the last week of September Mr Taylor, one of the school's Sports coaches, came in to school to tell the children of an exciting project he was going to be undertaking in Nepal.
He will be joining others to help lay a pipe-line, in order to bring fresh running water to the people who live in the remote village of Dhanding Katunje. The village was deeply affected by the earthquakes that hit Nepal in April 2015. Barely any of the village buildings survived the earthquake, with most inhabitants now living in tarpaulin shelters.The work of the team Mr Taylor is joining will enable all those who live there to begin re-building their village, starting with the water pipe.To begin with, Mr Taylor will be climbing to an altitude of 5545m to 'Base Camp' on Mount Everest.This journey is extreme and is expected to take up to twenty days to complete. This is afundraising exercise to help pay for the laying of the water pipe-line.Following the first meeting of the School Council they decided to start off their councillor business with a non-school uniform day to raise some money in support of Mr Taylor.There was also be a chance for children to 'name the House Owl' to further the fundraising for Mr
Taylor. The non-uniform day was a great success and the children raised £125 to help with the laying of the water pipe.
We have had an update from Mr Taylor who is already in Nepal:
'Day 3 in the Everest region now en route to base camp now, starting to get cold and the altitude is beginning to make trekking tough. Doing 6-8hrs per day increasing height each day with acclimatisation days every few days. Currently at 3,400m so 2000m left to go. Hoping to arrive at Base Camp on Saturday. It seems current base camp temperature is -5 to -10 degrees at the moment.
Spent a night in the village last week which is a 3hr bus and 3hr trek from Kathmandu. There is nothing there other than a couple of wooden 'houses', animal sheds and lots of rice fields. The majority of people in the village sleep on floors or benches outside with minimal cover.
The plan is to buy the pipe when we return to Kathmandu next week and take it to the village.'
School camp
On Monday 25th September, all of yr 5/ 6 came to school with a huge bag (or two) on each of their backs! At 2:00pm, Allnat Outdoors (Tommy, Tom and Josh) came to set up camp and at 3:00pm we all came out to set up our tents. As the camp was Stone Age themed, Allnat was leading various games that they had modified from the modern versions. The games we played were: mammoths and hunters; Trees and caves and Tug 'O'War.
After that, we had a dinner of pizza, jacket potato and salad, followed by a pudding of homemade cakes and biscuits which had been brought in and baked by our parents- they were yummy!
In the evening we all sat down in-front of the camp fire, sang songs, told jokes and listened to stories. At 10:00 we all went our tents and got ready for bed (although we went to sleep a lot later).
We woke up at 7:00am and got dressed. After that we watched Newsround and had breakfast. We did flexasize before we started another day of activities! We spent our day making bread, lighting fires and eventually packing away. By the end of the day we were all very tired. And a bit grumpy!
We all had a great time and would like to thank Tommy, Tom and Josh from Allnat. We would also like to thank Mr Stangroom and Mrs Barratt for making it so very special and Mrs Cobb and Elliott for our tea.
Snowy Owl Class Trip To The Watercress Line
After just 3 weeks in school for many of the children, the Snowy Owls went to the Mid-Hants Railway to experience a steam train ride.
We grabbed our packed lunches and set off by coach for the station in Alresford. We were lucky enough to have time to take a close up look at the engine and most of us even had the chance to climb up into the driver's cab before we set off.
Finally, the guard blew his whistle and we were on our way! Our first journey in the old fashioned carriages was just 15minutes as far as Ropley, where we disembarked to visit the train yard. We waved the engine on its way and made our way over the bridge to where many of the steam and diesel engines were kept.
The lady who was looking after us set us a very tricky challenge. She gave us a list of things that we needed to measure. These included; the width of the track, the size of the wheels and even the length of the engine! There were lots of things to help us, tape measures, rulers, pieces of string and much more. None however, was long enough to measure the engine, so we had to draw on our experiences back at school and decided to use ourselves. We found that the engine was 25 children long!
After a busy morning we were ready for lunch and had a lovely picnic under the apple trees above the station. We could see the trains pulling in and out from where we sat.
Next we boarded the train once more and travelled on our longer journey to Alton, where we saw the Watercress line meet with the modern train track to London. It was interesting to see how trains have changed over time.
We stayed on board at Alton and travelled all the way back along the route to Alresford. It was a very busy day and we were all ready for a good nights sleep when we finally got back to school where the mums and dads were waiting.
We had a great day and learnt lots about transport in the past. We also put our maths skills into practise. We can't wait for our next exciting adventure!
Leavers' assembly
The last day of term saw tears and laughter as the school said goodbye to pupils and staff and celebrated their time at the school. The year 6 children had put together their own assembly which was led by Matthew Turner. An amazing array of talents were shown as the Year 6 children performed something special to them from dancing and musical instruments to magic tricks, comedy and judo. It was fantastic to see what confident young people these children had become. The children then shared their funniest moments from school before leading the children in prayers they had written. The children had chosen the Barton Stacey Rap, This Little Light of Mine and One more step along the world I go, as hymns which all the children sung with gusto. Mrs Evans then shared with the school a powerpoint presentation of the children from when they first joined he school until today. It was amazing to see how much they had grown over the years. Rev. Mark then presented each child with Bibles from the school before the choir sang 'I wish I could fly'. After this, emotional farewells were made to Ms Heath and Mrs MacMullen who have both supported the school in so many ways. Finally the writers trophy was awarded to Lily Jarman from Year 1. Before everyone left Mrs Ewings and Mrs Hardman presented the year 6 leavers cake which was shared amongst the whole school.
Transition Days
For three days from Wednesday 19 July all the children in the school moved up a year so that they could experience what school life will be like when they return to the school in September. After assembly on the Wednesday morning all the children went to their new class for September where they were met by their new teachers and LSAs. During the three days, as well as taking part in lots of fun activities, the childen had the chance to find out about new routines and rules and ask any burning questions they may have had. All the children settled in well to their new classes before returning to their existing classes for the last two days so that they could say goodbye to their current teachers and friends.
Iron Age Day
On Friday 7th July, 2017 Hawk Owl Class had an Iron Age Workshop led by Iron Age Matt for the day so we could learn more about the Iron Age in a fun way! We were all dressed up in our interpretations of what Iron Age Men and Women wore. We learnt about how to be an Iron Age warrior, javelins, spearheads ,sling-shots and chainmail armour made out of Iron rings all joined together, it took them eighteen months to complete a piece of armour .
Iron Age Matt had a discussion about clothing and survival in the Iron Age. We started off briefly in the Stone Age and finished in intricate detail in the Iron Age. Iron Age Matt showed us an Iron Age spear tip and a Bronze Age spear tip.
In the afternoon, we did three main activities on warrior training;
Javelin throwing, sling stones (tennis balls), and spear practice.
Our first activity was javelin throwing with Miss Smith. Then with Mrs De-Cani we threw sling stones (tennis balls) far less dangerous. Then finally with Iron Age Matt, we did spear practice, it was lots of fun! We had a great day.
By Lottie Gatfield and Emma Jarman
Armed forces day review
Friday 8th of July was Armed forces day. We had two people come in to school. One was called Laura and she gave us a interesting chat about her time in the armed forces and her medals. Mrs Logan also came in to set up the assault course. Base club also helped her. Base club is a club that consists of army children that come every week to Eagle owl class in their break at lunch. The collection from non-uniform days raised £105 which will be sent to Scotty's little heroes, a charity which provides support to children who have lost parents in the Armed Forces.
By Callum Logan
Mad Science Assembly
On Wednesday 12th July we had a Mad Science Assembly. We had Super Sian and Lightning Lauren come in to talk to us. They showed lots of fascinating experiments to us and asked for lots of volunteers.
For the first experiment, they brought up 'Jupiter John' and asked him to rip an ancient piece of paper. After some strength and effort, he managed to rip it in half. Super Sian was a bit confused with what to do with it, so she asked us! After a few suggestions, Joshua Hazard suggested burning it. Jupiter John had to step to the side while Super Sian got out her lighter and proceeded to light it on fire! It burned like it would at home,
Junior Summer Production - Oh what a knight!
Once again the Junior department have produced a fantastic summer show which was performed three times, once to the school and also on two evenings to a packed hall. This year the show was titled ' Oh what a knight!' and told the story of a would be knight at King Arthur's court who along with a princess manages to save Camelot from the wicked knight. The children sang all the songs with gusto and acted out all the parts perfectly. A special mention must go to our leads Natasha Gadney and Rosie White who performed and sang their solo beatifully. FROGS kindly provided refreshments and the retiring collection raised £305 to be split between our two charities: Cygnets & Andover Crisis Centre.
Sports Day
On Thursday 6th July 2017 the whole school took part in a series of sports and races to try and win the Morning trophy and the Afternoon.
Each key stage were put into three groups:
Blue;
Orange and
Yellow.
For the morning we had to throw, kick and hit our way to winning the trophy!
One of the activities were that we had to throw a rugby ball to see how many points we could get.
After all the activities, Blue team won the morning trophy.
In the afternoon it was probably the best part of the day there was a lot of sun and we were all very hot. Each class took part in running, skipping, relay and obstacle races and whoever won added points to their team's total. At the end of the afternoon Yellow Team had the most points and won the trophy.
We got ice lollies at the end!
By Ava Hamilton
Federation Sports Day
On Wednesday 28th June, 2017 Micheldever and Barton Stacey came together to take part in a series of sports events as a federation. There were five KS2 activities led by the teachers, of both schools: Discus; Archery; Football; Nerf War and netball. There were also five KS1 activities as well: Parachute games; Obstacle relays; Quick cricket; athletics; and scooters/soft archery. They were all very fun, and we all enjoyed coming together and getting to know each other as friends. All of the Micheldever children were very friendly and enjoyed doing sports and they were all great sportsmen and women; it was amazing fun to spend the day with them. We finished the day by handing out the winners awards and believe it or not Georgia Lance won two awards which we are all very proud of her for!!! So overall it was a very good and exciting day for all of us, and we are all hoping we will do it again next year! We are all excited to see each other soon!
By Grace James & Will Sprake
Calshot
On Monday 12th June, year 6 set of on their journey to Calshot activity centre for a week full of adventures. We travelled for 45 minutes and finally the wait was over and we arrived safely at the spit. We got shown our dorms and then the calshot staff gave us a tour of the whole activity centre.
Day 1
After our delicious lunch we got split up in our 2 groups and participated in 2 sports: Rock-climbing and Archery, they were both very fun. We all pushed ourselves to the limits in rock-climbing and we nearly all got to the top. In Archery we perceived and most of us scored balls eyes. After the beach scavenges we all went to bed very excited as it was our first day and we couldn't wait till day 2.
Day 2
In the morning, we got ourselves ready, had breakfast, and made our way to the mini bus to drive to the forest where we did orienteering. There were lots of hidden clues all around and we had to find them all and reveal the hidden password. After that, we got our wetsuits on and went kayaking in the sea. We got quite wet but it was worth it as we had great fun playing in the water. We got ourselves dry and then headed to Houston house where Becky met us to do daring detectives. We eventually discovered who the kidnapper was and then went home for bed!
Day 3
On Thursday we got up had our lovely breakfast and set out to meet at the picnic bench for our morning activity, trawling. We found lots of different creatures including a plaice (a type of fish, we called it Jeremy) it was very interesting to look at it. We identified everything we got and we learned about the different zones of the sea. We then did rushing rockets were you fill the bottle with water and pump air in it and it goes flying. After dinner we headed back to the house and played a few games, straight away we went to sleep as we were very tired.
Day 4
We woke up and put on all our kit on for skiing. We learned how to slide down the dry slope and use the rope lift. After the tiring lesson we went to crate stacking and had a fantastic time working as a team! Then, we went cycling in the Velodrome which was hard but really enjoyable. Ringo was next and we all were very tired
Grow a £1 certificates awarded
Today Mrs Evans awarded the 'Grow a £1 certificates' in awards assembly:
Most money raised : Michael Norman
Special recognition: Heidi & May Burnett
Most creative: Reuben, Florence & Harrison Parfey
Perserverence & commitment: Rosie & Harry White
Mrs Evans said that although these children had received a special award every single child who had taken part deserved special recognition for their imagination and hard work in helping our campaign be so successful. Every child would therefore receive a special recognition certificate.
Do come and have a look at our board displaying what the children achieved which is just inside the main school entrance.
Sparkling Ruby Tournament
On the 23rd of May 2017, a team of 15 players from Eagle Owl Class went to Overton Rugby Club to take part in the 2017 Sparkling Rugby Tournament. The team consisted of Ben(captain), Oscar. G, Oscar. W, Emilia, Tess, Grace. W, Sam, Daisy. I, Callum, Charlie, Grace. J, Heidi, Emma, Lila, Ava and Sienna. We played 6 matches on the day. We lost 4 of those and the other 2 we won. Our team had great spirit and even though we lost 4 games in a row we still held our heads up high. Like last year, we played against a team called Maple Ridge. They are a special educational needs school and were there to have fun not to compete. We were really impressed at the way they played. Also, like last year we came home with the Fair Play Award. Mr. Stangroom commented, "If we come home with a trophy, we should come home with the fair play trophy." He is really proud that we got it again. We would like to thank all the parents for the support they have given us throughout the season. We would also like to give special thanks to Mr and Mrs Logan and Mr Walker for giving up some of their free time to come and teach us.
Hawk Owl Class Trip To Stonehenge
On Thursday 18th May, Hawk Owl Class went to Stonehenge for our Stone Age topic that we will be doing for the rest of the term. The first activities we did were in the Discovery Centre where we split into four different groups, each focusing on a different aspect of life near Stonehenge.
The activities included how the Stone Age people hoisted the stones into position, what was found in the surrounding landscape, what clothes Stone and Bronze Age people in the area wore and the position of the Stones when they were first built.
Afterwards, we were split into three groups. One group went into a Stone Age house and made flour by grinding barley seeds with a heavy stone along with looking at an axe and a bow and arrow.
One of the other groups made rope out of reed which was the kind of rope that the Stone Age people used to hoist the stones up into position at Stonehenge. The other group made weaved fence using hazel sticks poked into the ground and more sticks weaved in and out of them. This was used as a wall for most Stone Age houses. They were also then covered in chalk to keep the weather out.
Next, we had lunch sitting outside the Discovery centre on the picnic benches. This was followed by our trip to the Stones. We got the coach and went down the short road to Stonehenge. We got out and were amazed by the ancient monument and its sheer size was incredible. It made me, for one, feel very small compared to the massive stones. We were able to walk right around the Stones and see the Great Trilithon, The Sarsen Stones and the Bluestones.
Finally, we got back on the coach and after arriving back we took it in turns to enter the amazing Exhibition Centre and then the gift shop. We really enjoyed looking at all the artefacts in the exhibition centre and the items in the Gift Shop. I'm sure that- overall, we all enjoyed our trip and we all now know a lot more than we did before we went.
Harry White and Archie Evanson-Goddard (YR4)
Grow a £1
We announced in assembly today the final total of our 'Grow a £1' campaign. An amazing £ £2682.11!
What an amazing job all our pupils have done in growing the £116 we gave out in total to all the pupils, to this fantastic sum of money. We hope to share with you soon some of the diverse and original ways in which the children grew their money but in the meantime can we extend a huge thank you to all the parents, family and friends who supported their children over the last two months. The money raised will be added to the money from the sponsored walk which took place earlier in the year, to help us start developing our outdoor curriculum area.
Easter Celebrations
The last week of term saw the pupils finding out about the Easter Story within class activities and collective worship. Hawk Owl Class children were encouraged to create either an Easter Garden or an Easter picture. The children were very thoughtful and there were some amazing gardens which the children showed to the rest of the school afer a collective worship. On the last day of term the school held its Easter service at the local parish church. The service was led by the Year 5's who narrated the easter story whilst showing a montage of stained glass effect art work they had created. The school choir beautifully sang the hymn 'As the deer' with every child singing solo or as a group. It was then the turn of the Infants to parade around the church in their Easter bonnets which were very colourful. The thoughtful prayers were led by children from Hawk Owl Class who had written them during the week. it was lovely to see so many parents supporting their children at the service and joining in the hymns.During the service Lili Russell was presented with the writers cup for the term. Later on that day the children were able to enjoy a special Easter lunch provided by the kitchen which included bunny & lamb shortbread biscuits. The afternoon saw the children enjoying our 'Grow a £1 fete' where they had the chance to buy lots of goodies produced by the children who were stall holders.
Ukulele Concert
This term our Year 1 & 2 children have been busy learning ukulele in their Listen 2 Me lessons every Tuesday morning. The children really took to the little instruments and were able to showcase all the songs they had learned to play and sing during an end of term concert to which their parents were invited. The children had worked very hard and there was lots of applause from the delighted audience.
Spring Music Concert
On Tuesday 28 March the school once again held a Spring Music Concert, the first of which had been held last year. The Spring Music concert is a chance for any child who learns an instrument either within school or privately to have the opportunity to perform in front of an audience. Over 35 children plus our school choir performed in front of an audience of fifty parents, staff and the rest of the pupils. Every child who performed gave of their best and it was lovely to see how appreciative the rest of the children were of their achievements at the concert with huge applause from the whole audience for every child. The concert was compered by Mr Timms, the school's vilolin teacher and showcased individual and group performances by violins, flutes, clarinets, saxaphone, recorders, cornet, trombone, piano and voice along with the choir led by Mrs MacMullen and Mrs Gadney who sang a song from Joseph. It was particularly lovely to see the progress some children had made over the year since the last concert. The concert finished with refreshments provided by FROGS.
Comic Relief
Last Friday, the whole of Barton Stacey School supported Comic Relief's Red Nose Day!
Hawk Owl Class, as part of their Literacy, PSHE and ICT curriculum, created posters to persuade everyone to take part. These were displayed throughout the school. Their persuasive skills were excellent, as all of the children and staff dressed up in a combination of red, white and black, with many wearing red noses, whacky ears, hair and glasses! Lots of fun was had by all!
In the afternoon, the children in Hawk Owl Class worked earnestly turning their class into an amazing 'cake shop!' They were very excited!!!! The tables were laden with their delicious cookies and cakes. Lots of children and parents came and supported this fundraising 'Bake sale'. It was fantastic to see the children turning their pricing labels over to 'Sold out!'
From the non-uniform day, a total of £98.45 was raised. The bake sale raised £169.81!!! A total of £268.26 has been donated to this fantastic charity!
I would like to say a massive 'Thank you' to everyone who took part and to all of the parents in Hawk Owl Class for being so supportive and helping their child (children) bake such wonderful cookies and cakes!
Best wishes,
Mrs Marshall.
Science Day, 2017
Last week the whole school took part in National Science Week. After a short assembly, entitled 'Science Is Fun!' the children all returned excitedly to their classrooms to take part in a day of scientific exploration, investigations and learning.
Across KS1 and KS2, the children were fascinated by a presentation and power point by Mrs Hearn on the human skeleton and x-rays showing different fractures and discolations. They all enjoyed meeting 'Bruce!!!!'….. Who is currently resident in Hawk Owl Class.
Snowy Owls then carried out a 'space seed' investigation, an 'Alien soup' experiment (this involved the children separating materials by filtering and sieving), activities exploring friction and magnetism, pond dipping and finally, role playing to be a radiographer like Mrs Hearn.
Meanwhile, Barn Owls spent the day carrying out an investigation trying to determine what was the best material(s) to make a dream catcher mobile. This involved lots of discussions, using scientific vocabulary, and fun practical work.
In KS2, both classes enjoyed a power point and discussion from Mr. Holligan (a retired Oceanographer) on Antarctica and glaciers around the world. Mr Holigan explained the importance of us looking after our world, and the dreadful impact of global warming on the climate.
In Eagle Owls the children enjoyed 'The Spaghetti Challenge' and making periscopes. Whilst, Hawk Owls took on ,The Newspaper Challenge', a Paper helicopter Investigation and an electric circuits investigations!
Finally, we shared a great assembly where the children shared their
Girl's Tag Rugby Tournament
On Friday 24th March 2017 Barton Stacey Girls rugby team went to Hurstbourne Tarrant Primary School to play rugby against 3 out of 6 rugby teams.
We played very well but unfortunately lost all our games by only one try. The scores were 4-3, 3-2 and 3-2. The players were the normal players, and new people to the team were Daisy Insole, Lila Halls, Heidi Burnett and Ava Hamilton. We all had a fantastic time and were all quite tired towards the end of it.
New Amphitheatre used for the first time!
With the weather having shown some recent improvement, Snowy Owls have been delighted to be out and about around the school grounds searching for signs of new life and spring. We walked all around our school, including a visit to the newly refurbished pond area where we even saw some frog spawn. We spotted so many signs that spring is on the way and made a picture board to share with the rest of the school. We finished our walk at the brand new amphitheatre where we used the boards to record and discuss our findings. We were thrilled to have our first lesson there and look forward to many more taking advantage of its position in our inspiring school grounds. We can't wait to see the next phase of development for the Learning discovery area either. Watch this space.
Tag rugby
On Tuesday the 28th February, Barton Stacey Primary School played in the third round of the Georgian League Tag Rugby Tournament at North Waltham Primary School. It was pouring down with rain at the end and extremely muddy.
We played against Longparish Primary and North Waltham Primary. Micheldever Primary School didn't make it to the match this time.
The scores were: 4-1 to Longparish Vs us and we drew against North Waltham. It was 3-3 at the end. Over all we played very well on the cold, wet, soggy pitch.
By Charlie Cobb (tag rugby player)
World Book Day
Friday 3 March saw the school overtaken with characters from many childrens' books as the school celebrated World Book Day. The younger classes had many children dressed up as figures from Fairy tales whilst the Juniors had quite a few Harry Potter characters, as well as Storm troopers, Cat in the hats, and Roald Dahl figures. The costumes were amazing and parents and children had obviously taken a lot of time and effort to create their clothing and accessories. In the afternoon the teachers changed classes and read an exert from one of their favourite books to the children.
Learning Mentor Morning 15.2.17
On the 15.2.17 all Barton Stacey's brilliant Learning Mentors, children who have received 15 pieces of excellent work, got together and came up with a 1 hour workshop to lead. Some of the many subjects were: Literacy; Maths; Computing; History and Science. It was a great morning and all the children who came to the workshops gave excellent feedback. The two sessions were 9am-10am and 11am-12am.
Written By Matthew Turner Y6
Eagle Owls Class Trip to Palace House, Beaulieu
On Tuesday 14th February, Eagle Owl Class went to Palace House at Beaulieu. When we went into the house the boys had to take their hats off and then we were separated into two lines: boys and girls. Then we met the Governess, Mrs Clark. She was strict but fair. We also met Patterson, the lead house maid, who told us about the job of a footman.
After that we were led to the smoking room: it stank of smoke (what did you expect!?). Then Patterson talked about being a house maid and all the different jobs you would have had to do. The jobs were: Spittoon cleaner and house cleaner. If you were a house cleaner you would be given a box of brushes. If you were the youngest house maid you would be the spittoon cleaner.
Next we had a look at some Victorian toys. There was a stick puppet, a teddy bear and a horse tricycle. Then we went a secret route to the kitchen…
Mrs Clark talked about a pestle and mortar, irons and a giant sugar cone (yum!).Then we went up a large flight of stairs, girls before boys and found ourselves in a big and airy drawing room overlooking Palace House Gardens. Mrs Clark told us about a backboard and asked both Will Sprake and Will Malone to come up and demonstrate what a backboard does. She was very surprised when she found out that they were both called Will! Then Mrs Clark pulled Zoe out and asked her to demonstrate what a headboard was for.
After touring the House we had a delicious Victorian lunch. Many of us had pasties and Sienna had her very own carton of gruel! After lunch, we took a tour of the car museum, noting down any that were driven during the Victorian era. We boarded the bus at 2pm, exhausted after the long but enjoyable day.
By Frankie Belshaw & William Sprake
Tag Rugby Report
Stats:
First Game: Barton Stacey 2-1 Micheldever

Second Game: Barton Stacey 3-3 Longparish

Third Game: Barton Stacey 3-4 North Waltham
On Tuesday 31st January, we hosted the second round of the Georgian Tag Rugby League matches. Our team consistently played well and we had a moral victory, by winning one of the matches. We are an improving team and hopefully we will win our 3rd round of matches
"It was an amazing experience and we played better than last time," quoted Oscar Walker.
"Our games were fun and exciting, which helped us build up team work," quoted Callum Logan
"We played well but unfortunately we lost 3-4 against North Waltham but hopefully we will win our next matches," said Charlie Cobb.
By Callum Logan & Oscar Walker
Snowy Owl Class Space Dress Up day
Last Thursday being in Snowy Owl Class was really like visiting another planet! Everyone had put so much effort into our space dress up day. Thank you so much Mums and Dads for all your help with this. We had space explorers, planets, stars, astronauts and some very strange looking alien children! Just take a look at the photographs! The children loved talking about their costumes and taking on their characters personalities in their play. The learning the children had being doing about story characters all week was evident as they were able to describe the appearance and personality of their characters. We can't wait to see how these weird and wonderful descriptions feature in the space stories we are building up week by week this term.
Junior Art & Design Day
On the 23rd January, 2017 Hawk Owl and Eagle Owl Class went to Winchester Cathedral to take part in an art workshop. The first activity we did was copying and painting the patterns on the floor of the cathedral. We did this, by first copying the patterns on the tiles, then transferring the sketch onto a polystyrene tile. Finally, we painted over the marks we had made in the tile to colour it.
Our next activity was making shields. Different colours meant different emotions such as black which meant grief and sadness and red which means courage. We also added different colourful symbols.
Before our last activity, we had lunch and enjoyed sharing our different thoughts about whether we had enjoyed doing the activities and which one we had enjoyed doing most.
Our last activity at the workshop was to create a mural of the cathedral. We were separated into six different groups and worked our way around the mural doing different parts of the fabulous old building such as the pipe organ, wooden screen, banners and altar table. Then we got all of our belongings and headed back to school.
Overall, it was a great day and we all enjoyed being able to talk to each other and create brilliant art. We all were really proud of our work!
By Archie Evanson-Goddard and Harry White
The O2
On Monday the 23rd January, 25 children from Barton Stacey and 24 children from Micheldever Primary School went to the O2. With all the schools put together, there were about 7,134 children in the Young Voices Choir . There were 13 songs performed, including Five Guys Named Moe, Pop medley (which we all loved) and Maliswae.
Eleanor Mallison quoted: " It was an amazing experience! "
Sammy Turner said : "I loved it, it was amazing! "
Emma Jarman told us : " I've never stayed up so late! "
We spent our evening singing and dancing (Mrs Gadney even brought glow sticks for us!). We all spotted our parents and we were supported by our teachers. The banner Mrs Cobb and her son Charlie made was amazing! We all look forward to next year!
By Ava Hamilton and Zoe Oliver
Snowy Owl Visit to The Winchester Science Centre and Planetarium.
On Thursday 12th January Snowy Owl Class went to the Winchester Science Centre and Planetarium. We had a fantastic day and thoroughly enjoyed getting hands on with real science and interacting with all the exciting exhibits.
The highlight of our day was of course our visit to the Planetarium to see 'The Secret of the Cardboard Rocket.' We joined two children on a magical adventure through space in their very own cardboard rocket. It was just like the one we have built in class! We landed on Mars and walked through the rust coloured dust and rocks, braved the winds of Jupiter and flew through the asteroid belt and the ice particles in the rings of Saturn before returning home. No wonder we were all so tired when we got back to school.
Our adventure was great inspiration for writing and role-playing our own space stories. We also had photographs with Tim Peake! Well, a cardboard Tim Peake anyway. We hope you enjoy looking at some of our photographs.
Christmas Celebrations
The last week of term was crammed full of Christmas activities for the children and the wider school family. In each class a variety of Christmas activities were taking place from biscuit making to card making as well as festive puzzles and brain teasers.
On Thursday lunchtime the school welcomed some of the more senior members of our village community to our Christmas lunch. The school hall looked very festive with tables decorated with tree table decorations and crackers to compliment the decorated hats worn by all the children. The kitchen staff had done a brilliant job of cooking over 150 Christmas dinners and these were served to all the children and guests by the staff. After lunch the guests were entertained by musicians, the infants and the choir.
Later that same afternoon the Infants had a surprise visit from Father Christmas who brought gifts of books for all the children. There were lots of excited faces when they heard his bell and glimpsed him through the door!
On the Friday morning the children were joined by a large number of parents and grandparents in the local church for our Christmas Service. The service was led by our Year 5 and 6 children who retold the story of the first Christmas. Interspersed between the readings were carols and music performances from our woodwind instrumentalists and the school choir. The prayers were led by our Year 3 / 4 class and a final blessing was given by Rev. Karen Kousseff.
At the end of the service a final farewell was said to Mrs Beswick who has left us for pastures new. We sent her on her way with all our best wishes.
Amazing Andover Afternoon
On Monday afternoon (12/12/16) Eagle Owl class was visited by the Andover Trail Group. The children returned from lunch to find: The Old Mucker; Mr Heath and Miss McDougal fully dressed in Victorian attire awaiting them in the classroom. Eagle Owl's then began an afternoon of tales, story writing and acting all about the history of Andover.
We had a brilliant time learning about the highways around Andover and the characters that earned a living from them, we learned about the infamous Andover Workhouse and about the 'Muckers', whose job was to clean the streets after the horses had 'been'! We were told about the plague, the Great Fire of Andover and The famous and Royal visitors Andover has received throughout history.
Eagle Owls got fully into the swing of it all, wearing costumes and acting out parts in the hilarious stories!
We had a wonderful afternoon, make sure you ask the children all about it….
DT Morning
What more do children enjoy than a morning of glitter, glue, shiny paper and colouring accompanied by Christmas music? The school was full of this on Monday 12 December as it held its annual DT morning to prepare all the accessories needed to accompany our Christmas lunch later in the week. The children were split into three mixed aged groups and they then rotated around the school to the three different craft activities. Mr Stangroom's classroom was the cracker making workshop. Mrs Marshall and her team had the children making table decorations and place mats whilst in the Infant department amazing hats were being created. By the end of the morning around 150 crackers, hats, placemats and decorations had been made and the children had had a fantastic morning.
Radio Solent comes to school
The children were all very excited when on Friday 9 December Radio Solent came to school to record them singing three Christmas songs. The children sang loudly and confidently and the second and third songs were recorded in one take. The songs will be broadcast on Radio Solent on the week leading up to Christmas and will also be found on the BBC i player. Tell all your friends and family to listen out for the school.
Listen 2 Me Concert
This term the Year 1 and 2 children have had weekly vocal lessons with a teacher from Hampshire Music Service. On Friday 9 December the children held their end of term concert in front of the school and their parents. The children sang four songs including a song about advent and also a chant. They also explained to the audience how important it is to warm up your voices and to have the correct posture when singing. The concert finished with our newest recorder players playing hot mince pies.
A Little Bird Told Me
Parents were in for a treat on the afternoon of Monday 5 December and the evening of Tuesday 6 December when the Infant department delighted everyone with their telling of the Nativity. This year's production was titled 'A little bird told me' and told the story of a flock of birds who flew to Bethlehem to welcome the baby Jesus with a song. Along the way they met sheep, stars, angels and wise men before finally joining with all the animals and shepherds at the stable.
The children were full of confidence with words being spoken clearly and loudly. The songs were sung with energy and much enjoyment and the two soloists performed beautifully.
Refreshments were provided after the performances by FROGS and retiring collections amounted to nearly £200 for our two charities.
A big thank you goes to all the staff in the Infant department who once again produced a wonderful nativity.
The Christmas Pantomime
On Thursday 1st December, 2016 the pantomime came to Barton Stacey Primary School. They performed Cinderella. I was the man who was pretending to be the Prince whilst the actual Prince took some time off being himself. When the prince is in the wood he meets a girl. The girl was called Cinderella but the Prince doesn't know her name. After that, the evil sisters ripped up Cinderella's invitation to the ball so she cannot go. When the sisters had left to go to the ball the Fairy Dog Father came to Cinderella's house and magically fixed the invitation, he made a mode of transport and a dress. Cinderella went to the ball and met the Prince. The Prince revealed his name to Cinderella but the clock struck midnight and Cinderella had to rush off before revealing her name to the Prince. When she rushed off her shoe comes off. The Prince took the shoe. He went around the kingdom trying the shoe on until he came to Cinderella and it fitted. Cinderella and the Prince got married and they lived happily ever after.
It was a great day and we all enjoyed it.
By Archie Evanson-Goddard
Federation Netball Match
As twilight fell across the playground on the very last and very coldest day of November, Barton Stacey's netball teams from Hawk Owl Class and Eagle Owl Class played in a brilliant and nail biting tournament against Micheldever Primary School.
All of the children who took part displayed wonderful sportsmanship throughout the tournament.
Hawk Owls played well despite not having played competitively for some time. They held Micheldever to a 2 all draw with Natasha Gadney and Emma Jarman scoring one goal each. All of the girls played well as a team. They worked so hard and defended their goal really well. They are keen to play more competitive games in the future.
Eagle Owls fought a hard match against their Micheldever opponents. Despite throwing everything at them, Micheldever's point scoring ability was too much and they went on to win the match 5-2 with Tess Crane scoring both goals for Barton Stacey. The team pushed themselves and worked well and despite the loss are keen to get practising for more future matches.
The school would like to thank Mrs Rowe and Mrs Gadney, who served the teams from both schools some much needed squash and orange segments at half time! They were scrumptious and greatly enjoyed!
Brass Concert by Hampshire Music Service
On Friday 18 November the whole school were entertained by Mrs Sierra Schwartz, a brass teacher, from Hampshire Music Service. Mrs Schwartz played three brass instruments for the children: Trombone, French horn and Cornet. During the concert she explained to the children how the instruments worked and what sounds they made whilst playing some well-known tunes. The children thoroughly enjoyed the demonstration and lots of laughter and applause could be heard emanating from the hall!
Snowy Owl Class trip to see the Dinosaurs!
On Tuesday 8 November, the Snowy Owls went to the Natural History Museum to see the dinosaurs. First we had lunch. Next we went to see the robot dinosaurs. Then we went to see Dippy. We measured Dippy, she was twenty two children long. After that we touched dinosaur poo and then we touched dinosaur teeth. Finally we went home.
By Freya Howard
The staff at the Natural History Museum commented on how polite and well behaved the children were. Well done Snowy Owls!
Remembrance Service 2016
On Friday the 11th November at 11o'clock, Barton Stacey School held a Remembrance Service to remember those who died or who were injured whilst fighting for freedom. We began the service with the Last Post followed by a two minute silence. The Junior years (3, 4, 5 and 6) contributed to the service with reading, art and poems, for example In Flanders Fields and For the Fallen, as well as looking into the lives of more recent war veterans. The year fives also made poppy petals which detailed what the poppy meant to them. To finish the service, Hawk Owl Class read out some acrostic poems/prayers which were followed by a blessing by Rev. Karen and the laying of wreaths.
Written by Matthew Turner and Ben Hearn
Tag Rugby at Longparish
On 1st November the school tag rugby team went to Longparish School and played Micheldever, North Waltham and Longparish. We beat Micheldever but lost to the other teams. The players were Ben, Sam, Oscar G, Oscar W, Callum, Charlie, Sienna, Grace W, Emma, Emilia, Grace J. It was very fun and we can't wait until the next match on 31st January.
By Sienna Gadney and Grace Wilson
Pyramids of all shapes & sizes!
As part of their Ancient Egyptian topic, Hawk owl Class were challenged over Half Term to use their Imagination to create a pyramid out of any material they liked. Mrs Marshall, Miss Heath & Mrs De Cani were amazed at the ingenuity shown by the children as they returned in November with their creations. There were pyramids made out of Lego, papier mache, cardboard and wood as well as edible ones made out of sweets, biscuits and cakes!
Celebrating Harvest!
During October the children have been thinking about Harvest both locally and in other parts of the world. Each class investigated how the different religions of Jewish, Hindu, Islam and Christian celebrate Harvest and shared this with the rest of the school. The school also focused on how the world's Harvest is not always shared equally and how some people are in need of food and our help. Once again we supported Andover Food bank, this year raising money to help them supplement the food supplies they receive with perishable items such as milk. Each class had a large outline of a fruit and the children were challenged to cover this image with loose change. An amazing £150.00 was raised!
The week culminated in the school's Harvest Festival at the local church, which was led by our Infant Department. It was lovely to see these youngest members of our school community, some of whom have only just joined us, read and sing so confidently and with obvious enjoyment. The school choir also performed a brand new Harvest Hymn by Stuart Townend which was beautifully sung.
After all the excitement of the service and the walk to and from the church, the children were ready for their Harvest lunch, a delicious minced beef cobbler or Autumn pizza followed by apple & blackberry crumble cake.
'Be Safe, Be Seen' Day
On Thursday 20 October the school took part in Hampshire County Council Road Safety Team's ' Your time to shine day'. With the nights drawing in and the weather getting duller, children are more vulnerable on their way to school or when they are out at the weekends. The school highlighted the day by asking the children to participate in a Be Bright Be seen non-uniform day. The children came dressed in their brightest clothes along with reflective jackets and gadgets, sunglasses were almost needed when all the children gathered together in the school hall.
During the afternoon the children took part in a Stay Bright - Stay Seen sponsored walk event in the school grounds. The infant children saw if they could negotiate pretend road crossings, with a number of potential hazards thrown in, on their walk. The Junior children were challenged to complete a road safety quiz on their walk.
The sponsored walk is part of a longer term school fund raising project to develop an outdoor learning and discovery zone in its large grounds. The long term vision for this area is to make it a usable space for learning in a variety of curriculum areas with resources that enhance discovery and hands on learning and which also sit comfortably with the natural environment and natural strengths that the school grounds provide.
The first phase of the project is to build a wooden stage with amphitheatre style wooden seating and backboards with blackboard and whiteboard panels. This would allow the school to teach and learn outside in all curriculum areas, share ideas and record and present our thoughts. Once the amphitheatre is in place it will be enhanced with learning stations and discussion tables including information and learning panels, a weather station, world maps, ideas boards and much more.
Mr Stangroom, said ' Not only did our children raise money for our exciting outdoor project, and have fun in the process, but they also learnt about the many ways that they can keep themselves safe when out and about in the area they live.'
Snowy Owl Class Celebrate
The newest members of our school family have settled in well to their new school life and during their first Half Term have been thinking about parties!
The children brought in photographs of their own birthday parties and had fun role playing parties in the home corner. Just before half term all the children were invited to one of the doll's birthday party where they ate gingerbread men which they had enjoyed making earlier in the week.
Barn Owl Class Trip to Trinley Estate
On Monday we went on an exciting trip to a farm. First we went to see the farm machinery. We saw the big tractor and the combine. The combine was bigger than Mrs MacMullen. Next we went to see the wheat. The barn could fit lots and lots of wheat in. Then Mike let us touch the wheat, it felt smooth and bumpy. Next we went to see the maze. It was taller than us. Mike let us taste the sweetcorn. Then we went in the wood to find things on the ground, so we could tick them off on our tick sheets. We then found out how old a beech tree was by counting its rings. After that we had a tasty lunch. Then we said goodbye to Mike and got back on the bus to go back to school.
By Maisie Howard
On Monday we went to an exciting farm called the Trinley Estate. First we went to look at the machinery. There was a big combine harvester. The wheels were bigger than me. The farmer was called Mike.
Next we saw lots of wheat. The wheat made my hand smooth. Mike showed us some enormous logs. It looked like a bug hotel.
Then we went in a forest. Daisy and Mrs Griggs found a hole in a tree stump. Then we found a hut and five bird's nests. I found a door mouse box. Finally it was lunch. My lunch was very tasty.
We did leaf rubbing. If you do leaf rubbing carefully it is nice. Next we played on the logs around a flower bed. Then it was our turn to count the rings.
Eventually it was time to go back to school.
By William Wadey
Eagle owls evacuation
BY CHARLIE COBB
On Tuesday 4 of October 2016 Eagle Owls were evacuated to Manor farm, which is close to Southampton. First of all we were met by Auntie B, Mrs King and Beth.
Beth took us to milk one of their cows in the milking room. The cow, which was called Annabel, had just had a calf, which is a baby cow, so she was full of milk. We milked the cow and put all the milk into a churn.
Next we were taken to the School House by Miss King. We had to write a postcard home to our families explaining that we had forgotten our ration books. We also had to recite the seven times table and fill in some homophones. Miss King had a cane which we all thought she would hit us with but we were well behaved!
After that, we went into the kitchen with Auntie B and learnt how to "make do and mend" by using old scraps of fabric to make a Rag Rug. It was great fun. Then we all met up for lunch.
In the afternoon we all got to hold chicks and watch the eggs in the incubator which were about to hatch. We learnt about different types of eggs and birds that lay them. We also got to look around the farm and see all the animals and machinery. Greg found a new friend- a big pig that had just had piglets!
Then it was time to come home on the bus. We all had a great day it was fantastic. Thank you.
Hawk Owl Class has a visit from author Jane Howard.
BY ELEANOR AND JOSHUA.
On the 27th of September 2016, the author Jane Howard came to visit Hawk Owls to help teach us how to write a really good story and how to put it together. At the start she bought a washing line up to the front and we pegged pictures onto the line. It really showed us how a story flows. There was a house representing the setting, two main characters, three attempts to overcome the main problem and a bow to represent the problem had been solved too. We drew our main characters and then wrote our plan. It was a fun afternoon. We look forward to hearing when her book has been published.
Hawk Owl Class trip to Highclere Castle
BY LOTTIE AND CECILY.
On the 24th September 2016, Hawk Owl Class went on a trip to Highclere Castle. This was for our Ancient Egyptians topic. After we arrived, we put our bags down in a room and that's when one of our tour guides told us it had been used for the set of a TV series called 'Downtown Abbey!' After that we split into two groups. Our group went to the Sketch Room first. It was incredibly good fun because we did puzzles and drawings of Ancient Egyptian artefacts. Next, we went to the Ancient Egyptian exhibition! The exhibition was very interesting because it had a replica of sarcophagus in it and a photo of a lady who had been mummified. The next room was very dark! Our guide Pat told us the story of Tutankhamun and how he died. He died aged nineteen when he was hunting because he fell off a cliff and broke his leg. He died because the broken leg caused an infection in his body. After the story we pretended we were Howard Carter and poked an electric candle through some flaps and we saw Tutankhamun's chariot, throne, golden horse and little statues of servants to help him in the Afterlife. Next we went to Monk's Garden which is where they filmed 'The Secret Garden.' There was a statue of a man who designed the garden and his name was Lancelot 'Capability Brown.' He designed the garden for the 1st Earl of Carnarvon. All the flowers were white. The same person who built the Houses of Parliament built Highclere Castle. We took a picture in front of Highclere castle. After that we had lunch and after lunch it was time to go. It was a great at Highclere Castle.