Charities
2021/22
Royal British Legion
Once again we supported the RBL Poppy Appeal and broke our previous record, raising £169.20
Andover Food bank
This year for our Harvest Appeal we collected thirty bags full of food to support our local food bank in Andover. The children, in worship, learnt about how the charity supported people and how our food collection would be used.
The food donated for our Andover Foodbank Appeal at Harvest was sufficient to provide 75 meals to families in this area
2019/20
In the last year the school has raised funds and supported the following charities:
Unicef - Bahamas Appeal for Hurricane Dorian
Shelter
Winchester Nightshelter
Royal Navy Childrens Fund
This year our Armed Forces Day concentrated on the Royal Navy and so our collection of just under £100 was sent to the Royal Navy Children's fund who help to look after children who have parents in the Royal Navy.
Royal British Legion Poppy Appeal
Remembrance is always a special time of year for the school due to its links with the armed Services and this year as well as wearing the poppies provided from the Royal British Legion, the Junior children also made fabric poppies for every child in school to and for an altar frontal. The children all wore their poppies to our Remembrance Service, at the church, where the altar frontal was also on display. Donations were made to the Royal British Legion from the children for their poppy and these were added to our collection for the other poppies sold in school.
Christmas Shoebox Appeal
Once again the school supported the Rotary Club's Christmas Shoebox Appeal which provides shoeboxes filled with gifts for a less well-off child in countries such as Albania, Moldova, Montenegro and the Philippines. Families always enjoy filling these boxes not just with goodies but also with their love to a child who is growing up in circumstances harder than our own children have to face.
This year the school filled around 40 shoeboxes.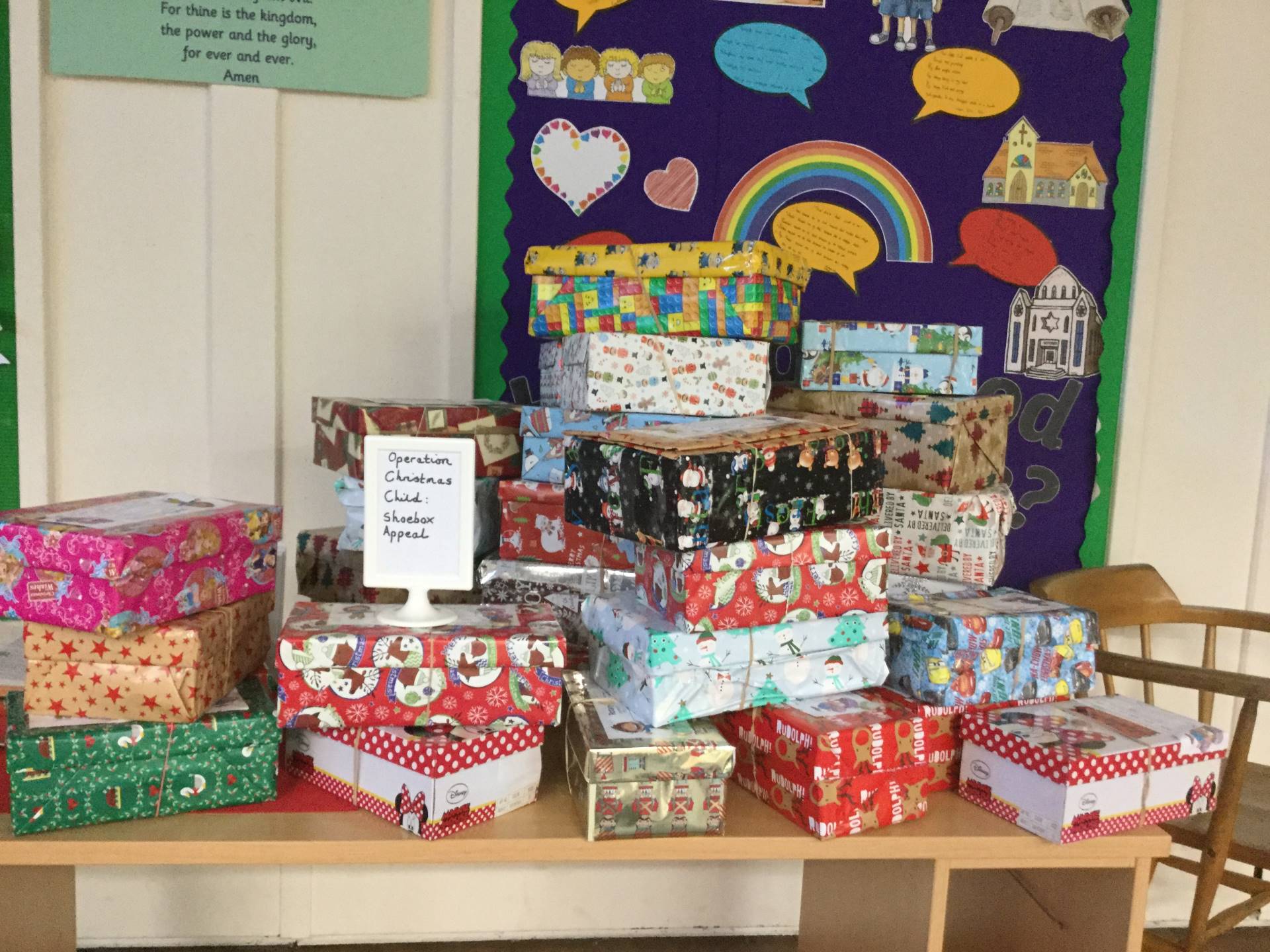 Harvest Appeal
This year the school decided to support The Andover Foodbank through their Harvest Appeal. Families donated 51.84kg of food and a retiring collection at the end of the Harvest Service raised £91.76 in cash to allow the charity to purchase fresh food. The children learned about the work of the Food Bank during collective worship and the Infant children explained how important it was for the school to support them during the school's Harvest Service.