Class News
03/12/21
There has definitely been a Christmas vibe in Barn Owls this week. We arrived on Monday to find the classroom decorated for the festive season and Santa was even flying across our Bahamas beach! This got us thinking about how different Christmas in other parts of the world could be. We have been thinking a lot about how we celebrate here in the UK and have been reading a fact sheet about Christmas celebrations in modern day Bethlehem too. We have started to find out about some of the Christmas traditions in the Bahamas, including the Junkanoo parade on Boxing Day. As we are having a Christmas in the Bahamas themed lunch at school next week, we have made masks to wear at our own celebrations. In maths we have been learning about 2D shape and have been creating Christmas pictures using these. We labelled them with the shape names and used everyday vocabulary to describe them. Next, we are going to start learning some of the mathematical vocabulary associated with shape. We will also move on to 3D shape names, so if you are Christmas shopping this weekend do see if you can spot some cube. cuboid, cone and cylinder shaped boxes on the shelves. Keep practising your words for the play too.
26/11/21
This week we have been finding out more about Christopher Columbus and asking questions about his adventures. We found out what happened when he returned to the Bahamas. Things were not good. The people in the Bahamas were not happy. There had even been some battles and the fort had been destroyed. We discussed our enquiry question. Was Christopher Columbus a hero or a misery maker? We wrote our arguments and even got our parents to vote on this at the exhibition. In class, the outcome of the vote was five children thought he was a hero, whilst eighteen thought he was a misery maker. One person couldn't make up their mind, because it was such a hard question. Nine of our parents voted he was a hero, but thirteen of our parents voted he was a misery maker. Some parents couldn't decide. Barn Owls think that people will continue to talk about Columbus for a long time. After all, he died in 1506 and we are still talking about him. The Barn Owls unanimously agreed that they have enjoyed their learning project this term and they recognised that whether Columbus was a hero or a misery maker, he is still a significant person in history.
In the last few weeks of term we will be learning about Christmas! Remember to bring your costumes for the play on Monday. Watch this space for more news next week.
19/11/21
We have had an extra busy week! With our newspaper reports on Christopher Columbus being finalised, our Year 1s have been working on their letter formation and handwriting using all sorts of multi-sensory approaches - from writing in sparkle trays to painting, chalking and rainbow writing. Hopefully, this will mean when we write our final copies of the newspaper our handwriting will be fantastic! Our Year 2s have been up-levelling simple sentences and building them into paragraphs to ensure our newspaper reports are full of interesting facts, details and descriptions for the reader. In Maths we have continued learning about measuring length and height and have been solving problems using different operations involving measure. We have also been discussing why Christopher Columbus is significant and completing a timeline of his adventures. Rehearsals for the Inn-Spectors, our Christmas Nativity, are also in full swing.
12/11/21
Barn Owls have been finding out all about writing newspaper reports this week as they prepare for writing a newspaper article on the adventures of Christopher Columbus. We have also been learning how to use question marks and exclamation marks. We have been thinking of questions that we would have liked to ask Columbus about his voyage on his return to Spain if we had been there at the time. We have also been reading newspapers written for children. In Geography this week, we have compared the UK and the Bahamas and have explored similarities and differences in the physical and human geography of the two countries. We looked at fruits, beaches and houses in particular. We even heard about the swimming pigs in the Bahamas! In maths we have been comparing lengths and heights and have used the mathematical language of measure. We have also been measuring items using standard and non-standard units.
05/11/21
It has been an exciting time in Barn Owls as the crew of the Santa Maria spotted land! We rowed ashore and found that far from being in the Indies as Columbus thought, we have actually landed in the Bahamas! We have been finding out about the people and their ways and are looking forward to comparing these islands with our own country next week. We have written postcards home and painted landscapes on the front using our knowledge of the styles of the artists Monet and Mettzinger. In maths we have been solving problems using our addition and subtraction skills. In Guided Reading we have been using our inference skills to find out about stories by looking at small world scenes of different story settings on our tables.
15/10/21
Barn Owls have been very busy this week, practicing how to write instructions to build a beach shelter and acting out their instructions in pairs, to the rest of the class. We have been looking at part-whole models in Maths and using our skills to add 1 and 2 digit numbers together using a number line or number square. We have some great mathematicians! Lastly (using our time words) we chatted about how it would feel to be in a magical forest and used all our senses to discover lots of nouns to describe our experience.
08/10/21
Barn Owls have been being rather bossy this week, learning all about 'bossy,' imperative verbs in instruction writing. Year 2 have also been adding adverbs to their instructions using the suffix 'ly.' As the sea journey continues we are hoping to see land soon and have been thinking about how we will set up a beach camp when we get there. In our DT lessons we have been designing shelters and making mock-ups of them. We will also be writing the instructions for building them, so the crews of the Pinta and the Nina, our sister ships, can build them too. In Maths we have been practising our number bonds.
01/10/21
What a week aboard the Santa Maria! Our Quarter-Master discovered that most of our supplies had been damaged by water or eaten by mice! Only one sack remained untouched. It contained flour and salt. The water barrels were still fine too. What would we eat? Luckily Mia found an old scroll with instructions for making ship's biscuits. We quickly turned the classroom into a ship's galley and got to work following the instructions to bake the biscuits We also wrote down what we had done just in case we needed the recipe again, although having tasted them I'm not sure we would want to. Yuck! How did the sailors survive? Some of the crew, not us Barn Owls of course, have been struck down with scurvy. Many sailors in the past suffered from this. In Science we have been learning why. We realised they were not getting their basic human needs of exercise, healthy food, sleep and good hygiene. We have been looking at different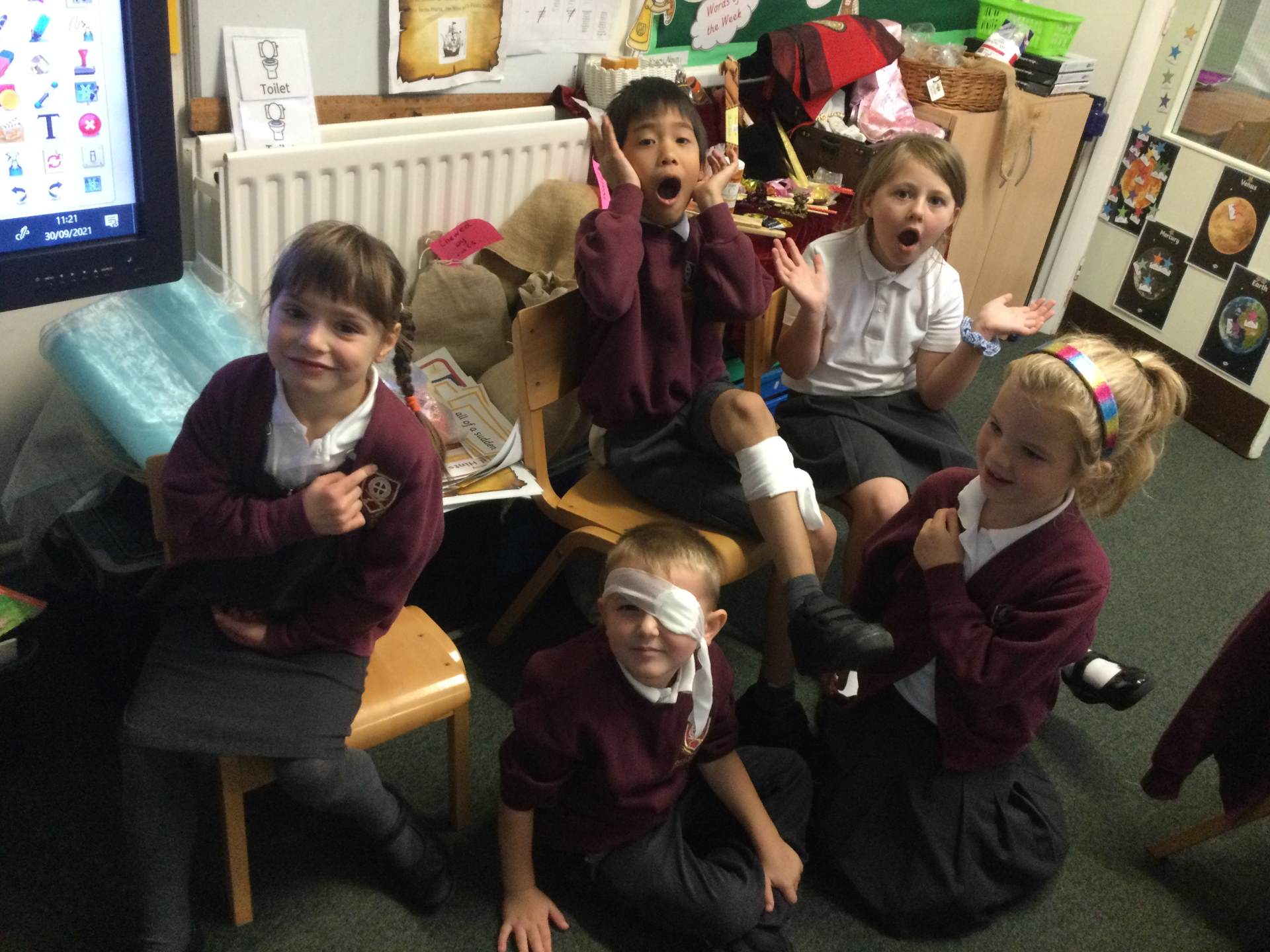 24/09/21
Our sea voyage continues and we have been dreaming of all the riches that await us when we reach the Far East. This week we wrote recounts of dreams we had of exploring exotic market places and discovering new treasures. In phonics we have been learning the 'ay' sound in Year 1 and the soft 'c' in Year 2. In maths we have been busy comparing numbers and using the language of greater than, less than, fewer than and equal to. In RE we looked closely at how and why Christians celebrate Harvest and started preparing for our school Harvest service. In Guided Reading we have been learning all about instruction texts - you never know when instructions will come in handy aboard ship! It could be very, very soon....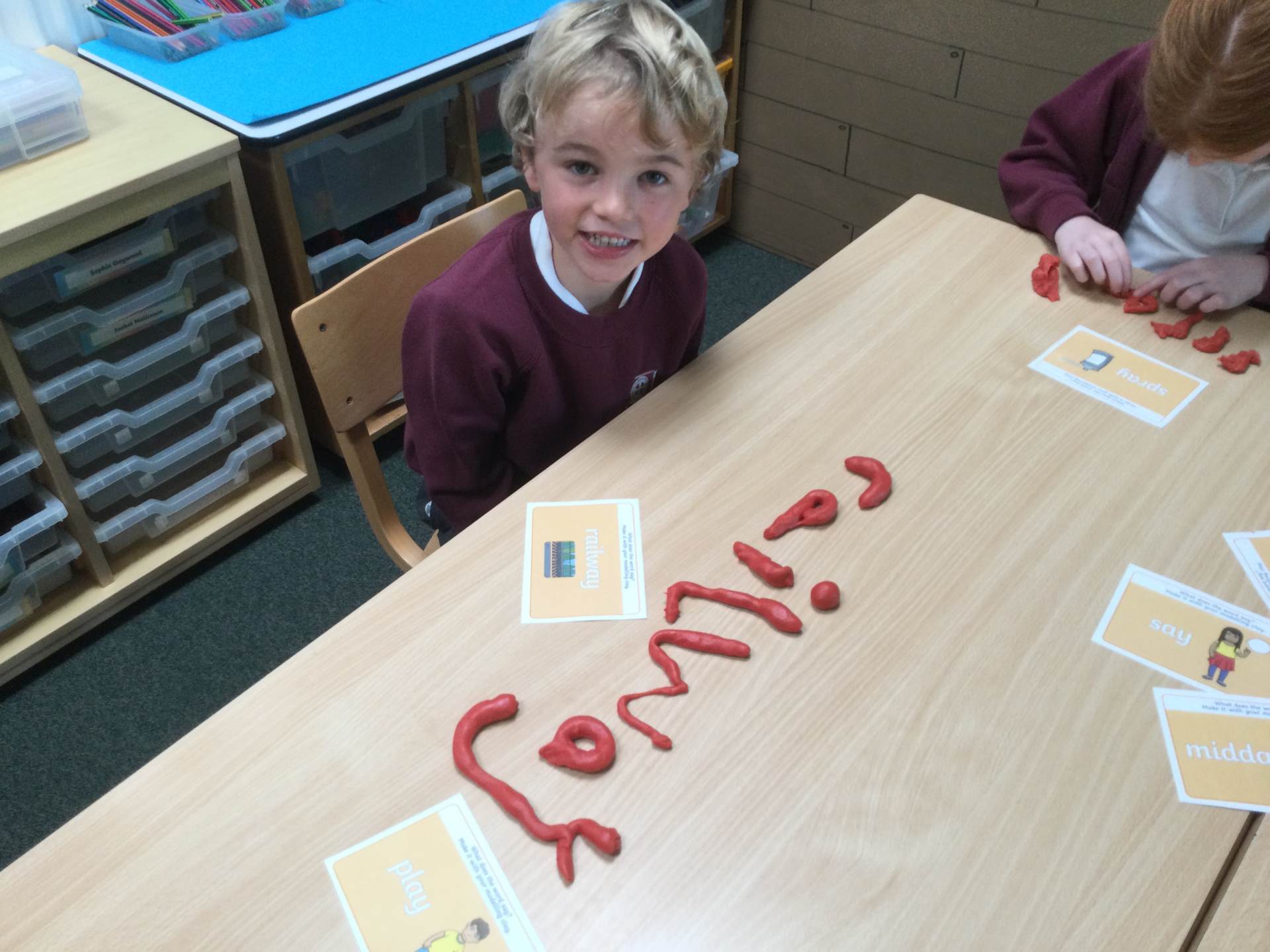 17/09/21
Life on board our ship has been somewhat quiet this week, nothing but sea all around us, so we have taken time to focus on our RE learning and the concept of celebration. We shared how we celebrate our birthdays and looked at a number of other Christian celebrations. We also made a kindness umbrella to share in Worship. In English we have been learning about recount writing and have been using the suffix 'ed' to put verbs into the past tense. In Maths we have continued to work on our place value and have been using our skills for problem solving.
10/09/21
Barn Owls have all signed up for an Adventure aboard the Santa Maria with Christopher Columbus. We have used our senses to explore the treasures that await us when we reach our destination and identified which parts of our bodies we use for each sense. We started a Ship's Doctor's file for each member of our crew where we will record how much we grow over the course of this year. Every month we will take measurements and spot patterns just like real scientists! Before we de-parted we plotted and compared routes on a world map and have even been challenging Columbus's decisions. Since setting sail we have also all chosen jobs aboard ship and have been writing recounts of our first day of sailing. Despite being so busy, we have also found time to learn about place value in two-digit numbers and to reflect on being a good neighbour in Worship.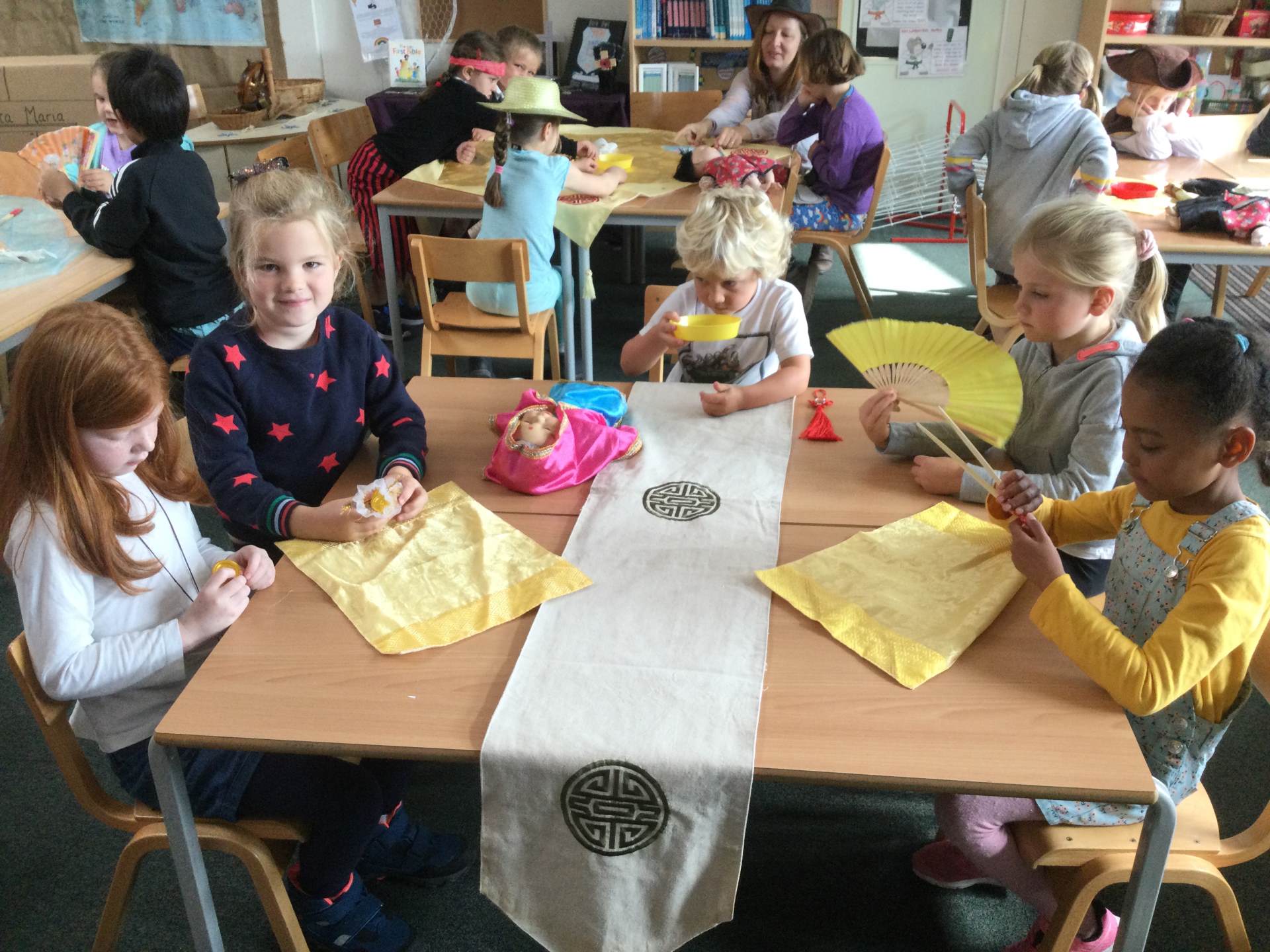 Summer Term Learning Project
11 June 2021
Barn Owls have been composing theme tunes and jingles in Music this week. We have been using percussion instruments including xylophones. We have been learning specifically about melody and rhythm. In English we have completed our 'Singing in the Rain' stories and in maths we have been exploring measurement of mass and capacity. We have also been designing and painting umbrellas.
28 May 2021
Barn Owl Class have been continuing to work hard for Barton Stacey Television. We have been making UK wide weather forecasts and also looking at climate zones across the world. We have been writing the beginnings of our 'Singing in the Rain' stories and have also started work on our group dance to accompany the theme tune for our Barton Stacey Bedtime Stories show. In maths we have continued our work around multiplication and division. Remember over half term to think about the 'Who do you think you are task,' on the home learning sheet and to find out about someone in your family. Remember to post this on TEAMS as you will need it next term. Happy Half-Term.
21 May 2021
In this very strange week of weather, Barn Owls have been thinking about weather forecasts. We have been looking at the United Kingdom and vocabulary associated with weather. We have also been learning about forming comparative adjectives by adding suffixes and have started a new book in preparation for writing scripts for Barton Stacey Bedtime Stories. In maths we have been revisiting multiplication and division. Remember to keep working on your Times Tables Rock Stars! No new spellings will be added to Spelling Shed this week as we are intending to recap all the sounds and rules we have covered this term.
14 May 2021
Barn Owl Class have been using their growing knowledge of habitats to plan and plant a wild flower garden. The purpose of this is to encourage bees who we have learnt are in decline in our world. We intend to make a Nature T.V. programme to encourage others to help the bees too. This learning has linked well with our reflections in Collective Worship on taking care of the world that God created for us and all the creatures that live in it. In maths we have been working hard with Fractions, identifying halves, quarters and thirds of shapes, objects and quantities.
7 May 2021
Barn Owls have been busy finalising and filming our News Reports about the Queen's 95th Birthday. We have also been learning to use exclamation marks. In Maths we have started our unit on fractions and have been finding out about halves, quarters and thirds. In Science we are preparing for a nature programme all about habitats and we have been exploring different habitats in the school grounds as well as virtually exploring global habitats.
30 April 2021
Barn Owls have continued their work on Breaking News this week and have been planning their news reports on the Queen's 95th Birthday. We look forward to seeing them all live on camera soon. We have also been looking at how television has changed during living memory. We looked at television sets dating back to the 1930s, read all about John Logie Baird and have watched T.V. clips from every decade since the Queen's Coronation was televised in the 1950s. The children were amazed at how much things have changed. They have written questions to interview parents and grandparents to find out what they remember about television when they were children. The questions will be emailed home. What did you watch when you were 6? Take a trip down memory lane with your child.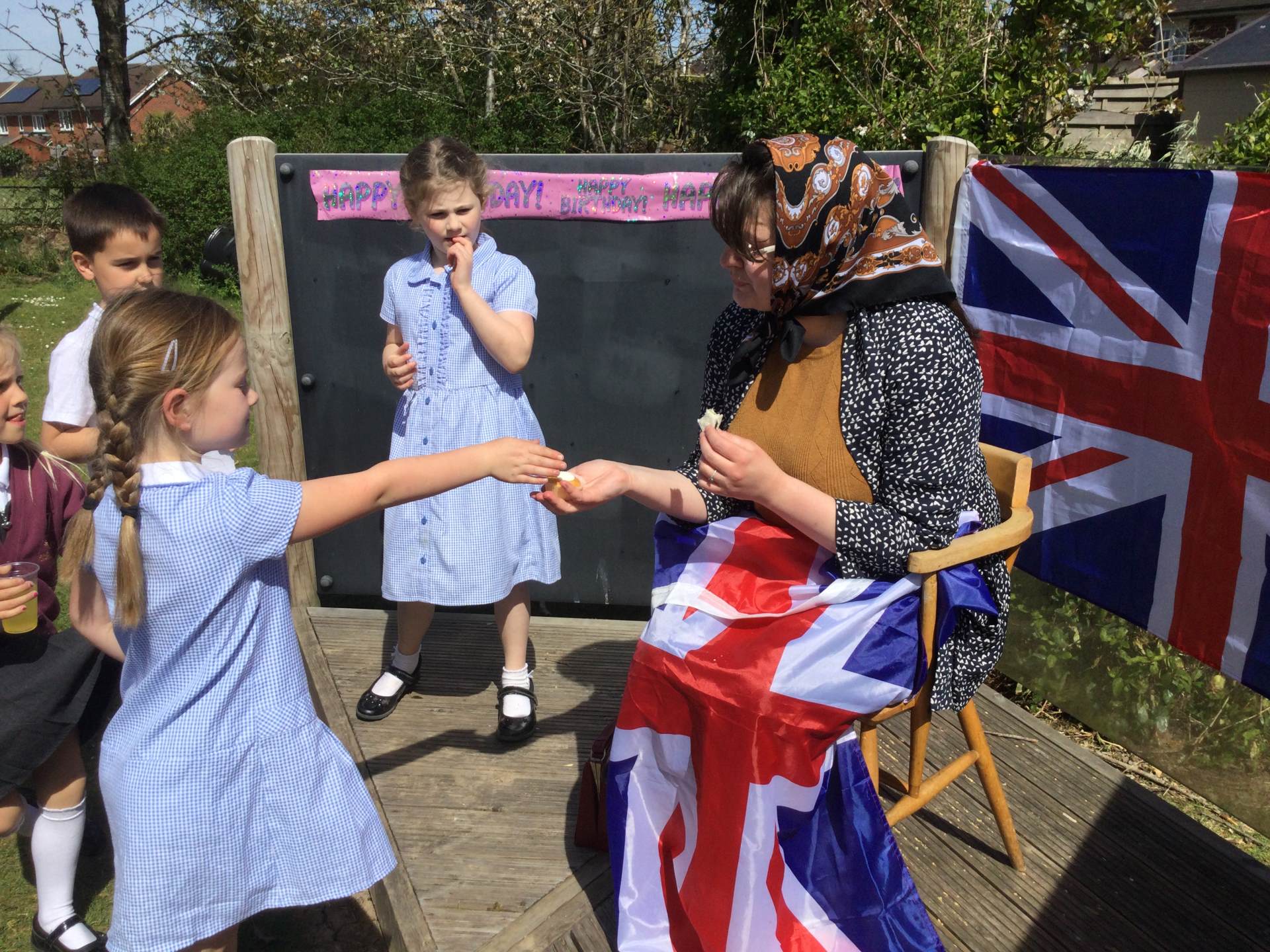 23 April 2021
What a week! It all started with our Television Awards Ceremony where all the children were winners for their amazing Chocolate Adverts last term! We watched the nominations and celebrated in style with official photographs. With this success fresh in our minds we are ready to run our own TV studio this term. We are equipped with reporters notebooks and are ready to report news locally and globally. We had a Newsroom Zoom workshop with Mr Treacy, who shared his reporting experience and his top tips for news reporting. In a garden party role play experience we have even interviewed the Queen in preparation for making news broadcasts about her 95th birthday celebrations. In maths we are also learning to tell the time.
1 April 2021
This week has seen Barn Owls using all the knowledge they have gained across the term to consider our enquiry question - Does chocolate change lives for better, worse or a little bit of both? The children formed their opinions, having considered a variety of viewpoints. We structured this in the form of a debate and used our speaking and listening skills. At the close of our debate, complete with the 'Question Time Music,' we voted to come up with an overall conclusion. Barn Owls have decided that on balance chocolate changes lives for both better and worse. We also made some chocolate eggs....
26 March 2021
Barn Owls have been out and about learning to make maps and plotting routes. We even followed a trail of QR Code messages from a Chocolate spy trying to steal Mr Wonka's recipe book! Thankfully, we were able to use our map skills and compass directions to recover the recipes. Phew! We have also been writing letters of advice to Charlie to help him run the Chocolate Factory, now that Mr Wonka has given it to him. We also found time to revisit our calculation knowledge using addition and subtraction. Working for Wonka is so busy!
19 March 2021
Barn Owls have had a busy week! We have been learning about letter writing in response to our latest Wonka mission to advise Charlie on running the Chocolate Factory now that he has been given it by Mr Wonka. After all our work this term we are practically experts, so have lots of advice to share! We have also been learning about describing position and direction in maths and have been making up our own dance moves using our new mathematical vocabulary. In R.E. we have been looking at symbolism and thinking particularly about symbols in the Easter Story. We will be sharing some of our learning in the school Easter Service at the end of term, so watch this space.
12 March 2021
It has been brilliant to have all the Barn Owls back together again this week. We started British Science Week by investigating whether Easter Eggs are value for money by using our knowledge of melting chocolate to find out. Ask your children about our results. It was very interesting! We also re-acquainted ourselves with our trees as we conducted our March tree observations. Throughout the week we have been listening to the presentations the children made about Scientific facts that interest them and we have all learnt so many amazing things from one another in our 'Ask the Experts' sessions. Thank you all for your support with this. Your children have been fantastic!
5 March 2021
This week Barn Owls have been writing explanation texts to explain how their Wonka Machines work. They have also been solving problems with measure and making fact files about George Cadbury. We are all looking forward to being back together next week.
26 February 2021
Barn Owls have been working on, not one, but two Missions for Wonka this week! Firstly, we have been learning all about the work of another great chocolatier - George Cadbury. We read a book based on his true story, we had our first 'Lockdown Learning Virtual Trip,' which was a workshop run by the Education Team at Cadbury and we have been exploring photographic historical evidence about the lives of workers pre and post Bournville Village. Our second Mission has seen us elevated to Wonka's Invention Team. We are currently building prototypes for magnificent candy making machines. Next week we will be writing explanations of how they work.
12 February 2021
The Barn Owl Marketing Department for Willy Wonka has been in overdrive this week. We used our IT skills to produce posters to advertise the delicious chocolate bars we made last week. We also planned, rehearsed and filmed TV style adverts for them. Who knew there was so much TV talent in Barn Owls! The speaking, listening and performing skills improved across the week. In maths we have been learning about tally charts, bar charts and pictograms. This was very lucky as Wonka needed us to use our skills to investigate whether all packs of Smarties had the same number of each colour sweets in them or whether they were all different. We were able to show our data using all the different charts we had studied. So lucky! Happy Half term all!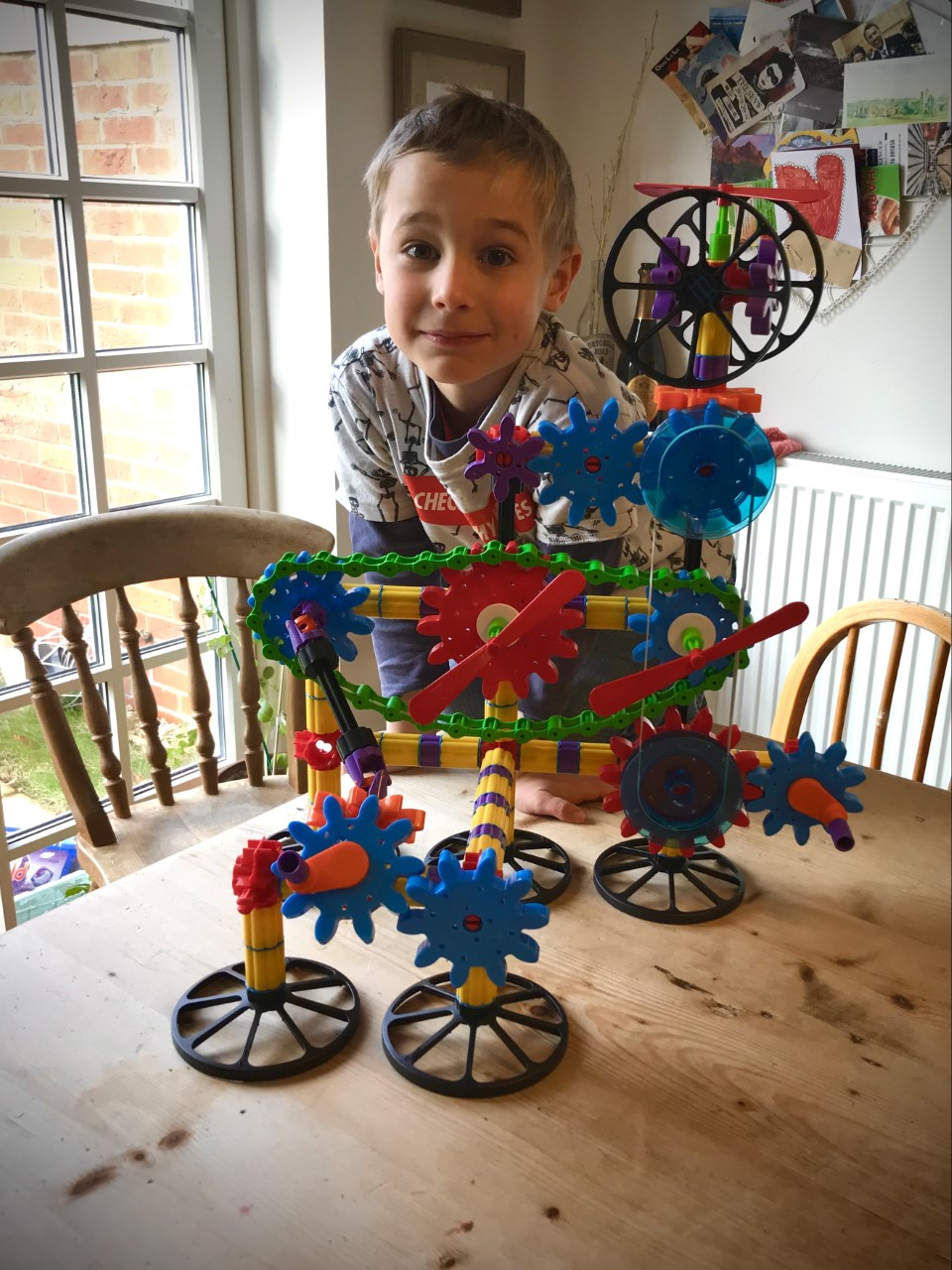 5 February 2021
This week the classroom and homes of the wonderful Barn Owl Wonka workers have been transformed into chocolate factories, designing, making, tasting and evaluating original chocolate creations. From the Yum, Yum bar to the Mango delight and the scrumdiddliumptious strawberry surprise the children have been so creative. The designs and recipes have been written and are due to be stored in Wonka's Secret Files. In maths our learning around multiplication and division has continued.
29 January 2021
The Barn Owl Wonka Workers have been very busy embarking on a new mission this week! Mr Wonka asked us to design a new chocolate bar! He wanted to include some fruit to encourage people to buy it. We tasted dried fruits and decided on one to combine with our choice of chocolate. We have written descriptions for them. We have designed packaging and are ready to put them into production next week! We have also been learning all about instruction writing so we will be able to add our recipes to Wonka's secret chocolate files soon. In maths we have moved on to division. Remember our mission is top secret, so shhhh…. don't tell anyone else!
22 January 2021
Barn Owls have continued their secret missions for Willy Wonka both at school and from home this week. We have investigated how we could change different sweets using squashing, bending, twisting and stretching. As this didn't work on chocolate we investigated heating and cooling and discovered we could make the most delicious, Marvellous, Misshapen, Chocolate Splats. A new invention for Wonka! Mr Wonka collected all our work last weekend and as he left his coat in our classroom we took a sneaky look in his pockets! We found out so much about him from all the things in his SEVEN pockets!!! We have also been learning more about multiplication in maths.
15 January 2021
Barn Owls have been extremely busy this week engaging with some Top Secret Missions for none other than Mr Willy Wonka, the famous chocolatier himself! We have been investigating characters for him, solving science problems at the factory and tasting and evaluating chocolate. We have been presenting our findings to Mr Wonka as bar charts, tables, images and text. He is very pleased with our work so far, both from our school based learners and our special home workers. Remember - Our missions are top secret!!!!
11 December 2020
Barn Owls have proudly viewed the completed Nativity this week and we all agree that Barn Owls and Snowy Owls are super stars. We are thankful to all the parents for the costumes and support with learning lines. We are also thankful to Mrs Brewster who not only wrote the play, but edited it too! In addition to this, we have also been planning our own 'Stanley's Stick' adventure stories as well as learning all about 2D shapes. We have also squeezed in a host of Christmas activities, so look out for our handmade Christmas cards winging their way home after quarantine!
4 December 2020
This week we have been so busy filming our Nativity Play - Little Owl's First Christmas. We can't wait for it to be edited so we can show you what we have achieved next week. The children all worked so hard acting, singing and reading beautifully! We have also been solving mathematical problems involving money as well as learning all about advent and making advent wreath crowns.
27 November
The Nativity is now in full swing. Thanks for all your support with costumes - the children look amazing! In maths we have been learning all about money and have been making amounts, calculating total costs and working out change in different 'shops' around our classroom. We were also surprised to find a mini Amazon rainforest had sprung up in the outdoor area to help us compare British woodlands with the rainforests of Brazil for our Geography learning. We loved exploring the habitat and finding out about the plants and animals.
20 November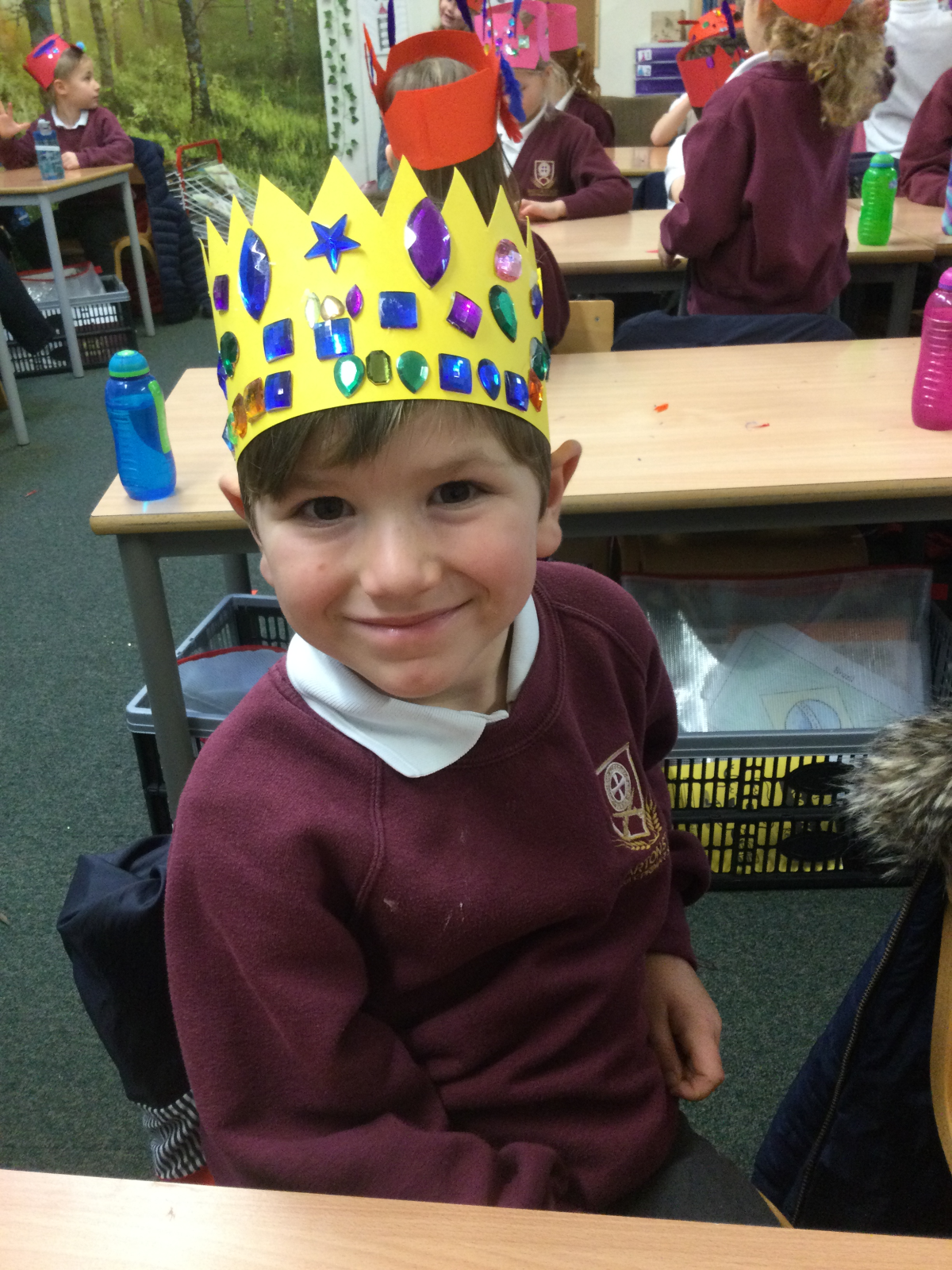 Rio de Janeiro came to Barn Owls this week! As part of our study comparing the UK with a non-European country, we have continued our study of Brazil. We had our very own carnival right there in the classroom. We all wore Carnival headdresses that we made ourselves. We had a samba parade and dance around the playground and the teachers even made carnival floats powered by remote control cars to join us! We enjoyed the music and traditions and even tried some typical snacks from Brazil. Great fun and great learning!
13 November
This week Barn Owls have been learning about the continents and oceans of the world. We have been in the outdoor curriculum area looking at aerial photos and maps of our village, the UK and the world. We are preparing to make a comparison between our own country and Brazil. We will look at similarities and differences between the two countries, focusing particularly on our woodlands and the Amazon Rainforest. We have also been planning our woodland animal information pages and have continued to develop subtraction strategies in maths.
6 November
This week we have been focusing on using the natural items found in the British woodland in our art work. We started off by making observational drawings of pine cones, before moving on to making clay models of animal and plant life we might see in the woods. Having looked at the work of Andy Goldsworthy, we also went outside to make our own land art and natural sculptures. Great fun was had by all! We also learnt all about non-fiction texts in English and have been doing subtraction calculations in maths.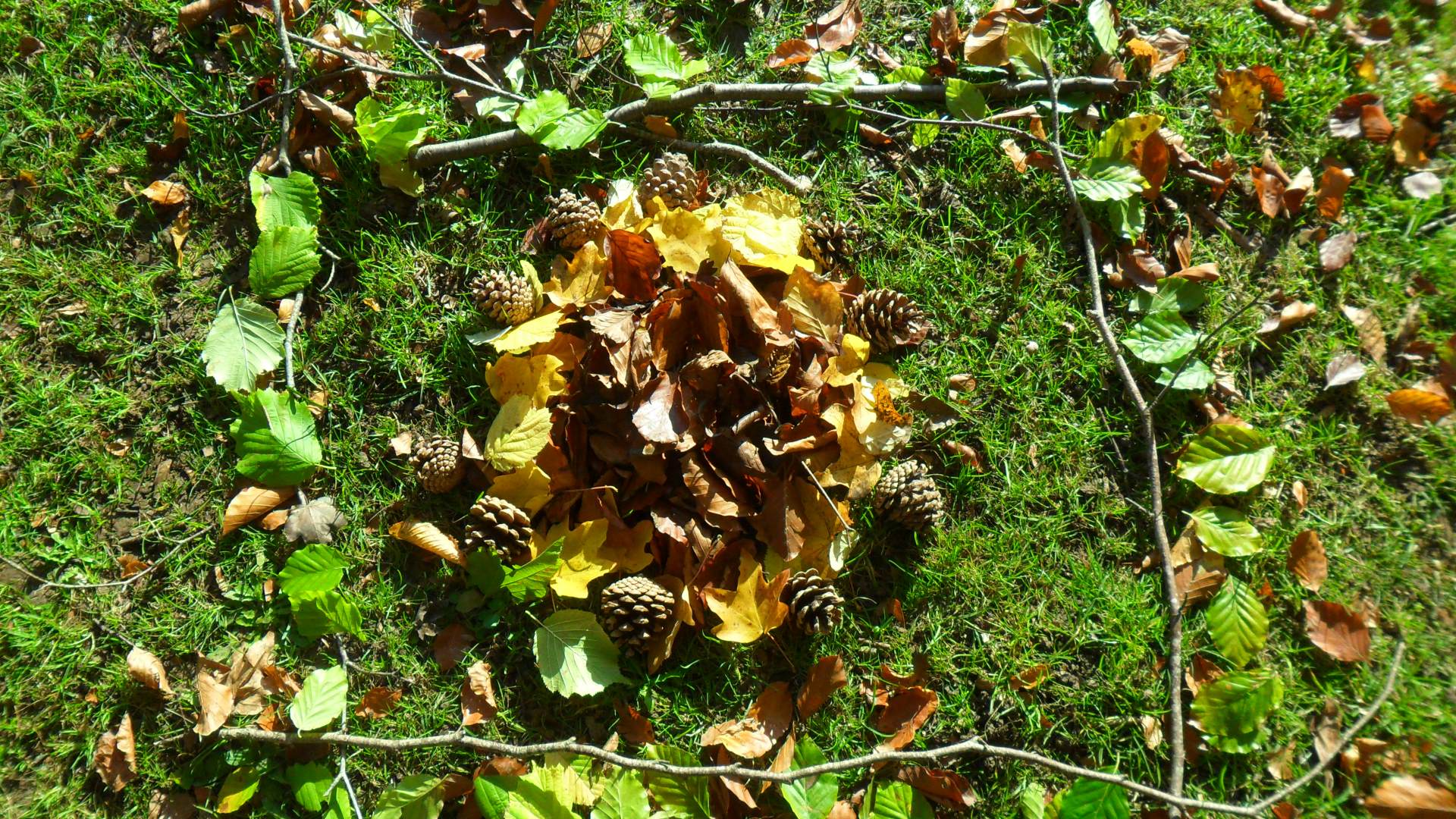 23 October 2020
This week we continued to learn about the Jewish Festival of Sukkot. We built our own shoe box model sukkahs and even shared some fruit in a life-size sukkah we made. We also took our bean plants home, but we will continue to write about their progress in our bean diaries in school after half-term. Don't forget to make sure they get all the things plants need to grow. Happy Half-Term!
16 October 2020
We finally wrote our Leaf Man adventure stories this week. We enjoyed sharing our different stories with one another. We have also been out and about continuing our Tree Diaries. There are so many changes taking place in the natural world at the moment. In maths we have continued to practise using our number bonds to 10, 20 and 100 and using them to solve problems. A very busy week!
9 October 2020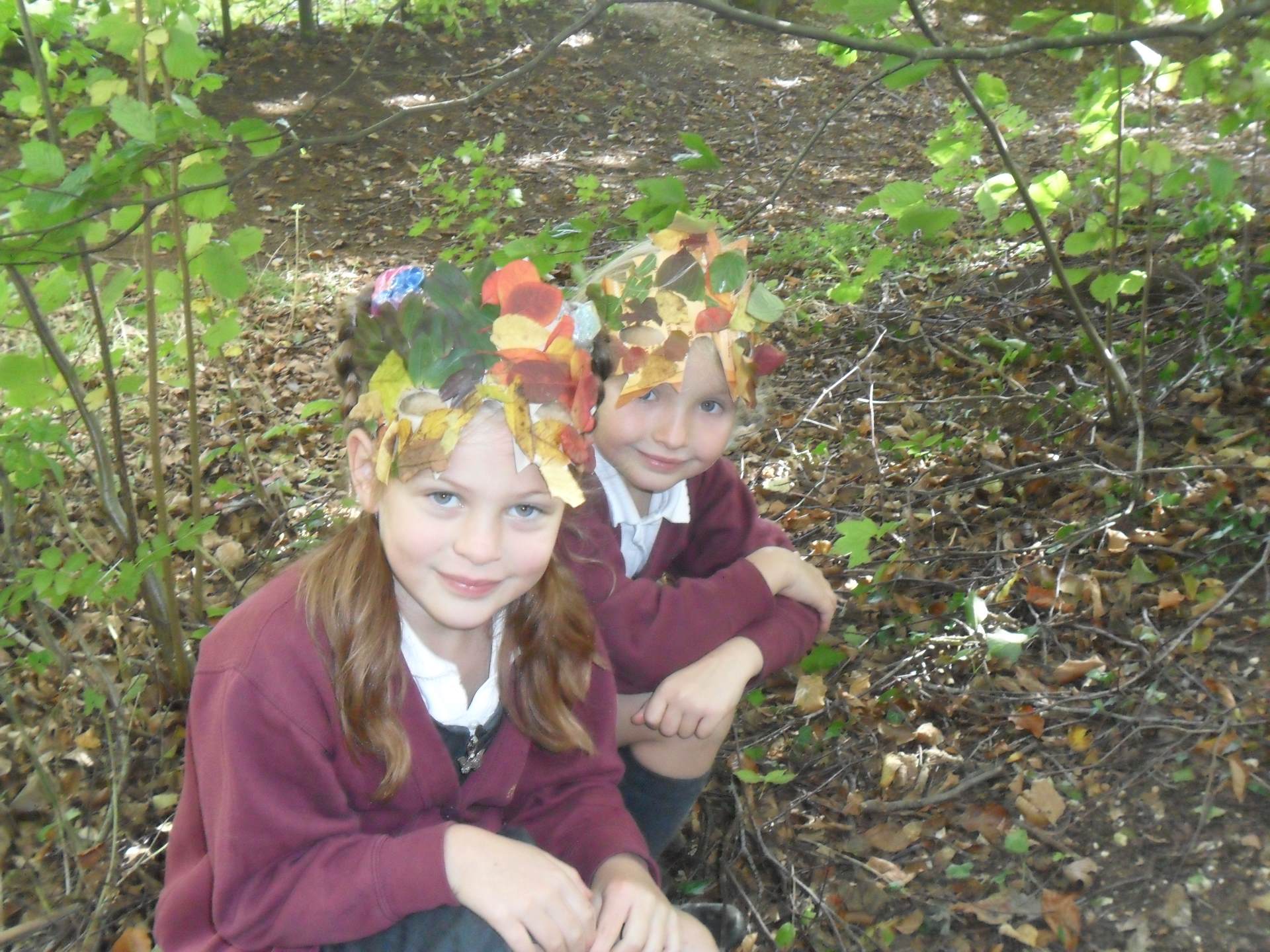 This week we have continued our study of Leaf Man. We created leaf masks and have been out and about role playing adventures as Leaf Man. The teachers can't wait to read our final stories filled with amazing adjectives when we write them next week. Our bean plants are growing well too. Bonnie's bean is the tallest so far. Will anyone else's bean plant catch up?
2 October 2020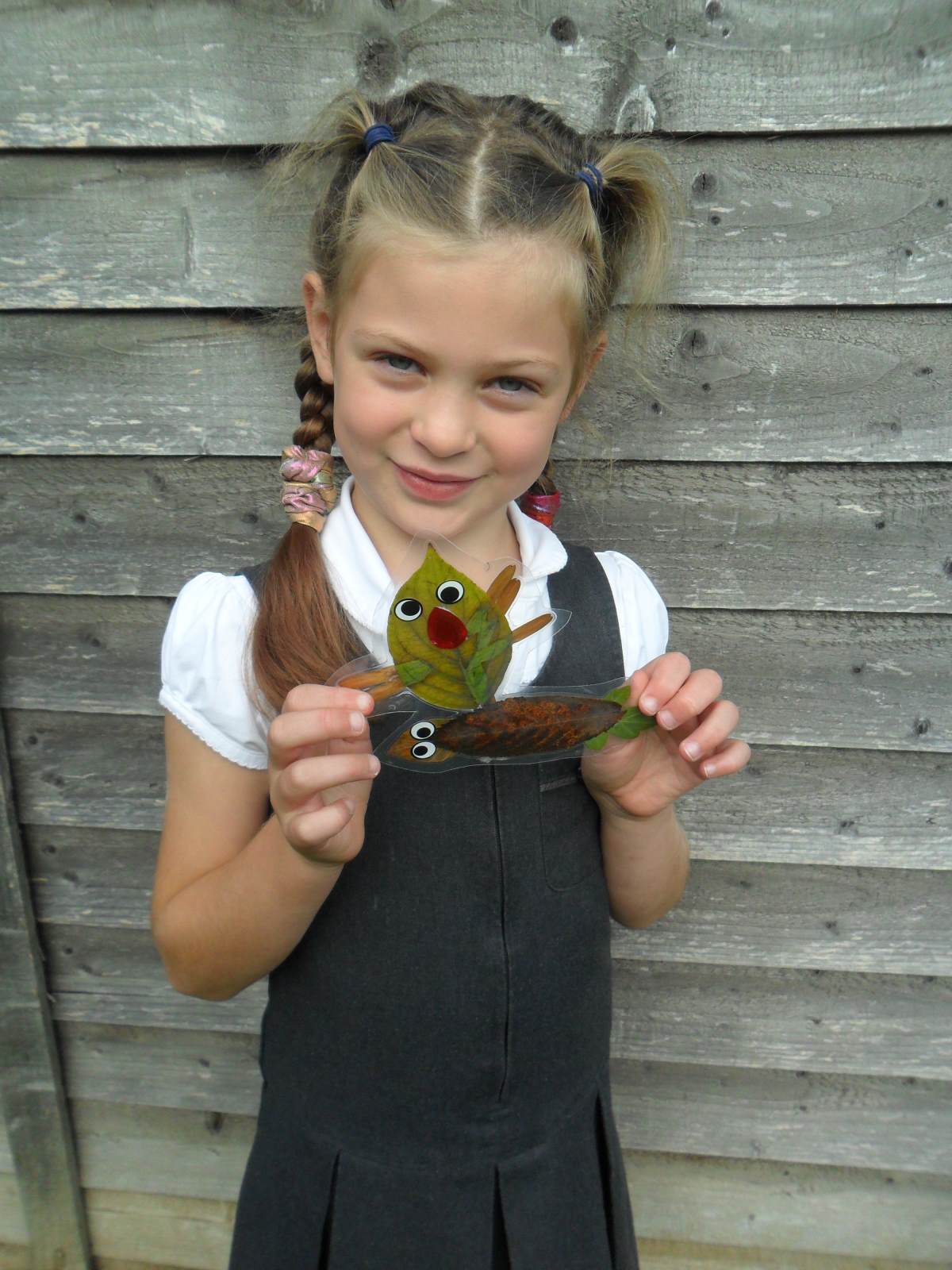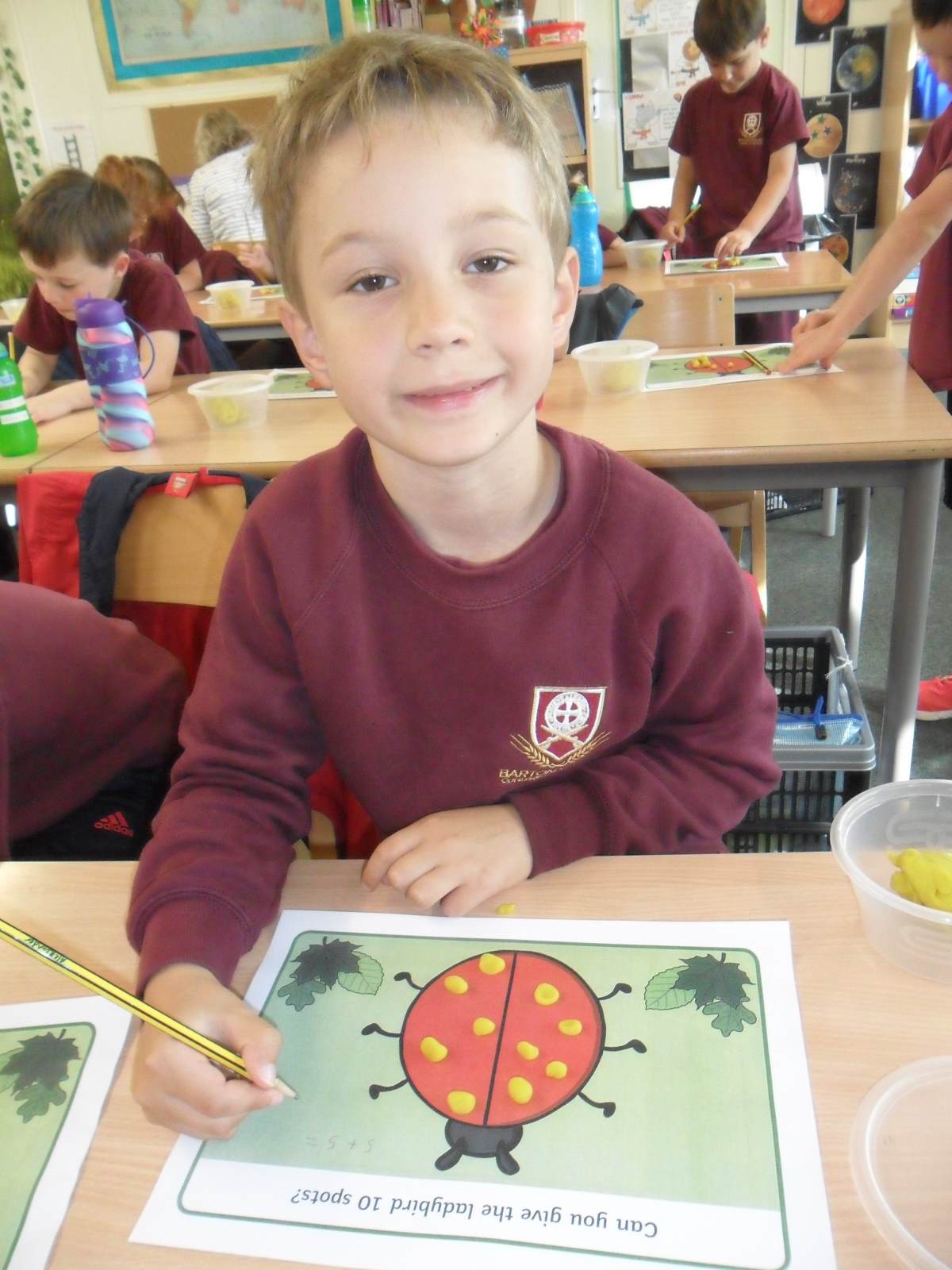 This week Barn Owls have been reading 'Leaf Man' by Lois Ehlert. We hunted for leaves in the woods and created our own Leaf men, ladies and creatures. They look amazing in our classroom window! We will be taking them on adventures in our story writing very soon. In Maths we have been revisiting our number bonds to 10,20 and 100!
Rabbi visit
On Friday 6th March Barn Owl Class were visited by Rabbi Zvi as they continue to explore diversity in London and across the world. London has one of the largest Jewish populations in the UK and Jewish people bring a multitude of traditions to our capital. Barn Owl Class had a "Synagogue in a classroom" workshop and experienced some traditions of Jewish homelife and festivals. We tried Matzah, an unleavened bread, Challah and grape juice for "Kiddush wine".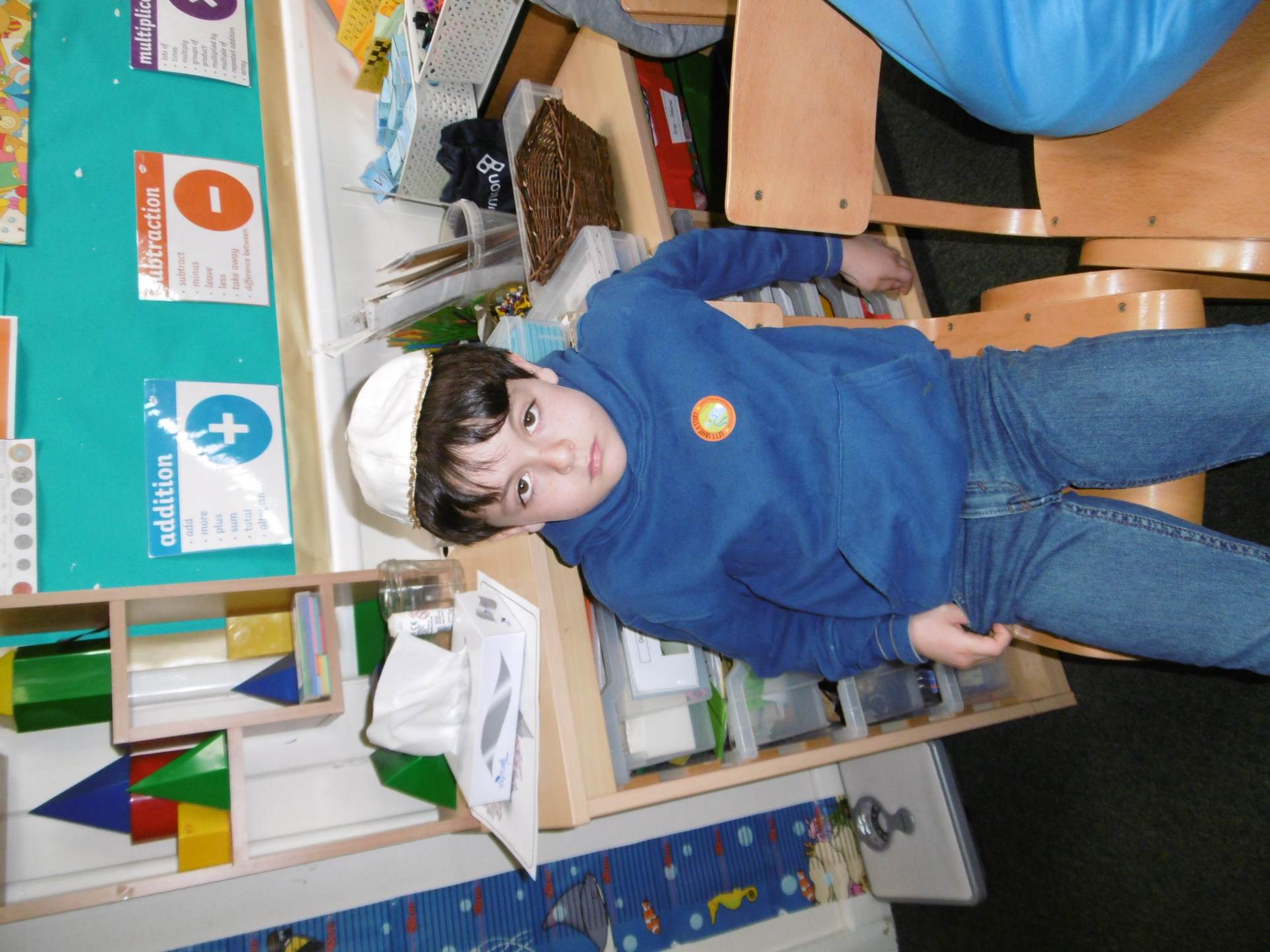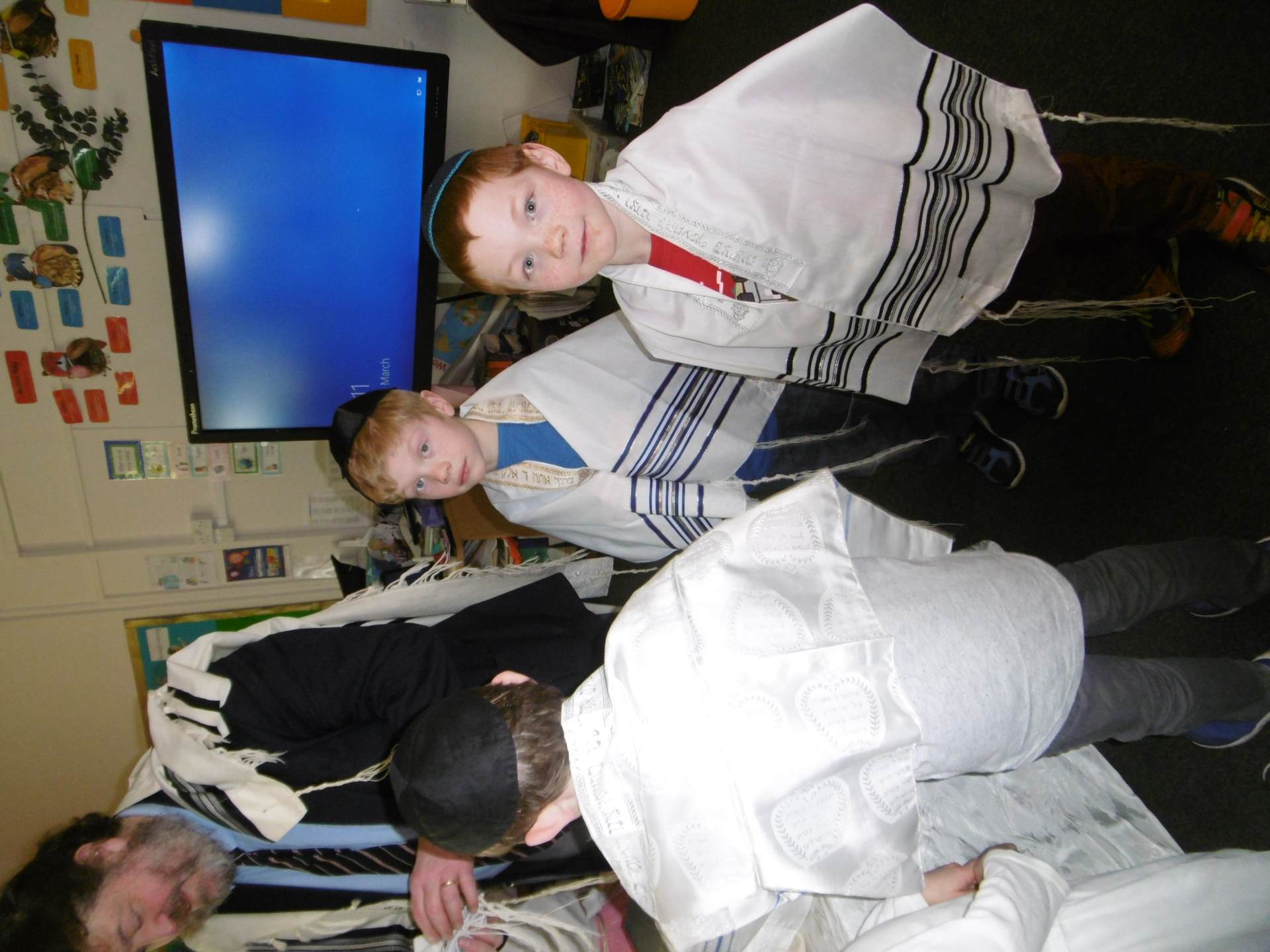 Our adventures with Christopher Columbus
The year is 1492 and Barn Owl Class are embarking on an adventure! We arrived back at school to an advert from the Explorer Christopher Columbus looking for a crew to sail to the Far East. He showed us many treasures, appealing to all our senses, which was pretty useful as we are learning about our senses in Science this term.
Naturally we wanted to join the adventure and we swiftly considered all the different roles he was advertising on board ship, from the Quarter Master, to the Boatswain, the ship's doctor and even the painter. We all signed up, we completed our job applications and we set sail!
The ship's doctor asked us to set up files to monitor how we grow across the year so we measured our height, weight, hand span and foot size and will keep this updated throughout the school year. This will make an excellent long study in science too.
Columbus decided to sail west instead of east. He thought that by doing this he would find a faster route to the Far East. We were not convinced so we got out the globes, maps, rulers and other measuring equipment and tested this idea for ourselves. We are certain he should have sailed east, but keen for adventure anyway we still agreed to go.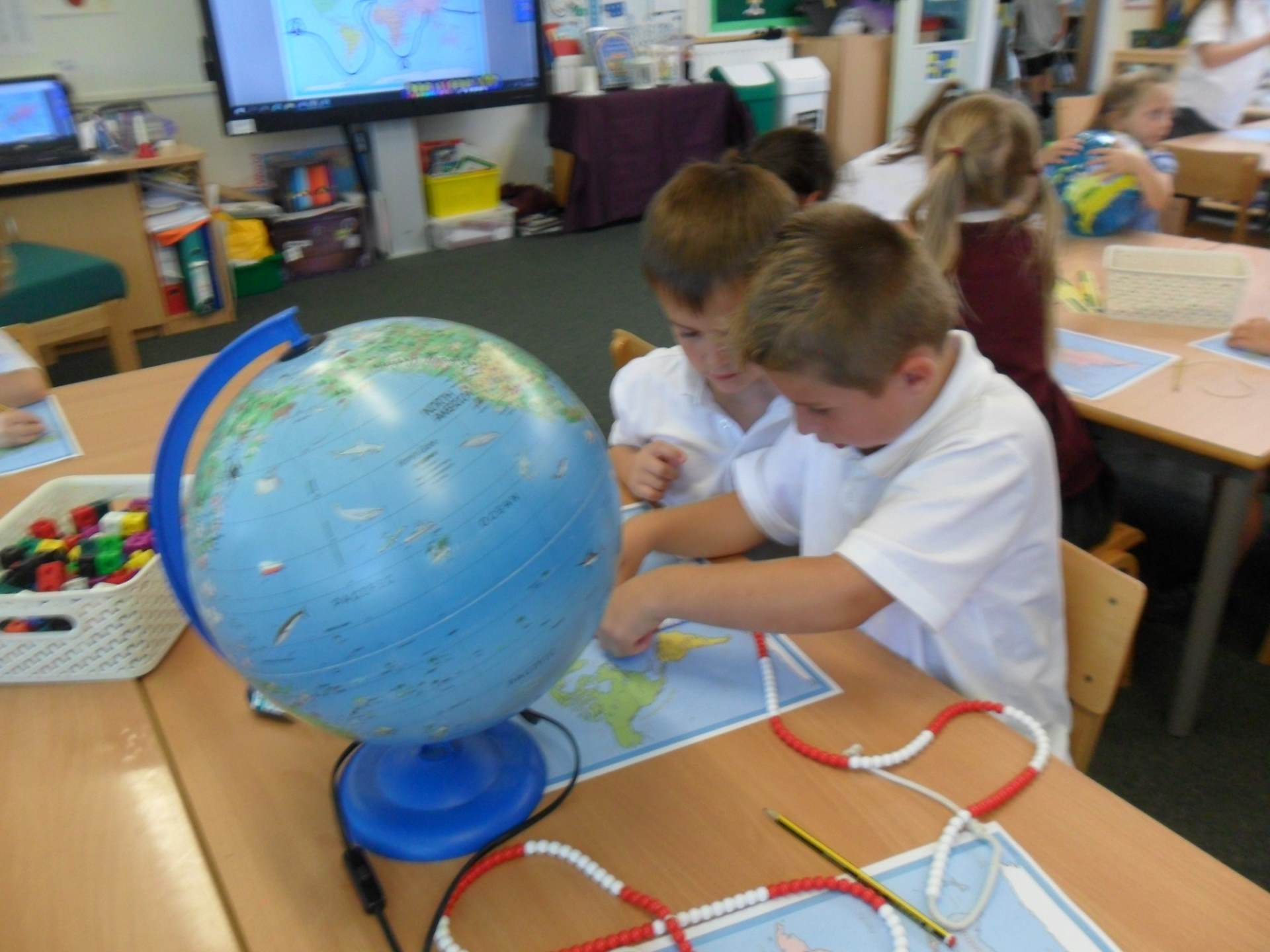 The journey was long and hard, we role played eating, sleeping and working at sea in an old, creaky and rocky boat. We even popped some messages in a bottle to tell others just how hard life was. There was no sign of land and supplies were getting short.
One morning our Quarter Master informed us that the fresh food was gone and that much of the rest of our supplies had been eaten by rats aboard the ship! All we had left was some flour, salt and water and an old recipe scroll for ship's biscuits. We donned our aprons, cleared the galley and got to baking. The biscuits were……definitely not good to the taste!
When things were looking worse than ever and we were thinking of turning back, we arrived at school on 10th October to the cry "Land Ahoy!" Our classroom ship had been transformed into a beautiful Carribean Beach, complete with tropical fruit, fish and shells on its shore. It turned out we had landed in what is known today as the Bahamas.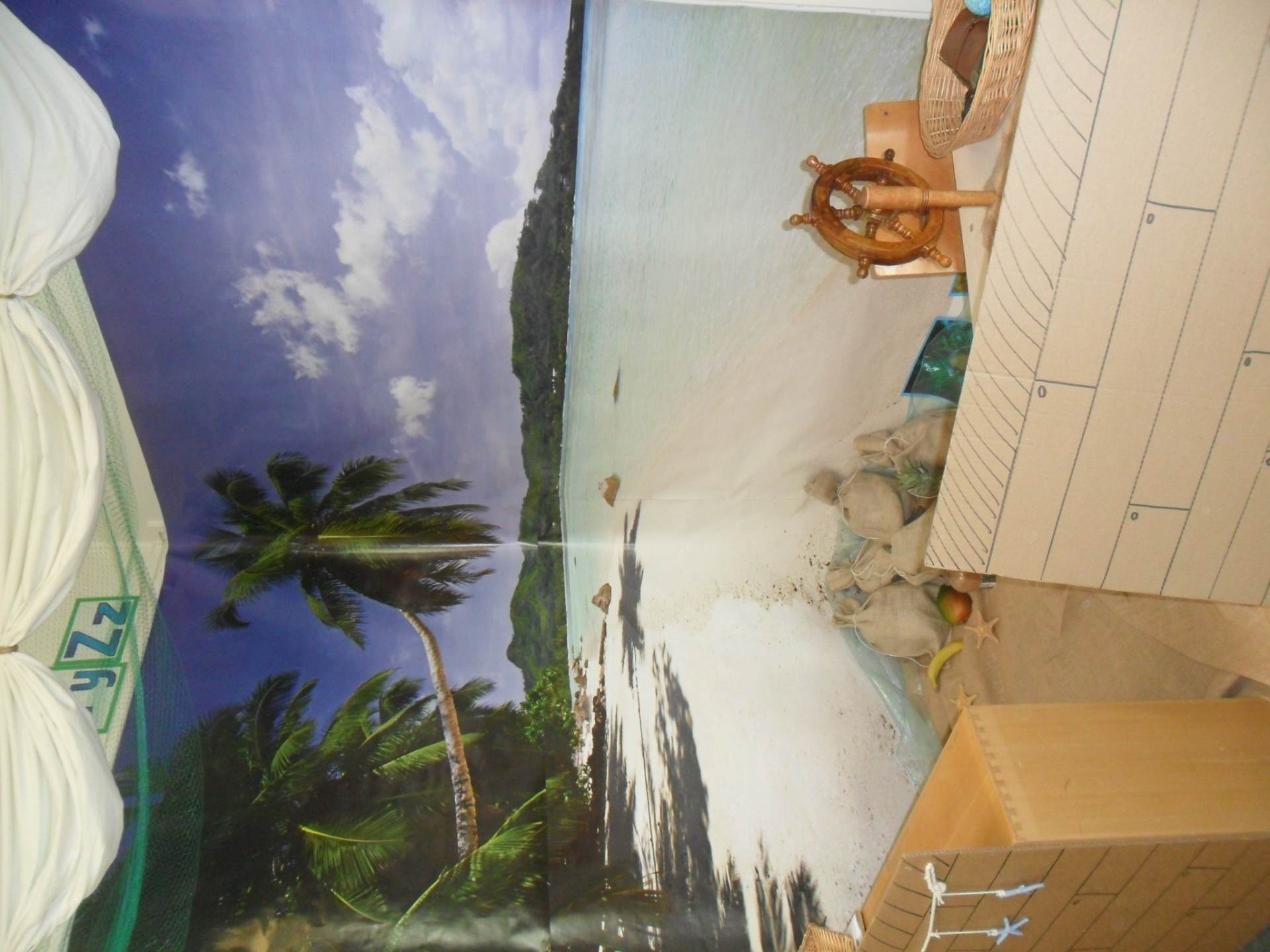 Desperate for some fresh fruit, we tasted, designed and made a Bahamas fruit salad.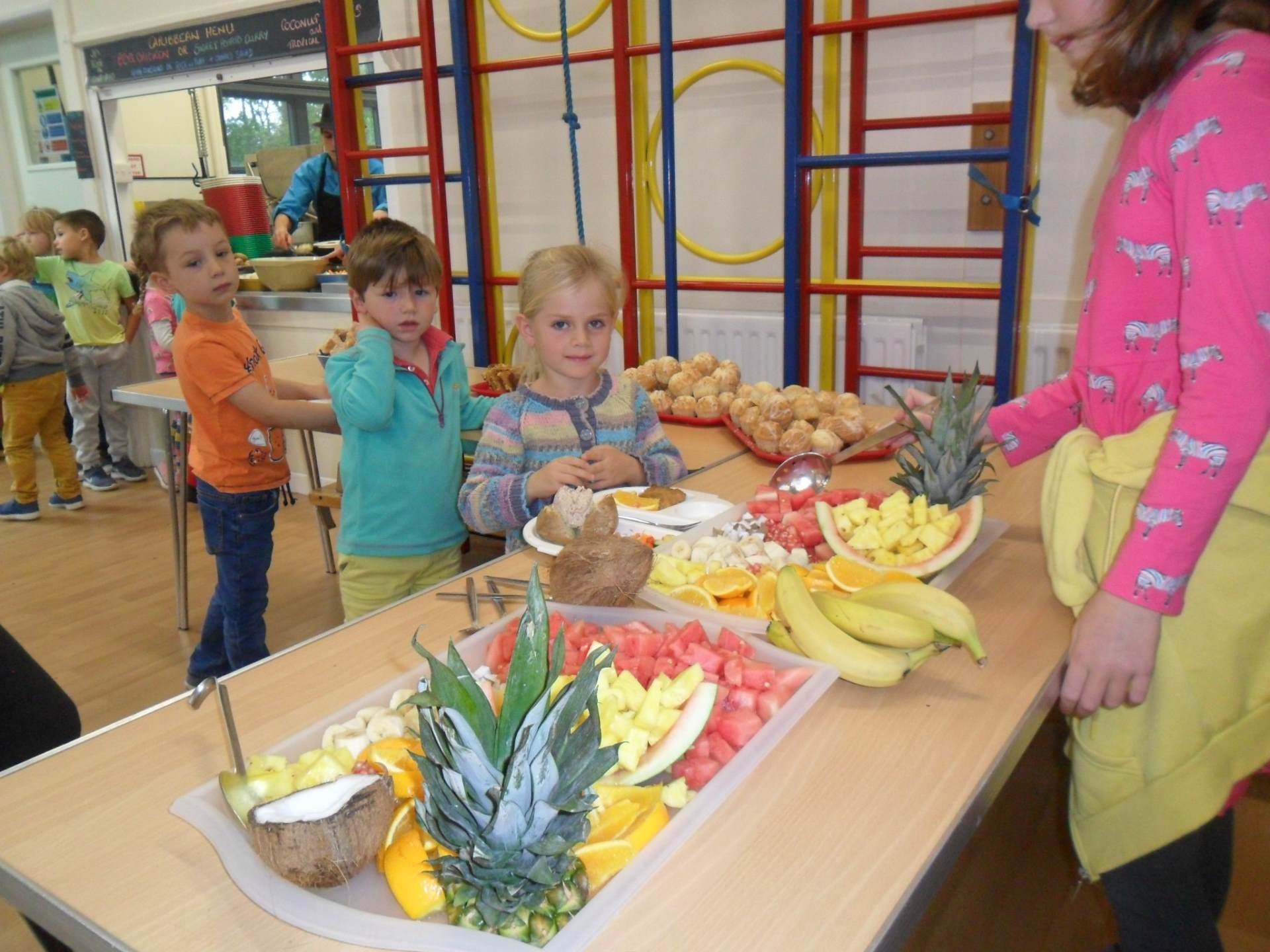 We set up a camp on the beach using sticks and tarpaulin from the ship's store.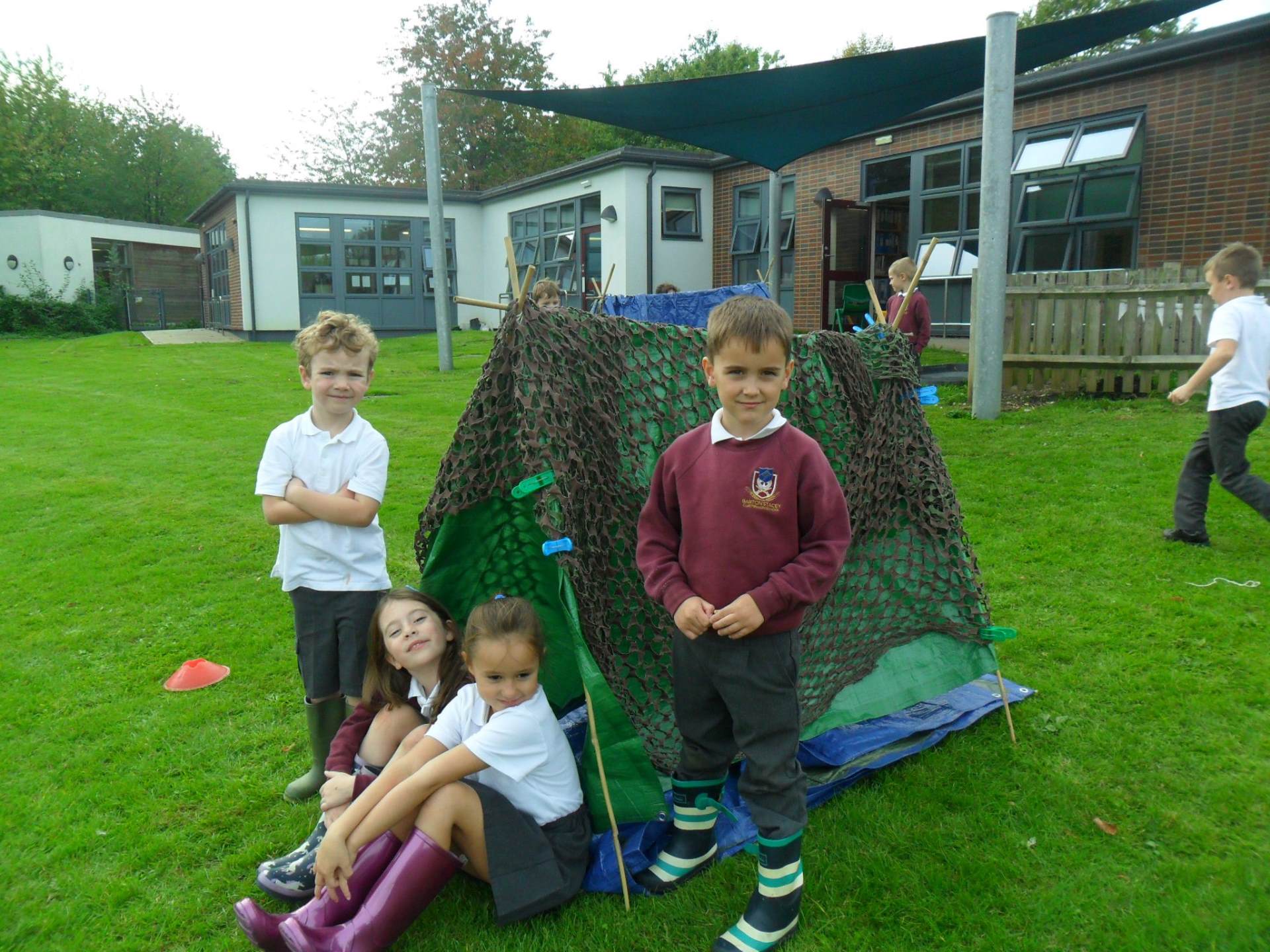 We wrote lots of instructions for crews attempting the same thing in the future. We also celebrated Bahamas Discovery day, or Columbus Day, in style with steel band music, headdresses, bright clothing and a beach party.
Keen to find as out as much as we could about this tropical paradise, we zipped back into time to do some web based research on the Bahamas. We investigated the islands, the flag, the things you can do there, the food and the animals who live there. The swimming pigs were a big hit in our class! We also listened to a presentation from one of our parents who has been in the Bahamas helping to rebuild the islands after they were hit by hurricane Dorian.
Back at our beach camp we have also been designing flags. We thought carefully about images and colours that could be used to represent the Bahamas had we arrived there and been tasked with selecting a flag. We are also making drawings of the things we have discovered and the island we have seen. We are writing postcards to send home, describing the beauty of these fabulous islands.