Class News
25/05/23
We have reached the end of another half term and are astonished at how the time flies! We are noticing the changing season and lush, leafy growth around us as the weather warms up. Our seedlings are thriving and enjoying the careful watering that the children are providing. We are wondering how tall our sunflowers will grow over the half term holiday. Unfortunately, our duck eggs have not produced any ducklings, it seems we have been incubating empty eggs for a while. This disappointing news has tested the children's resilience, but they have all shown they are able to moderate their feelings very well and I am extremely impressed with their maturity. We are still hoping to meet some ducklings at some point soon. We will keep everything crossed. Thursday, our last day before the holidays, has been dubbed 'Arthur Day' and we look forward to celebrating our wonderful friend who is leaving Snowy Owl Class and embarking on new adventures up in Scotland. Have a fantastic holiday everyone and farewell Arthur! Please keep in touch!
Dear Arthur, This year has been so special, We've watched you learn and grow. But now the time has come for you, To spread your wings and go. So hold your head up proudly, We know that you'll go far. You'll be a shining beacon, Just being who you are!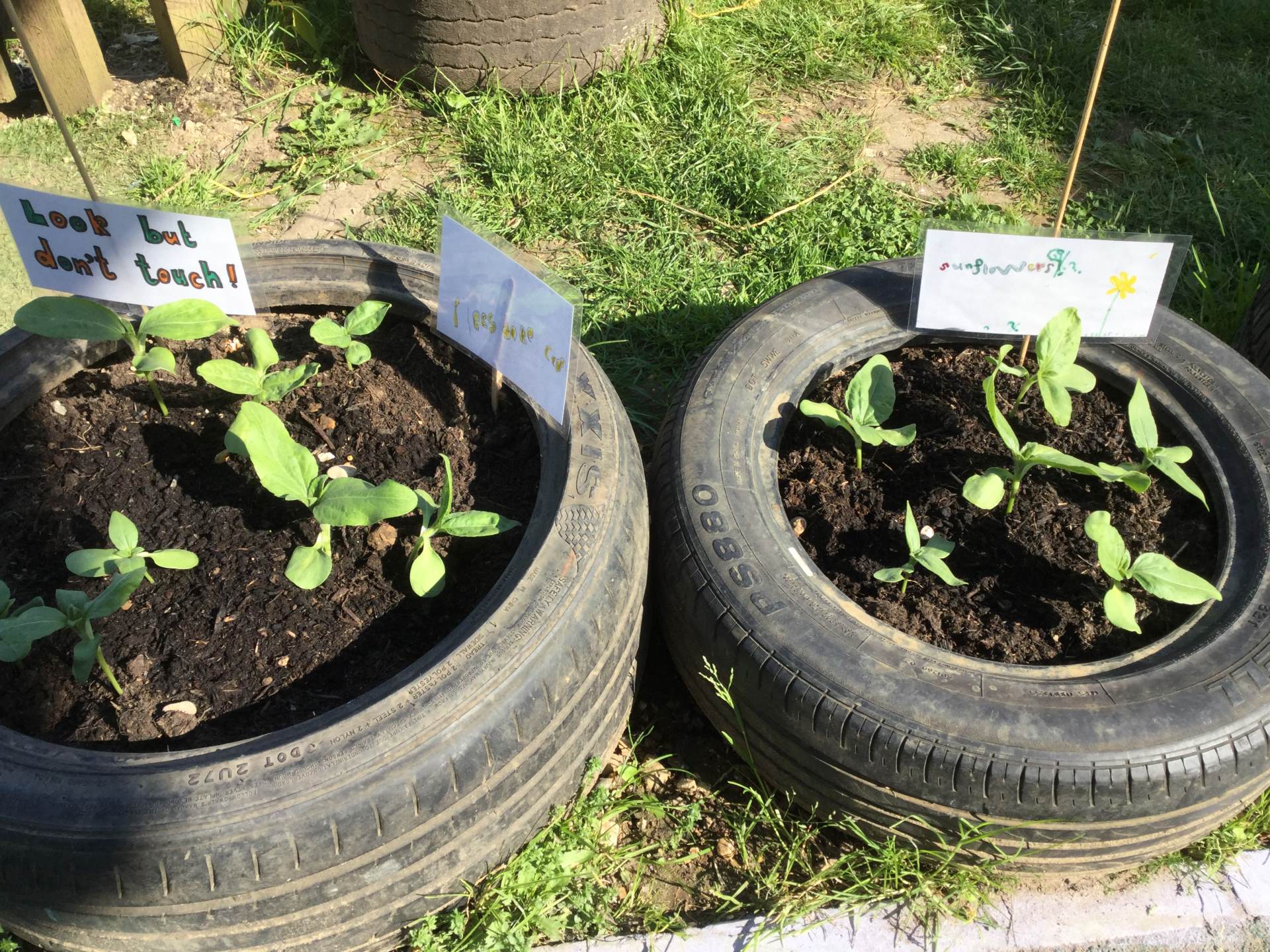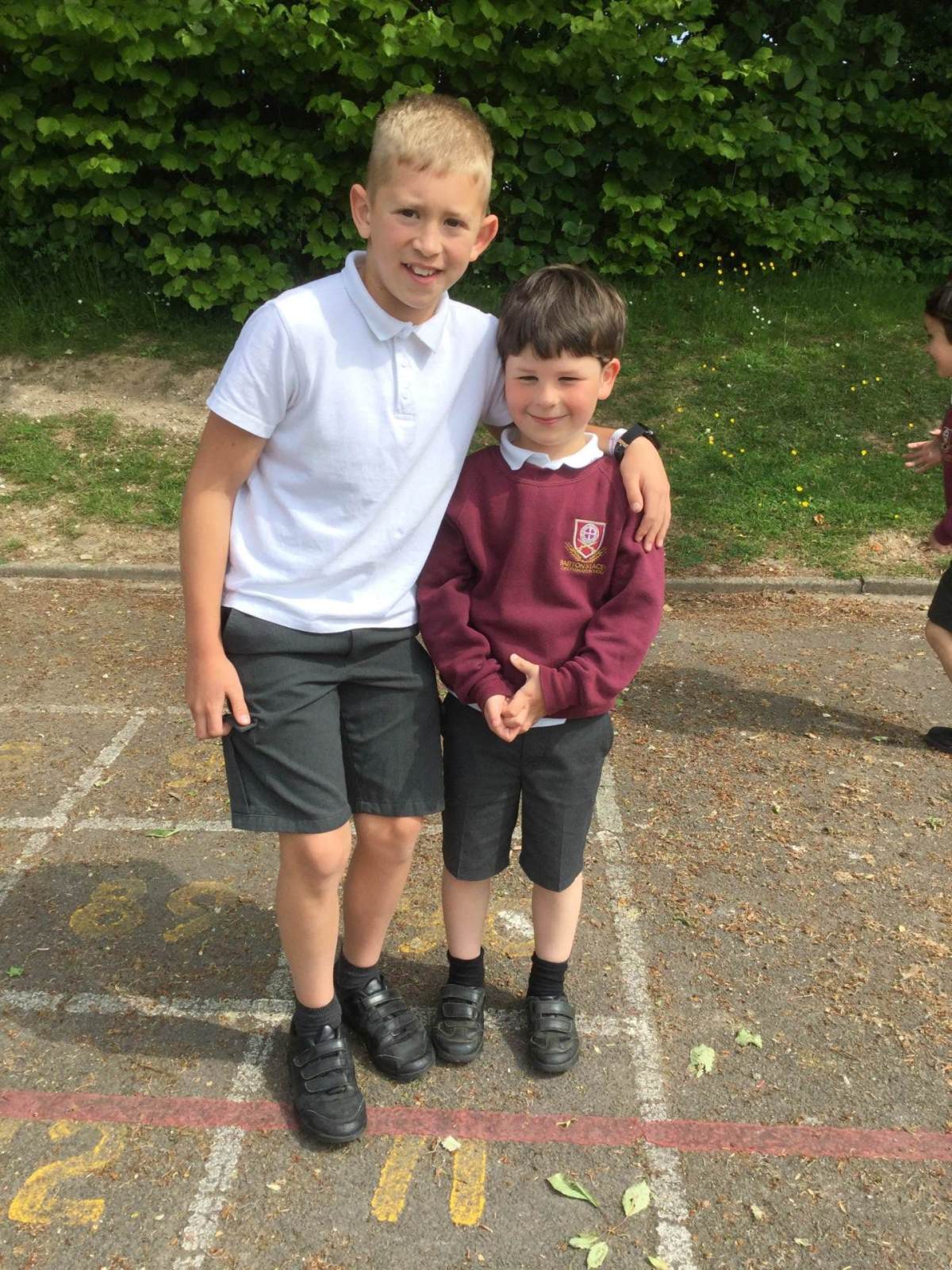 19/05/23
What a day we had at Foot farm!! The children got in touch with nature and the beauty of their surroundings in a memorable day of fun and freedom. We went from Oak Class on a short stroll through the churchyard and along the lane in the morning sunshine, listening to the blackbirds whistling and the wind rustling in the trees. There were sheep and cows grazing lazily in the fields. After we arrived we had a wonderful time getting to know Oak Class a bit better, playing games, building bug homes, making daisy chains, and enjoying the warm sunshine. We looked for creatures with magnifying glasses and had long grass races and giggled when we fell over! Later on, we followed the path down to the stream and dabbled in the water, looking for tadpoles with the fishing nets and getting our wellies wet inside. We were very lucky to find some tadpoles because they hid in the water weed! The picnic was very sociable again, the children started to make new friends. Although we were disappointed we didn't have a tractor ride after all (Mrs West has a couple of ideas up her sleeve!) we did have a truly magnificent day. Show and share on Monday will be our fantastic Noah!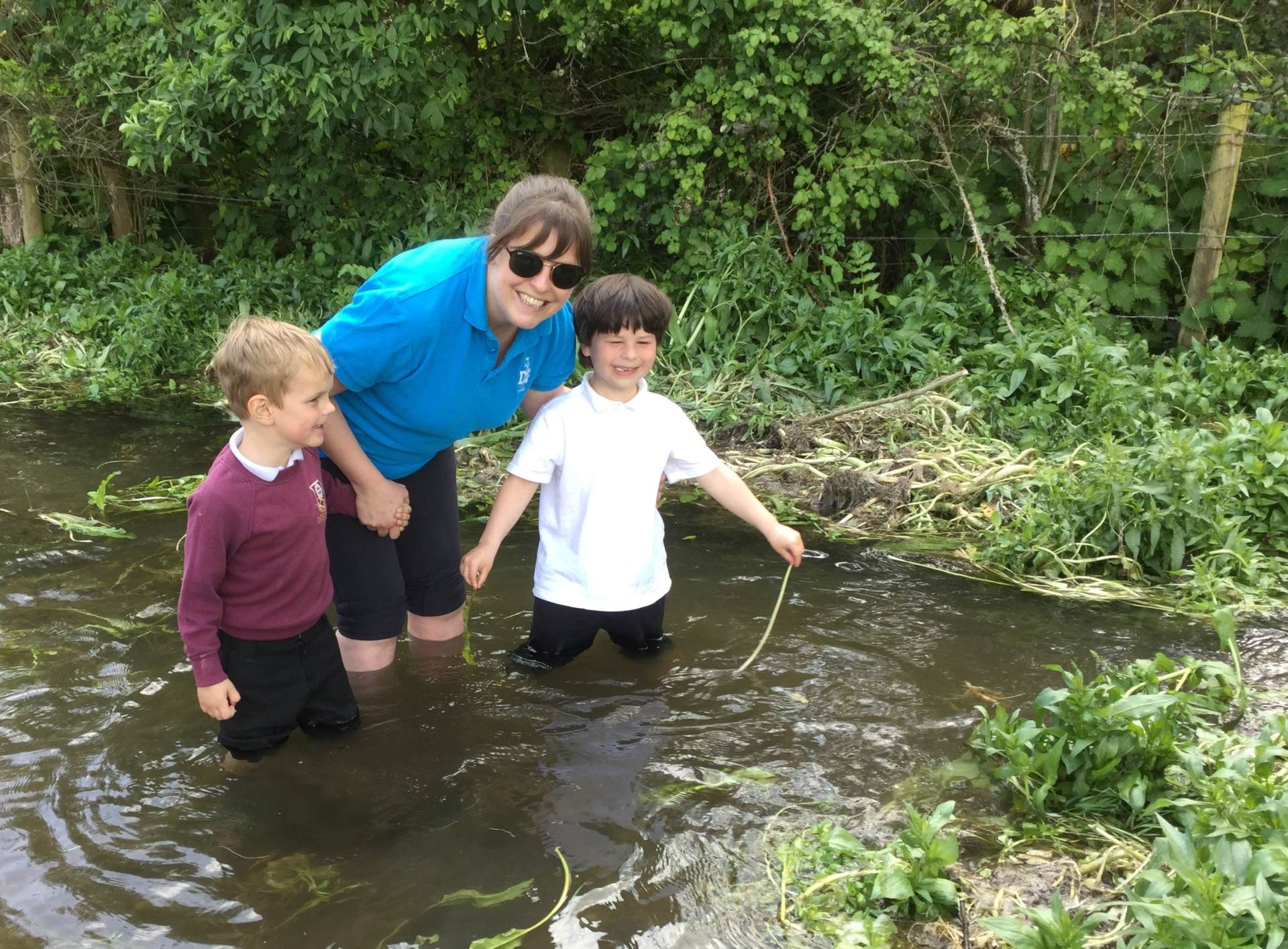 12/05/23
The children have been learning about the concept of 'Specialness' in RE. A couple of weeks ago we looked at special food and made St George's cakes. This week we looked at special clothes and linked this with the coronation. The Year 1 children recreated this with the dressing up voiles and hats! We looked at the special clothes a mountain rescuer might wear and then looked at special clothes in Christianity. We talked about the mitre on the head of the Archbishop of Canterbury as well as his long golden robes for such an important occasion. In other news, our turnips have already started to grow! We can see tiny shoots and leaves peeping through the soil. There are still none in the supermarkets so we will have to harvest our own before we can have a taste! The rain has watered them well but when the sun comes out, we will need to remember to keep the soil moist. We need a watering can with a sprinkler if there are any kind parents who would like to donate one. The Year R children are getting creative with the instruments, telling a musical story of the enormous turnip using sound effects. Ask the children what voice sound they made for a growing turnip! Show and share on Monday will be the amazing Arthur Boulter and don't forget our trip to Micheldever on Tuesday 16th. Have a lovely weekend!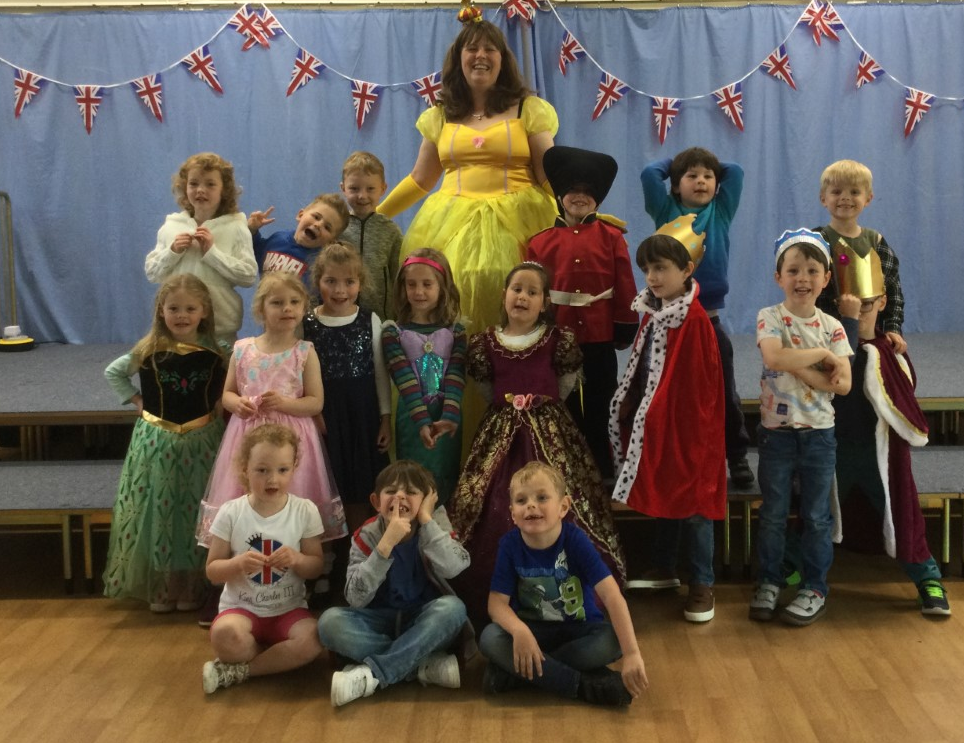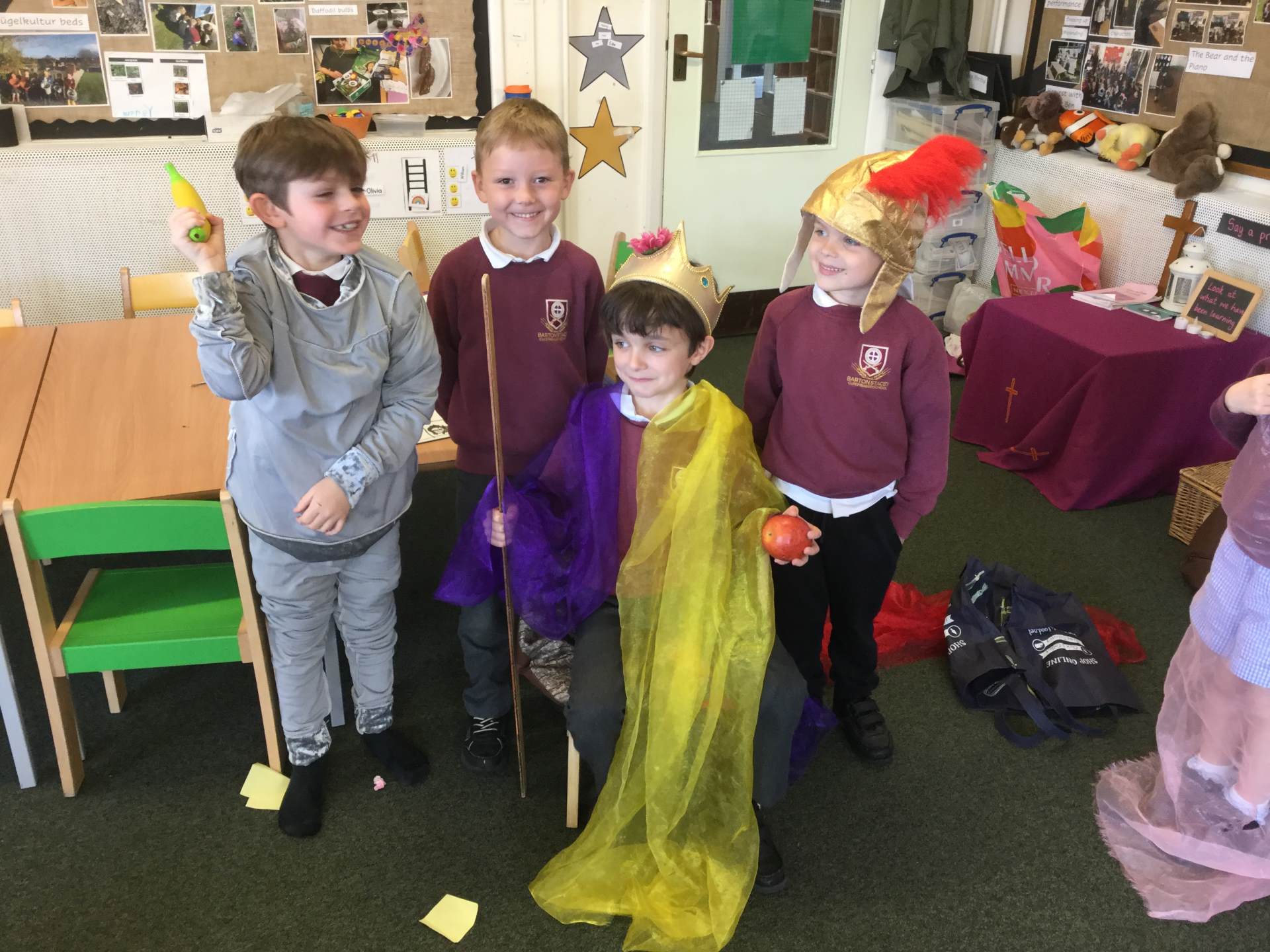 05/05/23
During this short week, we've squeezed in a lot of activity! The tyres in the outside area are all planted now, so we look forward to our seeds beginning to sprout. Several children have been busy making signs, so everyone knows to take care of them. We will have Titan Sunflowers ( the tallest of all!) and turnips, as well as various flowers. Mrs West is very surprised that there are no turnips in the supermarkets - see if you can find any. Many children have leapt forward in their reading and are practising so hard at home. Well done, it's really paying off. We have been busy in Maths, grouping and sharing quantities and Year 1 have been making arrays. Year 1 have also answered questions in their book reviews of 'The Enormous Turnip'. In writing, Year R have taken inspiration from the story of 'Ketchup on your Cornflakes' and the coronation, so everyone has written the question, 'Do you like a crown on your head?' Next week we will have Show and Share on Tuesday 9th of May with marvellous Mia, who is visiting London for the coronation. Have a wonderful and special long weekend everyone!
28/04/23
At the end of last week, we learned about St George, the Patron Saint of England and to celebrate St George's Day on 23rd April, we made cakes with the English flag on top. All the children were able to tell me the recipe for fairy cakes. I hope you will have a go at home too. At the beginning of this week, we welcomed the arrival of our duck eggs which are keeping warm at a temperature of 37.5 degrees in their incubator. They will take 28 days to grow and hopefully they will hatch during the final week before the holidays. We are extremely excited and we tell all visitors to our class all about it! Mrs Waters came into class to show and share all about ducks because she has pet ducks at home. We loved looking at her photos. (Parents- for your information, our pet ducks are definitely not destined for the shoot but will be sold as layers or pets). The children have been busy clearing stones out of our planters and nourishing the soil with compost in preparation for planting. We will be able to tell you more about that soon. We will plant sunflowers, turnips and other flower seeds to make our outside area look beautiful. Finally, we've measured volume and capacity using jugs and our amazing year 1 children are now learning multiplication and division! Look out for your postcards, which the children wrote and posted this week. Thanks for the stamps. Show and share next week will be on Wednesday 3rd May and will be the fantastic Henry!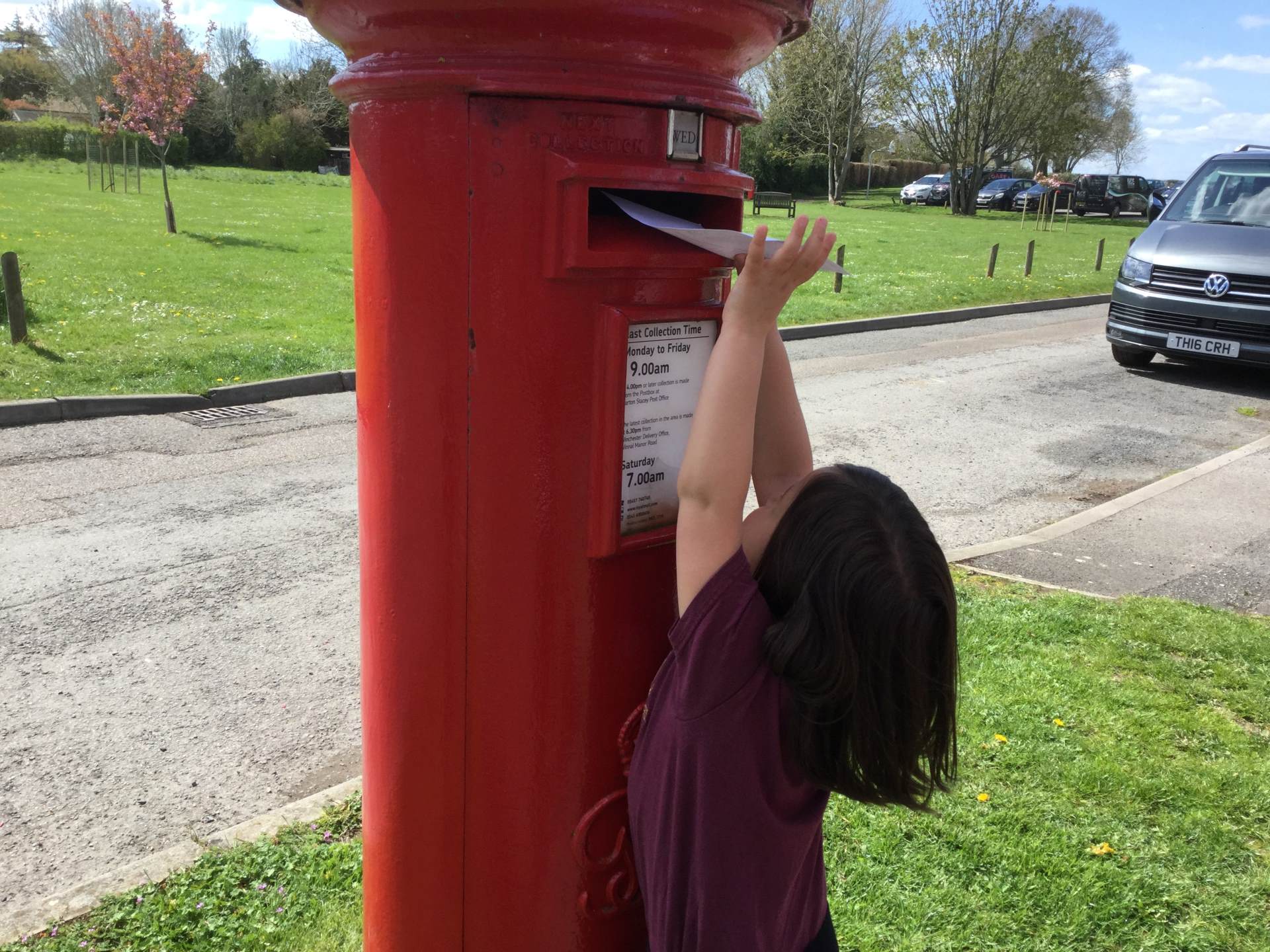 21/04/23
This week, we released our butterflies into the wild! Nine of the butterflies hatched (see Tapestry) and one of them had deformed wings and couldn't fly at all. So we released eight butterflies on Tuesday. It was an amazing event, the awe and wonder from the children was wonderful to witness. A couple of the children were lucky enough to have a butterfly land on them before they flew away. The little butterfly with deformed wings we kept in the habitat, named her Poppy, and fed her grapes and sugar water. We were determined to look after her. Sadly today, we discovered that Poppy had passed away over night and we felt sad. We will give Poppy a little funeral and say some 'Happily ever after' prayers for her. The experience has taught our children a valuable lesson about emotions and loss. It is ok to feel sad when sad things happen. We moved our names to the blue colour monster and took care of each other. In other news, we have focussed on measuring mass using the balance scales and looked at the story of the 'Enormous Turnip'. We are preparing for planting our turnip seeds, removing rocks and stones from our planters. Thanks to those who have provided a 2nd class stamp. Please remember to bring one in as soon as possible so that we can send our postcards home. The children have had a fantastic first week back, well done Snowy Owls
31/03/23
This week we have continued to learn about the Easter story and how Jesus rose again after the crucifixion. We have linked this to a celebration of new life, thinking about our caterpillars changing into butterflies and about our buds and bulbs blooming around the school grounds. We have been singing like angels in preparation for the Easter service and we are looking forward sharing this with you. Our chrysalides have now been transferred carefully into the butterfly habitat where they will hatch over the next few days. Mrs West will post pictures and information on Tapestry as things develop, so please log on to find out what's happening over the holiday. In Maths, the children have been measuring body parts! The Year R have been finding out what size shoes they have and using cubes to compare length and height. The Year 1 have been measuring in cm using rulers. We have also learned some new vocabulary such as shin and thigh. Our Year 1 children have continued to produce some very creative (and amusing!) stories linked to our text, Rosie's Walk, about the fox's bad day. They are learning split digraphs. Please look for the home learning in their red books over the holiday. We hope you all have a happy and safe Easter break and I'm looking forward to seeing you on Monday 17 April when we will have excellent Edie's show and share!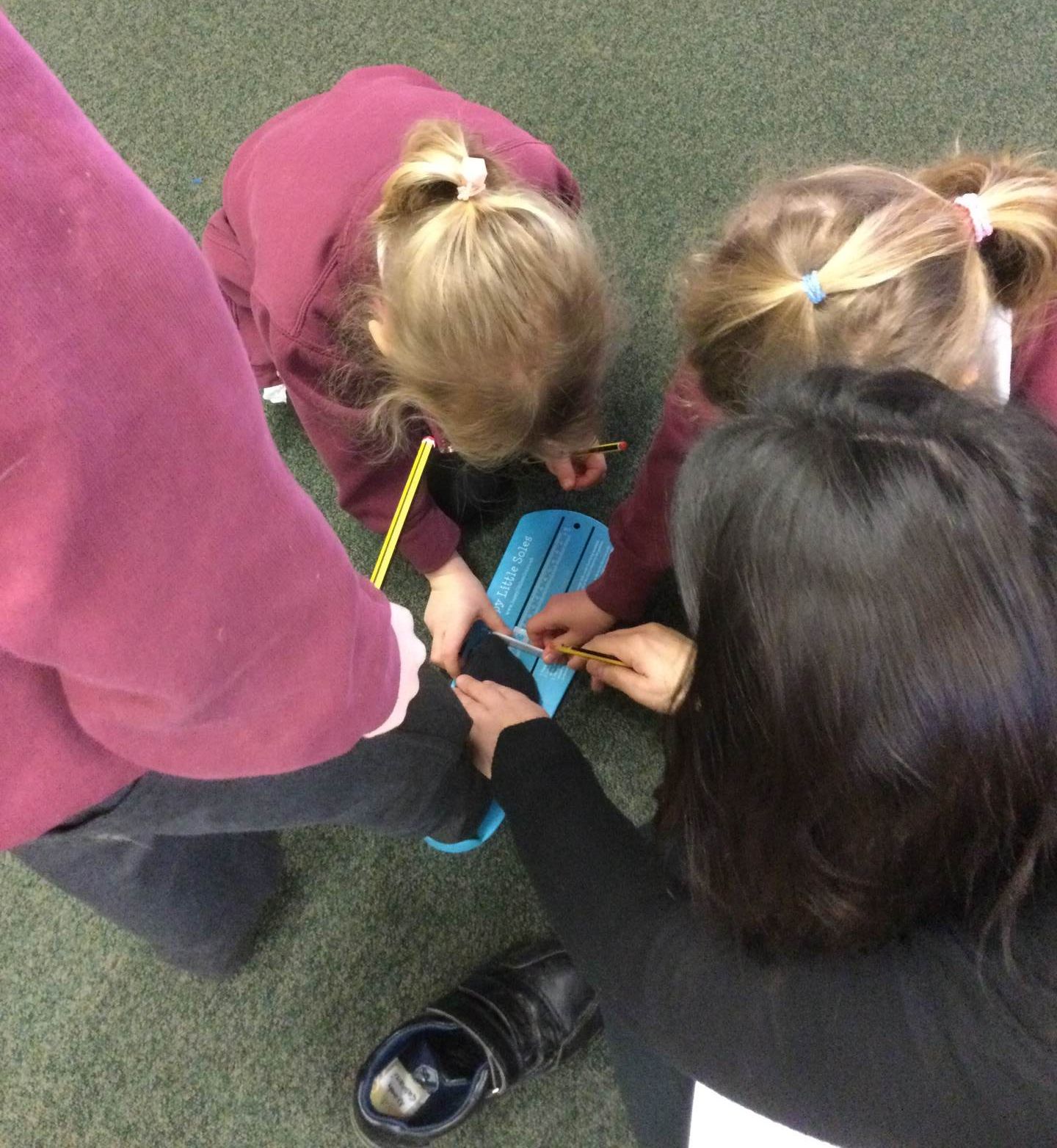 24/03/23
We have had a very interesting visit to Pizza Express in Winchester! The children rode on a coach (spotting evergreen and deciduous trees along the way!) singing happily along to 'Wheels on the Bus'. We saw sheep in a field, a police car with blue lights flashing and even a building getting a new thatch. At the restaurant we enjoyed making our pizzas and learning about some of the ingredients. Can the children tell you what 'passata' or 'basil' is? Well done to the Snowy Owl children for being such good company and for trying so hard to follow all the instructions they were given. I'm delighted with some of the writing it has inspired. We have all written lists of ingredients using our phonics including difficult words like pineapple, pepperoni and tomato. We are looking forward to showing off our learning when you come in for the Exhibition on Friday. We will be able to show you how to make a palm leaf similar to the ones that people waved on Palm Sunday when Jesus rode into Jerusalem after 40 days in the wilderness. Finally, in caterpillar news, our caterpillars are enormous but still caterpillars. We have moved them into a warmer room to encourage them to grow and make chrysalides. We're keeping our fingers crossed that we will have butterflies before the end of next week. Show and share on Monday 27th March will be marvellous Marnie!
17/03/23
This week the children have begun learning about the story of Rosie's Walk. We have drawn a map of her route around the farm and all the obstacles she passes along the way. The hungry fox tries to catch her but keeps getting stuck! We took this theme into our PE lesson on Tuesday, the children recreated the obstacles and followed Rosie's route. In Maths, we have been thinking about repeating patterns and have been counting how many repeats we can find in each string of shapes. We recognised lots of patterns in nature too. Outside, we found a variety of deciduous trees as well as evergreens growing in our environment. Ask your children if they can spot any more whilst out and about this weekend. As part of Science day, we ended the week with an interesting look at the work of hospital doctors and a think about how our bodies work, including our muscles, our lungs and blood flow. Dr Frost gave an amazing presentation about the work she does as an Army doctor. We also listened to paediatric cardiologist Dr Sharpe and learned about how our hearts and lungs work. I wonder how many children would like to be Scientists when they grow up? Show and share on Monday will be the one and only, Olivia!
10/03/23
What an exciting day we had on Wednesday! We woke up to a beautiful white blanket of snow and the children couldn't wait to get outside. We built some snowmen and enjoyed making footprint pathways. We were able to guess who the footprints belonged to by looking at the pattern on their wellies. Printing was a theme in class too as the children have been creating their own block prints just like Andy Warhol. They used printing inks and rollers to print repeating shapes in different colours. Our caterpillars have grown so much - one of them had managed to crawl right to the top of the pot and hid under the lid! We have learned that they are called 'Painted Lady' butterflies and they will make their chrysalides soon. The children have made some beautiful butterflies to decorate our classroom too. Thank you to Stanley for telling us all about Lamborghinis in show and share. Next Monday, we are looking forward to listening to Reuben! Have a fantastic weekend.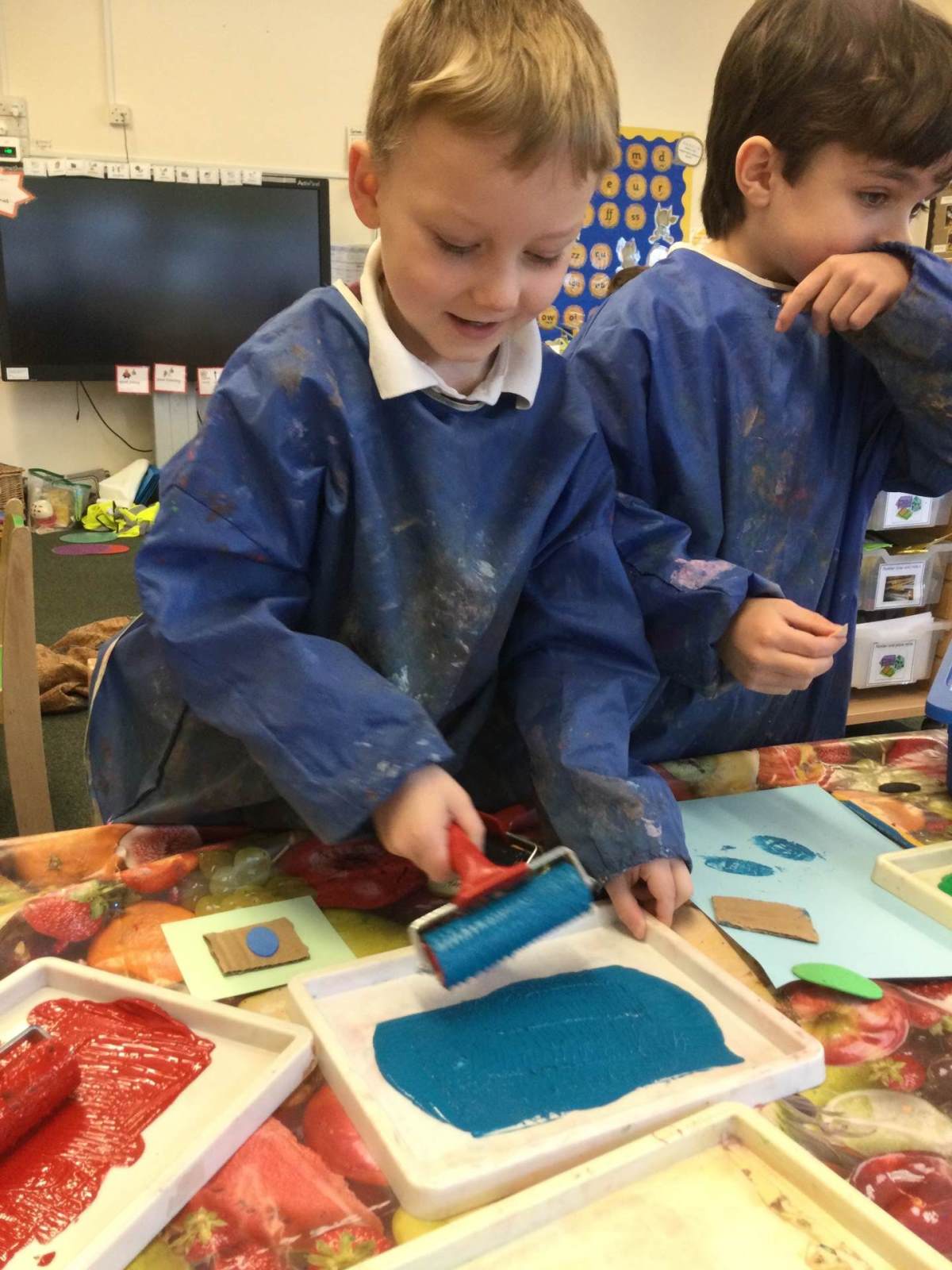 03/03/23
The Snowy Owl children have been in search of signs of Spring, supported each day by the Green Ambassadors (lovely Lilia from Eagle Owl class has been caught up in our chats about wildlife every day!). We have sprung into action, searching our environment for buds and bulbs. There are lots to be found in the outside classroom where we planted them during the autumn. It will be interesting to see how the trees and bushes will blossom over the coming weeks. We are also delighted to announce the arrival of our new butterfly family! We will take great care of our little eggs and watch carefully to see how they change. We have been inspired to create beautiful butterfly designs in the craft area and the children have found interesting ways to make the butterflies seem as if they are flying. We have also been learning the days of the week alongside the Very Hungry Caterpillar and the Year 1s are making great efforts with learning to spell them too. Home learning is gathering new momentum which is fantastic, thank you very much for everything you're doing to support your children's progress at home. The difference is clear to see. I look forward to catching up in our meetings next week.
24/02/23
Welcome back to school after the half term break, the children have returned eager to learn and excited to find out about our new book, 'The Very Hungry Caterpillar'. We have been discovering information about the life cycle of a butterfly and have had interesting discussions about whether a real caterpillar should actually eat cake or pickles. Some children have chosen to complete a food diary for the caterpillar and we were all delighted when they shared their writing, they were given a standing ovation by the SOC audience! Ask your children what the caterpillar ate and see if they can remember. We also have exciting news that we are looking forward to caring for our own little SOC eggs that will eventually become beautiful butterflies. I think the children have shown a lot of thoughtfulness about how we might care for them. More on this soon! Can your children recite the days of the week in order? Year 1 children have been learning to spell them, perhaps they can talk to you about which parts of the words they find trickiest. On Monday, our Show and Share star will be the fantastic Arthur Broad! We are very much looking forward to his presentation.
10/02/23
The children have been busy creating Africa-inspired musical instruments that can be plucked or shaken. We have filled a variety of containers with dried lentils, peas, quinoa, rice, pasta, beans, flax seeds and beads to see if we can alter the way the shakers sound. We have also used elastic bands to make plucking instruments and have found a way to change the pitch of the note. It was fun when we went outside to test if our instruments could be heard from one end of the field to the other. We finished off by creating a fruit salad rhythm band and were able to compose and perform our own rhythms. Well done, Snowies! As well as this, the Year 1 children have absolutely blown my socks off with the standard of their writing. I am thrilled with their amazing effort and progress. Well done! We look forward to sending home our lovely Valentine's messages for half term as the Year R children also put pencil to paper. Over half term, please can I make two requests - 1. Read, read, read with your children and give them the opportunity to practise their phonics as much as possible. 2. Check your children for lice. Little visitors have returned and many children are scratching. I have informed individual parents where I have actually seen the evidence. Have a lovely holiday, folks
03/02/23
The children in Snowies have been doing exciting writing! During Planning Book time, the children came up with some interesting ideas to try out including writing on biscuits! It was wonderful to see the children's enthusiasm with the 'clicky' pens and various types of writing paper. Lots of children have been putting their phonics to good use. Storytelling has been a theme this week as the children enjoyed acting out a retelling of our 'Peace at Last' story on the stage in the outside classroom. Our actors were excellent, and Daddy Bear definitely needed a nice cup of tea at the end! We have also been fascinated by Farmer Ian and his yellow tractor which has been coming right up to the fence to plough the field. The children have learned a little bit about why he needs to plough and what needs to happen to help the seeds grow. We have had a peep at the places where we planted our bulbs and some of them are starting to peep through. On Monday next week, we are looking forward to show and share with the brilliant Olivia!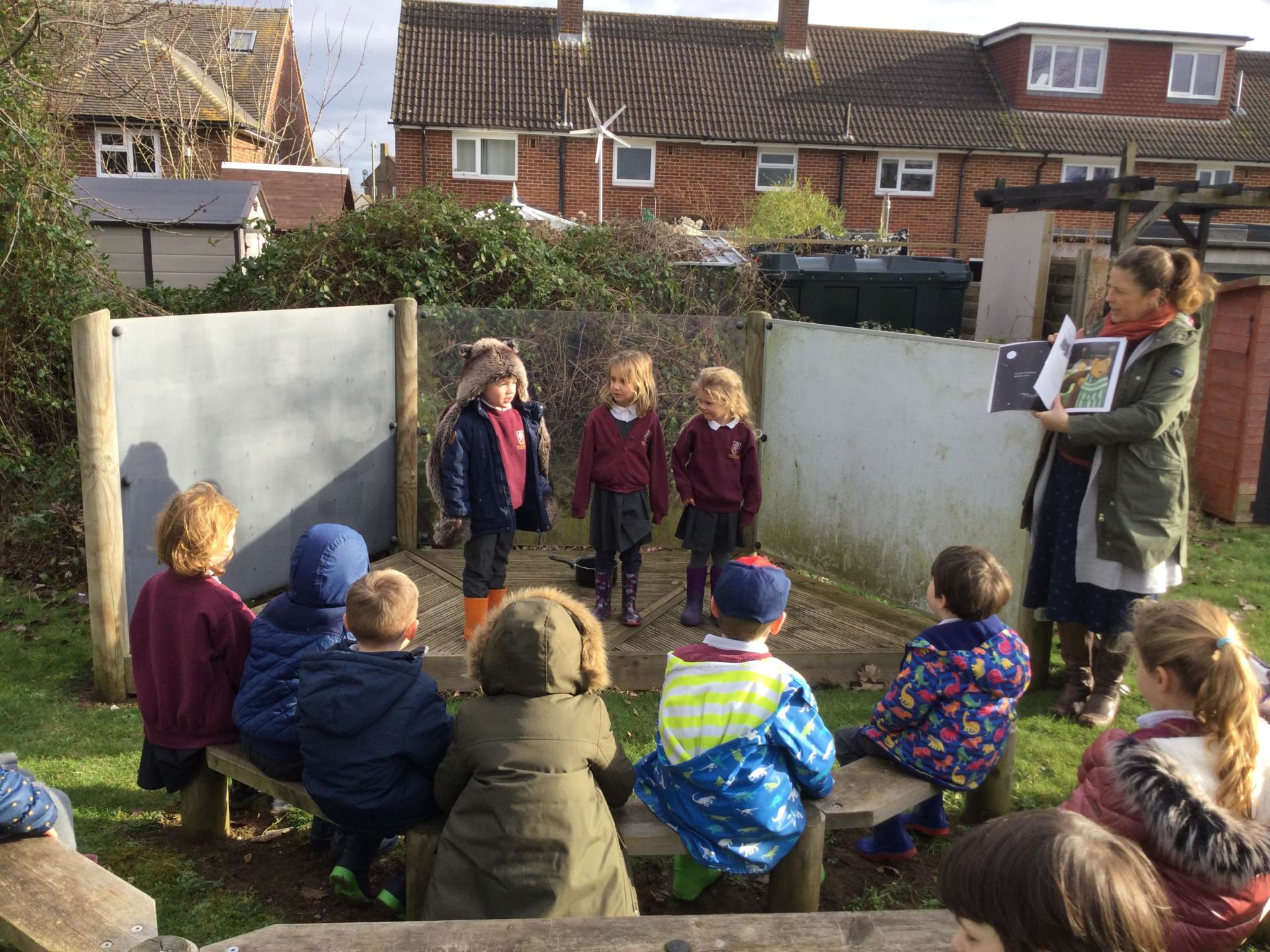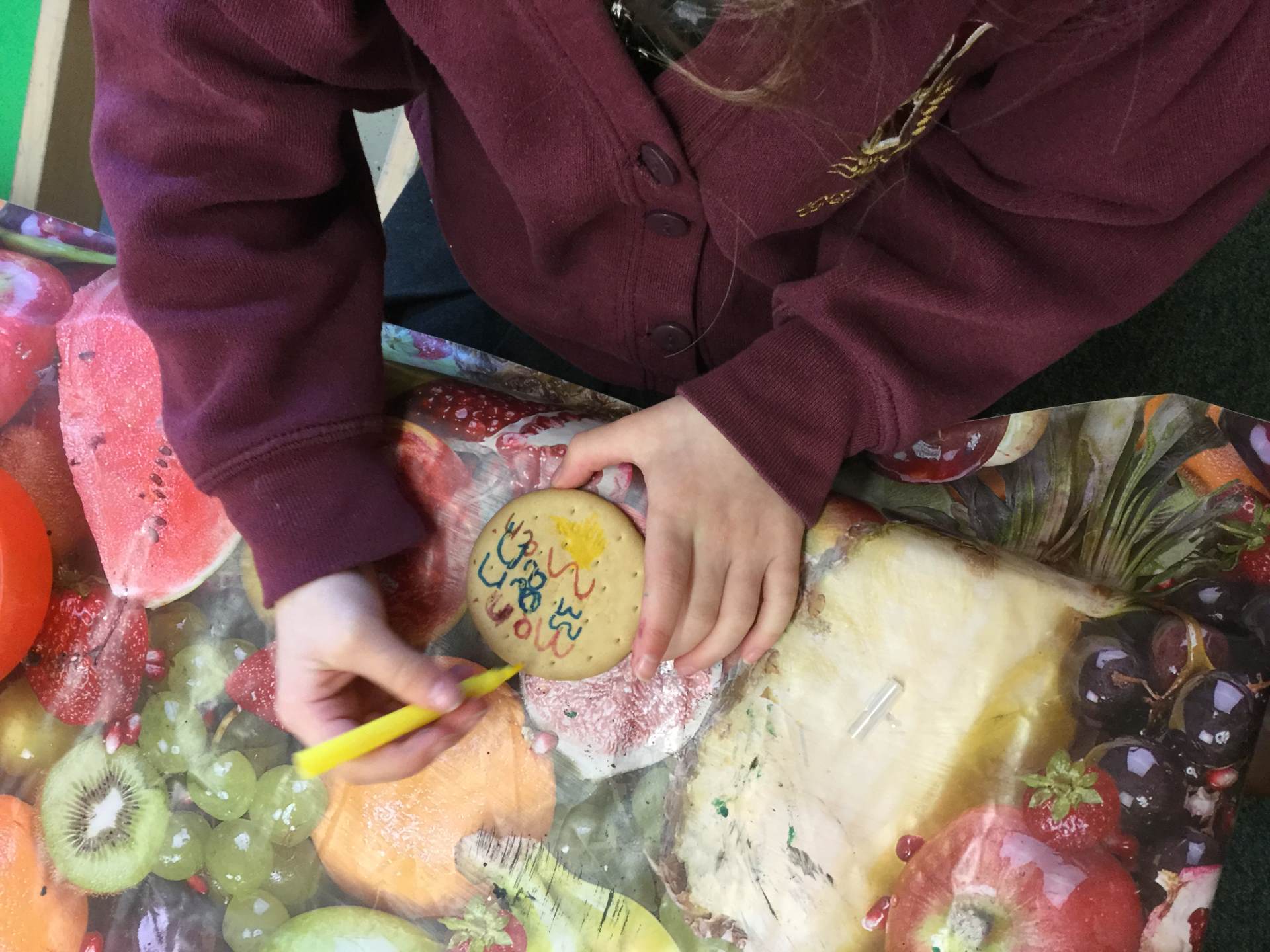 27/01/23
We have been working on our weaving skills this week and have found many interesting ways to develop our artwork. We have used sticks and ribbons, cardboard strips, chicken wire, pipe cleaners and even the fence posts with skipping ropes! In the story of Handa's Surprise, the fruit she carried was in a woven basket. We have also found lots of woven items around the classroom too. The Year 1 children have continued their work on algorithms and have been solving problems with the Beebot, trying to guess the algorithm for the route he followed. We are all getting stuck into numbers to 20 now, learning to count and recognise teen numbers. Many of the children are muddling 12/20 and 13/15. It would help enormously to reinforce counting at home if you can (forwards and backwards). Thank you for your continued support of reading at home, please remember to write notes in the yellow diaries so that we know how much practice the children are getting with each book. And finally... our Show and Share celebrity next week will be the awesome Anna!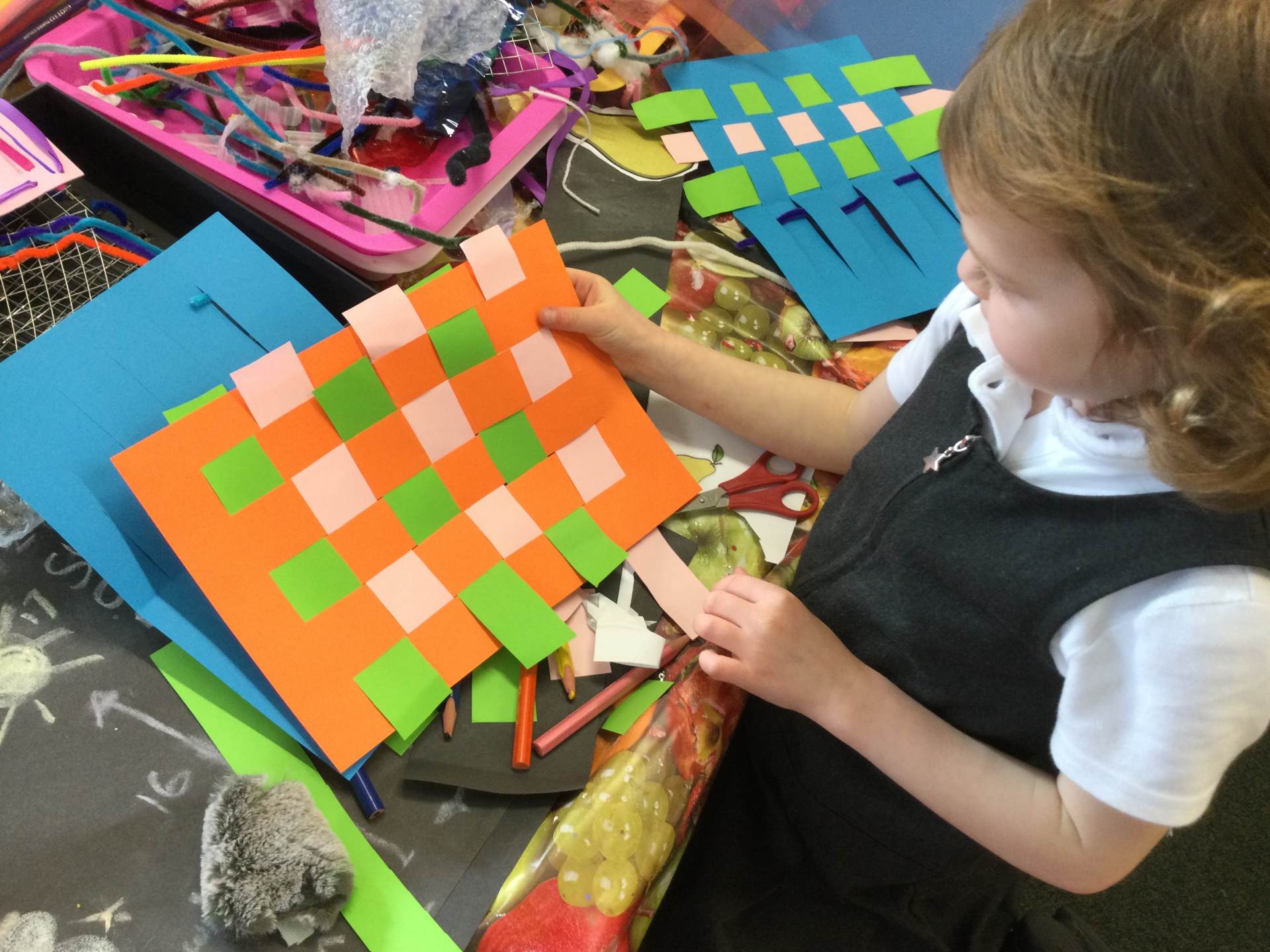 20/01/23
We have been very focussed on our aspiration about creating obstacle courses this week and have been learning to control a Beebot! The Year 1 children have been developing algorithms and debugging their codes and the Year R children have been having fun building bridges and tunnels for him to travel along. There is also a free online version of this game called Terrapin Logo if you would like to have a go at home. With obstacles in mind, the children have also been having great fun creating the biggest board game ever! The piece of paper we had was as big as our outside area and we have been setting up the course and creating different rules. We've had venomous snakes and spiders, lions and lots of ladders to fall down. Please support the children at home with recognising numbers above 5 and counting confidently forwards AND backwards. In the outside area, children have been thinking about looking after a living thing and have built little nests for a pompom pet using natural materials. Finally, thank you to those families who are already stuck into the home learning projects. Next week's Show and Share will be presented by the lovely Elsie.
13/01/23
Show and share was a roaring success at the start of the week and Teddy shone as our star performer, informing us of a visit to a farm in Cornwall where he witnessed a vet trimming a cow's hooves. Our next show and share will be hosted by Aubrey who is very keen and already has an idea. We look forward to hearing your presentation on Monday, Aubrey.
Another big highlight this week has been our work on the 5 senses. We had a good giggle drawing pictures with our eyes closed! We have also taken the sniff test (ginger, lemon and soap), the taste test (fruit pastilles) and the hearing test (everyday sounds recordings). We finished off with the touch test using a feely bag of objects. I am glad to say all the children's senses are tuned in. We have also been thinking about the British value of democracy and have voted for this week's 'Play buddies' as well as working hard on improving our animal homes which are very creative and have combined a lot of making skills.
Please remember to add photos and comments to Tapestry, this is also an excellent tool for 'Show and Share'. Have a lovely weekend.
06/01/23
Welcome back Snowy Owls! We have kicked of the term with some Science and have looked closely at different fruits, naming them, comparing their colours, shapes and weights. Then we cut them open to see what's inside. The children sorted the seeds from the stones and described the textures of the flesh and the way they smelled. Our Year 1 children have begun an investigation to find out what happens to fruit if we don't eat it. Alongside this, we are looking at the story of 'The Lighthouse Keeper's Lunch' and 'Handa's Surprise'. As we are thinking about the texture of different materials, we are also thinking about how we look after living things and have made a cosy home for some little creatures we have made.
The children have explored the Jewish festival of Hannuakah and have thought about the meaning of each of the eight candles of the Menora and how it links to the concept of light. Have a look out for the 'Ask me about...' board outside the cloakroom door and hopefully this will prompt a conversation with your child about what they have learned. We will also be picking up some new vocabulary to support our reading and spelling through our 'word of the week' as the term goes on.
There will be a new routine in class this Spring. 'Show and Share' will take place on Mondays and will involve one chosen child to present something to the class, perhaps a photo memory or a favourite object. The child chosen for Monday 9th is Teddy.
Finally, I am hoping a kind wishlist helper will be able to source a fish tank, some fake grass and some wooden pallets in good repair for our class environment. Thank you!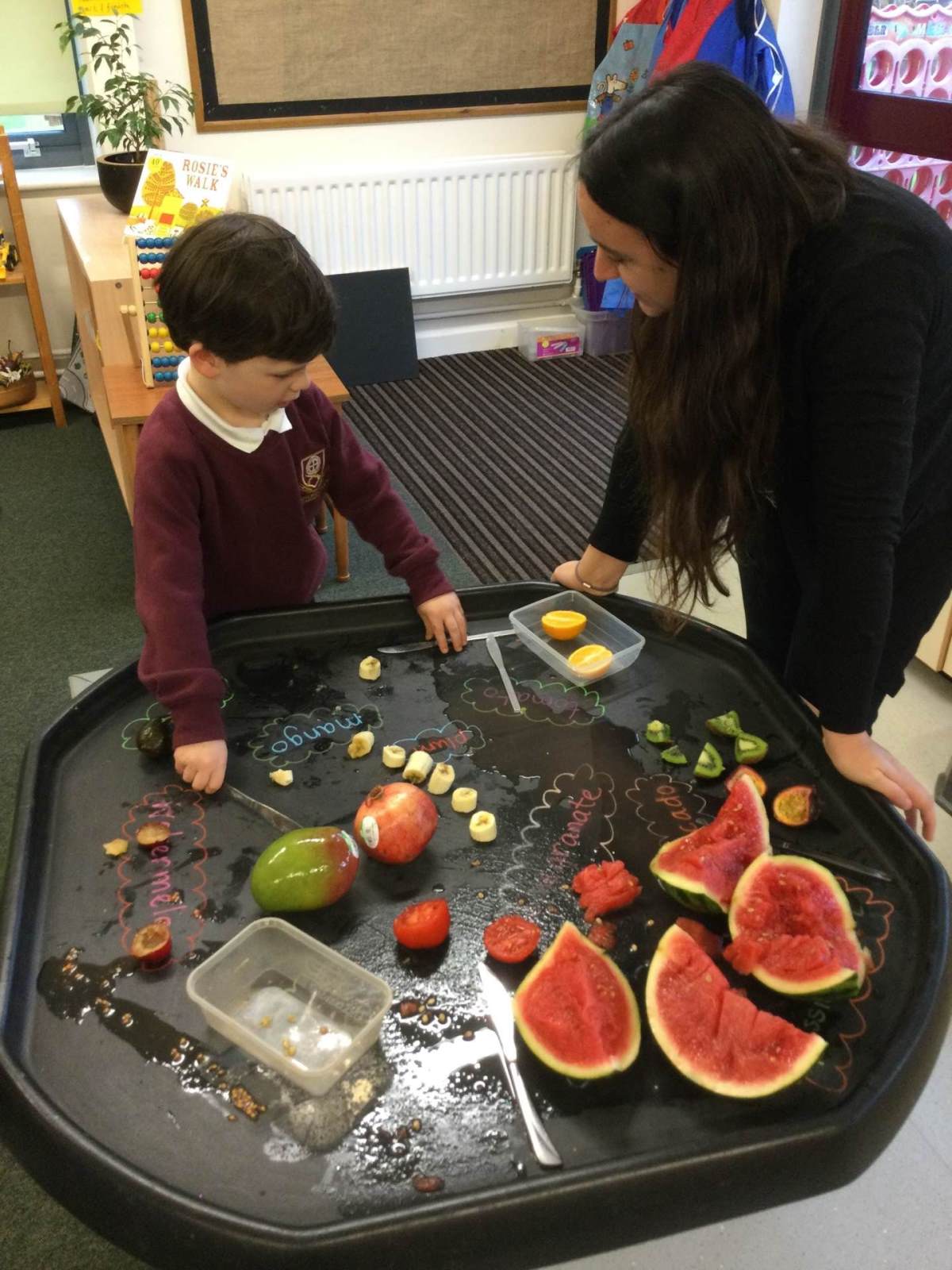 16/12/22
We are full of the spirit of Christmas and have spent the week in various Christmas related activities and fun. Stories with Santa was a lovely afternoon of delights. We had a special message from Santa's elves who told us they loved our Nativity which was a big surprise. We hope the children are pleased with the book they were given. As well as this we have been busy creating crowns and decorations for our big Christmas dinner event which was very successful. The hall was transformed into a winter wonderland with the 3D snow dusted Christmas trees decorating our tables. The children looked fantastic in their jumpers! In the classroom, we have also been wrapping presents, writing cards, creating sparkly stars, printing wrapping paper and dancing to Christmas music. We have also been looking at 3D shapes and learning about how they have 2D shapes on their faces. Over Christmas, perhaps you could begin to chat with your YR children about our aspirations and how the children feel about their progress towards them. If you are not sure what they are, here's a reminder: To be able to perform a play, story or song, to look after a living thing, to create a piece of art for a gallery, to design and complete an obstacle course and to follow a recipe. Year 1 have completed their porridge instructions, and I hope they know how to make the pot stop! We hope you enjoy a fantastic Christmas and see you in the NEW YEAR!!! Stay safe.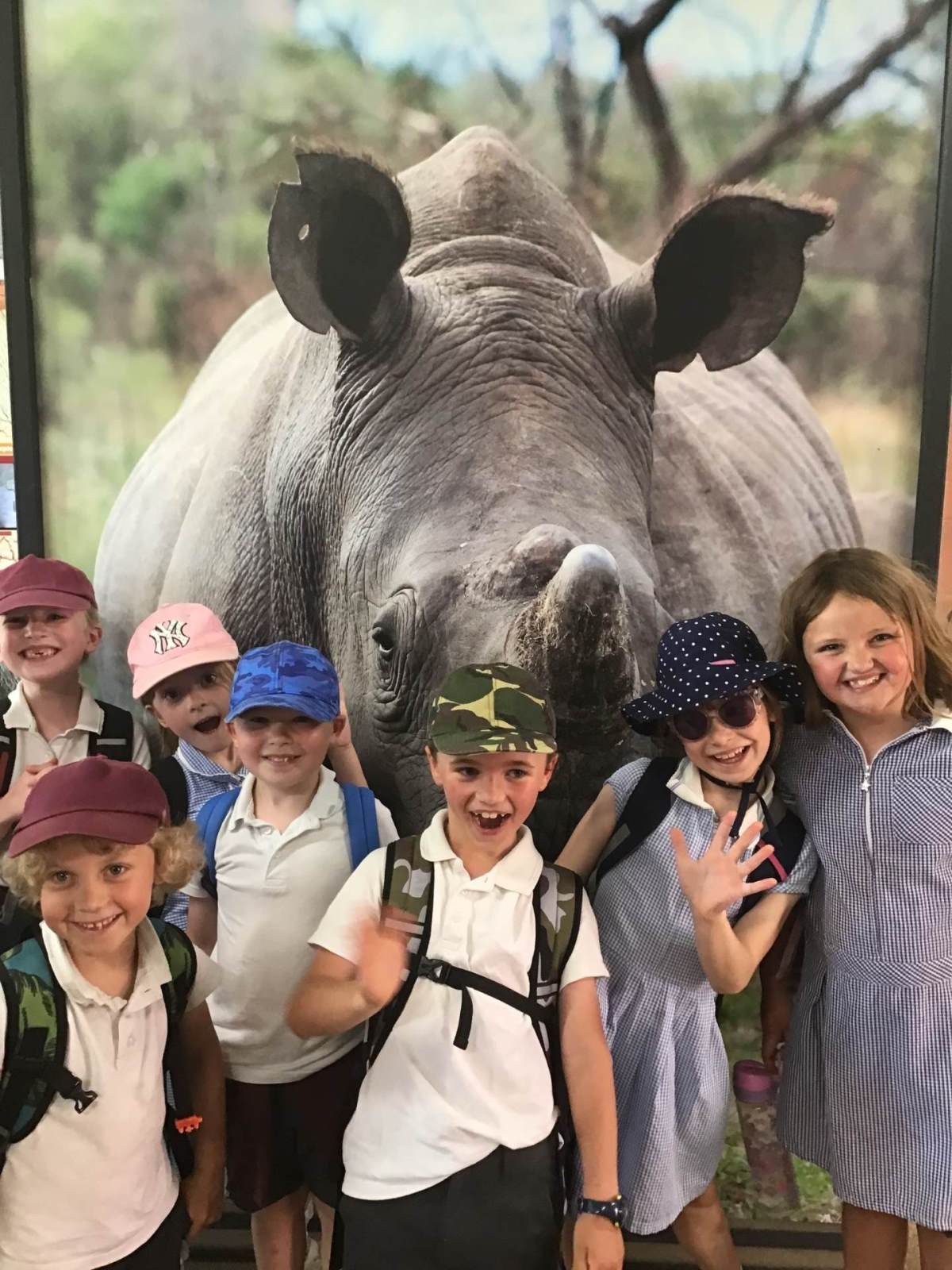 09/12/22
I am sure you will agree, the children were fantastic in their Nativity on Thursday afternoon. For many, this was their first opportunity to be in the limelight and perform a story in front of an audience, which shows just how well the children in Year R have come along with their learning. We have had a focus on 2D shape, learning the names of them and finding them around our environment. Year 1 have taken this even further, describing their simple properties and using mathematical vocabulary such as 'vertices', 'straight and curved lines' and 'dimensions'. Please can you help us by reinforcing this at home, particularly with naming the shapes. As Father Christmas is busy in his workshop, many children have written Christmas lists and letters to him, as well as showing us their amazing writing inside their Christmas cards. We have been busy creating the most colourful and sparkly designs for the cards. The children have thought carefully about patterns and colours, and we can't wait to show you the results. We have also been sharing our delight in the frosty weather we are seeing, especially in the mornings as the sunrise and sunsets are so beautiful. Did you see the moon and the sun in the sky at the same time? We have been finding ice on the surface of the water tray, shattering it on the ground, then counting the triangles! It's the final week of our first term next week, oh how the time flies!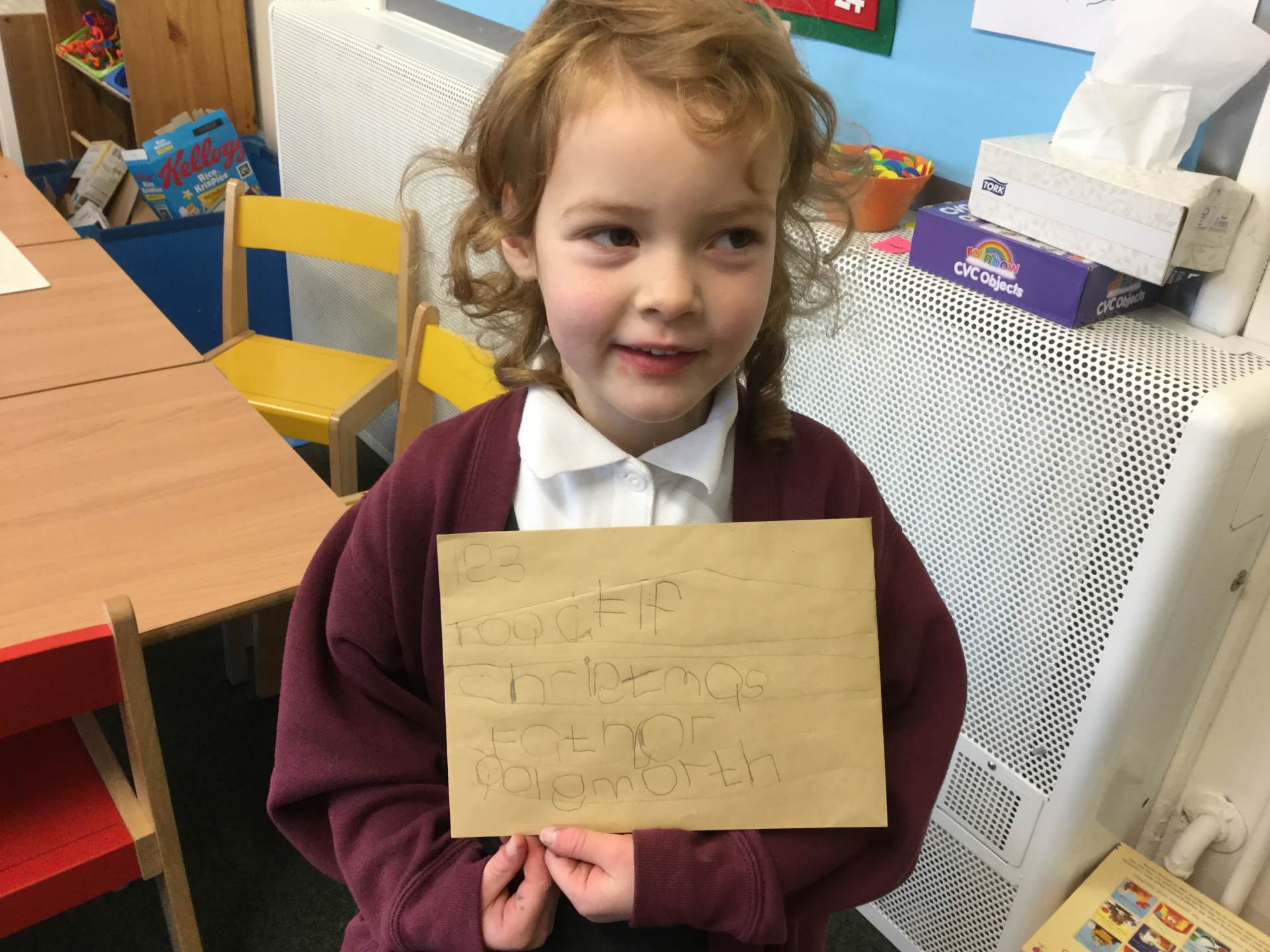 01/12/22
A lot of excellent and exciting things have been happening in the build up to Christmas. We have been singing our heads off in practices for the Nativity performance. We can't wait to sing our hearts out for you and show off how fabulous and festive we all look in our costumes. As well as this, the classroom is also beginning to look very twinkly and glittery. Our advent calendars have been opened and our trees (yes, treeS!) have been decorated. Linked with our key text 'The Magic Porridge Pot', the children have been getting to grips with porridge making, sampling various flavours and toppings, measuring, mixing and heating their porridge like chefs. It has been lovely to see how many are willing to sample new flavours such as pomegranate, pumpkin seeds and cinnamon. Another key text, 'We're Going on a Bear Hunt' has inspired the Year 1 children to design and map out a 'bear hunt' themed obstacle course which we all had fun completing. It was quite challenging, especially when the bear woke up! We're very glad to welcome you into Snowy Owl Class for Exhibition day and hope you have enjoyed seeing some of what we have been learning.
25/11/22
We have continued to expand our vocabulary throughout our learning and the buzz word of the moment is 'hugelkultur'! This is about creating a nutrient rich planter using layers of rotting wood, leaves, straw and compost on a layer of cardboard. The children have been very busy collecting bucketfuls of these items from around the school environment and have filled two of our new tyres with our hugelkultur. We will plant some more spring bulbs in them. What great gardeners the Snowy Owls are becoming! We also have another new word which is becoming well used within the classroom and that is 'immaculate'. The children's tidying skills are excellent and I have found that the cloakroom, classroom and outside area are all immaculate. Well done Snowies! We have learned the names of several species of tree growing around the playground and have been looking closely at the autumn leaves to see if we can guess which trees they fell from. Some of them were pretty 'shrivelled' (another buzz word!) but Mrs H showed us how to rehydrate them using a bowl of water so we could tell what shape they were. What a good idea! The Year 1 children have also shown me some very impressive work with bar models and subtraction as well as building up their sentence skills with very well-chosen adjectives describing the warm, magical woodland where our bear pianist lives.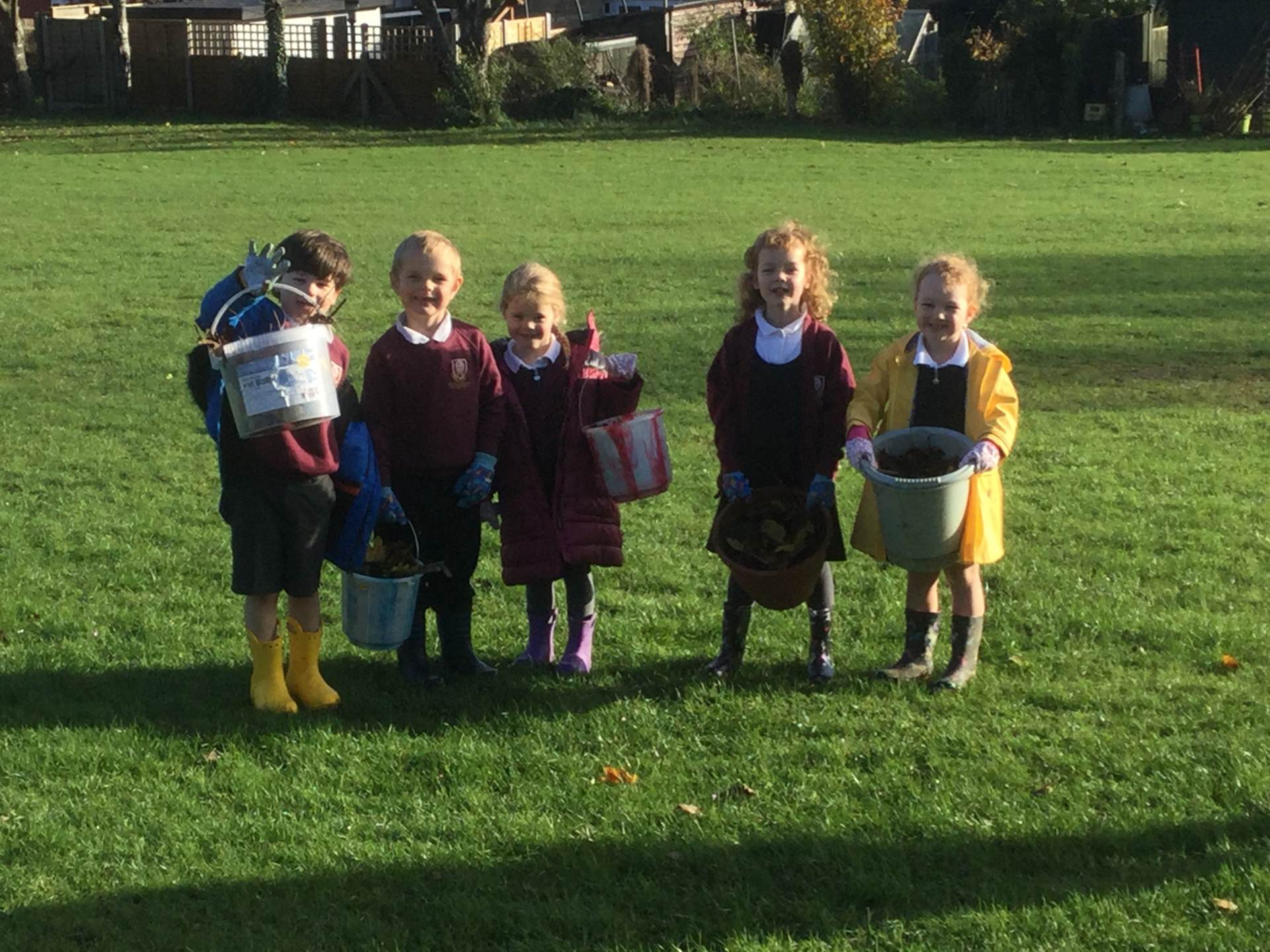 18/11/22
We all have green fingers this week and we have learned a lot of interesting new vocabulary. Some related to our aspiration 'To be able to care for a living thing'. On Tuesday, we planted bulbs in the outdoor classroom and on Thursday we propagated our baby spider plants. Each one has a name, and the children are learning about what they need to do to care for them. Our fabulous year 1 children drew maps of the outdoor area to show where the bulbs are planted, and we look forward to seeing the results of our hard work in the Spring. We have also picked up some new words in our aspiration 'To perform a play, story or song'. The Grizzly bear performed on the piano, and we listened to the beautiful melodies which earned a well-deserved applause and even a standing ovation! We are beginning to think about the Nativity performance too, which is VERY exciting. The children have picked up the words for the first song very quickly. Well done Snowy owls!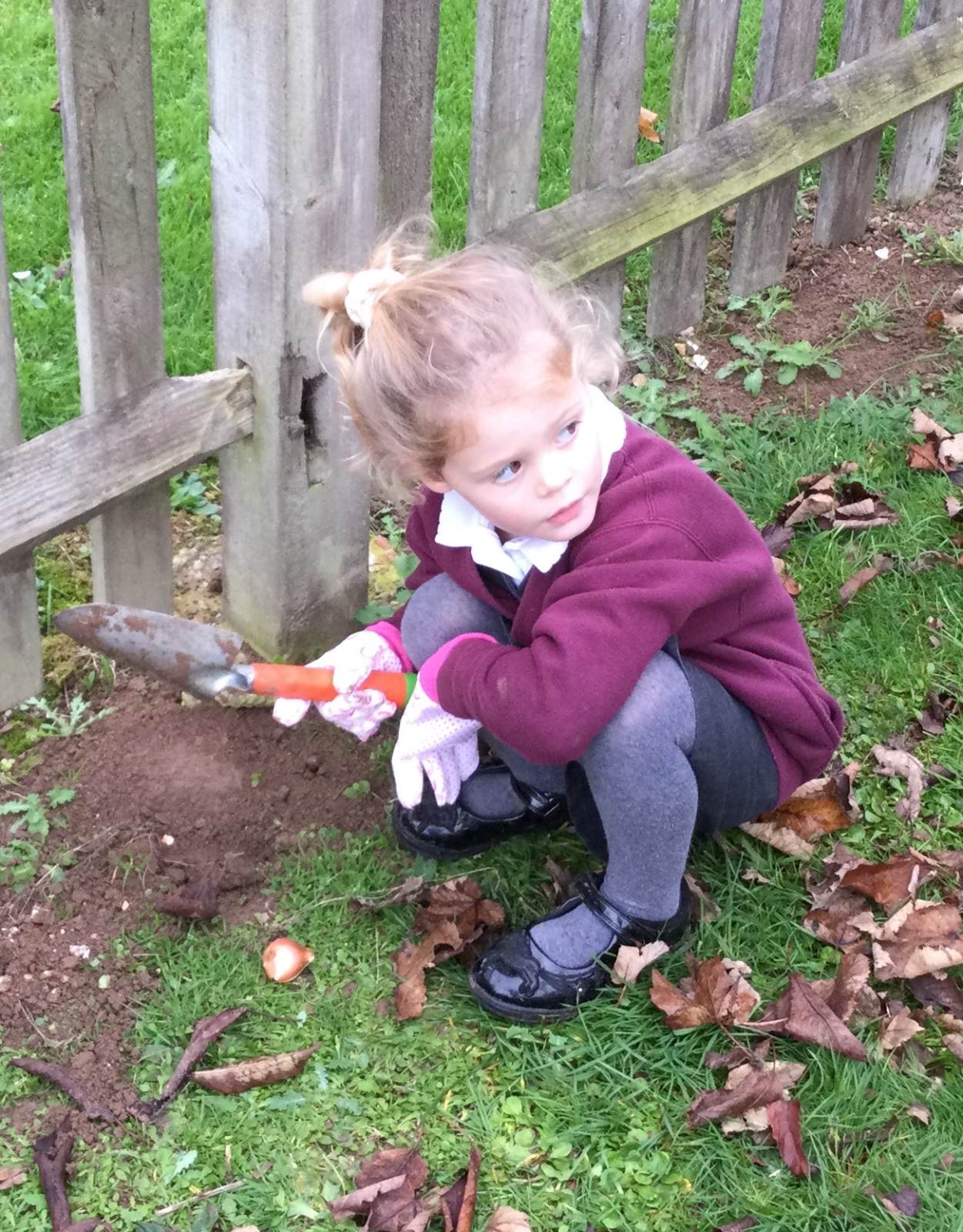 11/11/22
The headline this week is POO!! The children have been categorising animals again, this time according to their diets. Which animals only like eating meat, which prefer vegetation, and which animals like eating both? One of the best ways to discover what an animal ate is to look closely at its poo, so we have brought this alive in class by making fake poo using salt dough and adding clues to what it might be, for example, a carnivore might leave bones and feathers behind. More importantly, the children are beginning to learn how to follow a recipe. If you would like to try this simple (but hugely fun!) activity at home, the children have requested copies of our poo recipe.
In Maths, we have been matching quantities; the Year R children enjoyed playing the memory game to reinforce this and were very good at it. They are also excellent at phonics Bingo! The Year 1's have been focussing on fact families. I wonder if any, can show you how they flip their addition number sentences around? We also love the Bear and the Piano, it is such a gorgeous story of love and fits beautifully with our Worship next week about the Parable of the Mustard Seed.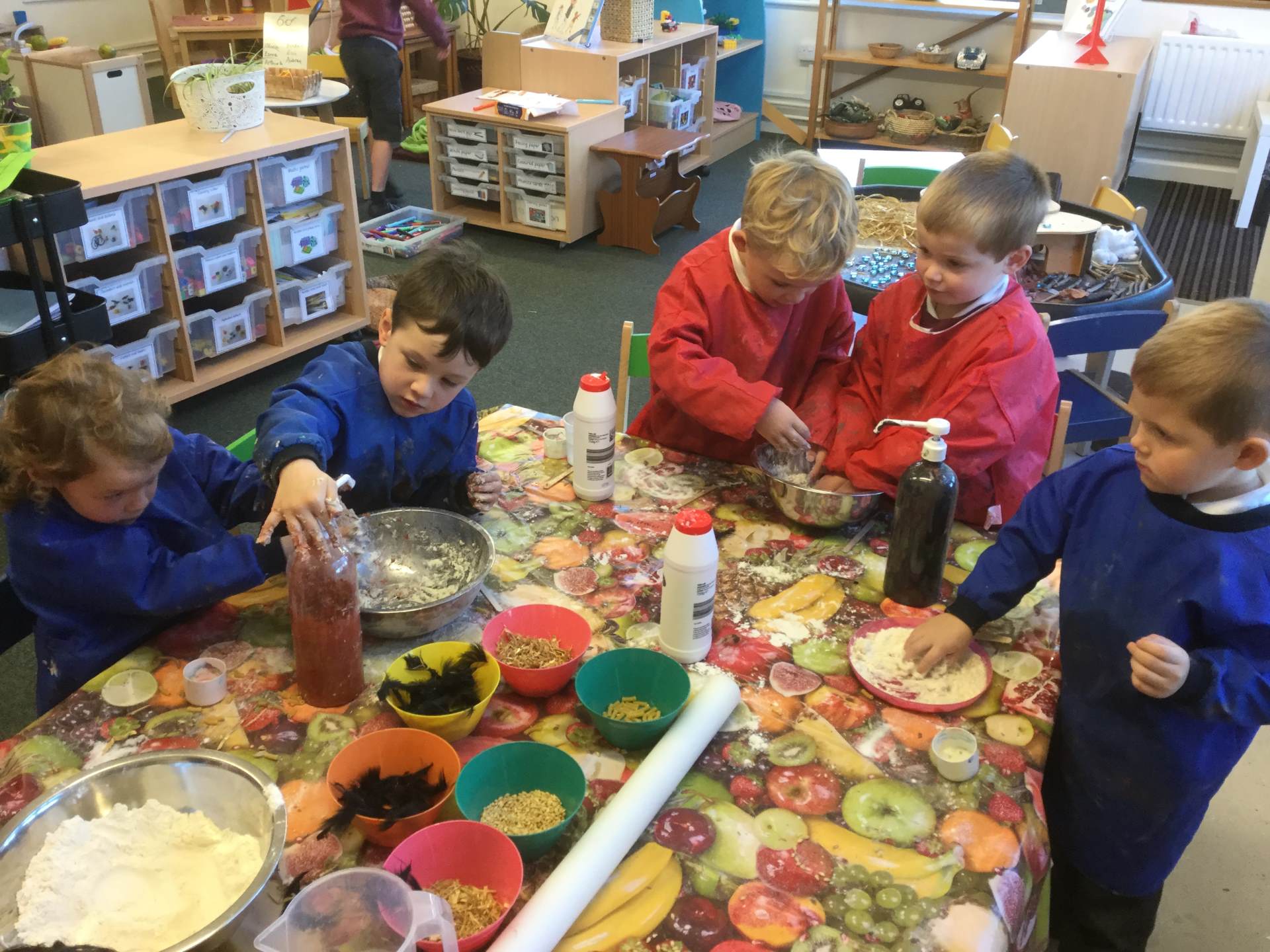 04/11/22
Over half term, the Snowy fairies have been busy reorganising the classroom and have provided new and exciting role play for the children to get stuck into. We now have a cosy living room as well as a refurbished kitchen and garden centre to play in. The children have really improved their tidying up skills and shown that they take pride in their learning environment and enjoy the new layout. As well as this, we're getting stuck into phonics and have enjoyed playing a variety of games to reinforce what we have learned so far. Many of the children are even starting to write simple words. Year 1 have progressed with their understanding of addition in Maths. Ask them about whole-part models and see if they can draw one for you. They have also shown excellent mouse skills in their computing lessons, which they very much enjoyed. Our focus story for the next couple of weeks is 'The Bear and the Piano'. I wonder if the children can retell it for you.
21/10/22
The children in Snowy Owls have been spending time thinking about animals this week and looking at their different features. We were excited to learn that we are human and that we are also mammals because we have hairy bodies, we breathe air, and we don't lay eggs! We talked about many different animals, counted their legs and sorted them into groups. The children searched for animals around our school environment, and we found loads of tiny ones! As well as this, we have begun to think about what we do to keep our bodies healthy, and we have discussed healthy choices for snack and lunch. We have ended the week with an exciting look at the types of food people eat around the world and we have all had the opportunity to taste dolmades from Greece, samosas from India and sushi from Japan. The children have continued learning about patterns, grouping and sorting using gems and they have proved very popular. We have also used them at our prayer table.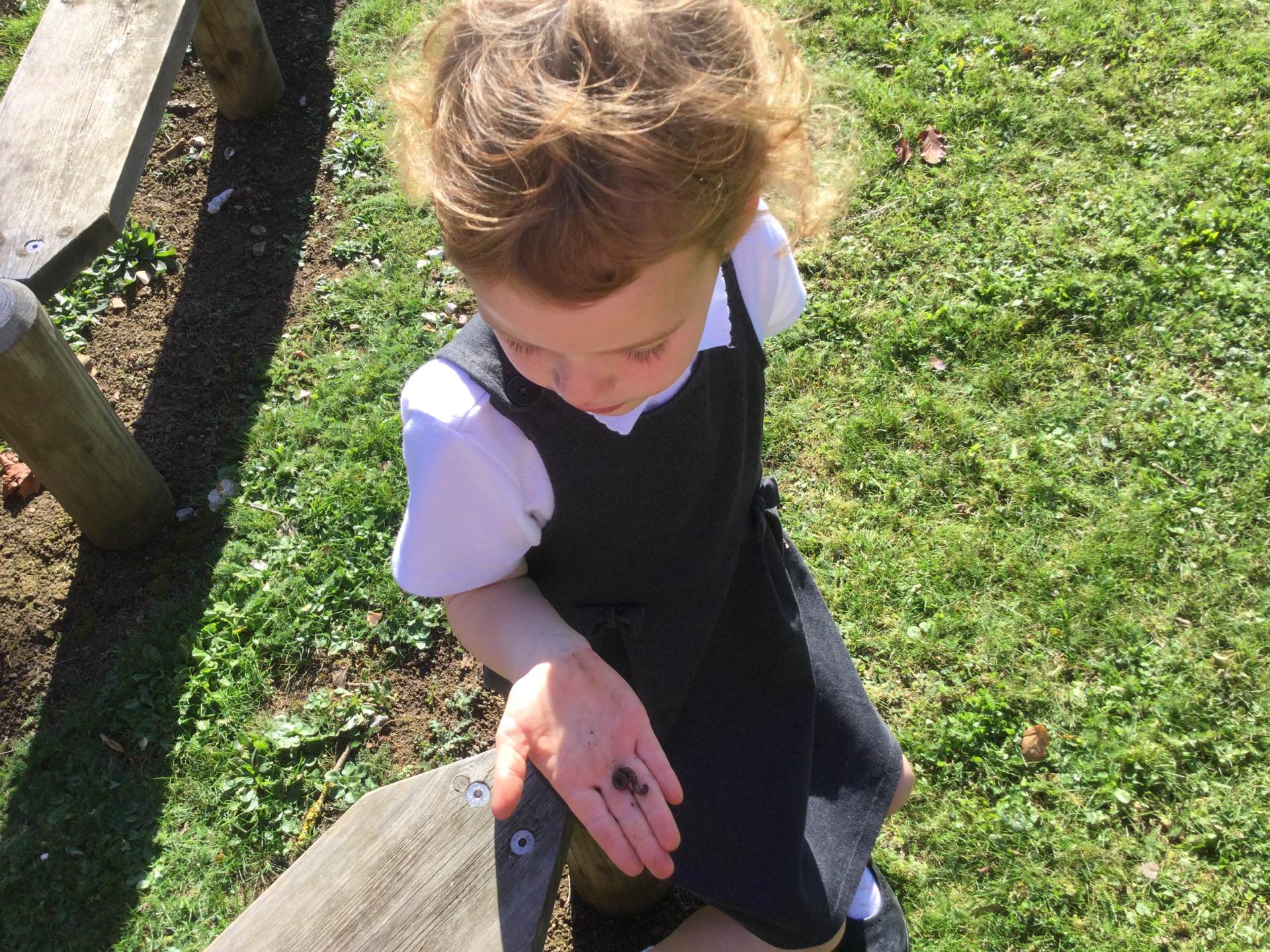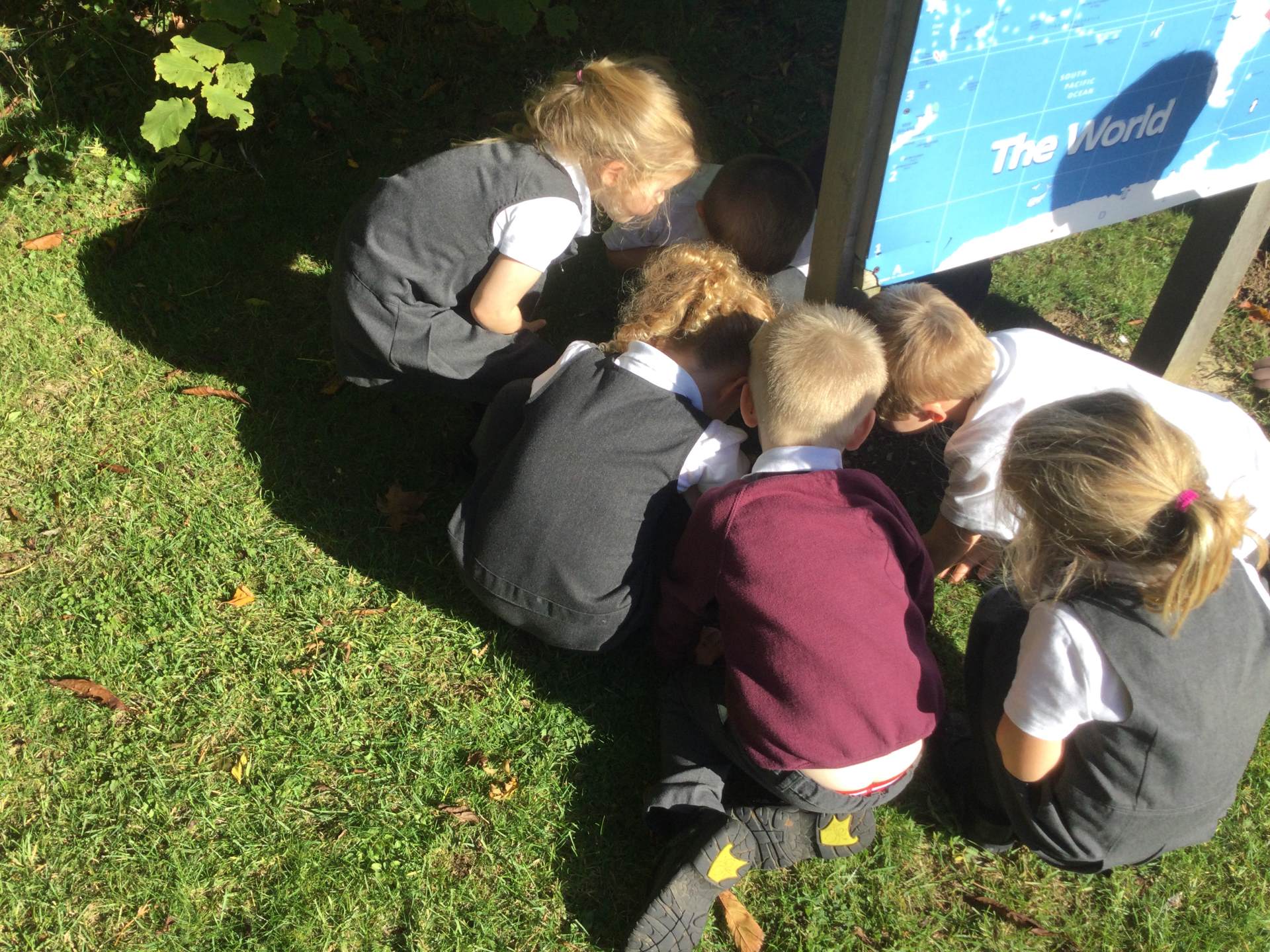 14/10/22
This week, the children have developed their work on moving pictures by creating sliders for their tractors and now we have come up with all kinds of ideas to use with sliders. First, we made a scarecrow that can dance, and now that we're looking at the story 'We're Going on a Bear Hunt', perhaps we could make the bear come out of the cave, or the family walk through the grass, 'Swishy swashy swishy swashy...'. We have also recreated the story in the outside area and the children have had great fun running as fast as they can away from the bear. We discussed what the family might have felt when they saw the bear, and what the bear might have felt when he saw the family. We also had fun changing the words, so the children went on a guinea pig hunt and a snowy owl hunt! Our work in maths has developed into looking at 'more than', 'less than' and 'the same as'. The children in year 1 have learned the mathematical symbols and have been comparing quantities and recording these in their books. We are progressing through the phonics scheme and the children are picking up the new graphemes well. This has led to a huge engagement with reading at home and I'm delighted. I can't wait to be part of the children's progress as they pick up the pace.
07/10/22
This week, the children have focussed on preparations for our Harvest performance of 'Farmer Ben' and have made tractors with wheels that can actually turn as well as refine their actions and voices for the song. They have also improved their use of tools in the craft area, enjoyed painting their tractors in a range of colours and practised cutting skills with great focus and resilience. The year 1 children have extended this even further by developing design ideas for moving pictures that have levers, sliders or wheels. In maths, we have been developing counting skills, learning to count carefully by moving or touching each object. Some Snowy Owl children can count forwards AND backwards within 10 and have demonstrated their understanding of 1 more and 1 less in a variety of ways. We have enjoyed building repetitive patterns too. In our written work using Mr Gumpy's Outing, the Y1 children have written factual sentences about farm animals and have shown an increasing grasp of word spaces in their writing. The children in Year R have begun to learn single letter sounds.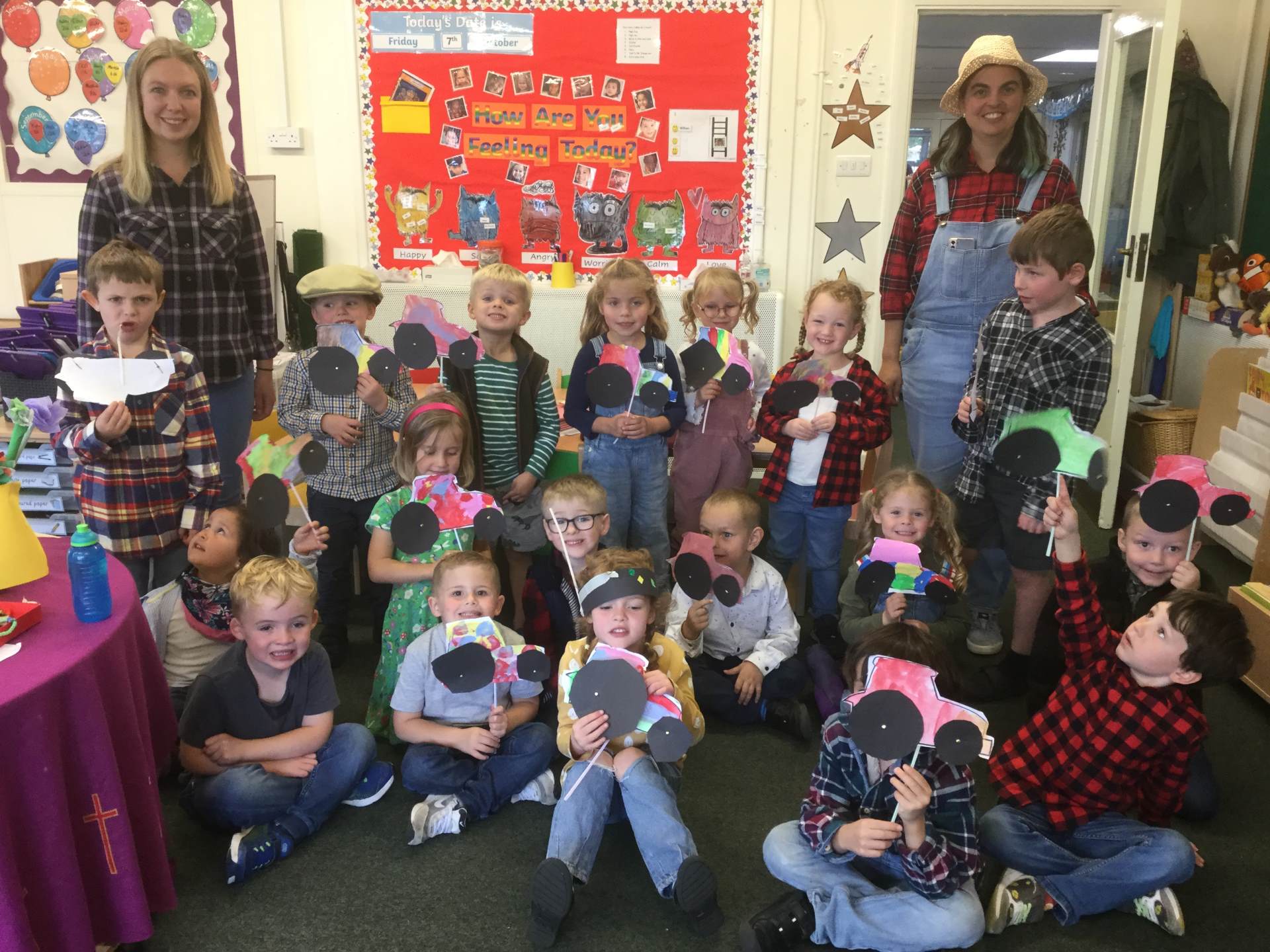 30/09/22
It felt like Christmas came early this week as we unboxed four amazing new ride-ons for our outdoor play area! There is a bike with pedals, a trike with pedals and two balance bikes so that the children can build skills, learning pedalling and balancing before managing both together. The empty cardboard boxes have provided great scope for cooperative, imaginative and creative play too. Year 1 children have been working hard and I'm so proud of their listening skills as expectations for focussed learning are increasing. This week, we began to look closely at the geography of our school grounds and the children will be creating maps using observational fieldwork and aerial photos. We also began looking at the book, Mr Gumpy's Outing. Ask your children to tell you the story!
Finally, I'd like to draw your attention to what's on at the Arc in Winchester: Check out this website What's on | The Arc Winchester – arts, reading and community There are some wonderful live performances for children coming up that you might be interested in. It would benefit our Snowy Owl children enormously to begin to understand what it means to perform for others as part of our new curriculum.
23/09/22
Year 1 have been particularly creative this week following our introduction to the artist Jackson Pollock and his technique of flicking, dribbling and splattering the paint in colourful layers. The Year R children had a go too - it was so much fun! Other children have explored joining and fixing techniques using various textiles and materials. It will be useful for Year 1 to know which of these work best when they design their moving picture soon. In continuing the 'colours' theme, we have also heard a lot of poems this week including 'The Crayon Poem'. With my crayons I could draw... a crazy purple dinosaur! We have continued our work on careful listening and have been to the outside classroom to play a drumming game, listening to how the sounds change when we drum on different surfaces. In maths, we have been looking at simple repeating patterns in the outside areas, e.g., feather, stick, stone, feather, stick stone, and so on.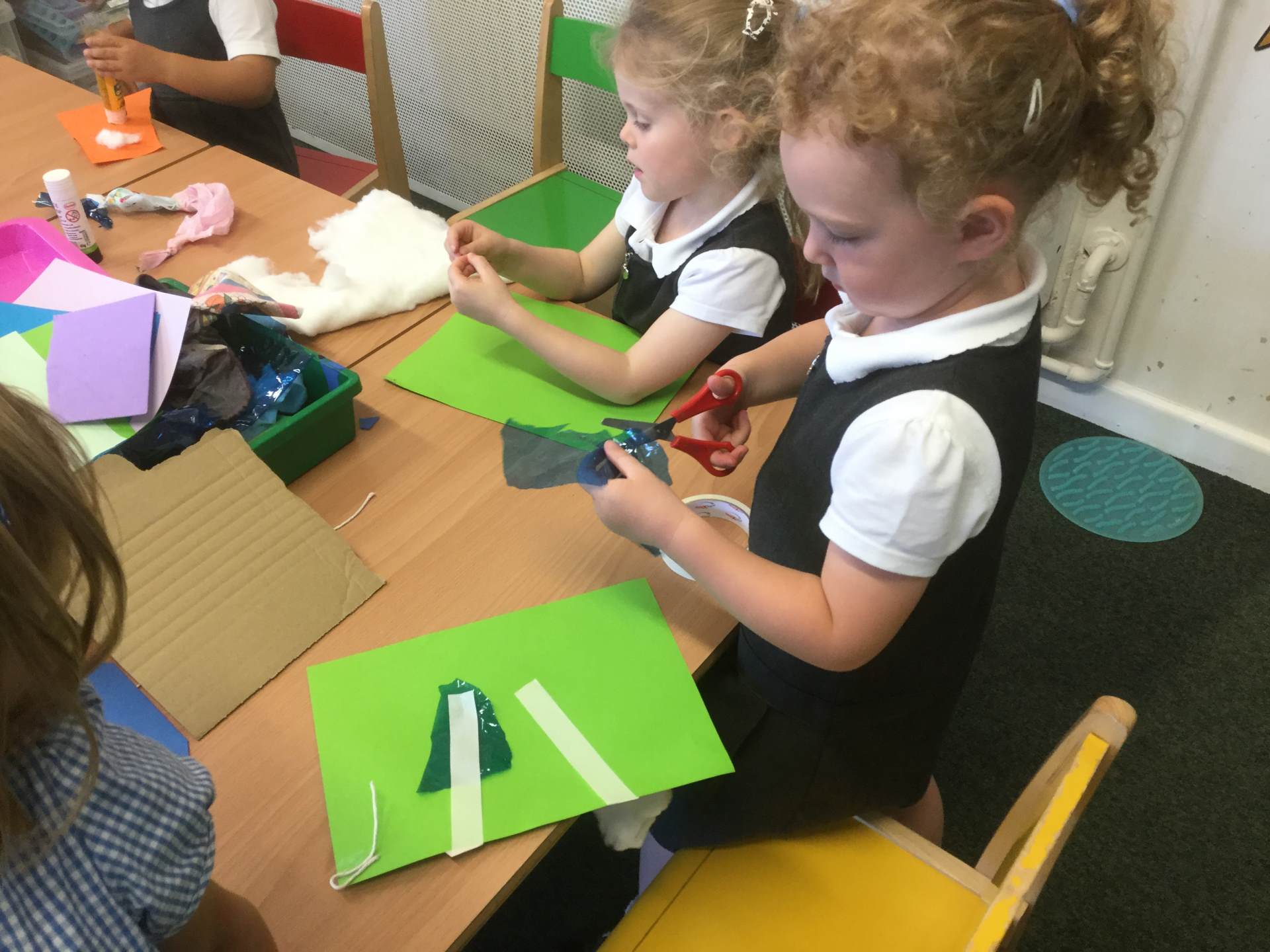 16/09/22
Following Snowy Owl Class's first collective worship on Monday, it has been a thoughtful week as we have considered how our actions reflect our feelings. It was very heart-warming to see so many children busily making flowers for our class memorial of Queen Elizabeth II to show their respect and love. We have been looking at pictures of the royal family, trying to work out who is who and talking about how they are related to each other. In addition to this, we have continued to think about the Colour Monster's emotions, and we are now using these images on a classroom display to help the children understand how their behaviours link to how they feel. The children have also been busy making listening hats using their scissor skills to cut out enormous ears. We wore our new hats on a listening walk around the school grounds, finding areas we haven't visited before such as the woods and willow dome. We heard a lot more sounds than we expected, we were even able to recognise the various calls of different bird species. Thank you to my fabulous Year 1 bunch for their efforts in their Writing books, I am also very pleased with their amazing listening skills, their hats have definitely done the trick! Their sentences about The Colour Monster were very carefully written.
Please look out for important information coming home about reading and phonics books and remember to read a story to your child at least once per day.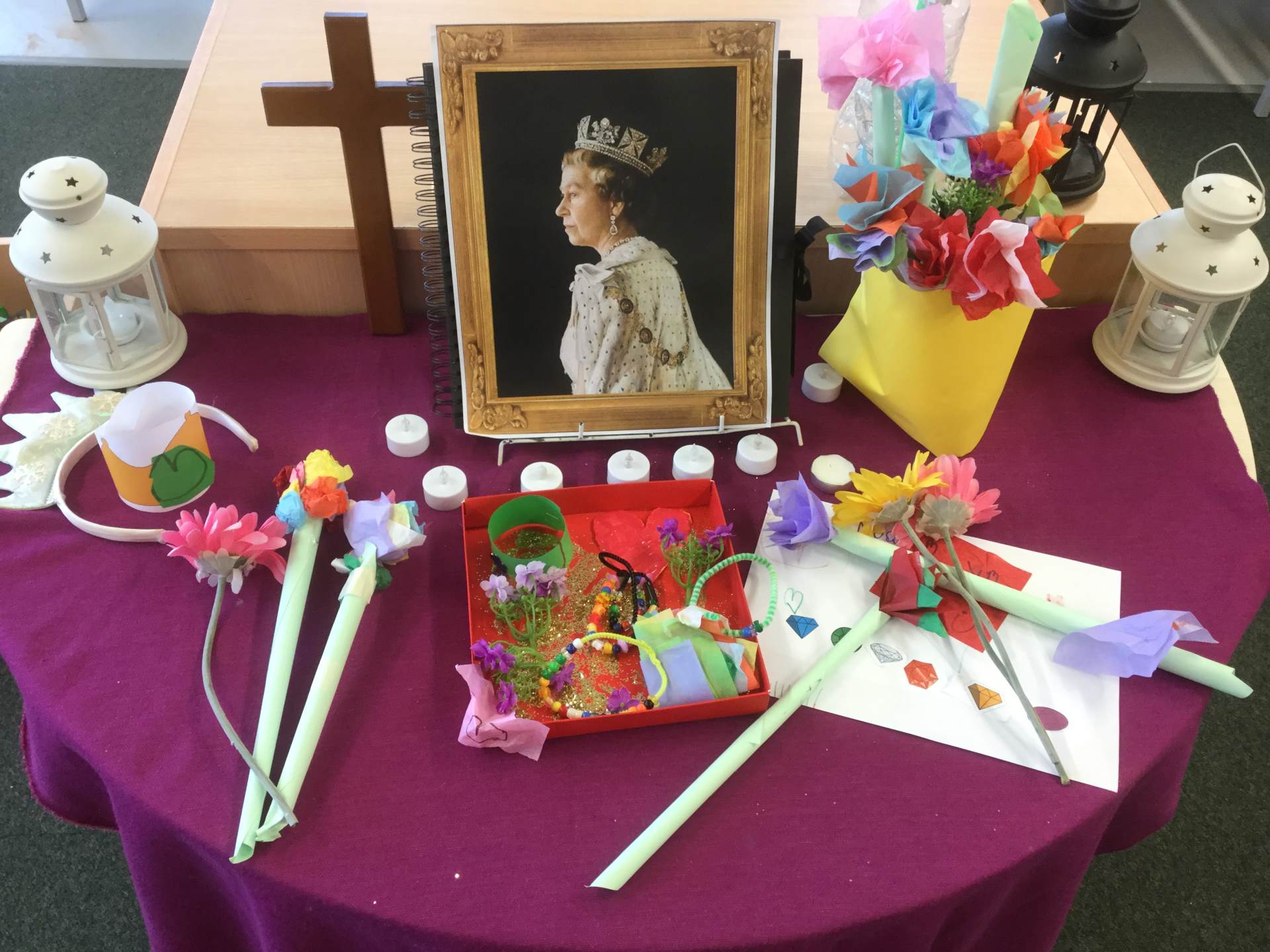 09/09/22
What an awesome start to the school year! Snowy Owls have settled brilliantly, learning new routines quickly, and we are all feeling very proud of ourselves. So far, the children have shown us how well they make new friends, tidy up resources, share equipment and explore the resources in the environment. They have learned some fantastic funny action songs which made us all giggle! Thank you to Mrs Tellet for helping us with the music. Our book this week is called 'The Colour Monster' which has helped us learn about naming, matching and sorting colours as well as making patterns. Next week, we will think about how the Colour Monster is a different colour depending on how he is feeling. Year 1 children have made a great start with their writing, showing us that they have remembered a lot over the holidays about forming sentences. The weather has been really interesting too, so we have been on our very first welly walk through the puddles and enjoyed watching torrential downpours and searching for rainbows. Well done everyone! Please provide some wellies if you haven't already and make sure EVERYTHING is named.
Finally, a HUGE thank you to the Snowy Owl parents of 21-22 who were incredibly generous with their gifts to staff at the end of last year!

15/07/22
Unfortunately, Mrs West has been poorly this week so the Snowy Owls have been taught by Mrs White and Mrs Evans. At the start of the week the children had great fun on their beach day! It was wonderful to see them in their bright and colourful summer clothes and when they all arrived with their towels and sun cream it really did feel like we were ready to enjoy a day at the seaside! The children were able to explain lots of ways that we can stay safe in the sun and knew the importance of wearing sun screen in this hot weather. Together we learnt how to apply this sun lotion and understood how important it is to choose one with a high SPF. As well as this, the children enjoyed partaking in lots of special beach games - it really was a super day and thank you for providing the children with all they needed.
On Wednesday, the class greatly enjoyed watching the Oliver performance. They were all mesmerised by the incredible acting, singing, and dancing on show and all sat beautifully throughout the performance.
Throughout the week we've enjoyed reading a range of books linked to our seaside topic. A particular favourite was 'The Singing Mermaid'. We enjoyed it so much that we decided to make some necklaces for the mermaid which helped to develop our fine motor skills too!
07/07/22
The children in Snowy Owl Class have been practising their races ready for sports day! We can boast some fantastic fitness and speedy running, as well as impressive agility, coordination, and spatial skills. I was especially impressed with one group who created an excellent obstacle course that finished with a wide leap across a pool of lava - luckily no-one got their toes burned. I was guided around some pretty tricky sections which were very creatively designed. We have also talked about transition and moving on to our new year groups and answered the children's questions about what they might expect. This was a really useful chance for the children to begin to adjust to the change coming up and explore our feelings about it. Everyone is definitely feeling very grown up! What are you looking forward to next year? We have also been playing a new memory game, 'I went on holiday and in my suitcase, I packed a beach ball, a body board, an ice cream, some toys, a pair of wellies, a thousand cheese pizzas.....'. Next week, we are looking forward to our beach themed day, please make sure the children come to school in their summer holiday clothes, bring a beach towel and a bottle of sun cream on Tuesday 12th July. Return your library books if you haven't already, please!
01/07/22
We thoroughly enjoyed Armed Forces Day last week, which gave all of us in Snowy Owl Class a chance to understand a bit more about the roles the military carry out and to show our support for them. We were excited to meet members of the Royal British Legion and carry out activities in our worship families. With Tomtom's help, we all had the opportunity to write a 'bluey' which is an armed forces airletter to his mum who is somewhere in the world serving in her role as an Army doctor. This week, the children have been busy learning about yellow fin tuna, and we watched Steve Backshall as he swam in the ocean with a shoal who were hunting sardines. We were surprised to learn how big and fast they are. We also talked about how tasty they are on a baked potato! Many of the children have been given a house point for their efforts to make a moving picture of a jelly fish in the ocean using a pop-up design and a paper plate. We hope to show you more of these in our exhibition. We've also been busy creating musical instruments and the children enjoyed performing in the 'Elastic Band' band to I'm Still Standing by Elton John. Alongside his we've had some excellent sand sculptures, junk modelling robots and mermaid themed role play. What a week!
24/06/22
This week we have been thinking about the types of words we use when we're talking about 'time' and we ended up creating an enormous list! We came up with vocabulary such as before, after, now, later, yesterday, tomorrow, next, then, first, as well as the words we use for days of the week, months of the year and clock times. Year 1 have begun to learn about the hands of the clock. I wonder if you could support the children at home by discussing routines and using some of these time related words. We have come up with some new ideas for making jelly fish with the help of Oak Class in Micheldever that include some creative ideas for making them appear as if they are swimming. As promised, Mrs West shared a picture of one of her favourite sand sculptures made with the help of her daughter Evie about ten years ago. Can you guess what it is? Year 1 are busy preparing instructions for how to create a perfect sandcastle which will be very useful if we head to the beach this summer.
17/06/22
What a scorcher! This week we have enjoyed the fine weather and spent plenty of time exploring the shady woodland area, naming species of plants growing wild. We discussed the plants that we need to be careful of, including brambles and nettles, and the differences between them. It was surprising to for some children to learn where blackberries come from. We have also spent time outside expanding our mathematical understanding of capacity, looking at buckets of different sizes, learning about litres and half litres, and experimenting by pouring water from one container to another. Snowy Owls have also listened with interest to the story of 'The Sand Children' and talked about how to make sand sculptures. This is one of Mrs West's favourite hobbies and she has promised to show us photos of some of the sculptures she has made next week. Year 1 children have taken this a step further and have begun to break down the process into steps of instructions.
10/06/22
Welcome back to school everyone! We are very excited to announce the arrival of our amazing new classroom kitchen and home corner which has brought the children's role play alive this week. We have been baking bread, putting the washing on and warming the baby's milk. Our new pram has inspired all the children to look after the babies and take them for outings around the play area. We have enjoyed the story of 'The Little Boat' by Kathy Henderson which has taught us a lot about floating and sinking. We have carried out some experiments in the classroom to see if we can understand more about what floats and what sinks. Some children have made interesting boat designs and have thought about waterproofing as well. The Year 1 children have also been writing poetry and have really understood how carefully chosen words can add value to their poems. I'm really pleased with the results so far, watch this space, Year 1 parents! We're developing a very interesting 'under the sea scene' too as more and more jellyfish creations are added to our display. Some of them have tentacles that can move to and fro, and some of them have googly eyes! We have been discussing the story of 'The Lost Sheep' in worship and have discussed how the story fits with our Christian value of 'love'. We decided that we are like the flock of sheep and Jesus is like the shepherd. We have made a picture and shared it with Oak class at Micheldever. Thank you for all the amazing aquariums! Keep them coming!
27/05/22
This week, we have continued to engage in creative arts and use and apply techniques that they have been taught. As well as having open access to all the painting equipment, embellishments and paper and card of various sizes, the children have also been provided with some ideas to express other artistic talents. For example, we have been inspired by the Queen's Jubilee and made crowns, created farm maps, made flags, danced to music and to top it all, the most incredible aquariums! Thanks also to those families who have provided so many items for our junk modelling box, we couldn't do it without these contributions! Year 1 have blown my socks off with their understanding of grouping and sharing and arrays in maths. Next, we will look at fractions - halves and quarters of whole shapes and quantities. We are very much looking forward to celebrating the Queen's Platinum Jubilee and wearing red, white and blue at school. Enjoy your half term and KEEP READING!!!
20/05/22
Last week ended with an exciting opportunity to test some farm products and even find out how butter is made. The children proved how strong their muscles are as they shook and shook our jars of cream until their arms fell off! Eventually their efforts paid off and after the butter milk was poured away, we ended up with delicious creamy butter which the children enjoyed on a cracker. And what better way to enjoy a buttery cracker than with some tasty cheese? Sheep's cheese and goats cheese were tasted and voted on. The goat cheese won the prize, it was absolutely delicious! We also learned what Mrs Muffet was eating on her tuffet. This week the children have been encouraged to express their creativity through crafts and we have attempted some recently learned paper rolling techniques to create 3D animals. They have also been practising their written skills and are building and building their use of phonics for spelling and all children are now attempting sentence writing with some pretty impressive results. We've been doubling and halving numbers, working out 'more and less' problems and singing the number bond rap with Jack Hartman. In our worship this week we heard the story of how Saul became St Paul and have been thinking about God's Grace. We discussed how we can also show good grace towards others and we agreed that a kind smile goes such a long way!
13/05/22
The children have continued to impress me this week with their understanding of numbers. We headed to the outside classroom for some of our maths and used natural objects to continue learning about comparing numbers and looking at equal quantities, more and less using two-digit numbers. The children are becoming more familiar with the 'Guess my number' game and have been playing with each other. Year 1s are also looking at making equal groups and repeated addition. As well as this, we have been getting busy with writing and all the children in the class have had a go at writing a sentence using their phonics skills. I am really pleased with the effort the children put into this. Year 1s are preparing to write us a funny story about a farm character. We're going to keep up the momentum and try writing sentences more often to give us loads of practice. Tomorrow, we will be tasting our own butter and spreading it on some bread to taste with a little bit of sheep and goat cheeses. I wonder which one we will like best.
06/05/22
The children in Snowy Owl Class have been learning about life on the farm. They now know why farmers keep sheep and how their milk gets from a cow to their cornflakes! Unfortunately, we don't have a toy farm in school - but not to worry! We have a team of imaginative Snowy Owl experts who have fantastic ideas about what we could use instead. The children have been busy creating milking sheds, a mucky pig sty and a garage for the tractor. We even have a duck pond with three little ducks swimming around. In outside learning, we have been focussed on odd and even numbers by making pairs and seeing if there is one left over. We also played the 'Guess my Number' game using numbers up to 20. The adult thinks of a number and the children try and guess it. The adult says 'more' or 'less' until the children get it right. It would be great if you could practise this at home to support understanding of value - more and less, including 'teen' numbers. Next week, we will be making our own butter as well as tasting goats' cheese and different types of bread. If you do not want your child to take part, please let me know.
08/04/22
We have reached the end of another term and how the time has flown by! Thank you for coming to see us on Exhibition Day, it was lovely to see the children so keen to show you their learning environment and a variety of the interesting activities we have been engaged in. This week, we have worked hard on creating Easter cards and Palm leaves for our part in the Easter celebrations. The children have written thoughtful Easter messages on the leaves using their fantastic phonics skills. We have also sharpened all the colouring pencils and challenged ourselves to colour incredibly neatly and accurately. The children have shown such control and effort, staying carefully inside the lines. We have learned about the importance of Palm Sunday from the perspective of Dan the Donkey who carried Jesus on his back through the streets of Jerusalem.
We hope you all have a hop, hop, hoppy Easter!
04/02/22
The children in Snowy Owl Class were lucky enough to meet Farmer Ian driving his big yellow tractor through the field next to school. We were able to get a really close view of the plough and how it worked. We watched as it turned the soil over and got the field ready for planting. It was quite exciting to get a wave and a thumbs up from Ian too! At the beginning of the week, Mrs West gave us a variety of building materials to have a go at making houses. We were not surprised when the wolf was able to blow down the straw house and the stick house, even though we tried a variety of methods to strengthen them. On Tuesday, we learned about Chinese New Year and we celebrated by dancing to some traditional Chinese music and hanging lanterns around the classroom. In the outside area, we retold the story of The Angry Bee who needed help to learn the value of forgiveness. The children understand that sometimes people make mistakes or cause accidents, but it is very good to be able to forgive them and not feel angry like the bee in the story.
28/01/22
This week, the children discovered three chairs in the classroom and one of them was covered in masking tape! We realised that Goldilocks must have been in the classroom, but luckily the three bears were out on their walk. The children have been using the language of size as well as words we use to compare size such as 'taller' and 'shorter'. We've compared each other's heights and looked at the meter stick to measure each other. The children have also had a go at using different resources to build chairs of different sizes. We have put our phonics to excellent use and have written letters of apology to the bears. It is exciting to see how confident the children are to have a go. We have looked at our key text, 'Fairy Tale Pets' where all the fairy tales are muddled up and poor Bob the pet sitter has a terrible time trying to stop the goats making a racket and cheer the littlest bear up. In worship this week, we have considered the value 'trust' and have discussed who our trusted adults are and how they support us to understand friendly and unfriendly behaviour. We know who we can trust to help us if things go wrong.
21/01/22
Our classroom is full of story characters! We have Red Riding Hood meeting the Gingerbread Man and we're all wondering if it's the same wolf in the story of The Three Little Pigs. The children have taken part in some active role play in the outdoor classroom; that Gingerbread Man is VERY hard to catch! I was impressed with how well they have absorbed the sequence of events and played their parts brilliantly. Unfortunately, it was an unhappy ending for the poor gingerbread Man. Red Riding Hood had a much happier ending which the children were pleased to note. She has been given some very helpful maps and stranger danger advice to help her get to Grandma's house safely. We discussed our Christian value 'Love' and how it binds us together and the children thought about how Little Red Riding Hood showed love for her Grandma.
14/01/22
Snowy Owl Class have continued to get stuck in to their learning! Quite literally - golden syrup, soft brown sugar, eggs, butter, flour and most importantly... ginger! We have learned all about the ingredients for making gingerbread and looked closely at ginger root. We also tasted other ginger flavoured products including ginger loaf and ginger ale! The children were able to express their likes, dislikes and preferences. We loved rolling out the dough and creating our little gingerbread men. At playtime, while they baked in the oven, the children were on the lookout in case the little gingerbread men were seen dashing across the playground or running through the field. We all think we could catch him if he ran past; we are very good at running. We also carried out some experiments to find out what might happen if the gingerbread man falls in the river. Some children designed a bridge for the gingerbread man to cross the river safely. I wonder which fairy tale characters will appear in our classroom next...
Earlier in the week, we met up online with Oak Class from Micheldever. We have chatted about our Federation Vision and created some artwork inspired by our Christian values and the words 'Dever river', 'family' and 'life'. The children have learned about trout, otters and swans as well as some similarities between our two schools. I hope you're all enjoying the exciting home learning opportunities emailed to you, especially joining the local library.
07/01/22
Welcome back everyone! We have got stuck straight in with a focus on traditional tales, beginning with the Gingerbread Man. We really enjoyed the story, especially the tension building at the end, wondering how he would get across the river or if the fox would gobble him up! The children have had a go at making their own Gingerbread men, attaching the arms and legs in different ways exploring fixings such as tape and split pins. Some of them looked very fancy after they had been decorated! We have begun to explore what things are made of, grouping and sorting everyday objects and thinking about their properties. Why isn't a chair made of paper? Why isn't a cushion made of stone? Why isn't a ball made of glass? The children have also impressed me with their calculation skills and have looked at subtraction and the concept of 'zero' using the counting rhyme, 'Ten Currant Buns'. We are building our knowledge of digraphs and have focussed on 'ng', 'ai' and 'ee' over the last few days.
17/12/21
We have finally come to the end of a long and busy term. For our Year R children, I would like to say congratulations and well done for completing your first ever term at school! You are growing up so quickly and have become fully fledged members of our Barton Stacey school community. Our 3 amazing Year 1 children are becoming truly fantastic learners and impress me every day with how mature you are. There has been so much focus and concentration, my favourite quote this week is, 'I love Maths because I can do it!' Well, yes you can do it and I can't wait to find out what else you can learn. We have celebrated this week with a special Christmas lunch, Christmas crafts, a visit from Santa, stories, hot chocolates and much more. Have a restful and safe Christmas break and I am very much looking forward to finding out what these amazing children will achieve in the Spring.
10/12/21
Last week, we wondered whether St Nicholas would visit our class and... he did! We were very excited to find our beautiful boots bulging with gifts on Monday morning. How lucky we are! The Snowy Owl elves have been getting well into the Christmas spirit, making decorations for the Christmas tree and working hard in the workshop, making and wrapping presents for Father Christmas. We have learned all about the story of the Nativity in our collective Worship this week and the children have been carefully writing about how they think Mary might have felt. Their writing skills are coming on so well! The highlight of the week was the Nativity play where the children excelled themselves and sang their hearts out for their audience. It was wonderful to see the children grow and grow in confidence. Well done!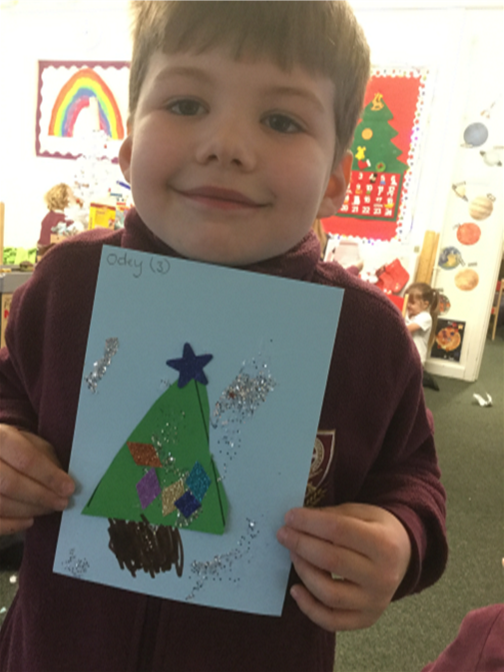 03/12/21
Our Nativity practice is nearing perfection as we prepare to perform in our sheep costumes next week. Thank you very much for providing these, the children will be Baaa-rilliant! The weather on Monday was a lovely surprise so we dashed outside to explore the snow and ice. What a lot we have learned about the weather and seasons. We also looked carefully at the patterns our wellies left in the snow and looked for signs of animal prints. We created some wonderful wintery pictures and carried out an ice experiment in the classroom. Our big snowball took over 5 hours to melt! Mrs Van Dyke was kind enough to visit our class to tell us about a festive tradition from Slovakia. The children have decorated boots in the hope that St Nicholas will visit and leave a treat inside. Let's find out next week! We have also learned to say 'Happy Christmas' in Slovak. Veselé vianoce!
26/11/21
The children in Snowy Owl Class have been looking at planet Earth and learning about the continents and oceans, different countries and finding places we have heard of or been to. We have looked at Google Earth and zoomed in from outer space onto Barton Stacey. We have also found forests and deserts as well as snow and ice, we think we even found where Santa lives! We have also looked at all kinds of maps and talked about the features we recognise. In worship this week, the children have learned about Noah and have learned what patience means. God sent a rainbow after the floods and rewarded Noah's patience. I think the children in Snowy Owl Class show a lot of patience when they have to wait for something to happen. We were inspired to create our own rainbows in different ways. Unfortunately, due to continued bubbling, we have been unable to change library books this week. Please continue to keep them in the book bags. Nativity costumes on Monday please!
19/11/21
The children have been busy learning the songs for our nativity performance. There are a lot of words to learn, and I am very pleased with how it is improving. There are definitely some budding performers in our class! We have been very aware of the changing season and Snowy Owls have been out hunting for signs of autumn in the outdoor areas. We are lucky that there are so many species of tree to find, and we have been looking at the different shapes and colours of the leaves to try and identify which trees the leaves came from. We've also focussed on making autumn art and patterns. The children have thought deeply about friendship as part of 'anti-bullying week' and we now have many volunteers for the responsible role of 'play buddy' within the class.
12/11/21
This week we have been thinking about growing up. What a lot we have learned since we were born! It has been fun guessing who is who. The children have been engaged in wonderful discussions, developing their language and communication skills as they enjoying sharing their photos. Alongside this, we have continued to enjoy as much learning time as we can outdoors. We have played phonics games and maths games in the woods. I was also incredibly impressed with Snowy Owls calm reflection during our Remembrance service. Look out for some more information coming soon about the Nativity service. Here's a little clue what Snowy Owls will be.... Baaa
05/11/21
This week Snowy Owls have been busy doing all sorts of things! We have practised our Maths skills in the forest, collecting sticks of different lengths, using language such as longer and shorter and ordering sticks by length. We have enjoyed the wonderful story of the Elves and the Shoemaker and discussed the concept of kindness. The children have practised their stitching skills just like the Elves. We have made puppets of the characters and performed the story for an audience within the class which was very entertaining! We continue to pick up new phonic sounds, we now know 'u' and 'r' and have been using these to read simple words. Some children have even written a sentence.
15/10/21
In Snowy Owls this week we have been reading 'The Naughty Bus' and we have been on lots of exciting bus adventures ourselves! In maths we hopped on board the 'Snowy Bus' and practised our number sentences by adding passengers and taking them away at various stops around the classroom! We have also enjoyed singing 'The Wheels on the Bus' with lots of actions and sequenced pictures from the story in English. We have also been busy in Phonics learning 'o' 'c' 'k' 'ck' and playing lots of interactive phonics games. The Snowy Owls have continued to show great resilience and coped with all the changes this week very well. We are very proud of you all!
08/10/21
This week in Snowy Owls we have been making friendship bracelets for each other and showing resilience in everything we do – including tidying up! We have also been making art from natural materials, drawing still life vegetable pictures and practising our phonics. This week we have learnt 'g'. The Snowy Owls have had a great week and we are very proud of all the resilience and perseverance they have shown!
01/10/21
Snowy Owls have had a very interesting week of learning! We are progressing well with phonics, with the help of the Gruffalo in the woods. The children have begun to put together simple words using the sounds we have learned so far. Please look out for some new sounds coming home in the home learning book. We have also looked at how the weather is changing, noticing the sunshine and showers, and finding we need to put our coats on a bit more often. The children have planted cress seeds and we're looking forward to seeing how quickly they sprout. Finally, we have enjoyed some musical afternoons with Mr Martin and have had a lovely singalong with his guitar.
24/09/21
This week we have enjoyed the story of the Disgusting Sandwich and have had fun creating playdough sandwiches, serving up sandwiches in the role play kitchen and learning instructions for how to make a sandwich. It was especially exciting when we collected items from our forest learning session to help us make disgusting sandwiches to serve up for the monsters in the mud kitchen! We have learned the names of some new vegetables and cut them open to see what's inside including an aubergine and an autumnal squash! We used them to print repeating patterns in the creative area; the savoy cabbage leaves made very interesting patterns. The week has ended with the children making their own sandwich.
17/09/21
I'm so impressed with how well the children have settled into full-time school! There have been more 'firsts' for our Year R children this week including 'Forest Learning', an afternoon in the 'outside learning zone' and PE which have all been very exciting. The Year 1 children are really helping us learn what to do. It would be very helpful if you could provide a named pair of wellies and ensure that the children have a coat and water bottle in school every day, no matter what the weather is doing. Thank you to everyone who has spent time looking at reading and phonics at home. The children will benefit enormously with all your help. We will aim to read and change books at least once per week (days will vary) so please keep everything in the book bag ready.
10/09/21
What an awesome start to the school year! Snowy Owls have settled brilliantly into new routines and we are all feeling very proud of ourselves. So far, the children have shown us how well they can tidy up resources and share equipment. We have had some lovely discussions about what makes us special and unique, talking about friends and family and things we enjoy. They have also begun to learn some phonic sounds. Well done every-one!
Summer Term Learning Project
11 June 2021
This week, we have been exploring the seaside! We have been learning about subtraction in Maths and in Music we created a soundscape for a short film using untuned percussion. In English, we have been planning a trip to the seaside by writing lists and writing postcards. In Phonics, we have been learning about CCVC words and in Geography, the Y1s have been naming the 7 continents of the world.
28 May 2021
This week, we have learnt about turtles. We made our own clay turtles and wrote information posters. We have also been learning about addition in Maths and in Science we measured the strength of different materials to make a new shell for the turtle.
21 May 2021
This week, we have been learning with the Rainbow Fish! We have been continuing our time unit in Maths and in English we have been writing fact files about a sea animal as well as thinking about and writing thought bubbles for the characters in our focus story. In Science we explored properties of materials and completed an investigation where we had to find about how Rainbow Fish sparkles!
14 May 2021
This week, we have been exploring books from under the sea, including; 'Tiddler' and 'Sharing a shell'. In Maths, we made our own clocks to help Tiddler make sure he's not late for school and the Y1s have even learnt about hour times and half past times. In English, we sequenced and retold the story of 'Tiddler' using puppets and pictures and we have also been doing lots of research in Science using laptops and books, with the Y1s turning the information into mind maps.
7 May 2021
This week, we have been continuing our learning with Nemo and Dory. In Art, we made our own aquariums using shoe boxes and included a range of ocean animals we have learnt about. In Maths, we have been learning our number bonds to 20 and we enjoyed helping Dory learn about belonging and what makes us unique in PSHE and RE. We also had lots of fun completing a range of Nemo and Dory themed 'Rainbow Challenges'!
30 April 2021
This week, we have been learning with Nemo from Disney's 'Finding Nemo'. In English, we learnt about writing diaries by looking at Nemo's diary entry from his first day of fish school and we even helped Nemo count backwards in Maths. We have also been experimenting with the different sounds that water can make in Music and made octopus paper chains in Art.
23 April 2021
We launched our new project in Snowy Owls this week! We had lots of fun exploring some of the new things in the classroom and outside area. We created questions and made predictions based on what we want to find out about our pro-ject in English and even made under the sea landscapes by mixing colours together in Art. In Maths, we have been looking at repeating patterns and we also learnt about a famous explorer of the sea! We can't wait to continue learning more throughout our new project - 'What wonders do the waters hold?'.
1 April 2021
This week, we have been learning about Easter! We made Easter bonnets and sequenced The Easter Story. We had lots of fun finding Easter eggs with sounds on them in our Easter egg hunt! We hope everyone has a lovely Easter!
26 March 2021
This week, we enjoyed making our toy adventure stories into short films using our 'film studio'. We also bought some toys by counting and using money in the 'Snowy Owl Toy Shop'! We have also been working really hard on our fine motor skills this week.
19 March 2021
This week, we have been exploring and learning about money in Maths and have even got a toy shop in our classroom! In English, we have planned our toy adventure stories ready to turn into short films next week. We enjoyed playing listening games with the parachute and learnt all about Walt Disney this week too, with the Y1s making fact files about him.
12 March 2021
This week, we have been settling back into our school environment and exploring some new things in the classroom, including our new investigation area. We had lots of fun on Science day with Professor Brewster and looked at lots of fun experiments! We even got to make our own rain clouds and made a ball float in the air! We also enjoyed making up our own experiments and writing words and sentences about our favourite ones.
5 March 2021
This week, we have been continuing our learning with the Toy Soldiers. We wrote our new missions for the Toy Soldiers using our Phonics and we can't wait for them to go on all of our missions! In Maths, we have been learning about sharing and in Art we have been learning about camouflage and even making our own camouflaged animals!
26 February 2021
This week, we have been learning with the Toy Soldiers from Toy Story. We created text maps in English explaining a new mission for them and even made marching rhythms in Music and parachutes in D&T. In Maths, the YRs have been learning about doubling and the Y1s have been making and adding equal groups.
12 February 2021
This week in Snowy Owl Class, the YRs have been working on their blending and segmenting in Phonics and the Y1s have been looking at the properties of materials in Science. We made thank you cards in English and have enjoyed completing wellbeing activities this week too. We look forward to finding out which toy we will be learning with after half-term!
5 February 2021
This week, we have been learning with Forky! We have been writing instructions in English and learning about 2D and 3D shapes in Maths. We even made our own toys out of recycled materials!
29 January 2021
This week, the YRs have been continuing to learn their numbers to 20 in Maths and the Y1s have been counting in 5's. In English, Buzz Lightyear asked us to make video letters and written letters as well as adverts addressed to Andy asking for a new toy to join the family. We also learnt about old and new toys and the differences between them.