Class News
25/05/23
Well, we have reached half term and I think we are all ready for it! The children have worked so hard and have really earned their break. I am particularly proud of your Y6 children. We have worked so hard on following instructions, whether it be verbal instructions given by an adult, or specific written instructions in order to answer questions correctly – I have seen huge progress over the course of the term. They have also thoroughly developed their skills in working as a team and setting an example to those around them. I am really looking forward to spending time with them at Calshot after the break where I am sure they will continue to flourish. It was such a pleasure and a privilege to accompany Y5 to their final swimming session. As a teacher, I have accompanied many classes to their swimming lessons over the years and part of me felt I missed out on this group and seeing how they have developed. It was so lovely to see that all the children were water confident. I was also very impressed with how they represented the school while we were 'out and about'. We were sad to say goodbye to Danylo on Monday; we gave both him and Demian a good send off on Monday and wish them and their family well on their return home. Finally, I wish you all a restful half term break. Year 5, I have lovely things planned for you while I am away with the Year 6 children so don't think I have forgotten you. Year 6, I look forward to seeing you at Calshot!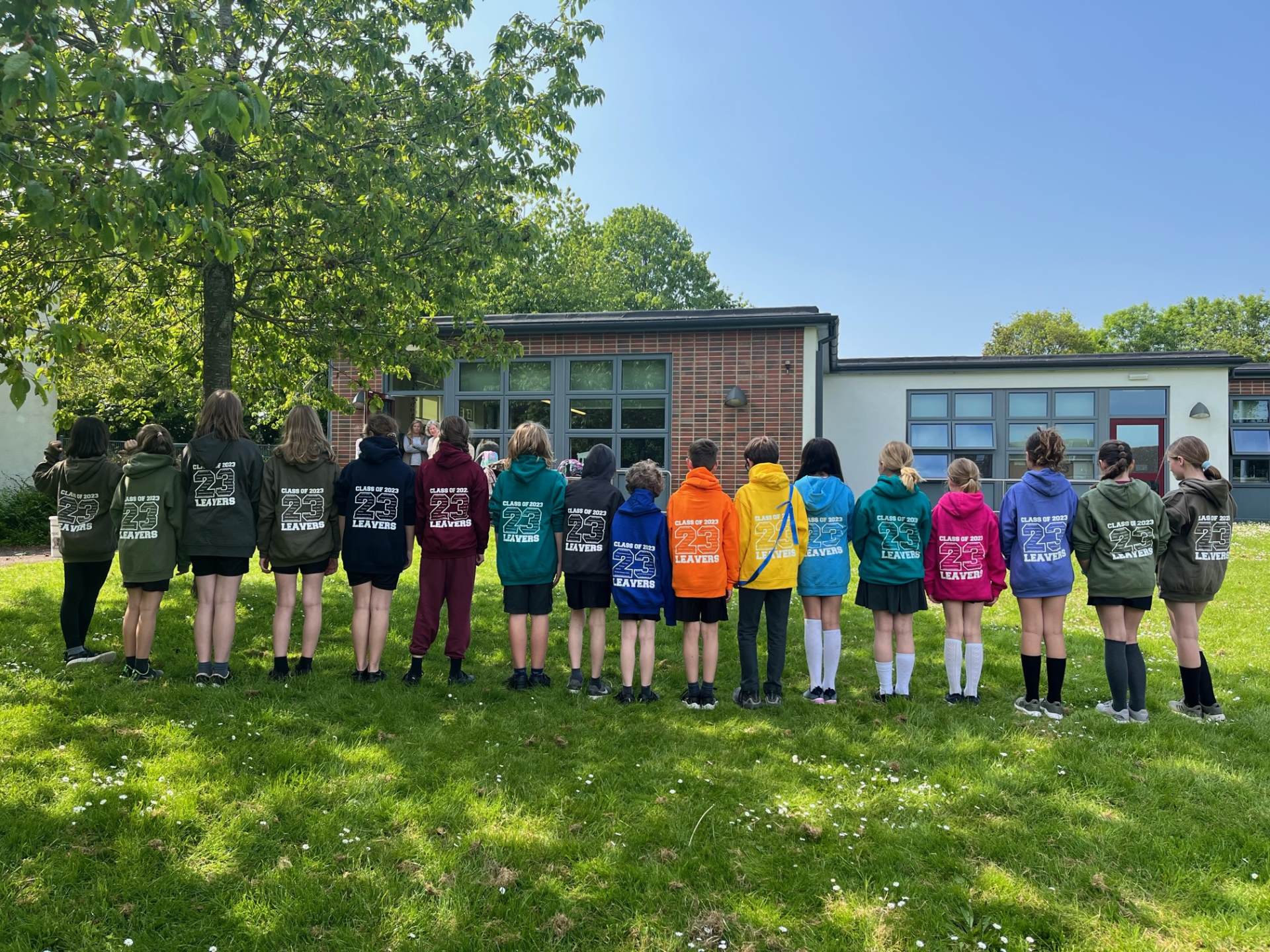 19/05/23
Well, we have made it through a whole 5-day week and still another 4-day week to go! This half term seems to be flying by. Year 5 continue to enjoy their swimming lessons and Year 6 seemed to enjoy the end of SATs practice on Tuesday afternoon as we were able to think about our preparations for the Cathedral Leavers' Service and our trip to Calshot. The children's clay models of gods and goddesses have dried out and are ready to glaze. The children are also looking forward to writing about these. They have done an amazing job and I can't wait to read what they write! This afternoon, Year 6 are looking forward to meeting up with Micheldever Year 6 ahead of Calshot. We may even be able to compare our contributions for the cathedral service. As we approach the last week of the half term, I am aware that the children are very tired but we will try to keep them going. I hope that you all have a restful weekend!
12/05/23
They have made it! I am so proud of all of the Year 6 children in their approach to the tests this week. They have handled them with such a mature and calm attitude and all of them have absolutely tried their very best every step of the way, and certainly deserve a treat or several this weekend. It's a shame they cannot celebrate with another bank holiday . I should also mention the Year 5 children who have also been taking tests this week. They too have taken these very seriously and put their heart and soul into them. They should also be proud of themselves. All the staff who have worked with children in Eagle Owls this week have commented on their attitudes to their work this week and you as parents should also be proud as I am sure you are. In other news this week, we have done lots of PE this week and have enjoyed lots of artwork inspired the Ancient Greek sculptor Phidias. The children have designed a god or goddess based around their own strengths and creating busts of their own godly selves! Well done Eagle Owls, you've had a cracking week!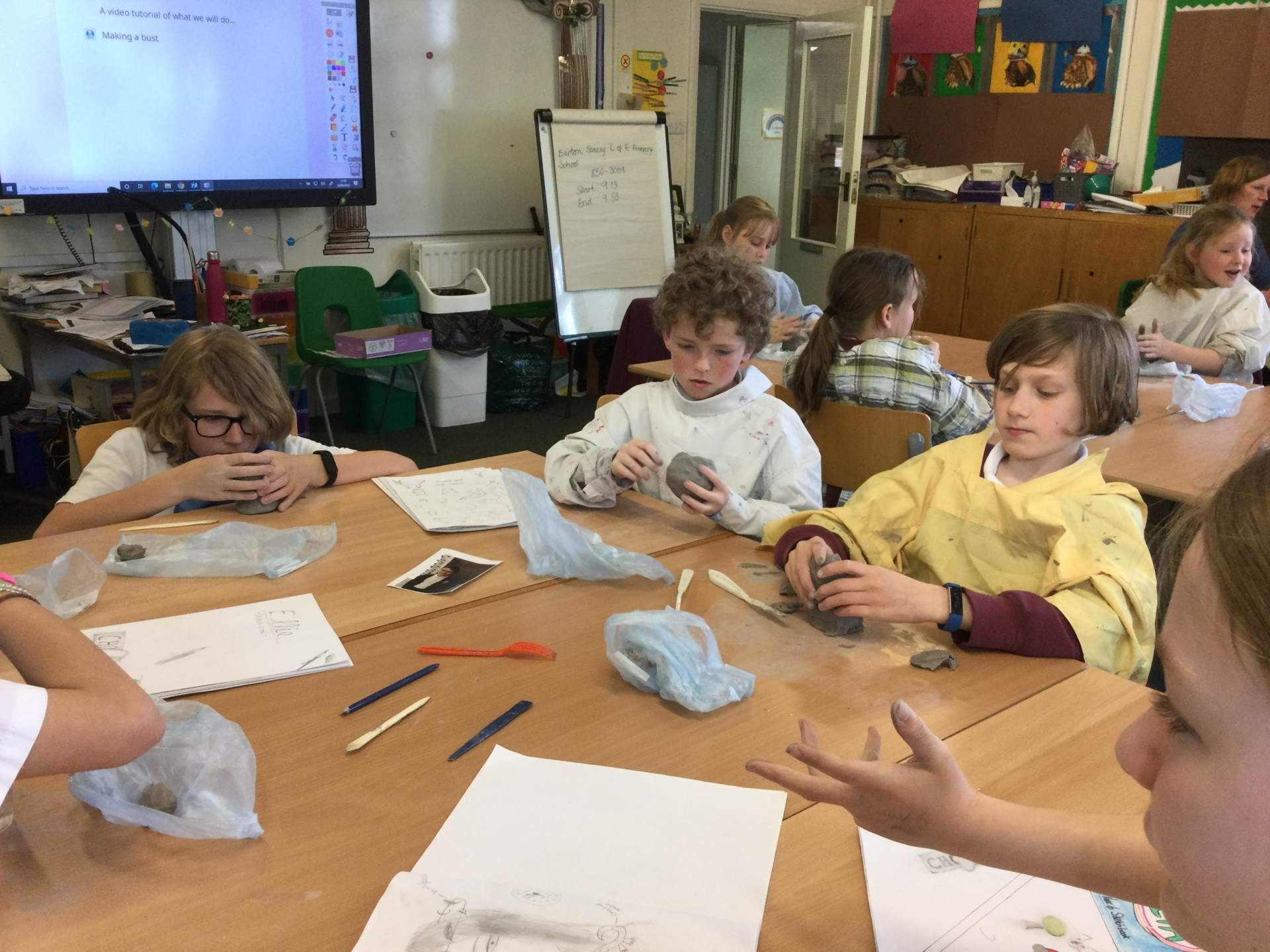 05/05/23
It has been a strange old week; . Despite this, we seem to have achieved quite a lot! I have been so impressed with the children's non-chronological report writing about the gods and goddesses of Ancient Greece – I feel many of them have revealed their 'comfort zone' and therefore, others are learning from this. I have had some lovely conversations with Year 6 about next week and the SATs. I have noticed a more mature attitude towards the way the children are approaching questions and asking for help about questions. All of us who have worked with your children over the years ask that, over the next few days, they are not pressured; they are given time for relaxation; and that they are given the opportunity for a good rest before Tuesday. I want your children to have the best opportunity for their own personal success in these tests, therefore I would love for them to come into school on Tuesday feeling at ease. Back to this week – your children have blown me away with their ability to learn a song that I have taught them in a couple of sessions. They have evolved so much in the way we have sung it and I am sure that you will appreciate their efforts at the Coronation Concert (providing I don't mess it up or give them the wrong starting note!). In addition to the whole class contribution, I have been so impressed at the efforts of the children in their individual and group efforts. I would like to say I am proud, but that would suggest that their efforts are down to me. They are not. Your children are amazing, and they are doing you proud with their commitment to their contribution. Whenever I see children who I have taught perform, I always become emotional, but I know it is often down to the loving support of families and of the peripatetic groups your children attend. And finally… Enjoy the coronation celebrations, take photos, make sure that you are able to remember it! You will remember this event forever, maybe not totally but you will always have snippets. So please, enjoy it!
28/04/23
Wow, it seems like this term is flying by already. We ended last week having a whale of a time in Science by making chemical reactions. The children mixed bicarbonate of soda with vinegar – it was very messy! They also mixed milk with vinegar and made observations about the changes. This week, we have begun to get stuck into our Topic exploring the question 'Who were the Ancient Greeks and what did they believe. In English the children have begun to explore the gods to write non-chronological reports and are very excited about this. I am looking forward to reading them too.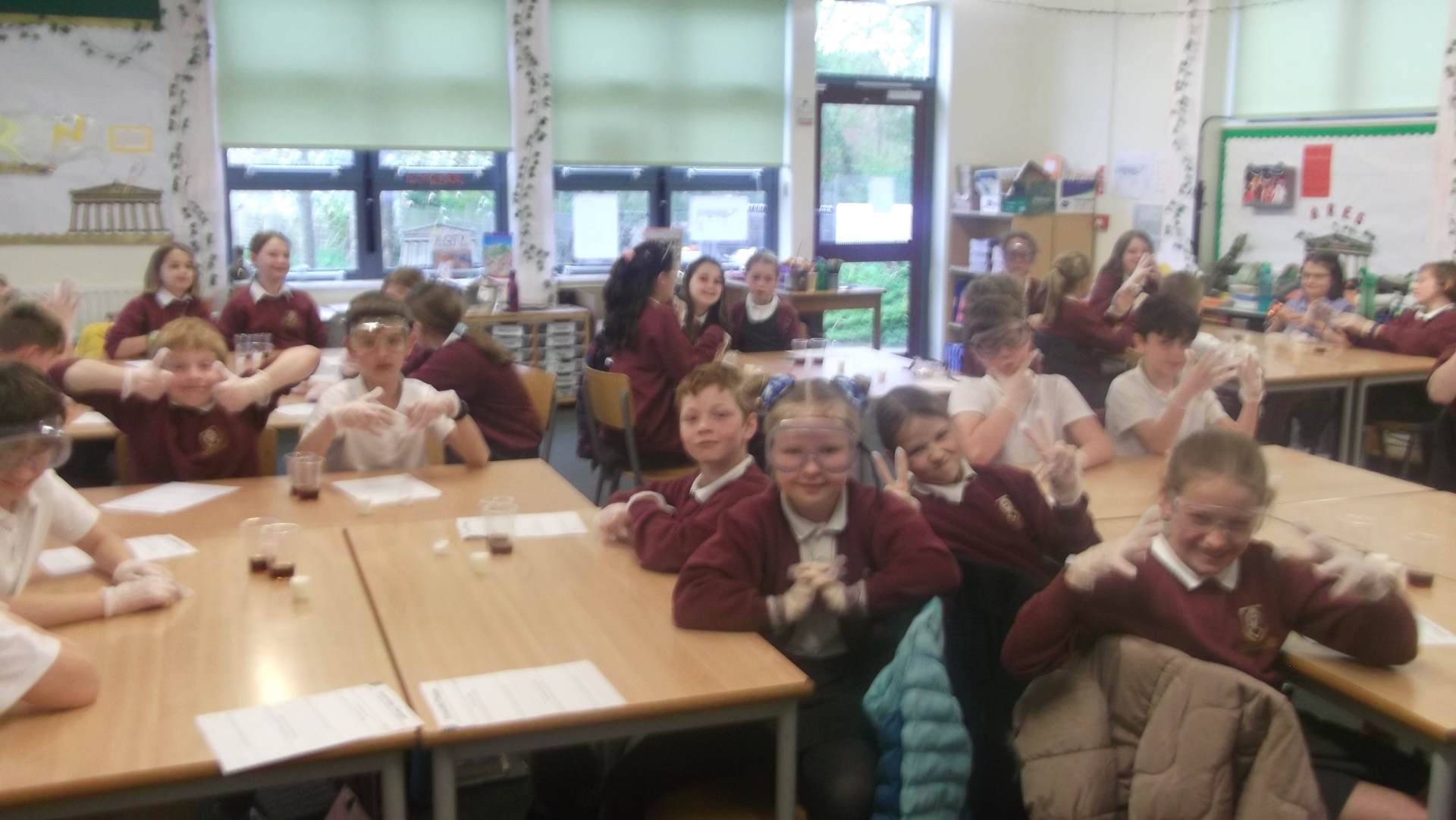 21/04/23
What a fabulous start to the summer term! We had an amazing day on Monday finding out about some of the gods and creating shrines to show how and why we worshipped them. The children worked really hard and demonstrated superb teamwork throughout the day. In the afternoon, the children presented to the rest of the class about their shrines and shared the odes they had written to their god. They then shared prayers of thanks before indulging in a fest of Greek style foods in honour of their god. On Tuesday, we were lucky enough to have a visit from the Hampshire and Isle of Wight Fire Service. They spoke about fire safety and the children really impressed us with their knowledge. The children were also challenged to come home and talk to you about a Fire Exit Plan for your homes. Hopefully they have encouraged you to check (and clean) your smoke alarms too. The Year 5 children had a great start to their swimming lessons and the Year children are showing real responsibility in their learning as we prepare for the upcoming SATs tests. We hope that people are able to relax a bit over the weekend, ready for another full week next week.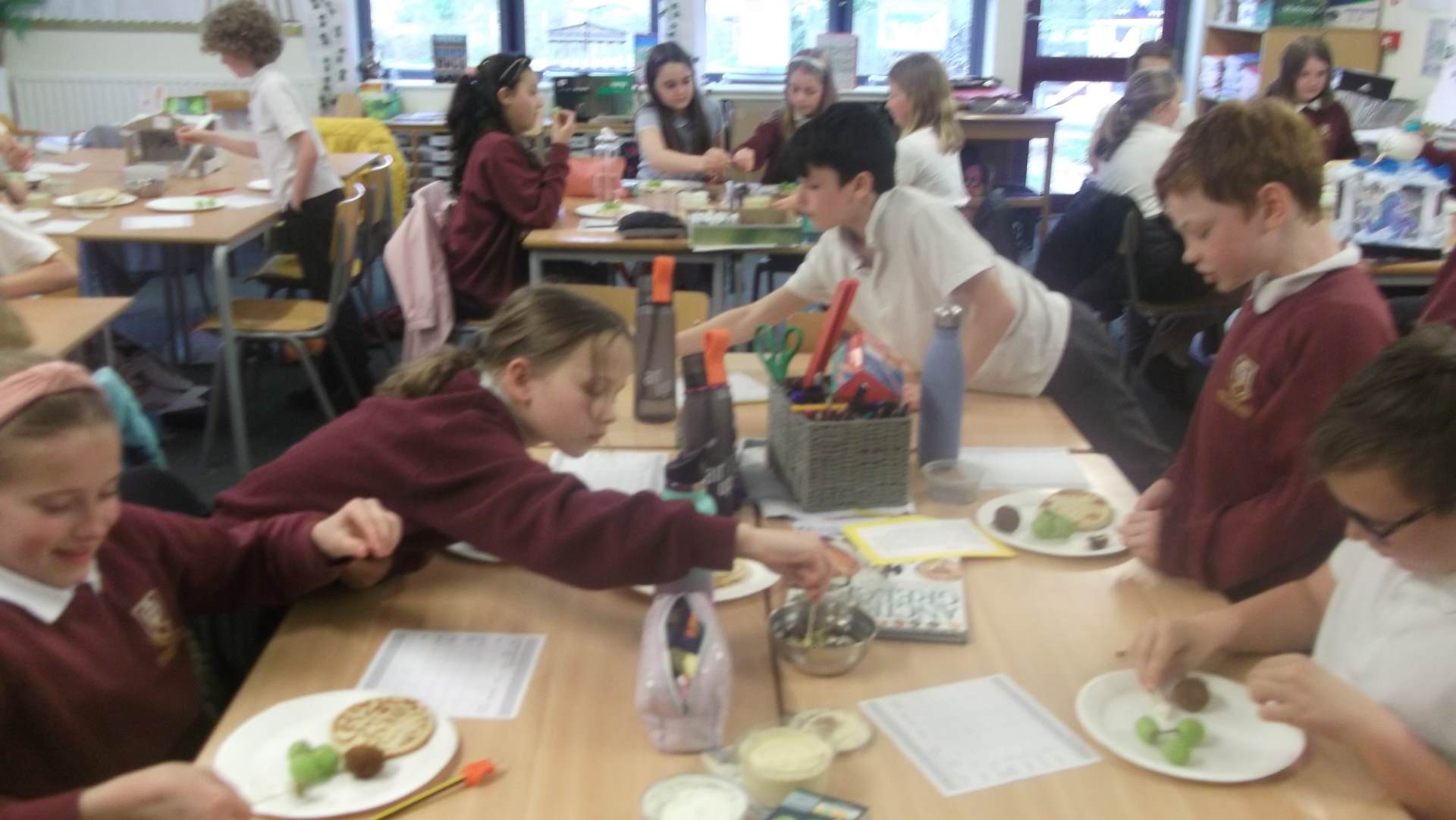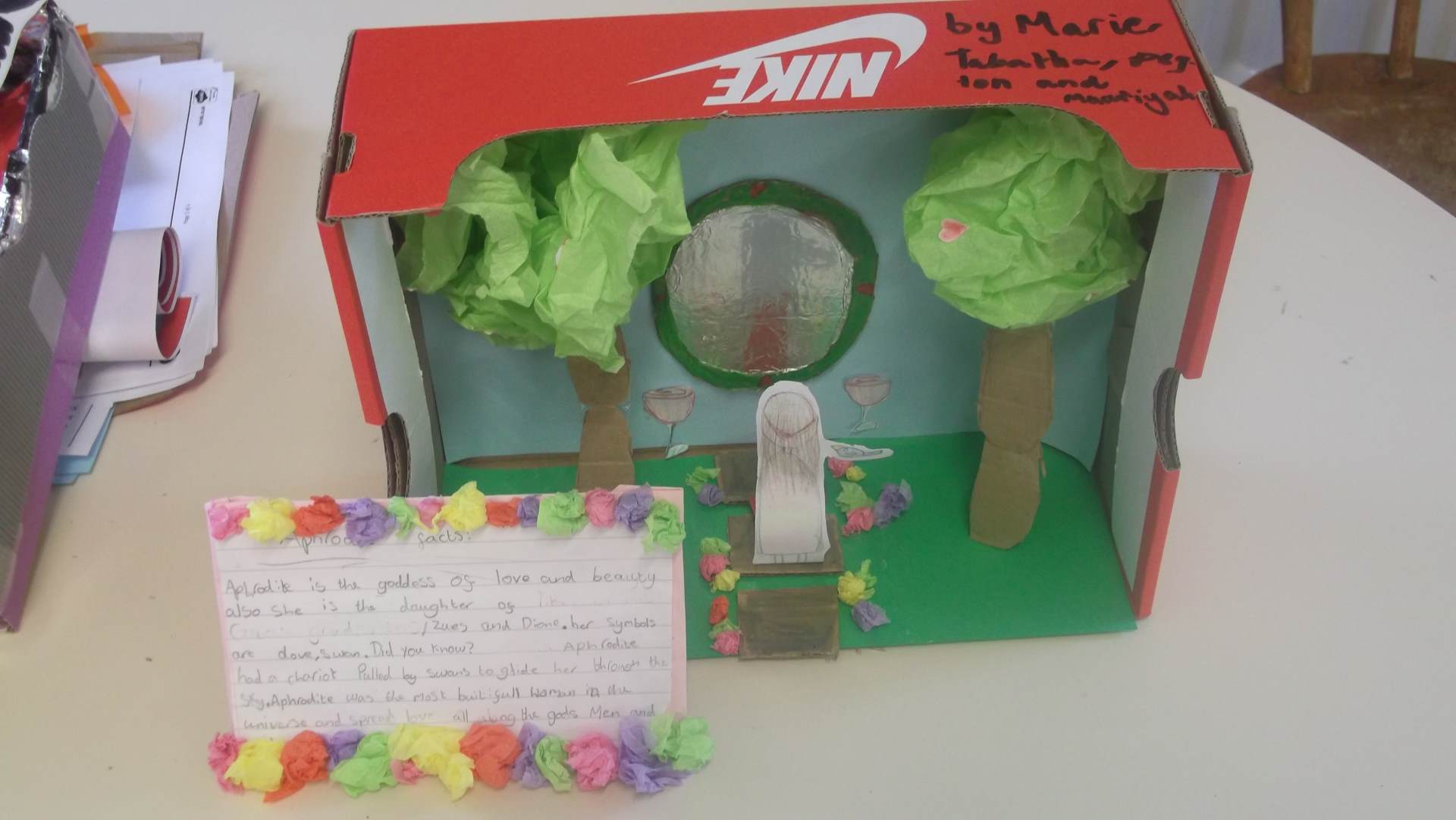 31/03/23
We have made it to the Easter holidays and well-deserved rest for everyone. This term has been jam-packed full of learning opportunities. The children have blown me away with their attitude to our world and climate change through their speeches last week and their 'letters from God' this week. I was also really impressed with how they talked about the people who have influenced them through the jigsaw artwork. I was so proud of all of the children during our Easter Service, all of their contributions were fabulous and they were a credit to you as parents and to the school. We wish you all a restful and happy Easter and look forward to an exciting summer term!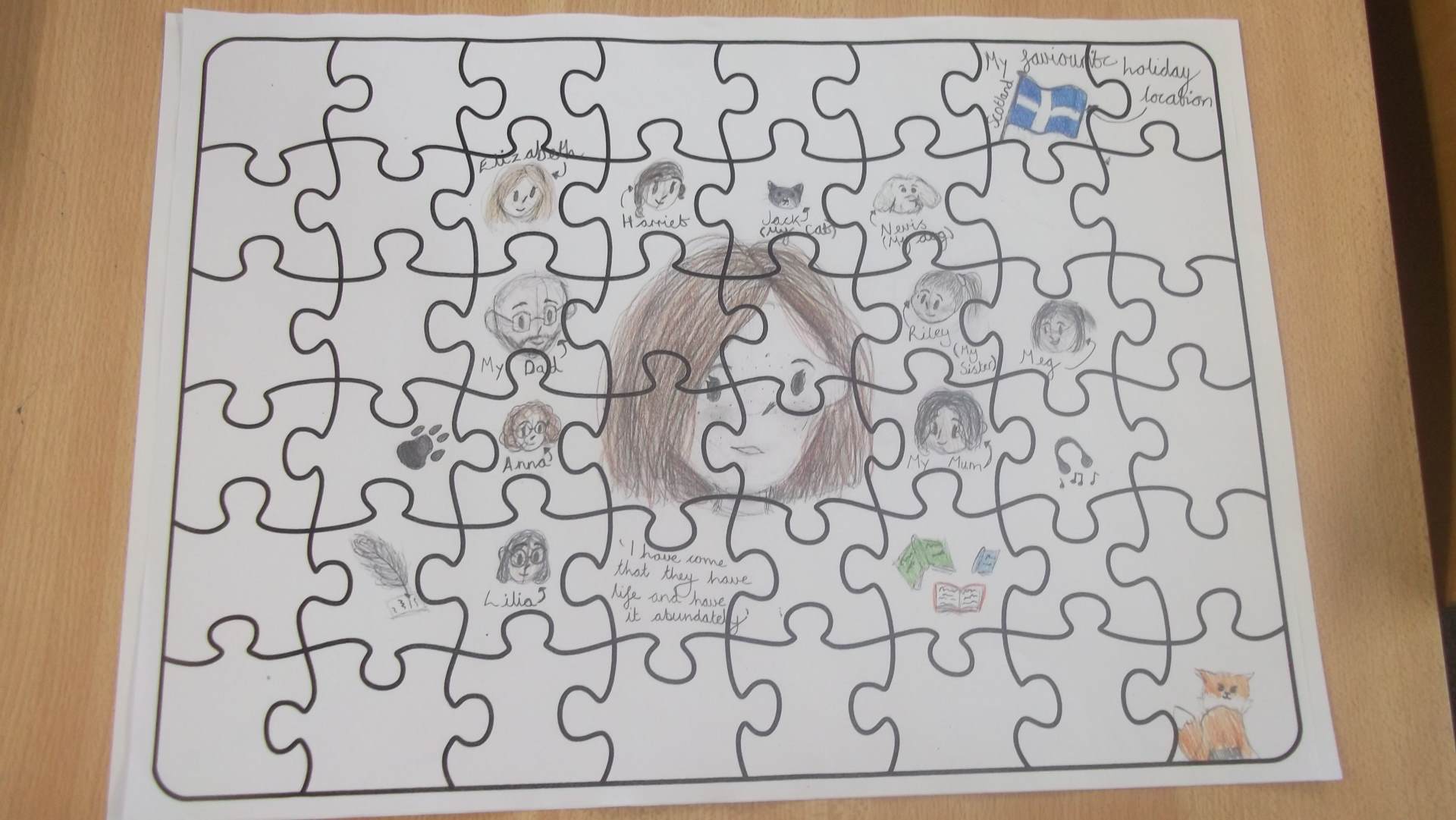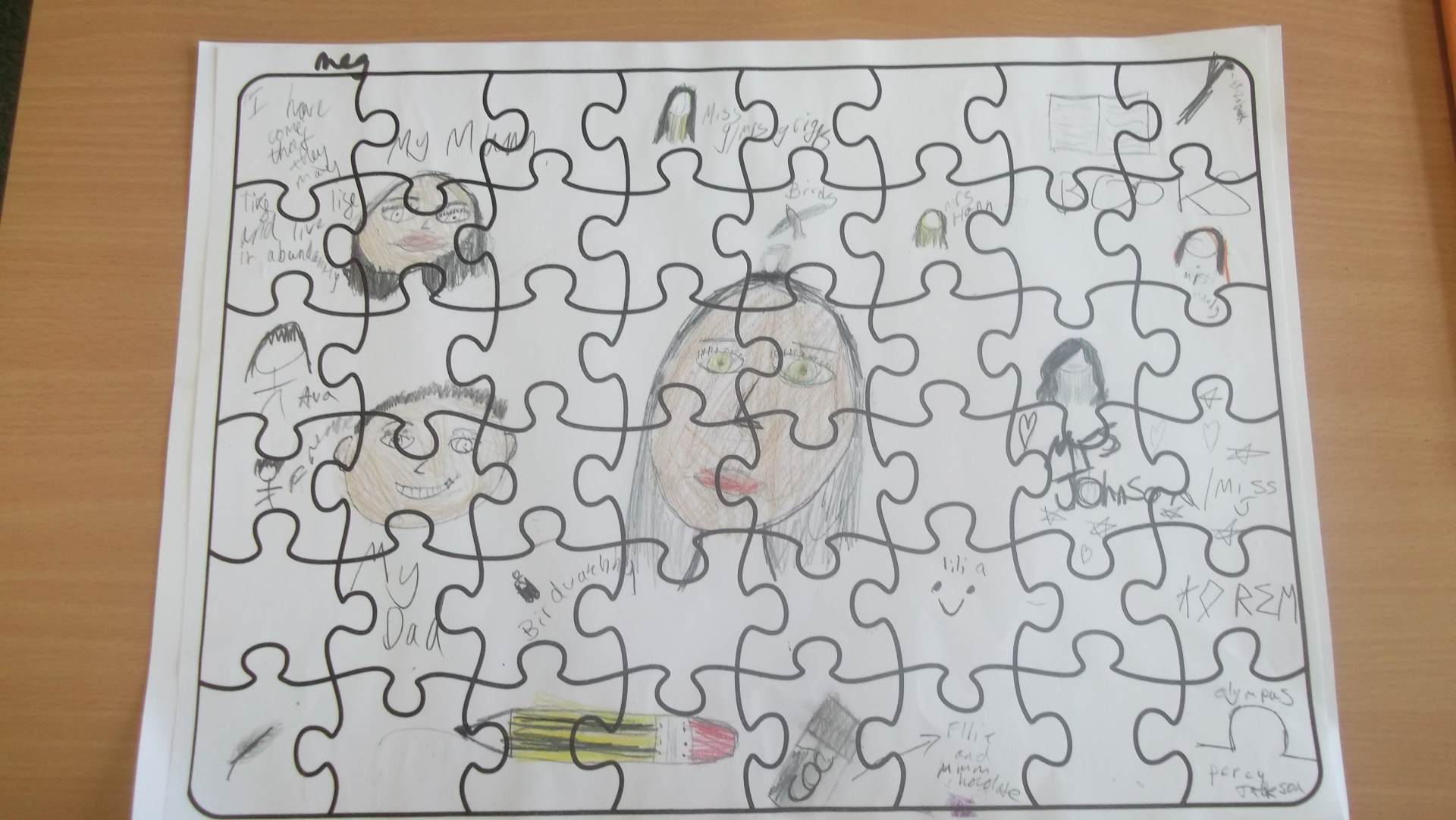 24/03/23
As part of the Class Exhibition, the children undertook a protest march to the Green. Here, with their placards held proudly aloft, they spoke passionately to parents about small changes we can all make to halt climate change and to protect God's world.
17/03/23
This week we have loved getting started on our artwork. We have studied the work of Betye Saar, an American artist who repurposes items that are broken or need to be re-loved, through the sculpture media of assemblage. On Thursday, we had a practise run; each group worked together to make a sculpture in. They used items selected from around the classroom, they then presented their installation and talked about its message. The messages ranged from how humans are impacting the climate through their behaviours to the power of out individuality. I was really proud of their efforts. This week is World Science week the theme is connections and we have celebrated this through a Science Day on Friday. We have enjoyed visiting speakers coming to talk about their jobs, both in the medical profession and we have also explored science investigations that link to making connections within our learning. The children have investigated the reaction between yeast, sugar and warm water, built bridges, designed their own inventions and explored the impact of different types of soap.
10/03/23
Well, there is certainly never a dull moment in a primary school, especially when there is snow involved! This week, as we reflected on our Monday worship, we spent some time thinking about equality and equity in Eagle Owls. We focused on the following image:
The children had a really valuable discussion about these images. Through this, we also thought about acts of kindness towards each other. Each child selected a lollipop stick with another child's name and have been showing secret acts of kindness towards each other.
Everybody loves a snow day! Especially if they have worn appropriate snow gear. While we were in class, the children (and myself) loved watching the enormous snowflakes falling from the sky; secretly though, I am glad the snow has gone!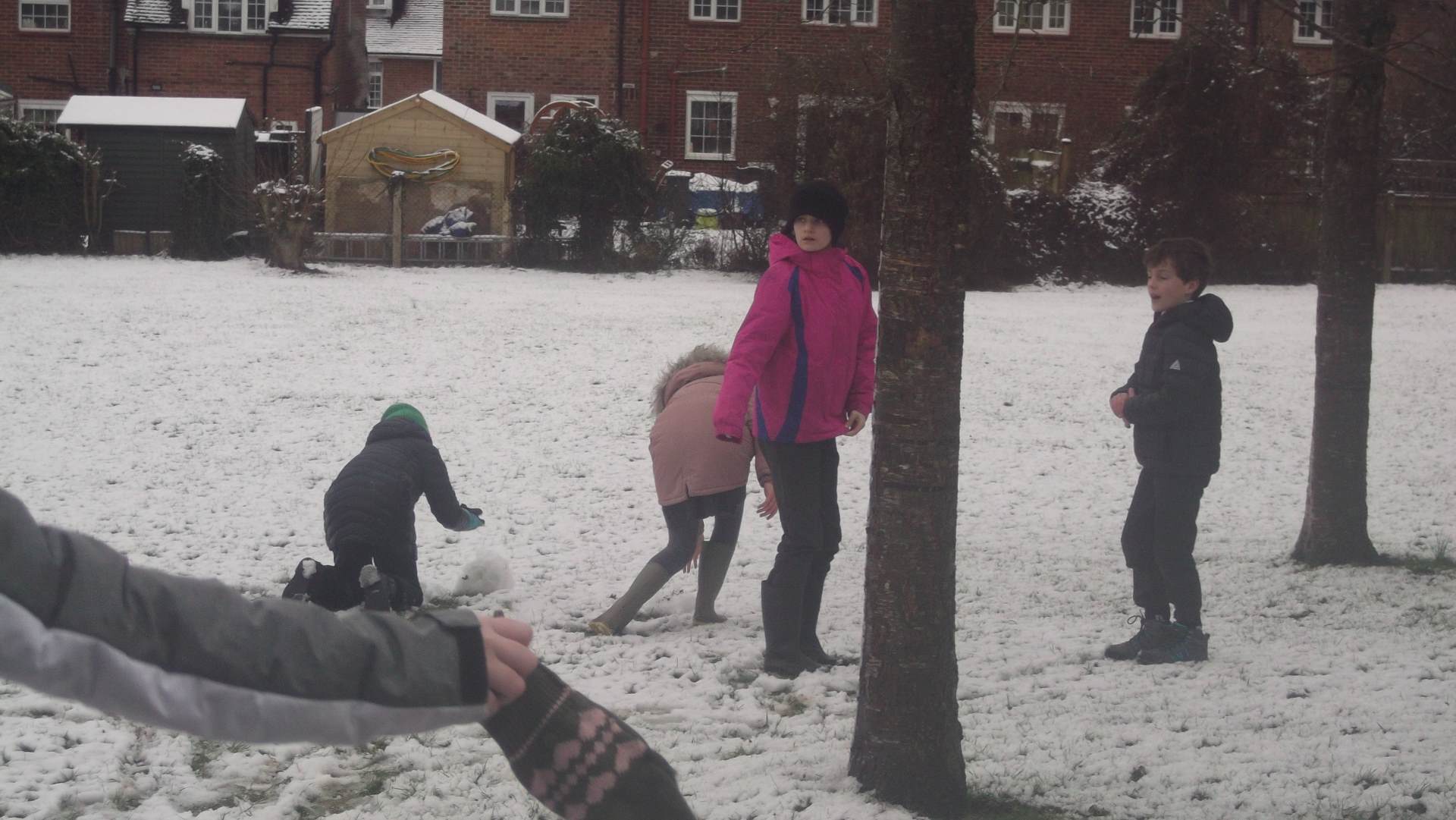 03/03/23
Wow! What a week we have had! Last Friday we held a minute silence, as many across the country also did to reflect on the anniversary of the war in Ukraine, they also decorated sunflowers to show their respect. I have been so proud of all the Year 6 children this week who have worked so hard on their mock SATs. In school, they have approached these in a calm and mature manner and have also used the opportunity to talk to me about things that they found challenging. In the meantime, the Year 5 children have been really supportive of them while also working really hard in class. Our World Book Day celebrations have been a blast too and it has been a real pleasure to seen the children buddy up with Barn Owls to share stories and also to show a real love of reading having chosen a new book in the book swap. The children have definitely earned a rest this weekend, they have worked really hard!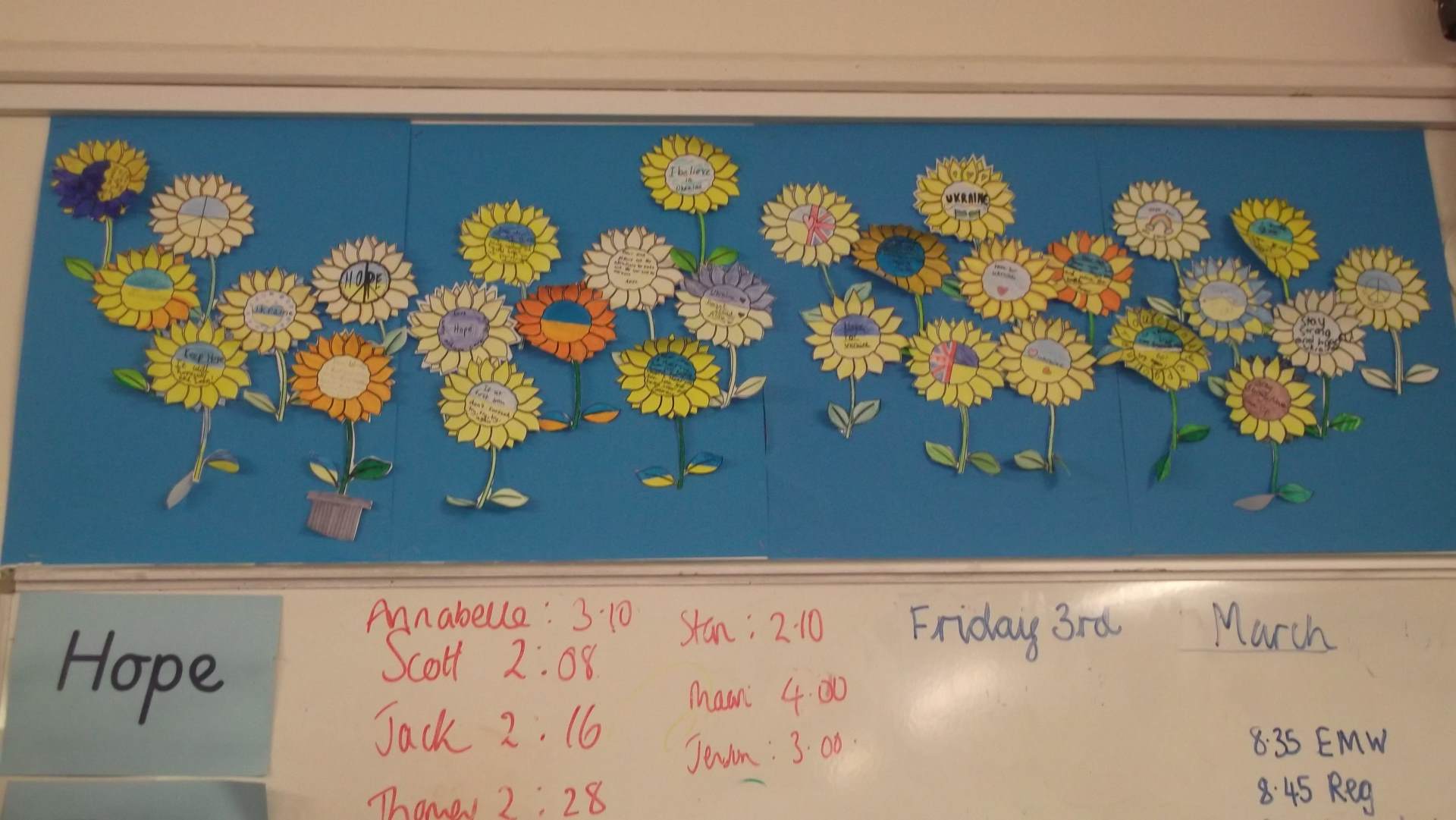 24/02/23
This week in Eagle Owls, we have returned with a great attitude to our work and ready to go. In English, we have started to study the wordless picture book 'Flood' to inform our writing at the start of this half term. The children are very excited about this book and are looking forward to writing their own versions of this story! We were all really proud of all of our Rainbow Rangers and their presentation to the school and some of our parents. All the children did really well, but we were particularly proud of the maturity of our Eagle Owls rangers with the special feature of Noah and Harrison in da Hood with their rapping and freestyling! We have continued our Geography project and this week we visited our own tree covered areas around the school grounds and traipsed through our 'forest'. We began to consider what the school would be like if there were no trees there. We will continue to explore this idea over the next few weeks and really look forward to this. It was also delightful to see more signs of spring.
10/02/23
What a half term we have had, it has been a real rollercoaster! I am really enjoying getting to know your children better and look forward to continuing to get to know them after half term! This week, it has been a pleasure to see our E-Cadets thrive on Safer Internet Day. They led worships across the school on the theme of talking about the children's' experiences online. They also led a range of activities across the school to raise awareness about being safe while online. Do have a chat with your children about this. In English, we have researched animals from the Amazon and their life cycles. We have written explanation texts about these which we are looking forward to share with our Micheldever partners. I know that they are very much looking forward to sharing their work with us too! In computing we have enjoyed using Scratch to make quizzes. It has been lovely to see children solve problems that they have come across and seek help from 'experts'. We look forward to testing each other's quizzes too. Maths and Art – We had an Arty Maths session this Friday. Based around a blank 100 square, we looked at a range different types of number – prime numbers, square numbers and various multiples to name but a few. We have represented these on blank 100 squares using coloured shapes to enhance our knowledge of the properties of numbers. I wish all of you a safe and happy half term. I am sure we all need the rest. I am looking forward to seeing all of the children next term and continuing our learning about the Amazon Rainforest.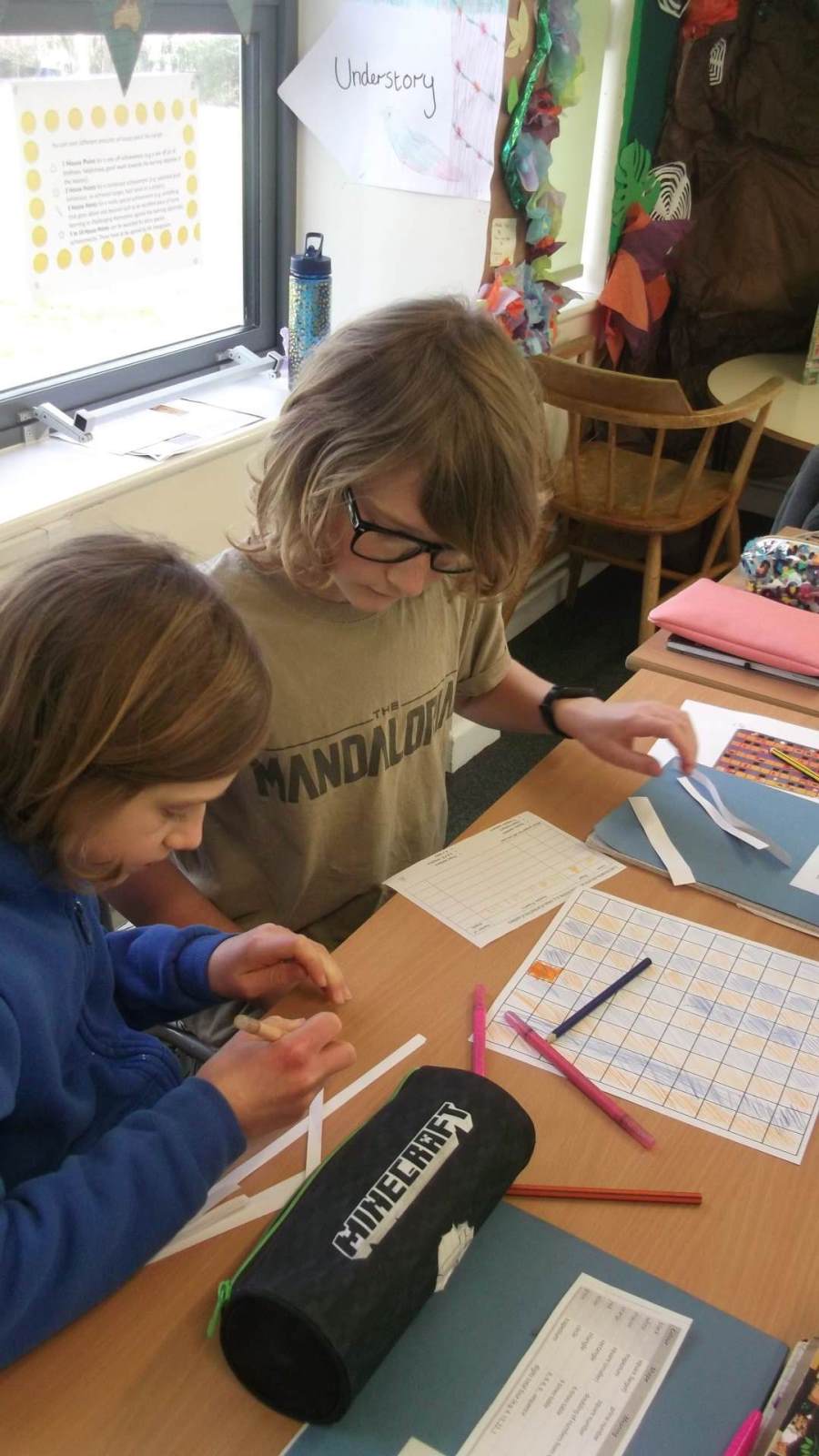 03/02/23
Well, we have reached the end of another busy week and Eagles are continuing to work hard. We have begun writing explanations about animals of the rainforest and hopefully before too long, your children will be experts on some of these animals. I am aware that some of them already are, and it has been such a pleasure listening to them talk about them with such passion. In Science we have continued to explore and test materials and this week they have completed a 'scratch test' to ascertain the hardness or softness of different types of wood, some of the children didn't know their own strength! Finally, we now have a feathery blue macaw at flight in the class – don't worry it's not real and the children haven't yet informed me of its name. I am sure we will keep you posted! I hope you have a wonderful weekend!
27/01/23
How have we got to the end of the 4th week of term already? I am loving my journey of getting to know the Eagle Owls better and I hope they are beginning to get to know a little bit about me! We have continued in our creative streak in the last week and through our learning about rainforests and their structure. We have also learned about the creatures and the plants and at which level of the rainforests that they live. I have been so impressed with the collaborative and creative skills of the children and look forward to seeing more of this in the future! I think we are all beginning to be a bit stuffed up with colds, I hope that all of Eagle Owls can get lots of rest over the weekend in order to feel better. I also look forward to meeting you as parents at the 'Meet the Teacher' evening on Monday.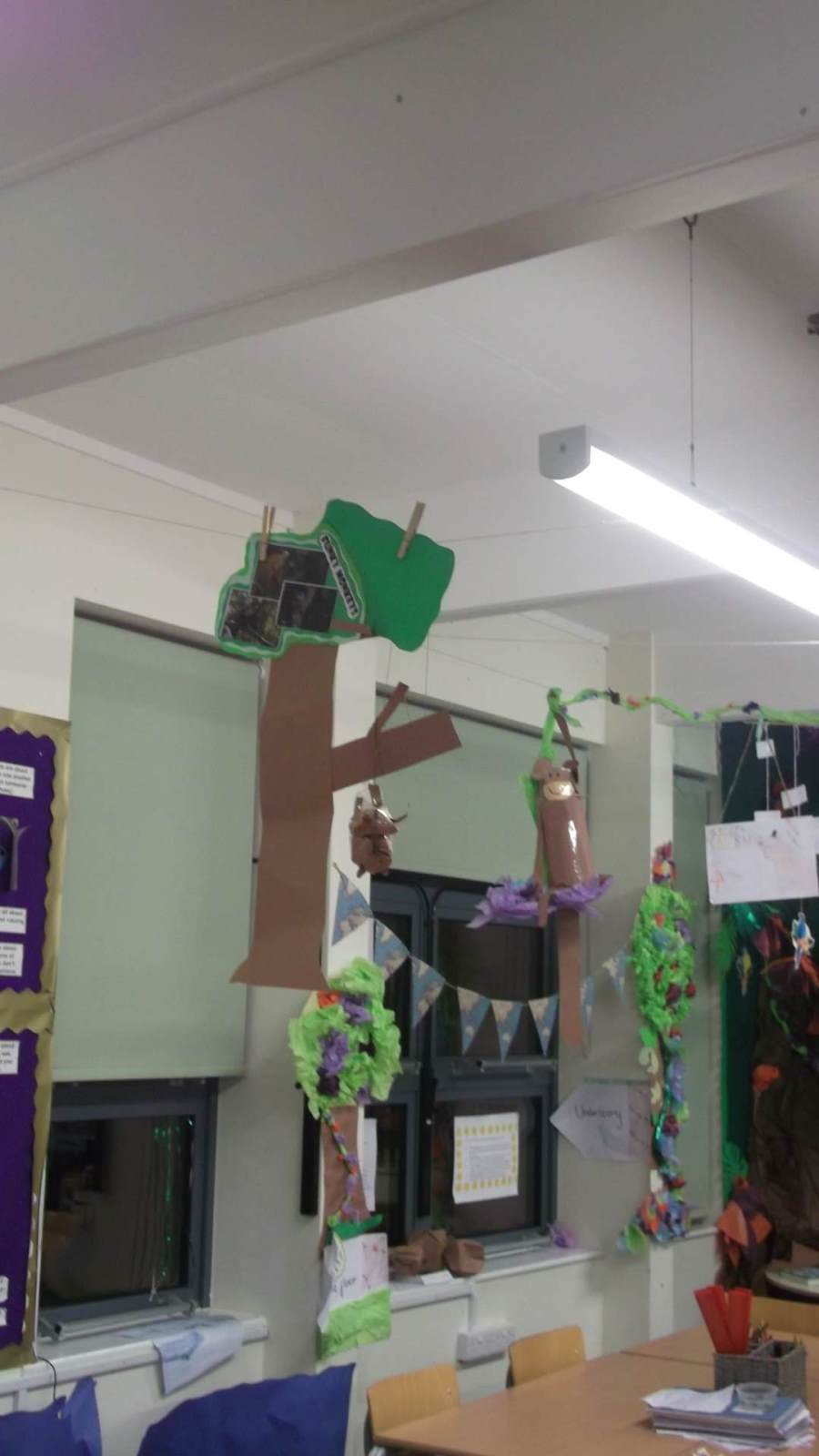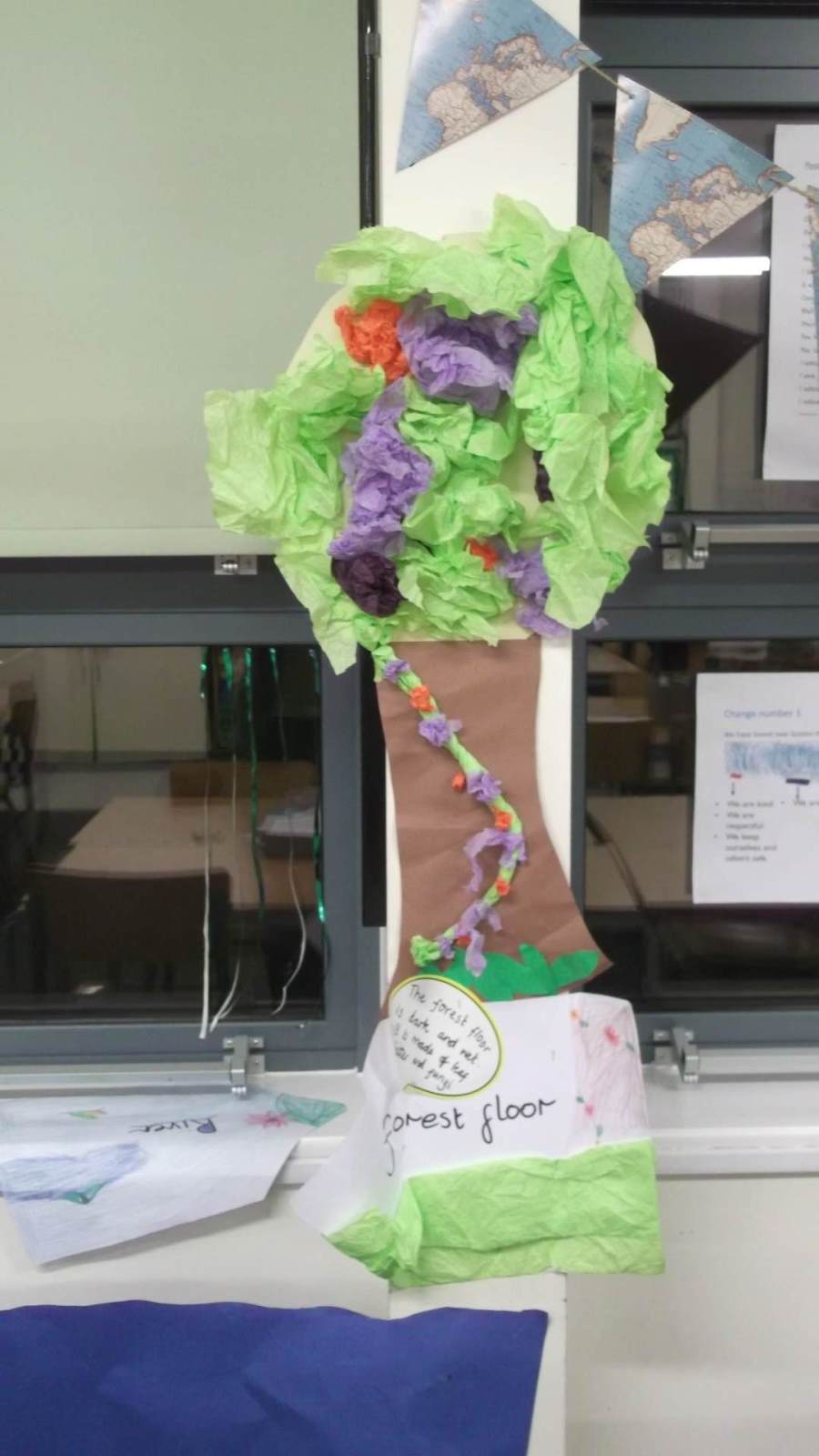 20/01/23
As we rollercoaster through the term, I really feel I am getting to know the school and the children, which is lovely. This week, we have continued to work on our poetry in English and the children have worked so hard in writing their ode to something special to them. It has been a pleasure to read their work and find out about those things that are important such as pets, items of clothing or items that have sentimental value linked to family members. Please see a taster of one of the poems below: Oh Sketchbook, Your shiny and slick Cover, Pitch black, like coal in a sack, Protects your masterpieces Inside. You unleash my hidden Creativity, A lost hidden treasure, now Free like a bird. In our Geography lessons, we have continued to learn about the rainforest in the Amazon. Learning about the structure of the rainforest has led us to develop our classroom environment. It was a joy to see the children work collaboratively and creatively to make the classroom a vibrant space. Have a restful weekend and wrap up warm!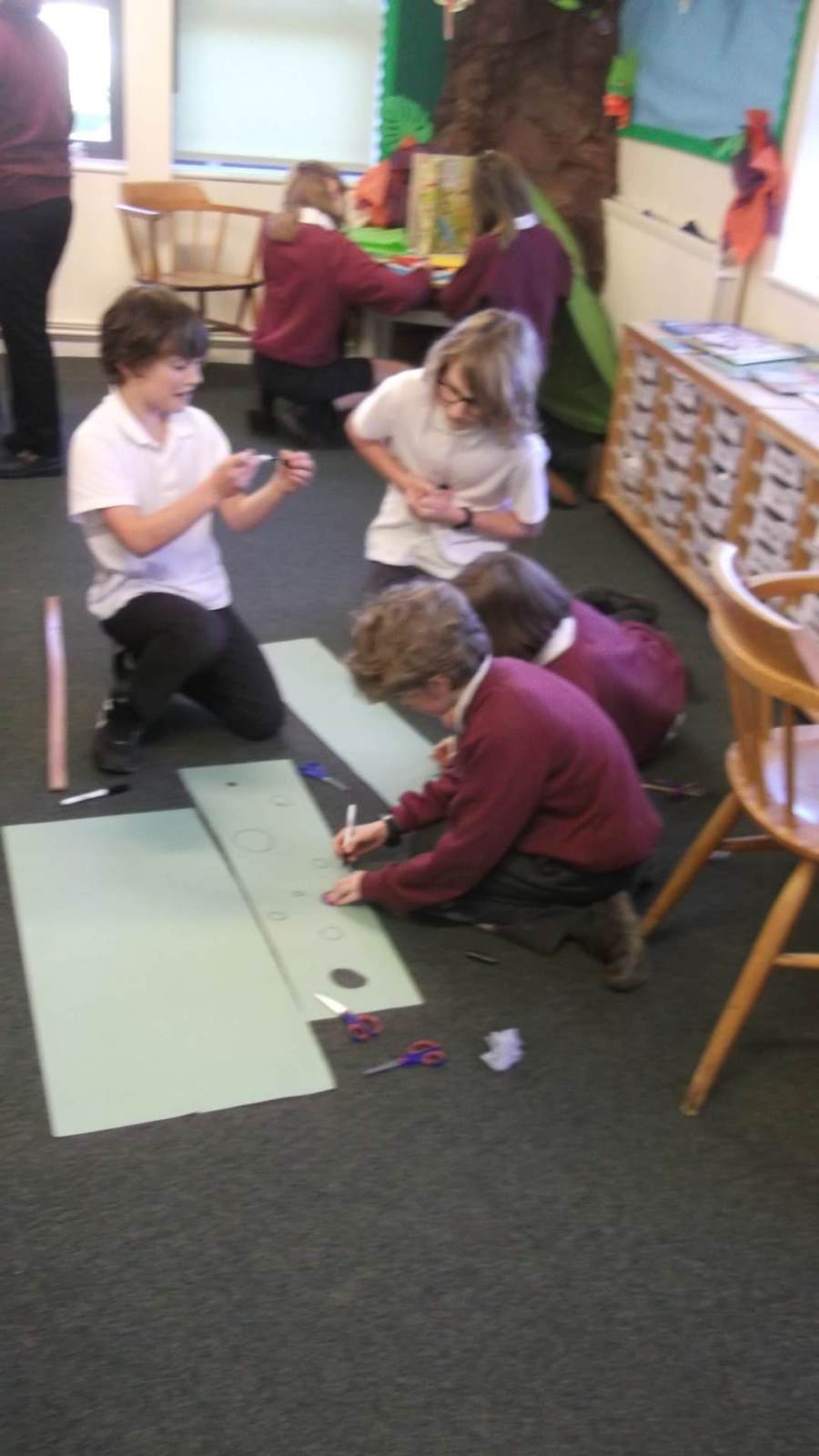 13/01/23
What a week! In Eagle Owls I don't think any of us have enjoyed the weather, although it has given us a rather appropriate soundtrack to our topic! As we continue to learn about South America and the rainforest, this week we have zoomed in to specific rainforest countries. In groups, the children have had the opportunity to research a country of their choice and report back to the rest of the class. It was a pleasure to note that no two presentations were the same!
At the end of last week, we began our Science topic and the children explored a range of different materials using feely bags – the children reached into the bag and described an object to our group. We used our scientific knowledge, and our senses to decide whether the materials were natural or synthetic. We continue to explore materials and their properties this week and in the weeks to come.
In Eagle Owls, we have really embraced the theme of democracy. We have had so many opportunities to discuss this within our class time in relation to events happening in the news and as part of our learning.
Have a restful weekend!
06/01/23
Happy new year! What a way to begin, the children have really welcomed me as their new teacher, and I am looking forward to getting to know them properly! This week, we have sailed into our new topic with such excitement and enthusiasm, our rainforest classroom is taking shape and the children are full of ideas and questions which have been such a pleasure to explore! I can't wait to see how this topic can develop our creativity. In Maths, we have been exploring different types of angles and how to measure them, while in English, we have started to learn some more about poetry and will explore writing our own. We wish you a restful weekend.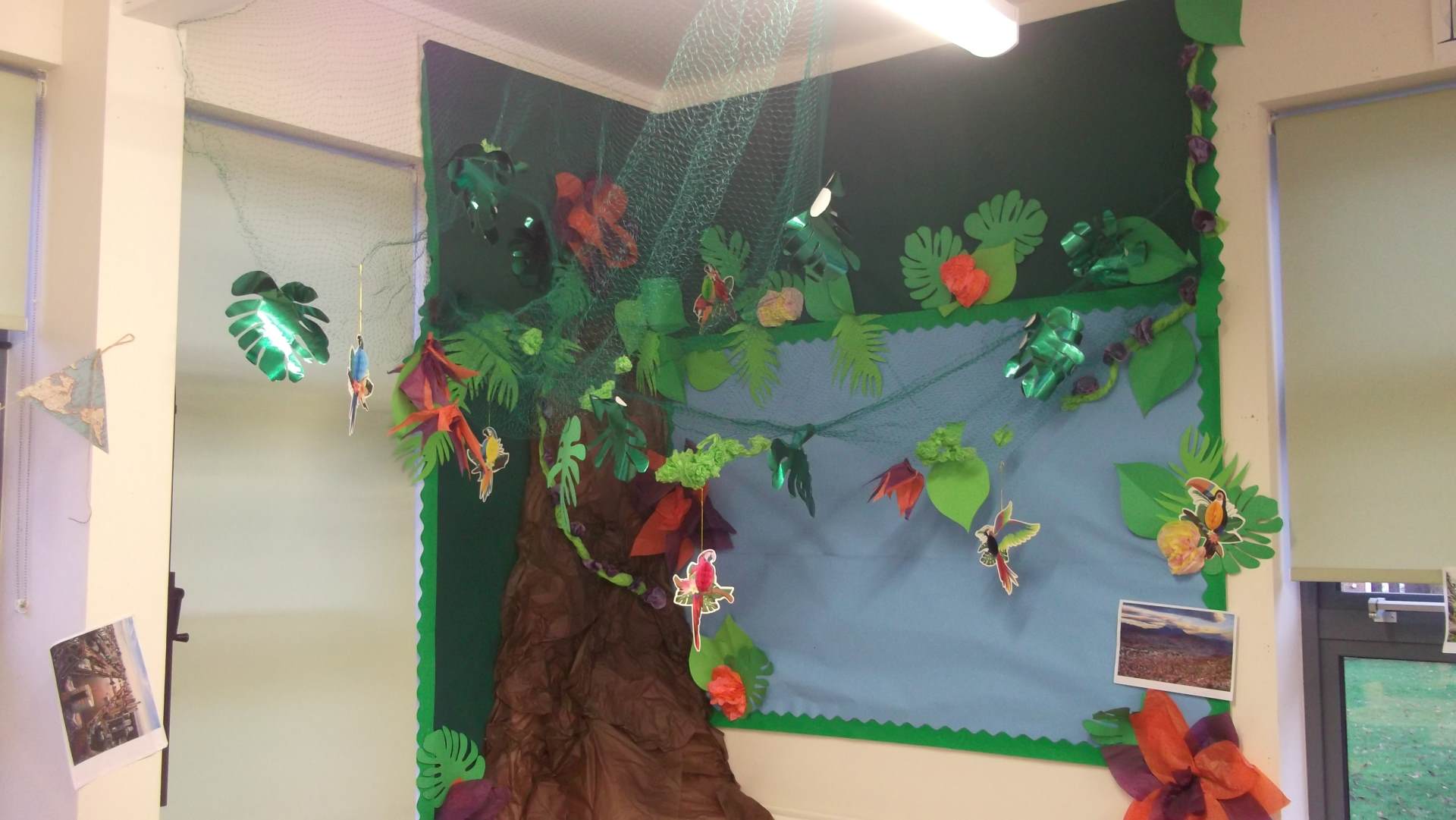 16/12/22
Didn't they do well?! Those of you that were able to join us at the church this morning would have seen what a fabulous job Eagle Owl class did leading the Christmas Service. particular mention for Jack who beautifully navigated a number of last- minute changes and some hiccups here and there to introduce everything and light the Advent candles seamlessly.
We have had a great last week! amidst rehearsals, DT morning, stories with Santa and the Christmas lunch, we converted metric measures focusing on grams and kilograms. Using these skills, the children completed a number of tasks to earn all of the ingredients they needed to bake biscuits.
The bake-off occurred yesterday morning leading to tasting and rating. We then used these results to find the Mean, Median and Mode averages of the results. Generally, we justified eating biscuits by completing some maths! Winner!
I hope that each and every one of you have a tremendous Christmas full of love, warmth and lovely stuff! Have a fabulous start to the New Year and I can't wait to hear all about the successes and fun that you'll have been having when I undoubtedly make contact later in the term!
Love to you all my Barton Stacey family.
Thank you for making me feel so welcome for the last 18 years!
Mrs J xxx
09/12/22
What a chilly end to the week-it really is starting to feel like Christmas is coming! The children have been opening the advent calendar each day in class so if you notice little squishy items coming home, that's why!
Eagle Owls have been focussing on Christmas poetry all this week, working collaboratively to create compositions ready to share with you during the Christmas Service on the final day of term. We used The Christmas Truce by Carol Anne Duffy as our model text and the Sainsburys 1914 advertisement of the same name as our model and stimulus. We have looked heavily at figurative language and are now familiar with creating and identifying similes, metaphors, personification, alliteration and onomatopoeia. The children have worked beautifully together to create, edit and then individually handwrite these into their books. Mrs J even put on some Christmas tunes to lighten the mood and get everyone in the spirit!
Year 6 children have completed 'Mock Maths SATs' this week to start that familiarisation process and eliminate the 'fear factor'! Well done to them. Year 5 have been looking at timetables so improve their interpretation and calculation skills when it comes to time and the 24hour clock.
In Science, the children have had the opportunity to complete their Shadow Puppet theatre using their understanding of light and shadow to put on a great show!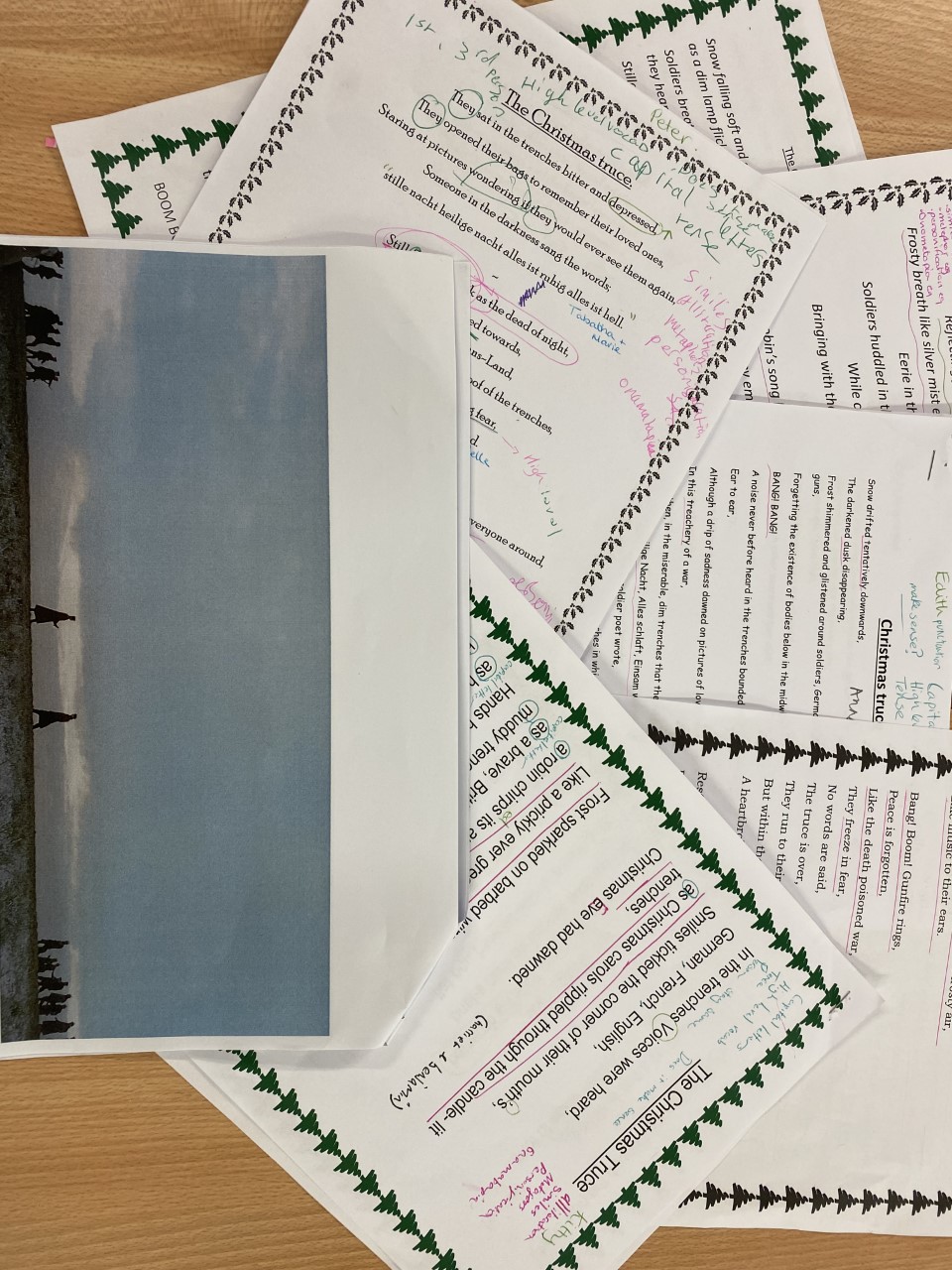 01/12/22
Welcome to December everyone! I hope your Advent Calendars have been abundant and suitably merry-starting your festive season off the way you hoped!
In class, our writing focus has turned to poetry. We will ultimately use the poem The Christmas Truce by Carol Anne Duffy as our model text. However, to ensure we are certain of the historical events and as additional inspiration, we have watched the Sainsbury's advertisement from 2014. This has helped us 'story map' events and we are currently looking at shades of language to ensure we express ourselves using the correct tone and force required. We have a number of model texts on the go at this point to guide our thinking and inspire us on our writing journey.
In Maths, Eagles have completed our unit on circles with problem solving and challenges related to radius, diameter and circumference. We have also dabbled with timetable interpretation and problems related to the calculation of time. Tricky (or should I say 'ticky') business!
Across the curriculum we have completed our historical unit under this terms focus question, 'How were families in Europe impacted by the events of WWll?'. We have followed this through in our worship focus this, and last week, reflecting on our learning as well as our own feelings, reactions and 'big' questions to such an emotive topic.
We have continued to make periscopes in Science and hope that you will have been able to sample a few and engage in a related challenge with us during our Exhibition.
Thanks to all who were able to come this morning. We love seeing you, especially when we have so much learning to show-off about! Go Eagles!
25/11/22
I am pleased to report that the narrative texts are nearly all complete-woohoo! Eagle Owl children have been working really hard on them for the past weeks, improving their 'cold write' versions. I have been really proud of their resilience when completing this extended task as well as their improved writing techniques and styles. You'll see for yourselves soon...
In maths, the children have switched between several concepts. They have dabbled with circles and the exclusive language they present. They have used the idea that radius is half of diameter and drawn circles using protractors demonstrating understanding of these concepts. They've also identified that circumference is roughly three times diameter. Y5 have been looking at 24 hour time recording and calculating intervals of time whilst Y6 have continued calculating with percentages of amounts. We've all been calculating balanced equations and seen that a letter in a calculation simply represents an unknown value.
In Science we concluded a simple investigation looking at types of surfaces reflecting light and started to use our understanding of how light travels and is reflected to make periscopes with the cereal boxes you kindly sent in. Suffice to say we have enough now and no longer need more! We're drowning!
18/11/22
This week in English, Barn Owls have been exploring non-fiction texts in preparation for their next unit of writing. They have been looking at the features of a non-fiction text and how these are used. They have also been sharing their Leafman stories with one another.
In Maths the children have been counting in 2s, 5s and 10s to 100, both forwards and backwards.
In Geography we joined an Amazon Rainforest Live Lesson and explored the layers of the Rainforest and the animals and plants that are found there. Next week we will be comparing these to those we find in British woodlands.
We have continued to practise the Nativity songs and have been becoming more and more familiar with the story – "A Little Bird Told Me." We are really looking forward to bringing it to life with our acting.
11/11/22
Eagle Owls completed their first narrative 'cold write' this week.I was immensely impressed with their story writing skills. Over the coming lessons we will be addressing a variety of writing techniques and editing their compositions to present at our exhibition in only a few weeks! Time flies..!
We had a morning of Art this Tuesday looking at the work of Henry Moore. He is best known for his sculpture but, produced a series of 'Shelter Drawings' during WW2 recognising this sensitive and powerful time. He subsequently became an official artist for the period. We, in turn, have practiced our drawing skills looking at line, tone and shade to produce properly proportioned images. This will collaboratively create an exhibition masterpiece!

We've continued with improper and mixed number fractions in Maths with the Y6 diversifying into fraction, decimal and percentage equivalence.
We are 'lighting' the way with our new Science topic this term learning how it travels, reflects and is seen by animals including ourselves. Torches at the ready…
04/11/22
We have been right back into 'it' this week starting with the addition and subtraction of fractions with like and unlike denominators and converting improper to mixed number fractions and vice versa! We've also been looking at Prime numbers and identifying them in a range of contexts including our fraction work when it comes to simplifying answers. All this is times table-tastic so keep up the good work rehearsing rapid recall at home.
In Literacy we have started looking at The Harmonica by T. Johnston. A highly emotive narrative set in Poland during the second world war. We will be using this text heavily to guide our own narrative writing over the coming weeks. We have spoken about what makes a good narrative, used an image from the text to inspire setting and character description and completed our first 'cold write' using a story map of the text.
We've spent a lot of time on our PSHE unit 'Being in My World' this week discussing right and responsibilities, goals and using 'mirror moment' to reflect positively on ourselves. The children have been brilliant listening to each other and building upon the ideas and thoughts of others.
21/10/22
What an exciting week for us all in Eagle Owls. Firstly, we were joined by the incredible Richie Parsons from Parsons Period Presentations who stepped into a variety of roles to provide an immersive and engaging WWII experience day. We think the children gained a lot from it, complimenting and contextualising their historical understanding through his presentations and the object handling boxes he provided.
We also spent a day focusing on our RE unit of 'Belonging'. As well as sharing what we feel we 'belong' to and presenting some beautiful art-work, the children discussed some quite meaningful questions related to the concept of belonging and became quite animated whilst doing so! We discussed what belonging to the Christian faith meant or looks like and then enquired about the Jewish faith. Within this, we extended our understanding of the Jewish celebration of Sukkot. We created an arbor minim (the four blessings) and a miniature sukkah as well as tasting soup made using a Sukkot recipe.
It has been a long yet incredibly productive half term! We have concluded our Science topic of Electricity as well as completing our WWII pop up toys using cams in Design Technology. Your children have also made great headway in getting used to Eagle Owls and the expectations that come with being part of the team. Well done everyone!
14/10/22
Eagle Owls have been working hard on their fraction understanding this week. They have been comparing, ordering and calculating addition and subtraction fraction problems with non-unit fractions using the same denominator as well as finding equivalent fractions so as to calculate and order fractions with different denominators. Phew! Guess what folks...all of this requires rapid times table recall! We spoke in class about how they don't have to sit at a desk for hours on end to practise their times tables. They can get somebody to give them a quick fire test whilst travelling in a car or walking, they can walk home and recite them to themselves as they walk, answer a 'quick 5' over the dinner table as you're eating, use Times Table Rockstars (contact the office for log-ins) or other app based tools like 'Hit The Button' or 'Daily 10'. We also spoke about a number of strategies that might help them improve their times table recall speed. Perhaps you would like to try them at home? 'Bench-marks' can help with recall-knowing what 1 times, 5 times and 10 times a number is, can be a really powerful tool. If you know these 'benchmark' tables then you don't have to start counting at 1x all the way up, you can start at a 'benchmark'. For example, to answer 7 x 8, start at 5 x 8 = 40 and count on two more lots of 8! We also spoke about how multiplication is commutative so switching the order of the multiplier and the multiple around can help us visualise the calculation better. For instance, you might find 5 x 7 easier to calculate if you think of it as 7 x 5.
Just a few ideas...
in other subjects, we have been gathering information about the Kindertransport and increasing our familiarity with newspaper reports in Literacy this week and continuing our 'Electricity' topic creating games and identifying electrical conductors and insulators within them.
07/10/22
'Roll up, roll up- read all about it..! We've started to look at the features of a Newspaper report this week, identifying the 'nitty-gritty' like headlines, dates, pictures and captions as well as more grammar focussed features such as use of past tense, relative clauses, time conjunctions, formal language and much more. We've used content from The Anne Frank Video Diary to fuel our opening line.
In Maths this week it has been multiplication madness! The children have been performing long multiplication using the ladder or the compact method using their place value skills to adjust values depending on the size of the number. Similarly, we are now tackling short and long division using...you guessed it...our multiplication knowledge! Please keep plugging away at this at home-the facts underpin so much of what we do in school.
In Science we are now using what we know about electrical insulators and conductors, what is needed for an electrical circuit to work and our practical skills of constructing a circuit to build an effective Steady-Hand Game. Others have been using the same knowledge but, constructing a working model of an alarm system that Anne Frank could have used to warn of intruders in the annex. All are a work in progress, can't wait to see them complete next week!
30/09/22
Have you ever created a VLOG? Your children have been hard at work creating their own this week. They have adapted their Anne Frank diary into a VLOG mirroring the style of The Anne Frank Video Diaries they have been watching. We have spoken about the depth of emotion expressed by her in these diaries and the cinematography so as to create the best possible video ourselves. Fingers crossed, these will be part of our exhibition come December. We're in the editing phases as we speak!
In Maths we have been identifying Factors and Common Factors of numbers as well as Multiples and Common Multiples. Towards the end of the week we have been adjusting place values to reflect multiplication or division by 10, 100 and 1000.
In Science we have been looking at electrical conductors and insulators in a variety of investigative situations.
23/09/22
Our toy making skills are being put to the test at the moment. Wood cutting, following design specs, assembling structures, fine tweaks and finishing touches-Geppetto has nothing on us! All of the children are really engaged in every part of the design and construction process which is great to see.
This week has also seen the preparation and presentation of School Council candidate manifestos and interviews for E Cadets and additional Green Ambassadors. We were impressed by how many children put in the effort to apply and how they had the courage to give something new a go. No matter what the results are, we are very proud of them all for engaging in the process and challenging themselves.
Our Collective Worship across the Federation, with Hawthorn and Willow class at Micheldever, also focused on the election procedure. We discussed the qualities of a successful candidate and what democracy looks like.
Diary writing in Literacy is coming to an end this week culminating in a final 'Hot' write focusing on Anne's realisation that she, and her family must flee their home.
Maths also see's the end of our first unit of work starting with multiplication and division based learning next week. Needless to say, practise those multiplication tables please!
One of our class represented the school at the proclamation of King Charles III & reflection for Queen Elizabeth II
16/09/22
A reflective and busy week again here in Eagle Owls. Of course, we were all hugely saddened to hear of the passing of Queen Elizabeth II. As such, we joined Hawk Owls in laying flowers, writing and sharing poetry at the Memorial bench on The Green. They remain there should you like to have a moment of quiet remembrance in the coming days.
We have been continuing to look at the story of Anne Frank this week, using the imagery depicted in a variety of illustrations to improve our descriptive writing and create truly emotive diary entries as if we were Anne. The children have 'up-levelled' their initial 'cold' write and have been using a variety of WAGOLLs (What A Good One Looks Like) as a model for their writing.
In Maths we have been perfecting our addition and subtraction skills in both numerical and written problems and challenges. We have been discussing when we can solve calculations mentally, using our previous place value learning, and when we have to use a more formal method of recording. A lot of the children had a huge improvement on their Multiplication challenge grid on Thursday. Truly well done to those that beat their score or time on week 2! Please keep practising at home.
In science we have been drawing or using scientific symbols to either follow a circuit diagram or draw a circuit diagram. We will be using this to create a little something tomorrow!
09/09/22
What a fantastic week! Eagle Owl children have had and a fabulous start to the new term despite arriving to an upturned 1930's desk strewn with strange papers and artefacts! Thankfully they were able during the course of the day to ascertain that this was Anne Frank's desk and they began to think about who she was and when she lived.
In Literacy, we have been using images from Anne Frank by J.Poole and A. Barrett to discuss and deduce about Anne's life prior to Kristallnacht. This has led to a 'cold' task- writing a diary entry as if they were Anne- in relation to a particular image within the book. This will fuel our learning for the next few weeks.
In Maths, we have been getting to grips with the place value involved in some really BIG numbers-in some cases up to 10,000,000. We've been looking at and using different representations of them including part/whole models, place value charts, dienes, arrow cards and bar models. This will lead to our first calculations with numbers next week.
Science is electric in more ways than one! We'll be getting out different components, trying a million different cells before finding those that work (thank goodness our Maths learning has enabled us to keep count!) and making simple circuits, drawing scientific diagrams, following scientific diagrams and generally making things light up, buzz and spin!
15/07/22
When you receive this we will be in the final throws of preparations for our exhibition piece-the long awaited production of 'Oliver'. Needless to say we are super excited and eager to show you the result of a lot of hard work all round. The children performed to the rest of the school on Wednesday this week and received tremendous feedback, rising to the audience they have missed so much in rehearsals.
A big thank you to you all for supporting them at home with songs, lines, costumes and wobbles that they may have had. We couldn't do it without you!
The final few days this week have been dedicated to completing our science learning for this term. They have finished their semi-longitudinal study, analysed results and written conclusions answering their own enquiry question based on the speed mould grows. They have watched a short clip giving an overview of life since the Earth began including when plant life, micro-organisms appeared. We have discussed and defined 'Evolution', 'Adaptation' and 'Inheritance' and looked at how fossils can inform us of past living things and land movement. We have looked at how fossils are made and made a few 'cast' fossils of our own as well as looking at the life of Mary Anning and her 'curiosities'.
01/07/22
The final 'Oliver' playscript has been completed-as has the final draft of the production. Woo-hoo! All of the children with script lines to learn now have a copy of the complete production to study at home. 'Market Sellers' and 'Boys in Fagin's Den' have innovated and learnt theirs along the way so won't have a copy unless they specifically requested it.
Please could we ask that the children continue to learn and practise the lyrics as well as the script pieces so they are word perfect by the end of next week.
Could we also kindly request that the children bring in their costumes by the end of next week. We have a dress rehearsal in front of the rest of the school in the lead up to the final performance so would love for everyone to be in full regalia by then! Please feel free to ask us for anything you are struggling to source.
Thank you so much for support with the production. We know that we couldn't do it without you and that we are asking a lot of you at the moment. We're sure it will all be worth it and very much look forward to seeing you on Friday 15th July at 3.30pm for a 3.45pm start.
It hasn't been all rehearsals this week, the children have been revisiting their mathematical learning from across the year this week as well as keeping on top of times tables. They have continued to record observations and photographic evidence for their semi-longitudinal science investigation, started RE learning and continued with Guided Reading.
24/06/22
What a week! The pace certainly hasn't altered in Eagle Owls with our production looming ever closer! We have been composing scripts again this week to 'showcase' yet another genre of writing within the production. You'll be treated to no less than 4 different text types all written by our children during their literacy sessions.
Maths has focussed on interpreting pie charts. The statistics were mostly about food so we've collected our own discrete data concerning 'Food, Glorious Food' discussing how best to do this. Once collected, we created our own pie charts utilising our understanding from previous interpretation and our knowledge of circles.
Throughout the week we have completed observations and taken photographs of our mould investigation as part of our semi-longitudinal study. You'll be glad to know some of the slices are growing new organisms quite successfully. We'll be looking at why this is in more detail when we come to writing conclusions later.
Thursday and today, you may notice your children humming/singing various tunes from 'Oliver' when they return home! We are now in full scale rehearsal mode. Please can you help them master the lyrics at home as much as possible. Most of the songs require the whole class to sing! Thank you my dears!
17/06/22
Welcome back to the Y6 this week and well done to the Y5 for successfully steering the Eagle Owl ship in their absence.
We've been writing play-scripts to include in the production of Oliver in a few weeks time. This has required greater analysis of the 1968 film version, analysing character and emotional response.
In addition, the children have heard about their roles-very exciting! No matter what the character, all of the children will have lines and stage presence. Their auditions were just so good we had to ensure equal stage time for all!
In Maths we have been analysing continuous data in the form of line graphs-using a line graph about a fictitious location to model creating our own representing Victorian and present day population figures from census data. This has progressed to Pie Chart interpretation.
In Science the children have set up a longitudinal study, creating their own investigation question by choosing an independent variable relating to growing mould!
Have a great weekend everyone-keep singing those songs..!
10/06/22
We have really missed the year 6's in class this week whilst they've been having an amazing time on their residential trip to Calshot. However, back in school the year 5's have really risen to the challenge of being 'top of the school' and have been setting a really good example of following the school values and taken on the responsibilities of the year 6's with ease and maturity. Excitingly, we are beginning to prepare for the end of year production which the children are writing themselves. The year 5's have been hard at work writing diary entries from key characters in the show, as well as making props and learning songs. Finally they have been stretching their problem solving skills with a range of maths challenges too and have showcased all they've learned this year.
27/05/22
What an exciting week! We held auditions for our summer production on Wednesday and all who chose to participate were amazing! Mrs McKay, Mrs Griggs and myself were commenting on how talented you children are and in ways that we don't get to see in a 'normal' working day. Simply brilliant! So much so that we've made modifications to the content of the performance to include aspects seen in the auditions. Very exciting.
20/05/22
Ello' my Dears… this week we've been looking at persuasive arguments and identifying how Fagin persuaded the Artful Dodger to 'recruit' Oliver into the gang. Linked to this has been a character analysis of Fagin and a mastery of the colloquial language he used! We've innovated and expanded this to include persuasive phrases and techniques to great effect.
The language of shape has also been used this week in the form of 4 quadrant co-ordinate recognition when performing reflection, translation and rotation with 2D shapes. Sounds simple but the final challenge has been identifying the exact combinations of movements between two congruent shapes and the co-ordinates the shapes vertices lie on. Confused yet…ask your expert children if you are!
In science we have been completing a classification key leading to the identification of invertebrates we found on our 'hunt' in previous weeks. This mirrors the work of Carl Linnaeus in the Victorian era and is a valuable tool not just for identification but recognising similarities and differences. We will start to use our classification and observational skills when it comes to fossils before too long!
You'll be glad to know we are now all experts on Volcanos and/or Earthquakes having completed and presented our PowerPoint slides (complete with hyperlinks) to the class. Not only has everyone researched the topic to present their own work but listened to the rest of the class and their information.
13/05/22
Well-they did it! Eagle Owls survived a tough week of assessments, and they are still smiling! A massive well done to all our children for keeping going especially the Y6 who have taken the first official SATs papers since 2019! Everyone has really dug deep and tried their best which is everything and all that we can ask for. We could not be more proud of them, their resilience and enthusiasm. On top of this, we have still maintained a level of learning in the afternoons through sport provision and the introduction of our 'Volcanos and Earthquakes' ICT project work. The children have been creating their own Power-Point presentation with hyperlinks to present information to the class on either Volcanoes or Earthquakes as part of their geographical learning. This is ongoing and in adherence to some strict presentation requirements! We look forward to hearing and seeing them as they are completed in the coming weeks. We have also watched the original Oliver directed by C. Reed from 1968 (U) to further enhance our understanding of the storyline. We'll know it inside out before too much longer! Happy weekend everyone...
06/05/22
"Please Sir, can we have some more time?!" There are simply not enough hours in the day in Eagle Owls this week—quick SpAG reminders, brushing up on fractions, percentage calculation strategies and mathematical investigations, as well as maintaining pace with writing and our historical investigations into the lives of children in the Victorian era.
Needless to say, we've continued listening to Oliver Twist by Charles Dickens, discussing historical references and social circumstances from long ago. We have been looking at Balanced Argument texts, completing a shared write and an individual write focussing on 'Should children have mobile phones?' and 'Are video games harmful for children?'. Both questions have produced a wealth of discussion and debate. The children, despite having strong views one way or the other, have been really receptive and impartial during discussions, many wavering on their initial thoughts. This is building to our historical question, 'Were Victorian workhouses a place of hope or despair?' The children are currently using instances from Oliver Twist and other texts and videos to research this question before writing.
We hope you have a restful weekend and look forward to seeing everyone on Monday.
29/04/22
Welcome back everyone! We hope you enjoyed the Spring weather during the Easter break and were able to have restful, quality time together. We're back with a bang this term! Our topic- How have the lives of British school children changed since the Victorian era?-has obviously led to a dramatic alteration in the classroom décor! It was a real shock to remove the colourful, African flags and replace them with black chalk boards, rows of tables, slates and a traditional Victorian front-room! We've started to familiarise ourselves with the classic tale-Oliver Twist by Charles Dickens-listening to a BBC audio version. We've been dividing like demons, perfecting our long division calculation strategies in a variety of contexts. The Y6 have been out and about in the village every afternoon, completing their Bikeability qualification whilst the Y5s have looked at some classic Victorian watercolour artists like Turner to inspire water colour painting within the school grounds. Some of these are now hanging in our front-room! In addition to all of this, we've started our new Science topic focussing on Evolution and Inheritance including two prominent Victorian scientists. Do look out for the curriculum and homework newsletter informing you of this term's learning.
08/04/22
Well, it's been strange old week in Eagle Owls to conclude the term but the children have adapted and rolled with it as always-they really are very resilient!
We have concluded Our Dreamcatcher poetry looking at the Easter story as stimuli to write as one of the disciples about dreams they may have had in relation to the events witnessed. The poetry produced was beautifully insightful. Some of this can be seen on the website.
We have had a great opportunity to catch up with our Science learning this week. Refreshing how to conduct a scientific enquiry thoroughly whilst learning to use and read a decimetre to measure volume. It has also provided opportunities to calculate Mean average and Range in a variety of statistical situations!
We do hope that you have a happy and healthy Easter holiday. We'll be in and out preparing the classroom for our new learning project and what will be the last term of the year/ever for some! Don't eat too much chocolate…
01/04/22
At the time of writing this, we are busy cooking Nigerian Jollof Rice ready to serve at our Exhibition tomorrow afternoon. We are very much looking forward to seeing you and hope, if you were able to attend, that you had a great time and were impressed with all of the children's hard work across the curriculum. From our point of view, they have really gained momentum with greater resilience and perseverance this term-very much in keeping with what they think is needed to succeed! Aside from cooking as part of our Design Technology learning, Eagle's have been composing poetry based on The Dream Catcher poem ready for the Easter Service. I won't give away any spoilers but, they have been really insightful in their compositions and we are excited for you to hear them next week if you are able to join us again. Algebra has been our maths focus this week-looking at different contexts in which a missing value can be found and how to go about it according to the context of the problem. Have a great weekend!
04/02/22
Eagles Owls have been looking at characterisation this week, focusing on building a 'tool kit' to facilitate their narrative writing by cleverly weaving action, feelings, physical description and character traits seamlessly into a story. Due to our familiarity with the text, we've used characters from A Long Walk to Water and our story maps as a stimulus for writing.
We're nearing the end of Ratio work in Year 6 and Fraction work in Year 5. We are super proud of them for the progress made in these units. It's been intense but worth the effort they have put into their learning and discussions. The air of confidence has been tangible! We'll be extending this into fraction, decimal and percentage work over the coming weeks looking at equivalence between them and calculating amounts of a whole.
We continue to create life cycles and look at the adaptations of African creatures this week—moving onto insects—with a focus on mosquitos! These featured in Salva's amazing tale so will compliment our English work well. The cumulative poster on life cycles and adaptations is shaping up a treat for our class exhibition!
28/01/22
We have started to use the novel A Long Walk To Water as stimulus for narrative writing this week. We have very much enjoyed Salva's story which goes some way to help us think about what is needed to succeed. Salva's amazing journey has now been mapped both as a story and geographically; part of our project work. In the coming weeks, these will be used to scaffold and compose our stories. Year 5 and 6 have taken different mathematical paths this week in the pursuit of knowledge and understanding. Both share a fundamental skill base - times tables! Year 5 have been flexing their fraction knowledge engaging in some great discussion, guided and independent work. We are moving from comparing and ordering fractions with different denominators to improper and mixed number, mixed number to improper fractions and then utilising all of this when adding and subtracting fractions with different denominators. Some have gone beyond, looking at multiplication and division with fractions. We all deserve a fraction of cake to celebrate that learning! Y6 have reasoned with ratio, engaging in great 'maths talk'-a valued part of becoming expert mathematicians. They are using the language of ratio and the symbol to work through increasingly difficult problems. In science we looked at the life cycle of an amphibian using an African Bullfrog as an example and identifying the adaptations it has made in order to survive in its African environment.
21/01/22
We have concluded our non-chronological report writing with a hot write and peer feedback. The engagement with the genre, related grammatical features and creativity certainly seems to have paid off. They approached the final writing task with confidence and enthusiasm - go Eagle Owls! We are reading through A Long Walk To Water with equal gusto, approaching the end of Salva's amazing story on which we will base our next genre of writing. To further enhance our knowledge of his life and experience we watched a small video in which Salva, and the plight of thousands of Sudanese 'Lost Boys', was shown.
Through our Geography work we are gaining understanding of the size of Sudan and other African countries as well as the climate and other physical and human features of this diverse continent. We are currently constructing a wall hanging to show this as well as other African features as we move through the topic.
14/01/22
On Monday, we worked virtually with Willow Class at Micheldever to create some thoughtful artistic impressions of what binds us together as The Dever Valley Federation. Some ideas included our Christian values, Learning Powers and, of course, the River Dever. These will be used and developed as we move forward.
We are making great progress with our non-chronological report writing. We have collectively and independently written a paragraph to inform about a selection of unique, African animals. Have you ever heard of a Chee-zee-telope or a Ze-ele-raffe?! If you haven't, Eagle Owls' writing will bring you up to speed- Sir David Attenborough style! We've been looking at expanded noun phrases, relative and subordinate clauses to ensure these enhance our reports, as well as listening and responding to our class novel - A Long Walk To Water.
We have started to look at what a diverse, large continent Africa is. We've challenged our perceptions of it by looking at images of the landscape and discussing why we think it is representative of an African country or not. We have started to collate a range of statistics and images of each country for display.
Maths is all about area and perimeter looking at rectilinear, compound rectilinear, triangular and irregular shapes and discussing how we can calculate the area/perimeter of them.

07/01/22
As always, we are straight off the mark with our new topic and straight into learning! We spent the 'launch' day classifying and researching African creatures-from insects to amphibians, birds to mammals. This research will inform both our non-chronological report writing for the next week and our scientific studies later in the half term. The children produced some wonderful posters for our working wall and have started our new topic, Africa-What is needed to succeed? We will be trying to answer this over-arching question as we make our way through the Spring term.
We've started our Maths topic of area and perimeter and will be looking at the life of Sir Richard Attenborough today as a start to our life cycles and adaptation science learning.

17/12/21
Well, we've gone right up to the wire with our learning, producing the 'Coming Home' anthology which, if you made a purchase at the end on the Christmas Service, you'll know how great Eagle Owl's narrative writing is and how far they have come this term.
The whole class has come together brilliantly over their first term in Eagle Owls. Routines have been established and we've made real progress in every aspect of school life together despite challenges beyond our control, comings and goings and 'firsts' for doing many things. Mrs McKay, Mrs Griggs and myself feel exceptionally lucky to learn, care, share and achieve such great things with such a wonderful group of individuals. We've ventured into the unknown together this term but returned victorious and a little bit wiser!
It just remains to say a big Merry Christmas to you all. May you have a safe, healthy and fun Christmas time together. Elves Grigg, Johnson and McKay are signing off but will return in the New Year fresh and ready to venture to a whole different continent…

10/12/21
Christmas is well and truly on the way in Eagle Owl class with the introduction and progression of our Christmas project piece. We have watched 'Coming Home' by Michael Morpurgo, as seen on our screens as a short film advertising a well-known supermarket a few years ago. It is the heart-warming story of a Robin making his way back to those he loves. Using the film as a stimulus, we are preparing to write a narrative based on this story using a multitude of features. These will be shared with you, as an anthology, at the Christmas Service next Friday.
We have made great progress with our fraction work advancing to comparing and ordering using our understanding of equivalent fractions and simplification, addition and subtraction of fractions with different denominators and multiplying an integer by a fraction. All this whilst also improving our times table rapid recall and revising knowledge of types of angle. Phew!
You'll be glad to know that by close of business today we will have completed our 3D models of the Earth in Space. The Earth rotates on it's axis AND orbits the Sun!!! This is the culmination to our Electricity and Earth in Space Science learning as well as taking us to 'places unknown' by extending our Design and Technology skills. Everyone is an expert with a hacksaw! Father Christmas and your toymaking skills-watch out!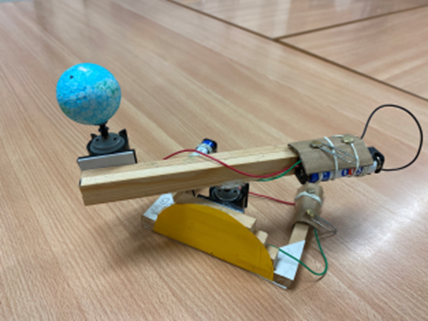 03/12/21
We have completed our letters as Dorothy Vaughan with great insight into her character and regard for her many achievements. In addition to this, Eagle Owls have been researching the phenomenal achievements of Katherine Johnson to complete our informal letter writing next week. Year 5 children have been learning and working with equivalent fractions in a range of problems and calculations. The problems utilise times table knowledge above all else and Thursday saw an unprecedented improvement with our multiplication grids 'check-up'. Brilliant work!
Year 6 have had their first 'taste' of SATs papers this week. We will be talking through these to become familiar with the types of problems and strategies to employ with each one at a later date.
In Science we have been learning about the movement of the Moon in relation to the Earth. Whilst we would love to go on a trip into space to see this all happening first-hand, we settled for using a lamp and white polystyrene balls to replicate this to see the phases of the Moon!
26/11/21
We hope you enjoy watching the following presentation, which gives you a small glimpse of this term's Learning Project
19/11/21
Eagle Owls have embarked upon the true story of Katherine, Dorothy, Mary and Christine in the 1950s and 60s by inferring from the text, Hidden Figures by Margot Lee Shetterly, alongside interpretations of the film of the same name. We are currently using it to look at the life and work of Dorothy Vaughan; a Computer and then Programmer within NASA. This will fuel informal letter writing next week. In maths, we have switched to short and long division with and without remainders, creating fraction/decimal equivalents with any remainders and contextual work. Being the inverse operation, we are still using multiplication tables to help us calculate as well as knowledge of place value. DT and Science are now aligned! Eagles have sufficient understanding of the rotation, orbit and axis tilt of the Earth to see how their 3D model will work once constructed. Glue guns, saws and hammers at the ready..!
12/11/21
This week Eagle Owls have been rounding off their enthusiasm for poetry. We have been writing our own poems based on the poem We Remember by Laura Mucha. The imagery created using pastels and inspired by famous Remembrance Day art was astounding. We also created a multiplication and division by 10, 100 and 1000 drama which consolidated the last week of learning. We experienced everything from American accents to our favourite maths characters from White Rose. We enjoyed our thespian way so much that we dramatized how the earth rotates on its axis in science this week. This again involved comedy sketches, ad libs and a "hot sun".
05/11/21
Eagles Owls have had an inspired poetry week! They have delved into many forms of poetry, read and shared their own books, internalised and innovated from a composition by Laura Mucha and started to collaboratively compose their own poetry using trees within our school grounds for inspiration. We are very much looking forward to sharing these at our Remembrance Service next week. We have focussed on maths fluency, spending time really getting to grips with properties of number, talking mathematically and having fun with number and movement of place value when multiplying and dividing by 10, 100 and 1000. We've started a new DT project based on our science learning this half term-Earth in Space. We're continuing to venture further into the unknown…
15/10/21
Unusually, Eagle Owls have been completing their 'Hot' write using the second chapter of The Arrival over a number of days this week. Narrative writing and the creativity involved in it simply cannot be rushed! We have been looking at properties of number in Maths focusing on Multiples, common multiples, prime and composite numbers. Times table knowledge is essential over the next few weeks so any practise at home on this would be very much appreciated. Most exciting, however, was our trip to Sir Harold Hillier's Gardens today! As a result, the children should be better equipped to fend for themselves should they 'venture into the unknown'! The day's exploits included: lighting a fire, cooking on the fire, den building, stick whittling, orienteering, foraging and a whole lot of fun!
08/10/21
Another busy week-where does time fly? We've been continuing with The Arrival narratives, typing them up, editing and embellishing to publishing standards. We started our Multiplication and Division unit in Maths looking at factors, multiples, common factors and multiples, prime and composite numbers, multiplying and dividing by 10, 100 and 1000 and properties of number problems. In Science, we've started making Quiz Boards using our knowledge of simple series circuits, conductors and insulators. For Project Learning, we've been gathering human and physical geographical information about our immediate and local area to facilitate creation of a 'website' for people who might venture to our community and it be unknown to them. After much practise, we have started drawing our passport pencil pictures (great alliteration!) inspired by The Arrival. Happy, restful weekend everyone!
01/10/21
Eagle Owls have been writing the final part to The Arrival where we see the father of the family venturing into the unknown. We have inferred from the illustrations and hypothesised why this might be. We've made significant progress with addition and subtraction problems including balancing equations, missing numbers with columnar subtraction requiring decomposition, problem solving and order of operations using the BODMAS acronym. The children made their own Buzz-Wire game in Science using appropriate conductors and insulators depending on their use within the structure. They also solved how to connect the components together so that the buzzer sounded only when the loop touched the wire structure and drew the circuit diagram for it using the appropriate scientific symbols. Electric work this week!
24/09/21
What a marvellous Field Trip we had on Tuesday! The sun was shining and all was right with the world - well, unless you speak to the children about the amount of walking we made them do prior to lunch! We traversed to the top of St Catherine's Hill looking at the residential and industrial landscape merged with the natural. We discussed transportation and historical aspects to the view including the vantage point held by the Iron Age Hill Fort and the Miz-maze carving. From there to the viaduct and then the Hospital of St Cross where we were allowed access to Brethren Hall, the kitchen and the inner gardens of the Brothers residence. The children have already used the day to fuel a Recount text and will reflect further on it during topic work. Oh, we've also done Maths and stuff this week!!!
17/09/21
You may have seen Eagle Owls walking around the village on Tuesday identifying land use and facilities in their immediate locality, using appropriate symbols to depict them on their own maps and using a compass to orientate. Next week we are heading into Winchester to further explore land use in the wider locality. In Maths, we have been continuing with place value focusing on negative numbers and Roman numerals. Literacy has involved collectively writing the beginning of our narrative to The Arrival using grammatical features such as adverbial openers, figurative language and relative clues to name but a few! Speaking of grammar, if you haven't already purchased a CGP SpAG homework book for £3.60 (normal RRP £5.95) may we respectively request that you do so before Monday 20th September. Mrs McKay will be setting the first weekly task(s) on Monday to be handed in on Fri-day of the same week. This pattern will follow for most weeks hereafter. Not only will it complement and consolidate learning completed in the class-room it will also provide a handy revision guide-what a bargain!
10/09/21
What a productive and positive first week we have all had! New routines, ways of working and getting to know each other-oh-and some learning! We are advancing through The Arrival by Shaun Tan, hypothesising about the story line, exploring different ways of starting a narrative, adverbial openers and figurative language. We are comparing, ordering and rounding numbers to 1,000,000 and beyond so when we win the lottery we are able to manage our finances as well as a whole host of other experiences linked to our topic! Look out for the Curriculum Web and Homework Project details next week as well as notification of our first trip!
11 June 2021
This week, the Year 6 children have enjoyed a wonderful week-long residential at Calshot Activities Centre. Blessed with wonderful weather, the children have had an action-packed week and are very much looking forward to a restful weekend! A huge thank you once again to the staff who have supported this. Our Year 5 children have been using an Oscar-winning animation as the stimulus for their writing this week, creating their own narrative to go with the wordless video (which can be found here on YouTube; please ensure you supervise your child's internet use). They have also been securing their short division methods, as well as creating bath bombs to study the effects of irreversible changes in Science.
28 May 2021
Newspaper reports edited and published-check. Decimal place value, ordering and rounding-check. Investigating saturation points using a variety of soluble solids-check. Creating a clay, coil pot in the style of Ancient Greek pottery depicting images of personal rites of passage within our life journeys so far and considering how Ancient Greek values are exhibited in them-check. Production preparations begun-check. Catchy songs being learnt that you'll get stuck in your minds and be singing for the next 6 weeks-you-bet-ya! Happy half term everybody.
21 May 2021
Achilles featured a lot in our diary recount writing towards the end of the week whilst the origins of the war in which Achilles fought featured in the newspaper reports written at the beginning. Our minds are awash with fronted adverbial phrases, first person, chronological recounts and conjunctions! We have revised the place value of both large numbers and decimal values, rounded and ordered in Maths. Science has involved looking at irreversible changes, what can cause them and how we can detect if it is an irreversible change.
14 May 2021
We have been busy using our alliterative skills and word play to create hedonistic headlines and punchy puns for our newspaper report on the origins of the Iliad narrative. Mrs Hoyland said that we have also identified the difference between indirect and direct speech. She exclaimed, "It's gone very well and I look forward to seeing it within the reports!" Our multiplication and division brains have been stretched in Mathematics but, soothed by ice-cream in Science!
7 May 2021
Eagerly, we started our new genre of writing and new text-The Iliad and the Odyssey retold and illustrated by Marcia Williams. The children will be using this text as a 'staple' in their understanding of The Iliad with its numerous threads and characters combining to make a complex and involved narrative. We are focusing on a variety of recount techniques over the coming weeks including Newspaper Reports in which they will be reporting about Paris, Helene, Achilles, Hector and a whole host of pesky, meddling Gods and Goddesses! We started off with a story map of the first chapters annotating it with time conjunctions and fronted adverbials using the ISPACE acronym to help us. In maths we have been focusing on balancing equations, using mental and written strategies for the addition and subtraction calculations involved. Factors, Square numbers, square roots and multiples are also making a reappearance in quick fire maths starters so the children need their rapid multiplication fact recall to hand!
30 April 2021
Eagle Owls have worked hard on creating passive sentences. Ask your child to give you examples. We have been using this in our explanation text writing all about a Greek God/Goddess of their choice from 'Mythologica' this week. We have been working on ratios in maths, calculating, simplifying, finding equivalent ratios, problem solving, drawing shapes according to a scale factor, identifying the scale factor a shape has been enlarged by and using proportion to calculate alterations to recipes etc. We didn't have time to make cakes though-I am sad but my waistband is grateful! We have separated mixtures in a variety of ways and discussed reversible changes in Science-alas-no cake making there either!
23 April 2021
Eagle Owls have shown that they are ready to learn after Easter and have fully embraced their new project, 'How are Ancient Greek values evident in our lives today'? They have had a chance to 'download' what they already know about the Ancient Greek Olympics, created a sculpture of themselves as an Ancient Greek God, devised a God/Goddess name, family his-tory and backstory to form an explanation text and they became an 'Investigator' to analyse a range of Greek God explanations from Mythological in order to determine which one 'visited' us from the clues they left behind! We started our Science topic of 'Properties and Changes in Materials' revising the states of matter and what can cause matter to change state. Apologies for the Newtonian slime sleeves that may have been evident after Thursday-is Newtonian slime a solid or a liquid?!
1 April
Our feet have certainly not been off the gas this week! Eagle Owls completed their innovated Lorax stories and now every individual has a bound book of their narration. It is a suitable culmination to this terms envi-ronmental topic in which we have discussed how the choices we make affect the world around us. We concluded our Area, Perimeter and Volume maths topic by calculating the volume of regular and irregular 3D shapes. The last few days have been spent reflecting on how ephemeral art can help us appreciate God-The Creator's world. To fuel an explanation 'cold' write we created our own ephemeral composition to then explain how it showcases Gods
26 March 2021
Eagle Owls have completed their Georgia O'Keefe inspired, chalk drawings with fabulous results. Some of the compositions are shown in the photographs below. Aren't they spectacular?! We continue to compose our innovated Lorax stories as well as watching and interpreting Delivery as part of cine-literacy this week. Delivery is a short, animated story by Till Nowak from which much can be inferred about the environmental impact the choices we make have on the world around us. We've continued to find area and perimeter of rectilinear shapes as well as triangles in Maths.
19 March 2021
Eagle Owls have been true artists this week! On Tuesday, we continued our art in nature topic by looking at the work of Georgia O'Keefe. We replicated her style using chalks and looked at detailed images of flowers using a microscope to see texture and colour. We completed our poetry based on The Promise by Nicola Davis. It really challenged us all! Ensuring we maintained a rhythm and rhyme pattern based on Warned by Sylvia Stults whilst progressing through the narrative aspect of the original story tested our figurative language and vocabulary knowledge. The poems will make up an anthology of class works. We are revising and progressing with area, perimeter and volume looking at rectangles and compound rectilinear shapes this week using our measurement knowledge and multiplication tables to help us.
12 March 2021
Needless-to-say, it has been wonderful to see everybody return this week. A buzz is audible throughout the whole school and Eagle Owls class filled with enthusiasm, vibrant discussion and collaborate learning once more! Yay! We have been continuing with Converting Metric measures this week with some practical tasks to ensure we can read the measures we are converting on weighing scales, jugs, cylinders, rulers and meter sticks. The Promise is our focus text comprised of beautiful figurative language from which we innovated our own using images from the book for inspiration. Today we conclude with Science Day in celebration of British Science Week focusing on simple mechanisms-levers, gears and pulleys. Phew!
5 March 2021
We have had an exciting 'final' Lockdown week in Eagle Owls starting with a visit from The Lorax and Once-ler on Monday! They roamed the classroom and grounds causing chaos during World Book Day. However, our story tellers were not distracted and composed some fantastic narratives based on the shared book, 'Journey'. We also received a very satisfactory reply from Boohoo's CEO, John Lyttle. He responded to William's letter which highlighted issues regarding Fast Fashion and his request for more information regarding their ethical practises, "…Any supplier that is not able to demonstrate that they treat their workers fairly and appropriately does not have a place in the Boohoo supply chain"... Finally, you'll be glad to know we're in the process of sprucing up the classroom, compiling items from the Back to School List and generally getting ready for everyone's return. We are so excited to have you all together again on Monday. Yay!!!
26 February 2021
Mrs Hoyland and I have been overwhelmed with your Wellbeing Day and mandala pattern photographs. What a creative bunch you are! It's so great to see you enjoying learning outdoors and having fun. We are collating all of your images together so you can share them with each other when you return. Remember to take care of your Cotton plants and complete the longitudinal study this week.
12 February 2021
Eagle Owls have been trying to get cosy and keep warm this week! The children have been bringing in blankets to complement their coats, hats and gloves and Thermoses with hot drinks to target the cold from the inside! Our letter writing, percentage, project and geography work has been punctuated with short bursts of movement to warm limbs and defrost brains. Despite this we have made headway with our T-shirts-finalising designs and completing the dying process. We have also had multiple successes with our Cotton seeds so the Longitudinal Study records are well underway!
5 February 2021
Another buzzy week in Eagle Owls including using Spelling Shed! We have progressed with our embroidery and are thinking about our final T-shirt design. To dye or not to dye…that is the question?! We have made 'fat cakes' for the birds in our school grounds and enjoyed seeing the first of our cotton seeds germinating and beginning their life cycle.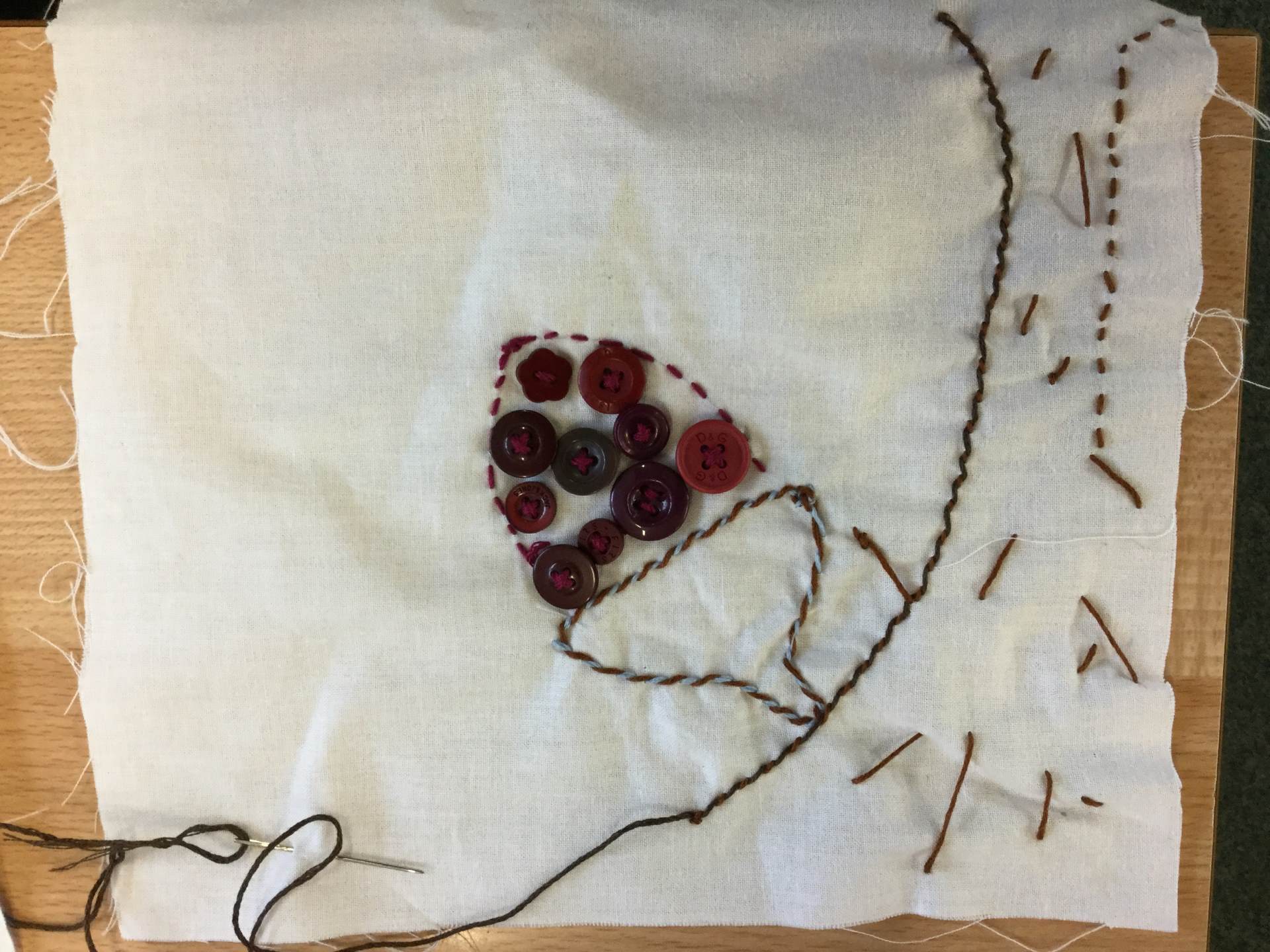 29 January 2021
This week Eagle Owl children have been progressing to the design part of their project. They thought about and drew initial ideas to re-design their T-shirts and started to practice different stitches on swatches of fabric.
22 January 2021
We've been busy learning about Texas this week and have been completing learning about our 'Forever home'. Mrs Johnson has been playing Father Christmas and delivering 'goodies' to the children at home to help with their learning projects.
15 January 2021
We've completed a Fraction jigsaw and our fraction topic, written our first persuasive text, progressed with our project and found new respect for our humble T-shirt!